In 1980, Maxim Software Systems was started, with their offering, Maxident that has stood the test of time. Headquartered in Winnipeg, Canada, this software is popular on three different continents. Maxident is its flagship offering, a premier dental practice management solution for maximizing efficiency and streamlining operations for dental clinics and offices.
Features
To run a modern and busy dental practice, Maxident offers numerous innovative functions.
The scheduling functions of Maxident benefit the front office. We appreciate that different providers are color coded in the appointment scheduler, making this a neat solution for multiple provider practices. Appointments get tracked further via color codes highlighting each step of the process: "Booked, confirmed, checked-in, in hygiene, in the operatory, checked-out…" tracking the flow of patients right from the appointment screen.
Smooth check-ins are the goal also. This starts by patients completing their paperwork electronically, and routing it directly into their file. Dividends of this approach include a higher accuracy of information, and frees up the front office staff for other activities.
A theme that runs throughout Maxident is the streamlining of operations throughout your dental office. One example is that digital radiographs are submitted for immediate insurance approval electronically to save time on the usual back and forth process to pre-approve a treatment. This process is performed via a process that is safe and secure, and run by the ITRANS dental claims service, a popular platform. This facilitates the approvals in a speedier fashion, avoiding the delays inherent with sending dental radiographs via postal.
Electronic features are plentiful throughout Maxident. Towards a paperless office, users can scan any paperwork directly into the patient's chart, which eliminates having to both store and maintain a separate paper file. Maxident supports marketing efforts, such as sending messages out instantly to all of the practice's patients, in order to increase communication and patient engagement. MaxiReminder is the name of this feature, and the messages can be transmitted via two methods- email or text. Branding emails with the practice's logo is another feature for a professional look. Practices have the capability to engage patients via their communication method of choice, with appointments confirmed electronically, to liberate time for the front office staff, which can then be used for more fruitful tasks, such as to recall patients for further treatments. Maxident can also send billing statements via email, to make mailing costs disappear, and get paid faster with less effort.
Drawbacks
Our first drawback takes us to the missing support for mobile apps. With no apps found on the Maxident website, we confirmed this on both the Apple App Store and the Google Play Store. As clinicians often utilize these apps for accessing patient information after hours, we find this a significant omission. Furthermore, we find it ironic as Maxident has a post on its blog about ways to make your website more mobile friendly.
Additional areas for improvement include a complex program that is known for a steep learning curve. Other complaints talkabout about clunky perio charting, which slows down the workflow when entering in the measurements. Abbreviations are also not the common ones that are preferred, compounded as there adjustment possible. Another user calls out a ledger that has a higher level of difficulty than competitors.
A further issue is that digital x-ray imaging has the requirement of a one time setup fee. Further frustrating is that we are unable to confirm, nor figure out the amount of this charge as the pricing is opaque, as detailed below. A final problem is the difficulty to submit a treatment pre estimate to an insurance company, a rather common and essential task.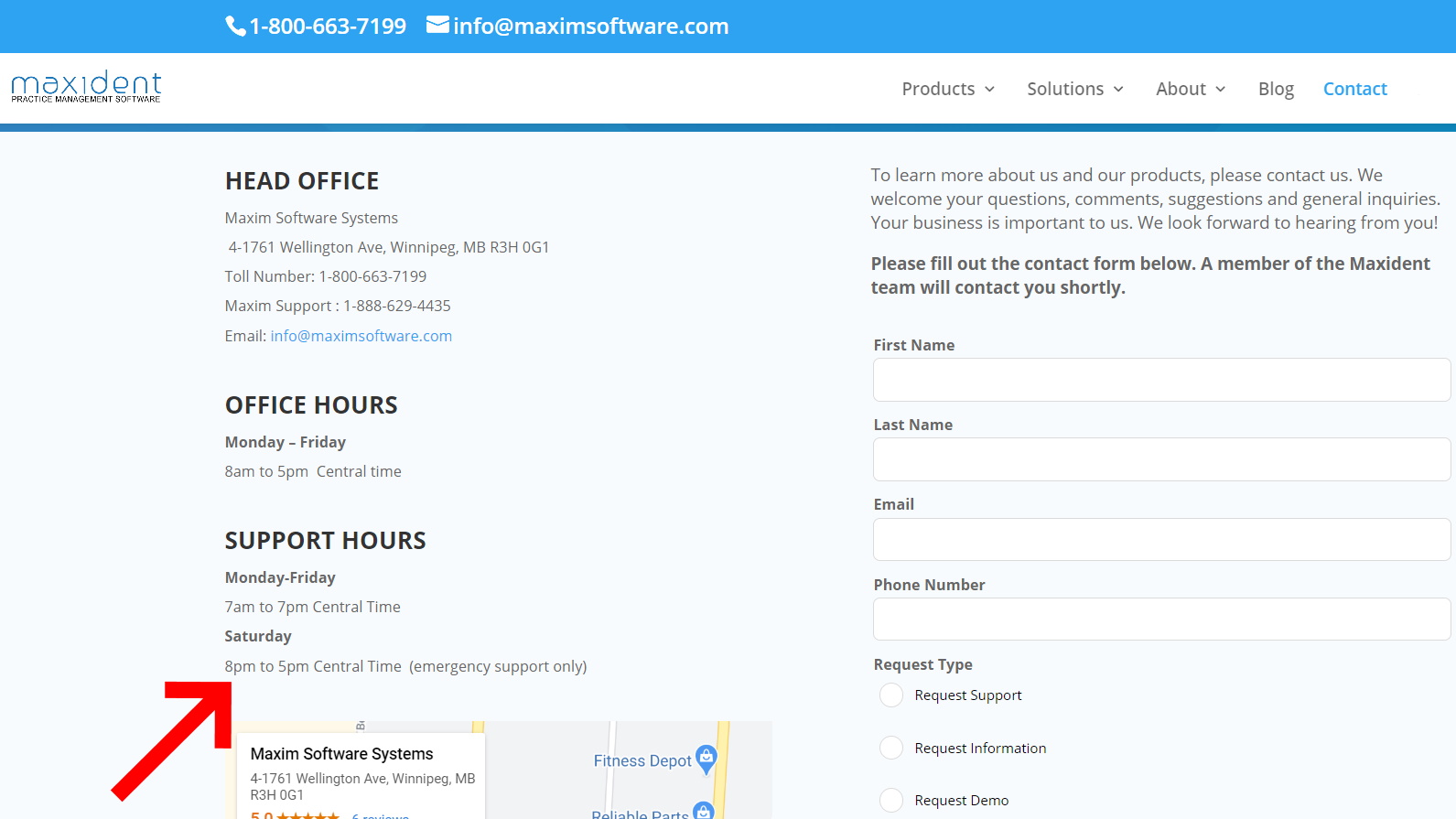 Support
When users run into difficulty, there are but two support options for Maxident. Option number one is a toll free number dedicated for support, which is limited to weekdays only, from the hours of 7 AM to 7 PM, Central Standard Time. Also listed as confusing hours listed from 8 PM to 5 PM (which we might postulate really starts at 8 AM) for Saturdays, but is designated as 'Emergency Support Only.'
An email address gets listed for support, however we caution against sending patient information through this route as it is not approved to be HIPAA compliant.
A shortcoming is that other options for support are lacking including live chat, an online trouble ticket portal, or a user support forum
Onboarding of new staff members is decent, with offerings for distance learning. Content areas cover 'How To Videos,' and 'Online Training Courses,' with topics that include "Treatment Plans," "Faster Month End through Improved Day End," and "Fiscal Year End Reports."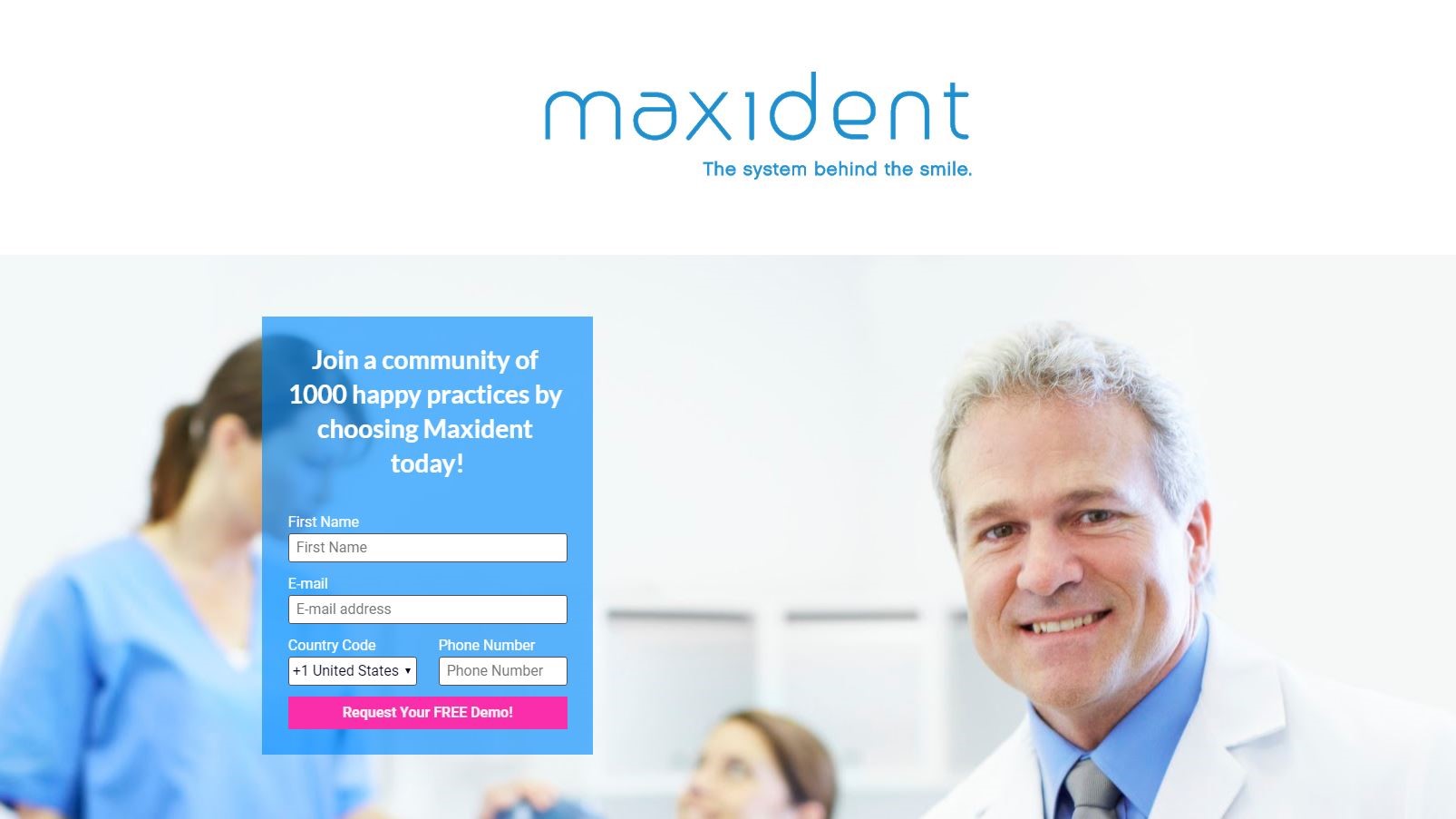 Pricing
Maxident's pricing is not available via the website, and is completely opaque. While a 'Fee Guide' gets listed as a tab on the website, it is hidden behind a private portal that needs an account to login to presumably see the price structure. Contact information exchange with Maxident is a requirement for obtaining a quote. On balance, other companies in this area do the same, but it is a frustrating practice that we wish these companies would provide more info upfront.
With some internet searching, we located a price for Maxident starting at $199.95 (£151) monthly for the subscription.
Final verdict
Maxident furnishes a strong feature set for its dental practice management software. We like pros that range from appointment confirmations via email and texts, support via a toll free number, and appointment scheduling and status tracking that is color coded. However, the multiple cons comprise the overly opaque pricing, the support that has limited hours, limited days and too few methods for contact, and no availability for in person onboarding. In summary, Maxident can demonstrate its staying power in this segment in one form or another for four decades, but be apprised of the deficits before signing up.
We've also highlighted the best dental practice management software