Foldable phones offer some of the most exciting design choices in smartphones, and the latest Honor Magic V is one of the most cutting edge examples out there right now.
Newly launched, it offers the dependable hardware you would expect from Honor combined with industry leading technology. It's a flagship foldable phone that will feel like owning something truly special. Regular phones increasingly look far from exciting these days, but this is a foldable phone that ably combines great style with some excellent features.
Much of its success is thanks to its gorgeous design. It has a 6.45-inch OLED exterior display that achieves a wider 21:3:9 screen to body ratio - you simply can't get this from other foldables. OLED means that the colors on screen truly pop and look fantastic, whether you're simply browsing the internet or watching your favorite streaming shows.
A symmetrical design means that the phone looks stunningly elegant at all times with an ultra thin unfolded profile of just 6.7mm. Spent a while looking for a phone that's unique in an increasingly samey phone world? This is it. Finally, there's a new phone to show off to your mates.
Unfolded potential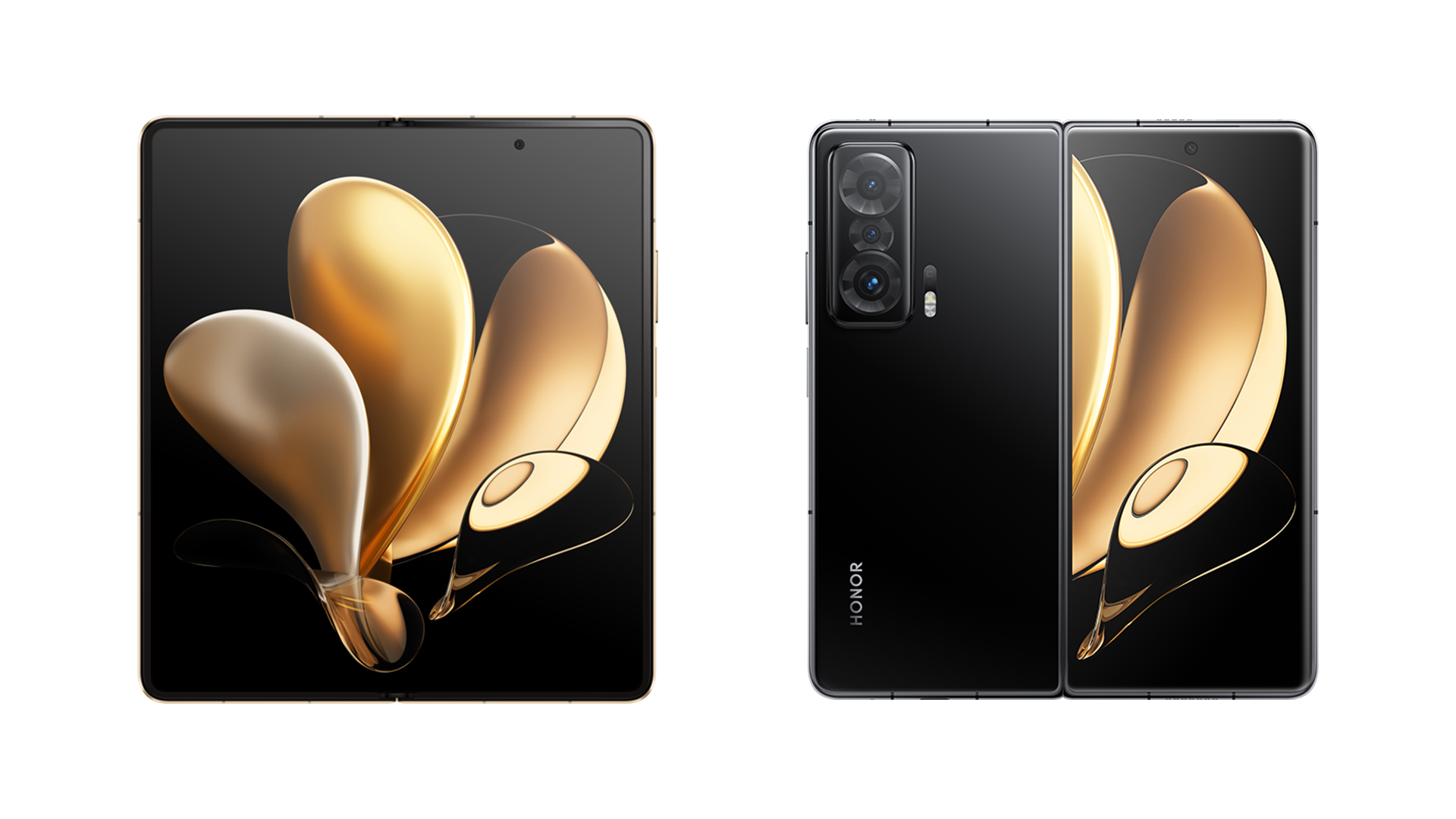 Once unfolded, it looks even better. Offering an extra-wide 7.9-inch creaseless 120Hz display, this is a phone that fits in your pocket just as easily as a regular smartphone but also offers a tablet-like experience once unfolded. With its high-definition resolution of 2560x1080 while supporting a 100% DCI-P3 color gamut, it looks spectacular. Best of all is its use of IMAX enhanced technology that delivers up to 1.07 billion colors. Combined with an 90Hz refresh rate, it's the perfect screen for watching movies on the move or playing the latest games.
The Honor Magic V is no slouch either. It's the first foldable smartphone to be powered by the Qualcomm Snapdragon 8 Get 1 5G processor so it delivers phenomenal flagship performance, whether you're playing Call of Duty Mobile or simply looking to multitask at speed. Backed up by the latest Adreno 730 GPU, it offers superior GPU performance of 30% more compared to the previous generation.
From work to play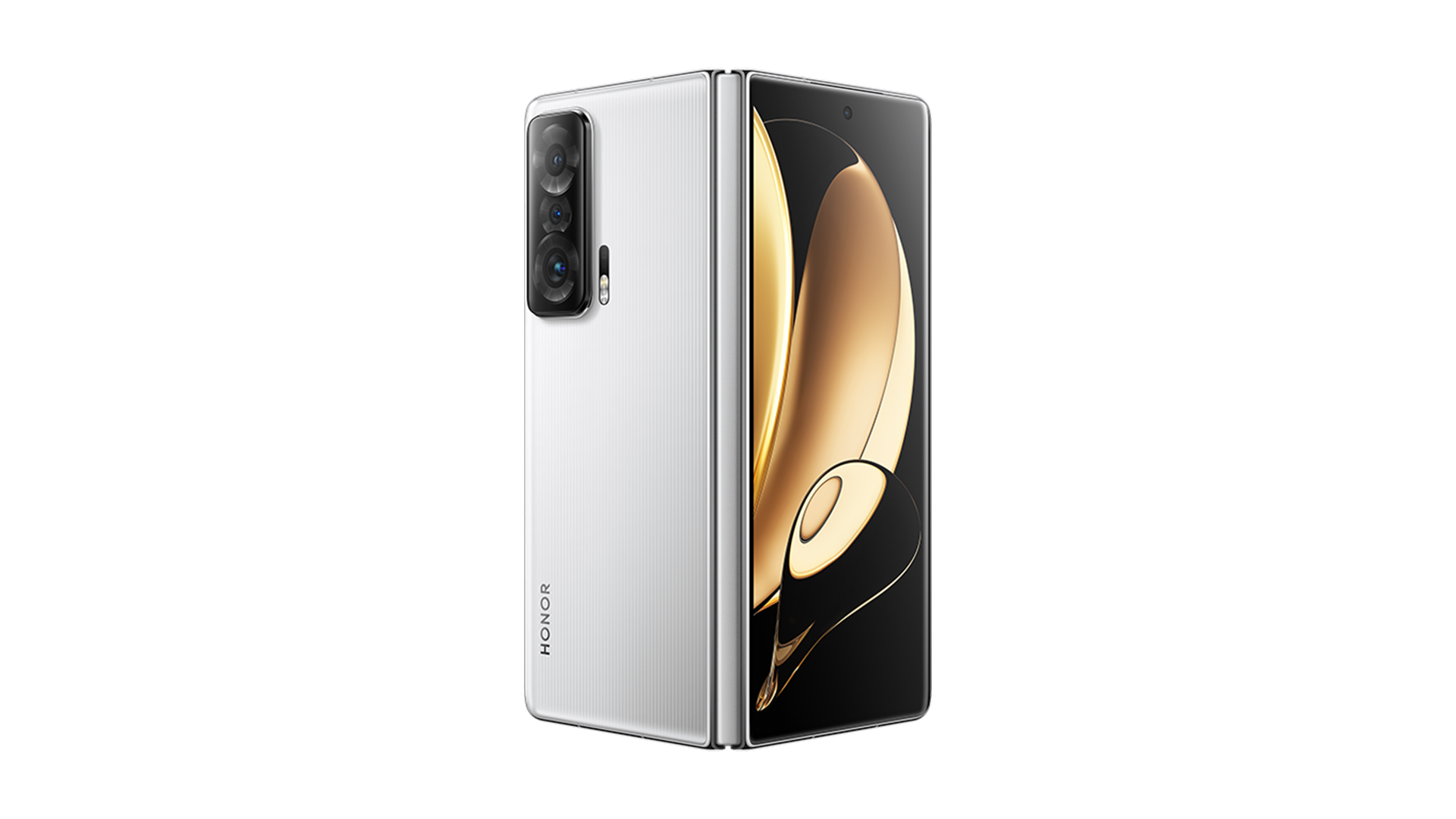 There's also the latest Honor Magic UI 6.0 which does everything you could need to ensure smooth performance and the ability to use it for all kinds of scenarios, from work to play, and other productivity-focused needs.
If you're a keen photographer, the Honor Magic V provides some great features in the form of 3D dual-curved lens glasses that are smoother and thinner than the competition. One lens is a wide-angle camera with 50MP resolution, while below that is a Spectra enhanced 50MP lens, and an ultra-wide angle camera with 50MP autofocus. With both HD macro photography and up to 122° of photo capturing an option, you'll never miss a detail whatever you plan on snapping. Both the main and cover screens are also equipped with a 42MP front-facing camera that's perfect for selfies or video calls.
Worried all that technology sounds delicate? Don't be. The Honor Magic V uses a rotating water droplet hinge that ably manages to be both seamless when folded while flat when unfolded. It's just 14.3mm thick and is made from three aerospace grade materials so you know it's durable. Its parts have been tested when opening and closing 200,000 times so it's going to last.
The Honor Magic V is the strongest indicator yet that Honor has big plans for making true flagship devices for anyone keen to have the best smartphone possible. With MWC coming up soon, the firm is clearly keen to build upon its success by introducing the Magic V. It's a real game changer of a phone and the kind of device to remind you of the excitement you should feel when buying a new smartphone. This isn't just a small step forward. This is a truly big deal for foldable technology.
Expect 2022 to be a very good year for Honor if this is anything to go by.