Gran Turismo 7 is gearing up to release this March and if you're on the hunt for all the juicy details about the next entry in Sony's premier racing sim series, then you're in the right place.
The latest game in the long-running Gran Turismo series is set to be the best - and most realistic - yet, boasting over 400 cars and over 90 tracks (across more than 34 locations) at launch, with more to be added in future updates.
As the game's release draws closer, developer Polyphony Digital is steadily revealing more about Gran Turismo 7, including its new and returning modes, gameplay, and how the studio plans to utilize the technical capabilities of the PS5 - plus much more. It's fair to say, then, that we know quite a bit about Gran Turismo 7 ahead of its release next month.
In a recent preview event, Polyphony Digital described Gran Turismo 7 as "the best of Gran Turismo through the ages", with the latest entry "designed to celebrate all aspects of car culture".
Want to find out more? Read on for everything we know about Gran Turismo 7.
[Update: Gran Turismo 7 will have two discs on PS4. Read on to find out more.]
Gran Turismo 7: cut to the chase
What is it? A racing game with an emphasis on simulation
When can I play it? March 4, 2022
What can I play it on? PS5 and PS4
Gran Turismo 7 release date and platforms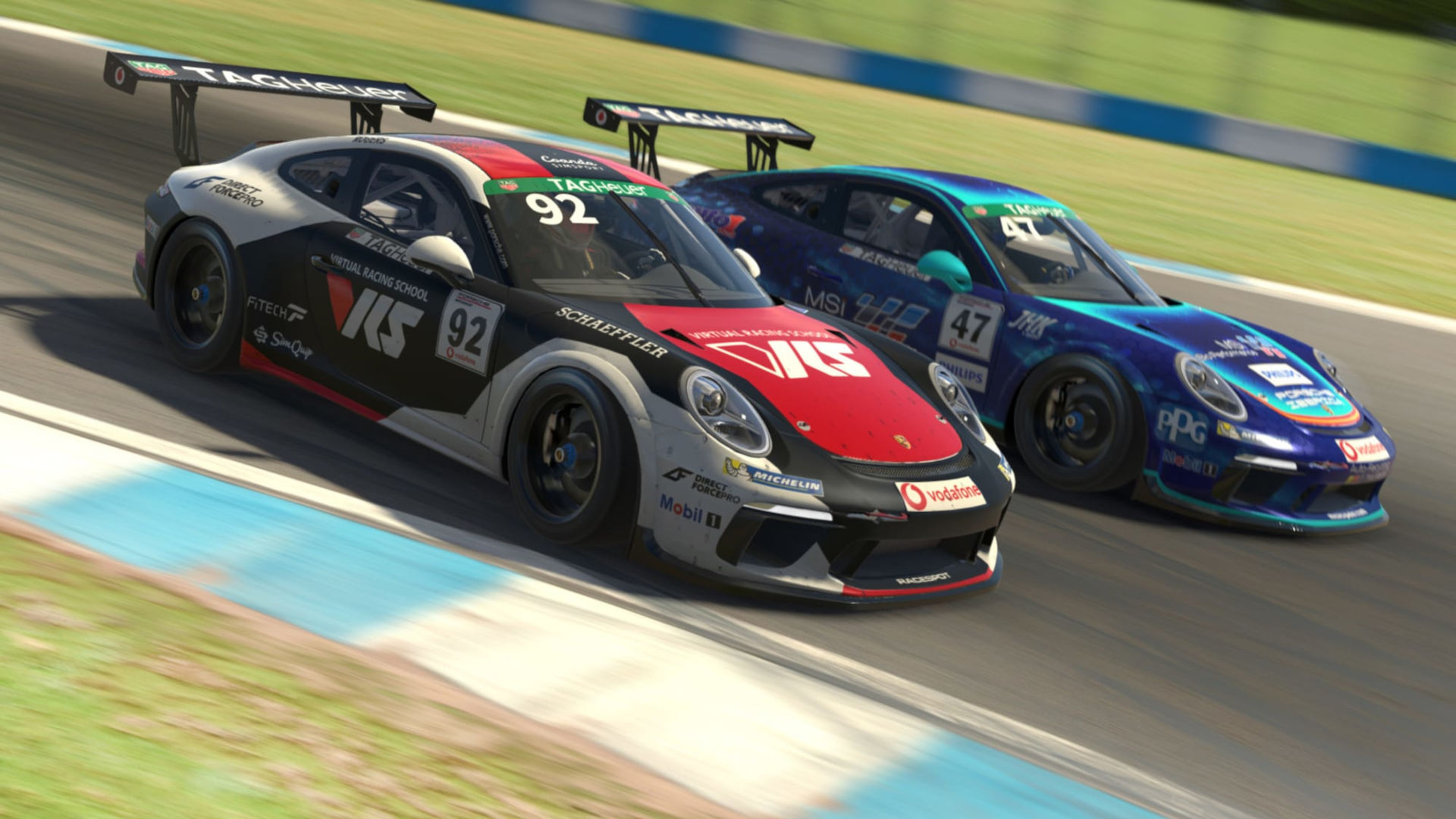 Gran Turismo 7 will release on March 4, 2022 for PS5 and PS4, following a delay of its initial 2021 release window due to the Covid-19 pandemic impacting development.
Gran Turismo was originally believed to be a PS5 exclusive but, following a u-turn by Sony (which had previously stressed the importance of PS5 exclusives), the racing sim is also coming to PS4.
Multiple rumors suggested a PS4 release was incoming, with Sony then confirming that this was indeed the case in response to outrage about Horizon Forbidden West's PS4 to PS5 upgrade policy. At that time, Sony said that PS4 players of Gran Turismo 7 would be able to upgrade to the PS5 edition with a $10 / £10 digital purchase, which will still be the case.
Gran Turismo 7 trailers
New TV ad
Sony has released a shiny new Gran Turismo 7 ad for TV. Running for only 30 seconds, it gives a tantalizing glimpse of the game and you can see it for yourself below.
State of Play February 2022
Ahead of GT 7's release in March, Sony hosted a special Gran Turismo 7 edition of State of Play , where provided a deep dive into the game's features, modes and gameplay. Check it out below:
Gran Turismo 7 - Powered by PS5 (behind the scenes)
In a December 2021 behind the scenes video Kazunori Yamauchi discusses the "tangible" level of realism that the power of the PS5 is bringing to the game.
He specifically touches on the haptic feedback and adaptive triggers of the DualSense controller, which have been used, for instance, to imitate the feel of the brakes. Ray tracing alongside 4K, 60fps and HDR are also mentioned as increasing the visual realism and "natural feeling" in the game. The brief interview is interspersed with footage of the game running on PS5.
New gameplay at the Deep Forest Raceway
Sony released a fresh look at Gran Turismo 7 in December 2021, with a cockpit-view PS5 gameplay trailer set on the Deep Forest Raceway, a classic, fan-favorite circuit from the series.
Porsche Vision GT
Polyphony Digital unveiled the Porsche Vision GT, a virtual car exclusively designed for Gran Turismo 7, back in December 2021. No exact specifications have been revealed for the car just yet, but you can watch a presentation from Porsche which goes over some of the design decisions behind it. You can also watch the unveiling trailer below:
Gran Turismo 7 - Tracks (Behind the Scenes)
In a behind-the-scenes video for Gran Turismo 7, Kazunori Yamauchi discussedthe game's tracks and what the studio has put into making them as realistic as possible. There's no full track list confirmation or anything like that in here but it does offer an interesting look at lighting conditions and dynamic weather.
Gran Turismo 7 - Tunes (Behind The Scenes)
Polyphony Digital's CEO Kazunori Yamauchi returned in November 2021 to discuss the pleasure of tuning and customizing cars. Tuning a car can have a dramatic impact on how a car performs, looks, and feels when out on the road. GT7 will have the most number of parts for tuning in the series' history, so you should be able to get the exact setup you desire.
Gran Turismo 7 - Livery (Behind The Scenes)
In this trailer for GT7, Polyphony Digital's CEO Kazunori Yamauchi discusses the importance of liveries in the racing world, and how they can turn a blank canvas into a medium of expression. Usability has been improved in GT7, so it should be easier to create more custom car designs than ever before.
Gran Turismo 7 - Collectors (Behind The Scenes)
Polyphony Digital's CEO Kazunori Yamauchi explains what it means to be a car collector, in this trailer from October 2021. Check it out below.
Gran Turismo 7 x Porsche - first look
If you're a fan of Porsche, you'll be pleased to know that a wide selection of the German manufacturer's car will be available in Gran Turismo 7 (you can see them all further down), including the 917 Living Legend concept car, which pays homage to the original 24 Hours of Le Mans-winning race car.
Release date trailer
Sony dropped a Gran Turismo 7 trailer during its PlayStation Showcase 2021 event, which showed off the game's cars, tracks, modification system and so much more. Most importantly, it gave us a solid release date for the game: March 4, 2022. You can check it out below:
Announcement trailer
A three-minute reveal trailer for Gran Turismo was shown back at Sony's PS5 game reveal event. We got a good glimpse of Gran Turismo 7, including a peek at the gameplay via a race on the iconic Trial Mountain circuit.
Gran Turismo 7 car list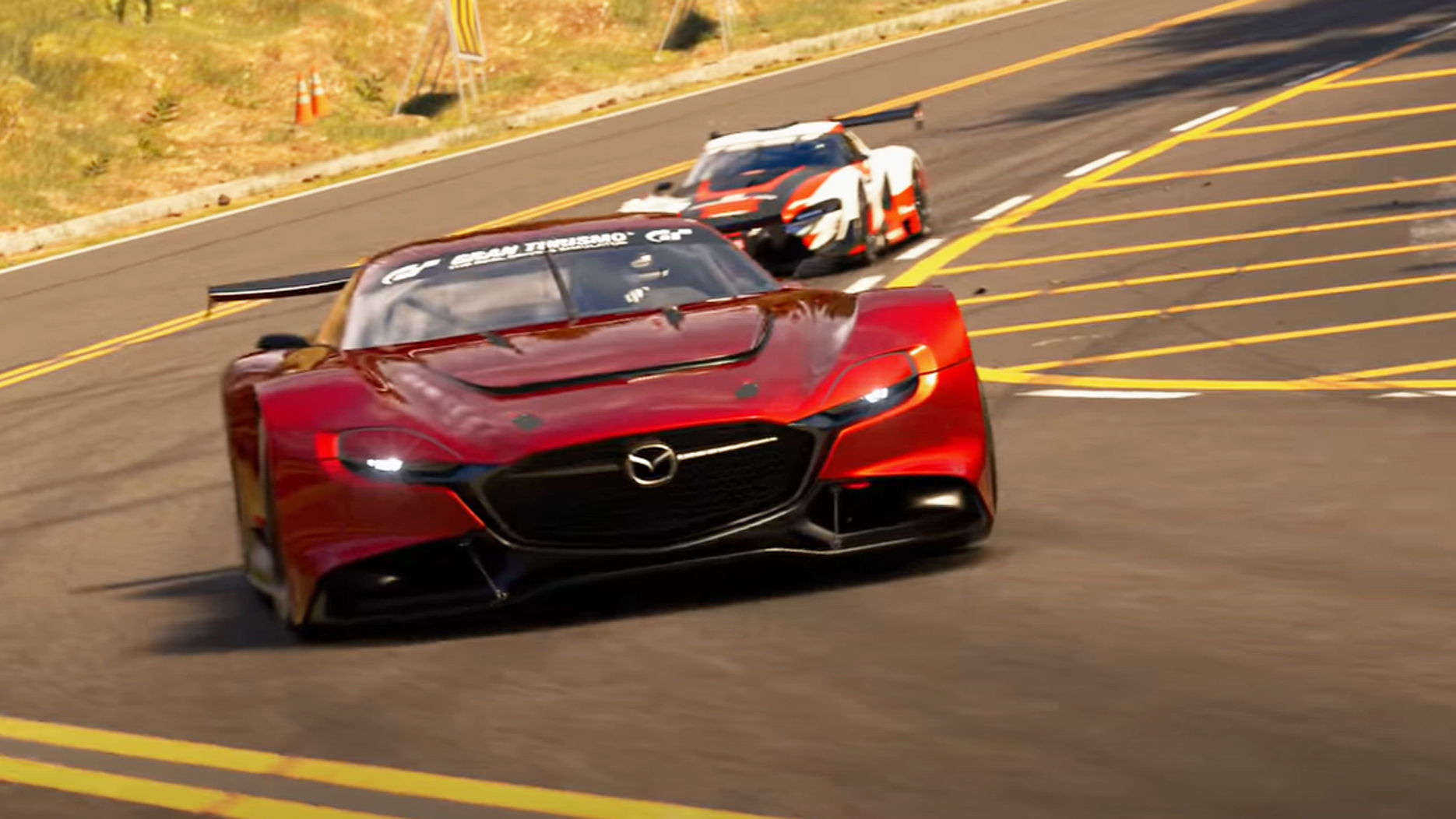 Polyphony Digital has confirmed that Gran Turismo 7 will feature over 400 cars from day one, with more to be added in post-launch updates.
Gran Turismo 7 will have three car dealers where you can buy cars: Brand Central, Used Car Dealer and Legendary Car Dealer.
Brand Central will sell cars from 2001 or later, with roughly 300 car models available in total. What's more, this dealer has a museum for each manufacturer, so players can learn about their history.
As you would imagine, the Used Car Dealer, specializes in used cars at more reasonable prices than at Brand Central or Legendary Car Dealer. Popular used cars could be sold for more than they originally cost, thanks to trends like the boom in Japanese sports cars. This car line-up will be updated and changed slightly each day.
Finally, we have the crème de la crème of car dealerships. The Legendary Car Dealer specializes in historically significant, iconic cars - meaning it's obviously more expensive than the other two dealers.
So what are the cars we can expect to take for a spin? Well, thanks to Gran Turismo Wiki, we have a pretty good idea of the vehicles on offer in Gran Turismo 7 based on what's been shown in trailers and showcases. Here are the cars we've seen so far:
Abarth (Italy)
Alfa Romeo (Italy)
Alfa Romeo 4C Gr.3
Alfa Romeo 8C 2900 (model year and variation to be determined)
Alfa Romeo 8C Competizione '08
Alfa Romeo 155 2.5 V6 TI '93
Alfa Romeo GIULIA TZ2 carrozzata da ZAGATO '65
Alfa Romeo MiTo 1.4 T Sport '09
Alpine (France)
Alpine A110 1600S '72
Alpine A220 Race Car '68
Alpine Vision Gran Turismo
Alpine Vision Gran Turismo 2017
Aston Martin (UK)
Aston Martin DB3S CN.1 '53
Aston Martin DB5 '64
Aston Martin DB11 '16
Aston Martin DBR9 GT1 '10
Aston Martin DP-100 Vision Gran Turismo
Aston Martin One-77 '11
Aston Martin V8 Vantage S '15
Aston Martin V12 Vantage GT3 '12
Aston Martin Vantage Gr.4
Aston Martin Vulcan '16
Audi (Germany)
Audi e-tron Vision Gran Turismo
Audi R8 4.2 FSI R tronic '07
Audi R8 LMS (Audi Sport Team WRT) '15
Audi R8 LMS Evo (model year to be determined)
Audi R18 TDI (Audi Sport Team Joest) '11
Audi R18 TDI (Le Mans 2011)
Audi Sport quattro S1 Pikes Peak '87
Audi TT Coupe 3.2 quattro '03
Audi TT Cup '16
Audi TTS Coupe '14
Audi Vision Gran Turismo
Autobianchi (Italy)
Autobianchi A112 Abarth '79
BAC (UK)
BAC Mono (model year to be determined)
BMW (Germany)
BMW 3.0 CSL '73
BMW 3.0 CSL Race Car (exact name, model year and race livery to be determined)
BMW i3 '15
BMW M3 '89
BMW M3 Coupé '07
BMW M3 GT (BMW Motorsport) '11
BMW M3 Sport Evolution '89
BMW M4 Coupé '14
BMW M4 Gr.4
BMW M4 Safety Car
BMW M6 GT3 Endurance Model '16
BMW M6 GT3 Sprint Model '16
BMW McLaren F1 GTR Race Car '97
BMW Vision Gran Turismo
BMW Z4 GT3 '11
BMW Z8 '01
Bugatti (Germany)
Chaparral (US)
Chevrolet (US)
Chevrolet Camaro ZL1 1LE Package '18
Chevrolet Corvette C7 Gr.3
Chevrolet Corvette C7 Gr.3 Road Car
Chevrolet Corvette C7 Gr.4
Chevrolet Corvette Sting Ray Sport Coupe (C2) '63
Chevrolet Corvette Stingray (C7) '14
Chevrolet Corvette Stingray Convertible (C3) '69
Chevrolet Corvette StingRay Racer Concept '59
Chevrolet Corvette ZR-1 (C4) '90
Chevrolet Corvette ZR1 (C6) '09
Citroën (France)
GT by Citroën Gr.4
GT by Citroën Race Car Gr.3
Daihatsu (Japan)
Daihatsu Copen Active Top '02
DeTomaso (Italy)
Dodge (US)
Dodge Challenger R/T '70
Dodge Super Bee '70
Dodge Viper GTS '02
Dodge Viper SRT GT3-R '15
Dodge Viper SRT-10 Coupe '06
SRT Tomahawk Vision Gran Turismo Gr.1
Ferrari (Italy)
Ferrari 250 GT Berlinetta passo corto CN.2521 '61
Ferrari 250 GTO CN.3729GT '62
Ferrari 330 P4 '67
Ferrari 365 GTB4 '71
Ferrari 458 Italia '09
Ferrari 458 Italia GT3 '13
Ferrari 458 Italia Gr.4
Ferrari F430 '06
Ferrari F8 Tributo (model year to be determined)
Ferrari F12berlinetta (model year to be determined)
Ferrari F40 '92
Ferrari F50 '95
Ferrari FXX-K (model year to be determined)
Ferrari LaFerrari '13
Ferrari Testarossa '91
Fiat (Italy)
Fiat 500 F '68
Fiat 500 1.2 8V Lounge SS '08
Ford (US)
Ford F-150 SVT Raptor '11
Ford Focus RS '18
Ford Focus ST '15
Ford GT '06
Ford GT '17
Ford GT LM Race Car Spec II
Ford GT LM Spec II Test Car
Ford GT Race Car '18
Ford GT40 '66
Ford Mark IV Race Car '67
Ford Mustang Boss 429 '69
Ford Mustang Gr.3
Ford Mustang Gr.3 Road Car
Ford Mustang Gr.4
Ford Mustang Gr.B Rally Car
Ford Mustang GT Premium Fastback '15
Ford Mustang Mach 1 '71
Ford Shelby GT350R '18
Gran Turismo
Red Bull X2014 Junior
Red Bull X2019 Competition
Honda (Japan)
Honda BEAT '91
Honda EPSON NSX '08
Honda CIVIC TYPE R (EK) '97
Honda CIVIC TYPE R (EK) '98
Honda Civic Type R Limited Edition (FK8) '20
Honda Fit Hybrid '14
Honda INTEGRA TYPE R (DC2) '98
Honda NSX '17
Honda NSX Gr.3
Honda NSX Type R '92
Honda NSX Type R '02
Honda RAYBRIG NSX CONCEPT-GT '16
Honda S660 '15
Honda S800 '66
Hyundai (South Korea)
Hyundai Genesis Gr.3
Hyundai N 2025 Vision Gran Turismo
Hyundai N 2025 Vision Gran Turismo Gr.1
Jaguar (UK)
Jaguar E-TYPE Coupe '61
Jaguar F-type Gr.3
Jaguar F-type Gr.4
Jaguar F-type R Coupe '14
Jaguar Vision Gran Turismo SV
Jaguar XJ13 '66
Jaguar XJR-9 '88
Jeep (US)
Lamborghini (Italy)
Lamborghini Aventador LP700-4 '11
Lamborghini Aventador LP 750-4 Superveloce '15
Lamborghini Countach 25th Anniversary '88
Lamborghini Diablo GT '00
Lamborghini Lambo V12 Vision Gran Turismo
Lamborghini Huracán Gr.4
Lamborghini Huracán GT3 '15
Lamborghini Huracán LP 610-4 '15
Lamborghini Murcielago LP640 '09
Lamborghini Veneno '14
Lancia (Italy)
Lancia DELTA HF Integrale Evoluzione '91
Lexus (Japan)
Lexus au TOM'S RC F '16
Lexus LF-LC GT "Vision Gran Turismo"
Lexus PETRONAS TOM'S SC430 '08
Lexus LC500 '17
Lexus RC F '14
Lexus RC F Gr.4
Lexus RC F GT3 (Emil Frey Racing) '17
Lexus RC F GT3 prototype (Emil Frey Racing) '16
Maserati (Italy)
Maserati GranTurismo S '08
Mazda (Japan)
Mazda 787B '91
Mazda Atenza Gr.3
Mazda Atenza Gr.4
Mazda Demio XD Touring '15
Mazda Eunos Roadster (NA Special Package) '89
Mazda LM55 Vision Gran Turismo Gr.1
Mazda Roadster S (ND) '15
Mazda Roadster Touring Car
Mazda RX-7 GT-X (FC) '90
Mazda RX-7 Spirit R Type A (FD) '02
Mazda RX-8 Spirit R '12
Mazda RX-Vision '15
Mazda RX-Vision GT3 Concept
Mazda RX-Vision GT3 Concept Stealth Model
McLaren (UK)
McLaren 650S Coupe '14
McLaren 650S GT3 '15
McLaren MP4-12C '10
McLaren F1 '94
McLaren F1 GTR - BMW (Kokusai Kaihatsu UK Racing) '95
McLaren P1 GTR '16
McLaren Ultimate Vision Gran Turismo
Mercedes-Benz (Germany)
AMG Mercedes CLK-LM '98
Mercedes-AMG F1 W08 EQ Power+ 2017
Mercedes-AMG F1 W08 EQ Power+ (Color Variation) 2017
Mercedes-AMG GT R '17
Mercedes-AMG GT S '15
Mercedes-AMG GT3 (AMG-Team HTP-Motorsport) '16
Mercedes-Benz 300 SEL 6.8 AMG '71
Mercedes-Benz 300 SL (W194) CN.194 '52
Mercedes-Benz 300 SL Coupe '54
Mercedes-Benz A 45 AMG 4Matic '13
Mercedes-Benz AMG Vision Gran Turismo
Mercedes-Benz AMG Vision Gran Turismo LH Edition
Mercedes-Benz AMG Vision Gran Turismo Racing Series
Mercedes-Benz S Barker Tourer '29
Mercedes-Benz SLR McLaren '09
Mercedes-Benz SLS AMG '10
Mercedes-Benz SLS AMG Gr.4
Mercedes-Benz SLS AMG GT3 '11
Sauber Mercedes C9 '89
Mini (UK)
MINI Clubman Vision Gran Turismo
MINI COOPER S '05
Mini-Cooper 'S' '65
Mitsubishi (Japan)
Mitsubishi GTO Twin Turbo '91
Mitsubishi Lancer Evolution Final Edition Gr.3
Mitsubishi Lancer Evolution Final Edition Gr.4
Mitsubishi Lancer Evolution Final Edition Gr.B Rally Car
Mitsubishi Lancer Evolution Final Edition '15
Mitsubishi Lancer Evolution IV GSR '96
Mitsubishi Lancer Evolution V GSR '98
Mitsubishi Lancer Evolution VI GSR T.M. EDITION Special Color Package '99
Nissan (Japan)
Nissan 180SX Type X '96
Nissan CONCEPT 2020 Vision Gran Turismo
Nissan Fairlady Z 432 '69
Nissan Fairlady Z (Z34) '08
Nissan Fairlady Z Version S (Z33) '07
Nissan Fairlady 240ZG (HS30) '71
Nissan GT-R LM NISMO '15
Nissan GT-R NISMO '17
Nissan GT-R NISMO GT3 N24 Schulze Motorsport '13
Nissan GT-R Premium Edition '17
Nissan MOTUL AUTECH GT-R '16
Nissan PENNZOIL Nismo GT-R '99
Nissan R92CP '92
Nissan SILEIGHTY '98
Nissan SILVIA K's Dia Selection (S13) '90
Nissan SILVIA Q's (S13) '88
Nissan SILVIA spec-R AERO (S15) '02
Nissan SKYLINE GT-R V • spec (R33) '97
Nissan SKYLINE GT-R V • spec II (R32) '94
Nissan SKYLINE GT-R V • spec II Nür (R34) '02
Nissan SKYLINE Hard Top 2000GT-R (KPGC10) '70
Nissan XANAVI NISMO GT-R '08
Pagani (Italy)
Pagani Huayra '13
Pagani Zonda R '09
Peugeot (France)
Peugeot 205 Turbo 16 Evolution 2 '86
Peugeot 208 GTi by Peugeot Sport '14
Peugeot 908 HDi FAP - Team Peugeot Total '10
Peugeot L750R HYbrid Vision Gran Turismo, 2017
Peugeot RCZ Gr.4
Peugeot RCZ GT Line '15
PEUGEOT Vision Gran Turismo
PEUGEOT Vision Gran Turismo Gr.3
Plymouth (US)
Plymouth XNR Ghia Roadster '60
Plymouth Superbird '70
Pontiac (US)
Pontiac Firebird Trans Am '78
Porsche (Germany)
Porsche 356 A/1500 GS Carrera '56
Porsche 356 A/1500 GS GT Carrera Speedster '56
Porsche 911 Carrera RS (964) (model year to be determined)
Porsche 911 Carrera RS (993) '95
Porsche 911 Carrera RS Club Sport (993) '95
Porsche 911 GT1 Strassenversion '97
Porsche 911 GT3 (996) '01
Porsche 911 GT3 (997) '09
Porsche 911 GT3 RS (991) '16
Porsche 911 RSR (991) '17
Porsche 911 Turbo (930) '81
Porsche 917K '70
Porsche 917 Living Legend
Porsche 919 Hybrid (Porsche Team) '16
Porsche 962 C '88
Porsche Carrera GT '04
Porsche Cayman GT4 Clubsport '16
Porsche Spyder type 550/1500RS '55
Porsche Taycan Turbo S '19
Porsche Vision Gran Turismo
RE Amemiya (Japan)
Renault (France)
Renault R8 Gordini '66
Renault 5 Turbo '80
Renault Sport
Renault Sport Clio V6 24V '00
Renault Sport R.S.01 GT3 '16
RUF (Germany)
Shelby (US)
Shelby Cobra 427 '66
Shelby Cobra Daytona Coupe '64
Shelby GT350 '65
Subaru (Japan)
Subaru BRZ STI Sport '18
Subaru Falken Tires/Turn 14 Distribution BRZ '17
Subaru IMPREZA Coupe WRX typeR STi Version VI '99
Subaru IMPREZA Premium Sport Coupe 22B-STi Version '98
Subaru WRX Gr.3
Subaru WRX Gr.4
Subaru WRX Gr.B Rally Car
Subaru WRX STI Type S '14
Suzuki (Japan)
Suzuki SWIFT Sport '07
Suzuki Swift Sport '17
Super Formula (Japan)
Dallara SF19 Super Formula / Honda '19
Dallara SF19 Super Formula / Toyota '19
Toyota (Japan)
Toyota 86 GT '15
Toyota 86 GT "Limited" '16
Toyota 2000GT '67
Toyota Aqua S '11
Toyota Castrol TOM'S SUPRA '97
Toyota COROLLA LEVIN GT-APEX (AE86) '83
Toyota FT-1 Vision Gran Turismo
Toyota FT-1 Vision Gran Turismo Gr.3
Toyota GR 86 RZ '21
Toyota GR Supra (Nürburgring '19 Livery)
Toyota GR Supra Racing Concept '18
Toyota GR Supra RZ '19
Toyota GR Supra RZ '20
Toyota GR Yaris 1st Edition RZ "High Performance" '20
Toyota MR2 GT-S '97
Toyota SPORTS 800 '65
Toyota SPRINTER TRUENO GT-APEX (AE86) '83
Toyota SPRINTER TRUENO GT-APEX (AE86 Shuichi Shigeno Version) '00
Toyota SUPRA RZ '97
Toyota SUPRA 3.0GT Turbo A '88
Toyota TS030 Hybrid '12
TVR (UK)
Volkswagen (Germany)
Volkswagen 1200 '66
Volkswagen Beetle Gr.3
Volkswagen Golf I GTI '83
Volkswagen Golf VII GTI '14
Volkswagen GTI Roadster Vision Gran Turismo
Volkswagen GTI Supersport Vision Gran Turismo
Volkswagen GTI Vision Gran Turismo Gr.3
Volkswagen Polo GTI '14
Volkswagen Scirocco Gr.4
Volkswagen Scirocco R '10
Zagato (Italy)
IsoRivolta Zagato Vision Gran Turismo
Gran Turismo 7 gameplay and modes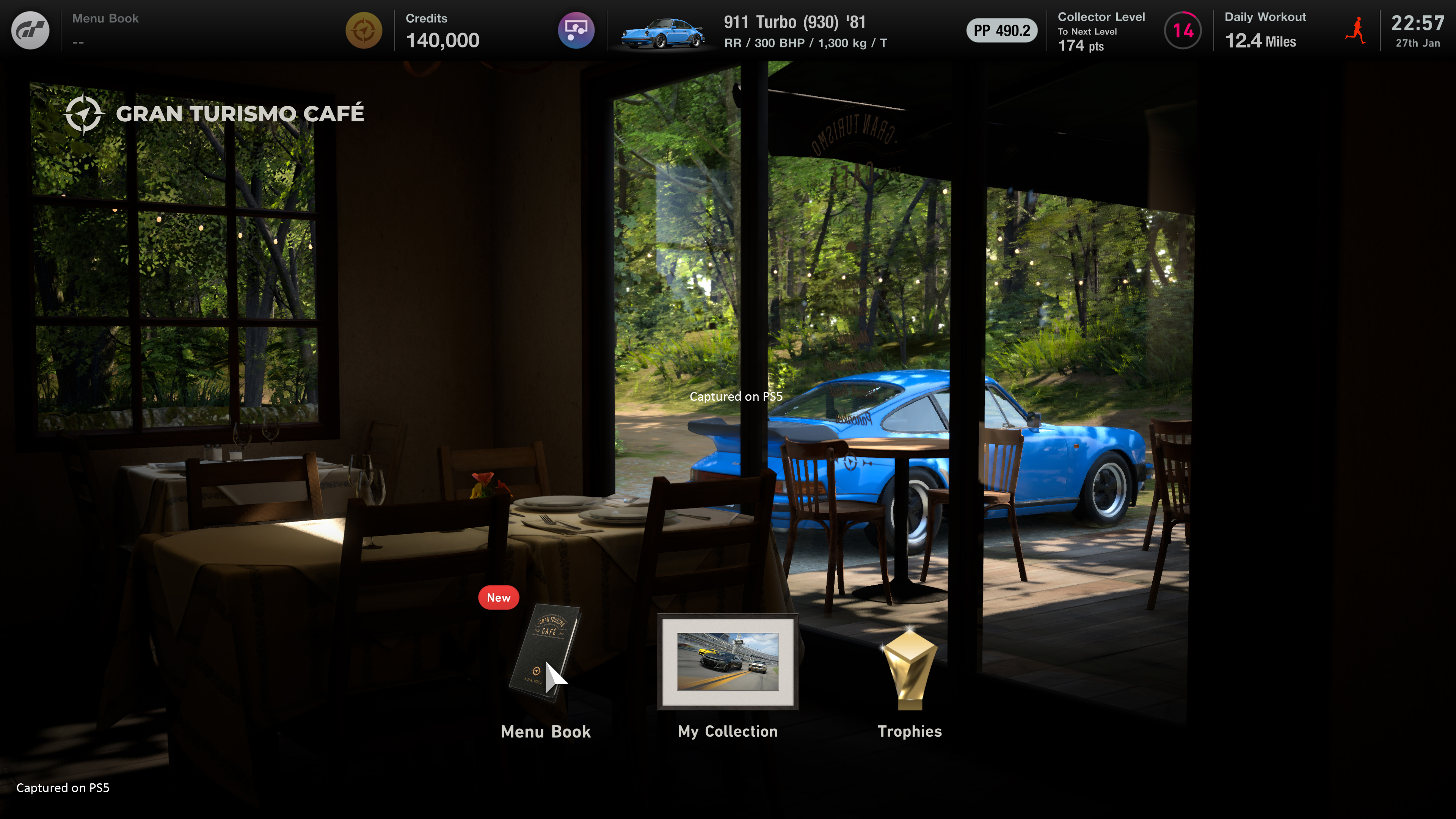 Gran Turismo 7 sees the return of World Map, a birds-eye view that acts as a hub for players to access the games features.
So what exactly is on offer? Gran Turismo 7 has over 34 locations and 97 layouts at launch. Players can access individual tracks via World Circuits - where there will be a selection of real-life and fantasy tracks to race, including famous tracks from previous Gran Turismo titles such as Trial Mountain, Deep Forest and High-Speed Ring (all of which return with stunning visuals).
New for Gran Turismo 7 are various races and activities hosted at each track, with Time Trial, Drift Trial, Custom Races and Meeting Place available at each one. Each track also has a Sunday Cup and Clubman Cup, as well as a Circuit Experience feature for gripping to grips. This makes for over 100 race events.
Players will also have access to Licence Tests and Mission Races. License Tests include tests to learn driving techniques from the ground up with a variety of mini-games. Mission Races, on the other hand, are unique events beyond typical races and time trials, such as drag races. Scapes is also returning from Gran Turismo Sport. This bespoke photo mode lets players place their favorite vehicles on a high-res photo backdrop for the purpose of taking high-quality HDR pictures.
Gran Turismo 7 will also have plenty of ways to play and interact with others. The game with have a two-player split-screen mode, allowing players to play together in the same room - old school style - while there will also be Lobbies and Meeting Places to enjoy with online friends. For those who want to go pedal to the metal against others, Sport mode will allow you to race players from all over the world.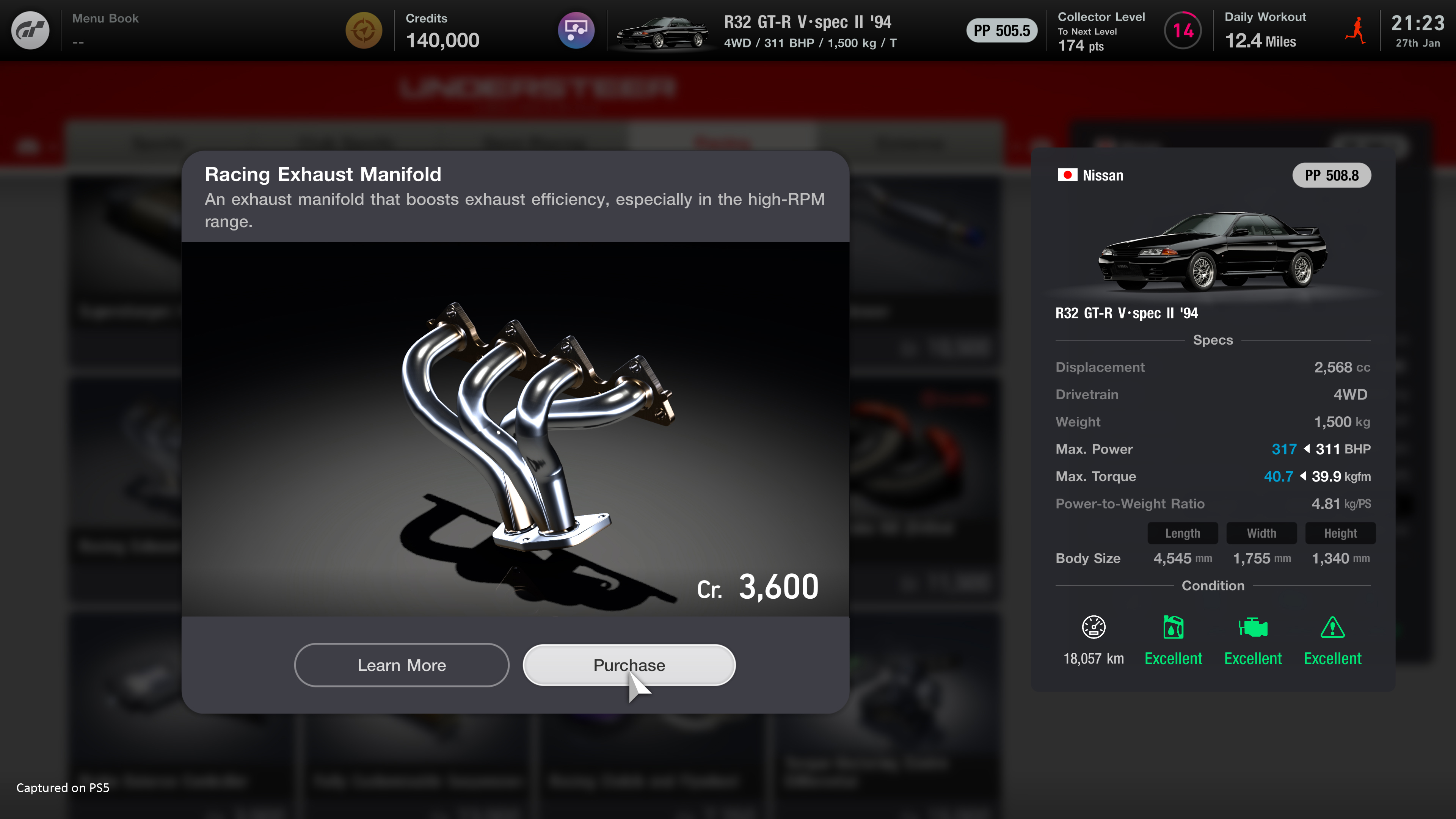 Another new feature for Gran Turismo 7 is the Café (essentially the game's campaign mode), located in the center of the World Map. Designed to deepen the player's understanding of this vast world of Gran Turismo 7, the Café offers a getaway for learning about automotive culture. This feature will see players clearing assignments in the Menu Books (with over 30 assignments available), each time the player clears an assignment, the Café owner will explain the background and culture behind the cars involved in it.
What's more, original designers of the cars you're driving will drop by and appear in person to talk about the memories they have of the cars.
Gran Turismo 7 will also have simulation-based performance point measurement, which the developer says in itself is a mini-game/ Tuning and customization have made a comeback, which a vast array of settings for players to play with. Performance points, which indicate the performance level of a car, are now simulation-based, having previously been calculated using an equation involving weight, power and tire grip. In Gran Turismo 7 a sim is actually run in the background to determine a detailed performance point rating for that car. Players will be able to compare base performance vs their settings - like a mini-game to find the perfect setup.
Players will have approximately 60 types of performance parts per car for tuning and over 650 aero parts, 130 wheels and 1200 measures of paint data for customization. GT7 also has a Livery Editor, allowing players to paint and decorate their cars, with the sticker limit increased this time around, and the ability to change the oil and wash your car.
Want to show off your car to others, Gran Turismo 7's Showcase lets players share user-generated content with players around the world, allowing others to search for and download it. This includes styles, stickers, liveries, replays and photos.
Last but not least, Gran Turismo 7 introduces a new Music Rally mode. Music Rally will be a much more laid-back affair than Gran Turismo 7's other modes, with the purpose of the mode for players to simply drive along, take in the scenery - and most importantly - enjoy the music.
To complete the mode level, players will need to listen to a music track the whole way through, with the twist being that, as you drive, you lose 'beats', not seconds. When your beats run out, the race is over but if you listen to the whole track without running out of beats then you complete the rally. However, while you're driving, you can pass through 'gates' (pink banners) that give you extra beats.
Different music tracks have different BPM (beats per minute), so some songs may have more beats than others, while tracks with changing tempos will have beats that go up and down accordingly. Polyphony hasn't confirmed if all of Gran Turismo's 300+ music tracks and 90+ race tracks will be available in this mode, but we do know that music from previous Gran Turismo games will be making a return.
Polyphony Digital emphasized that the priority in Music Rally isn't "driving fast", but the motivation for trying to collect extra beats is simply "for competitive players who will want to out-do their friends", with how many beats you gathered shown in the 'Music Replay' at the end of the rally.
GT7 looks to be recapturing the very essence that made the series so popular in the first place, through its litany of returning and new modes. Previous entries GT Sport and GT6 were often criticized for a lack of content at launch, but that doesn't appear to be the case in GT7.
Gran Turismo 7 news and rumors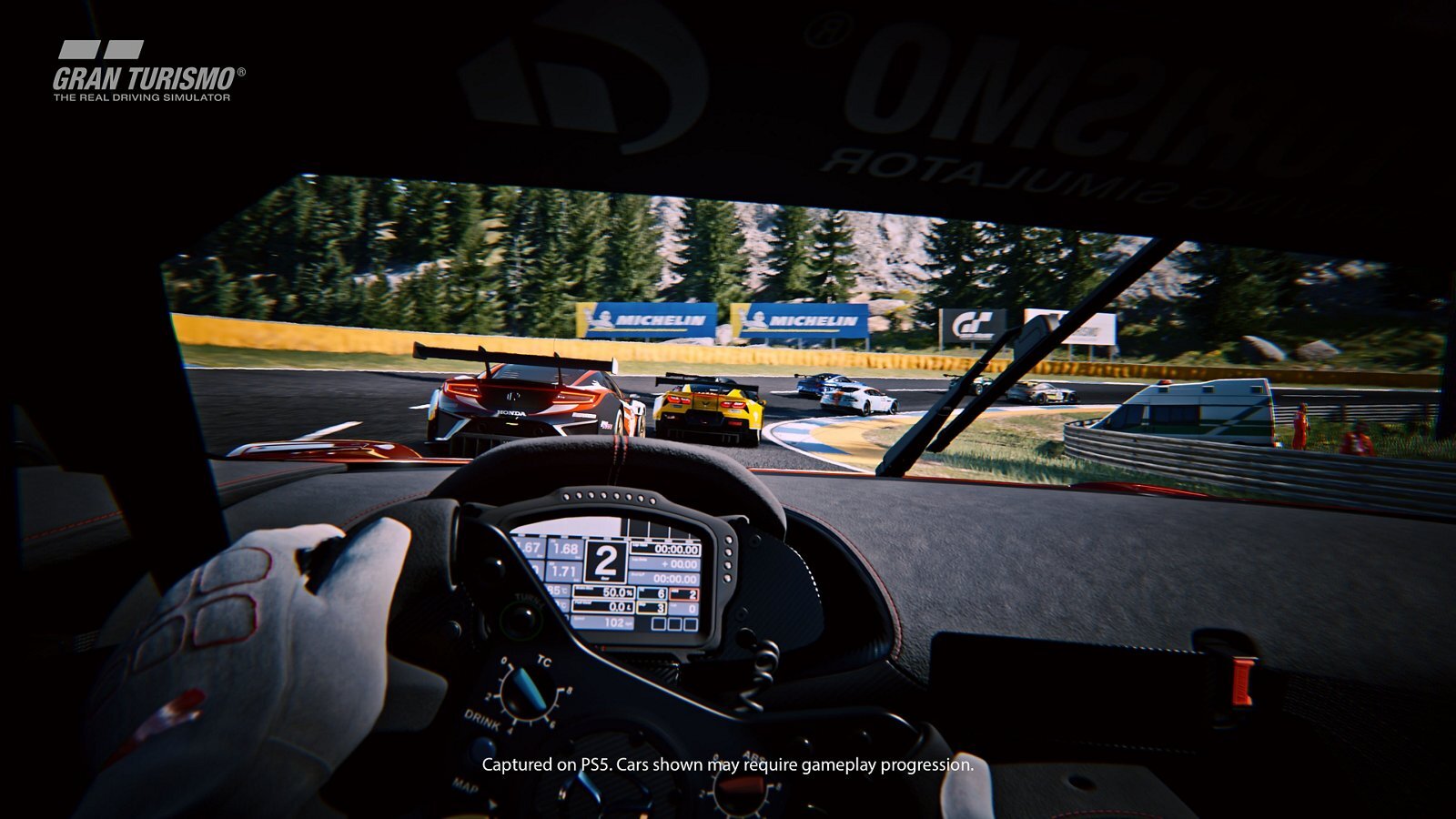 Two discs on PS4
Just like Horizon Forbidden West, it looks like the PS4 version of Gran Turismo 7 comes with not one, but two discs. As spotted by GT Planet, the listing for the PS4 version of Gran Turismo 7 on PlayStation Direct mentions two discs with the game down near the bottom of the page, while the PS5 version for the game doesn't, coming with only one.
This is simply a matter of hardware improvements on the PS5 meaning that only one disc is required to play the game. The PS5's disc drive can read Ultra HD Blu-ray discs, which have a maximum storage capacity of 100GB. The PS4 meanwhile, is only compatible with standard Blu-ray discs. They have a lower storage size of approximately 50GB, which means larger games like Gran Turismo 7 may have to be split across two of them.
In previous instances where two discs have been required, like Red Dead Redemption 2 and The Last of Us 2, the two discs have been needed to install the game but only one disc is eventually actually required to play. It's possible this will be the case for GT 7.
Race against the AI
Gran Turismo 7 players can look forward to racing against a superhuman AI competitor known as 'Gran Turismo Sophy', thanks to a breakthrough in artificial intelligence.
Created by Sony AI, GT Sophy was made in conjunction with Gran Turismo developer Polyphony Digital and has been in development for five years. Sophy is a new autonomous AI agent that has been trained to win against the best GT Sport drivers in the world today and uses a brand-new AI algorithm that has helped Sony create a sophisticated racing opponent, one that simply hasn't been possible until now.
Unlike typical AI opponents, Gran Turismo Sophy reacts and drives like a real human and crucially had to master three essential driving skills using deep reinforcement learning (essentially, the process of repeating and learning countless scenarios until the best outcome is achieved).
However, while players will be able to race against GT Sophy in Gran Turismo 7 at some point, no exact timeframe has been given as to when the superhuman AI will hit the track.
Two graphics modes
Gran Turismo 7 will have two graphics modes to choose from to accommodate different purposes: A Frame Rate mode and a Ray Tracing mode.
Frame Rate mode aims to maintain the highest frame rate possible throughout the game, whether during a race or replay - the standard frame rate for GT7 is 60 fps.
Ray Tracing mode, on the other hand, applies Ray Tracing to modes where a player's quick response time is not really required, such as race replays and 3D stages or rendering for the Photo Mode. This mode more accurately recreates lighting and reflections.
Making the most of PS5
Gran Turismo 7 will release on PS4 but that won't stop the game from taking full advantage of the PS5's exclusive features such as haptic feedback and adaptive triggers on the DualSense controller, a super-fast SSD, and 3D audio.
Loading times will be seriously sped up thanks to the PS5's SSD. "The loading times will be next to nothing compared to what they have been in the past," Sony executive vice-president Simon Rutter told The Guardian, which will come as a huge relief to many Gran Turismo fans, as load times have always been painfully long.
Gran Turismo 7 will use the PS5 DualSense controller's haptic feedback to provide more information than was previously possible, like feeling subtle bumps on a road's surface or whether your tires are slipping. You'll also feel vibrations that mimic a car's engine, drivetrain, and the resonance of a car's body as you speed around the game's many circuits.
The DualSense adaptive triggers will be able to indicate slight differences in the weight of the brake pedal between various car models, as well as mimic the experience of anti-lock brakes (ABS), which apply a pumping motion to slow a car down in heavy braking situations.
Gran Turismo 7 will also support PS5's Tempest 3D audio tech. Players will be able to determine where rival cars are in their vicinity, hear helicopters flying overhead, and even rain hitting the roof and windows of the vehicle. Sound will also bounce off nearby objects realistically, like fences, concrete walls, and barriers.
During a recent preview event, developer Polyphony Digital said that GT 7's 3D audio will equate to having a 16 channel audio system on your head, and that the most effective way to experience the game's spatial audio will be via headphones.
Official wheel unveiled
Fanatec has revealed the official racing wheel for Gran Turismo 7 and, with prices starting at $699.95 / €699.95, it'll cost you more than the PS5 you'll play the game on.
The Gran Turismo DD Pro from Fanatec is a direct drive steering wheel which uses force feedback technology for a more realistic, next-gen driving experience when you play. According to Fanatec, the wheel was designed by Gran Turismo 7's development studio, Polyphony Digital, especially for the game and the bundle comes with the wheel base, steering wheel, and pedals. The wheel is compatible with PS4, PS5 and PC. Pre-orders for a March 2022 delivery are open now.
Most of Gran Turismo 7 is online-only
Most of Gran Turismo 7, including the game's campaign mode, will require an internet connection to play.
Speaking to Eurogamer, series creator Kazunori Yamauchi that an online connection is required to prevent players from cheating.
"The requirement for the online connection isn't specific to the Cafe per se," Yamauchi said. "It's just to prevent cheating overall from people trying to modify the save data, so that's the reason for the online connection."

The only mode that won't require an online connection, in fact, is the game's arcade mode as it doesn't use save data.
Gran Turismo 7 pre-order and 25th Anniversary Edition bonuses revealed
Sony has detailed the pre-order bonuses for Gran Turismo 7, as well as a 25th Anniversary Edition of the game. Anyone who pre-orders the game will receive the following items: Toyota Castrol TOM'S Supra, Mazda RX-VISION GT3 Concept (Stealth), Porsche 917K Living Legend and 100,000 in-game Credit (CR).
Those who opt for the 25th Anniversary Edition of Gran Turismo 7 will get a limited-edition SteelBook case, 1,100,000 in-game credit, Toyota GR Yaris with country-specific livery, 30 Manufacturer / Partner Avatars, the Music of Gran Turismo Official Soundtrack as well as the same cars listed above.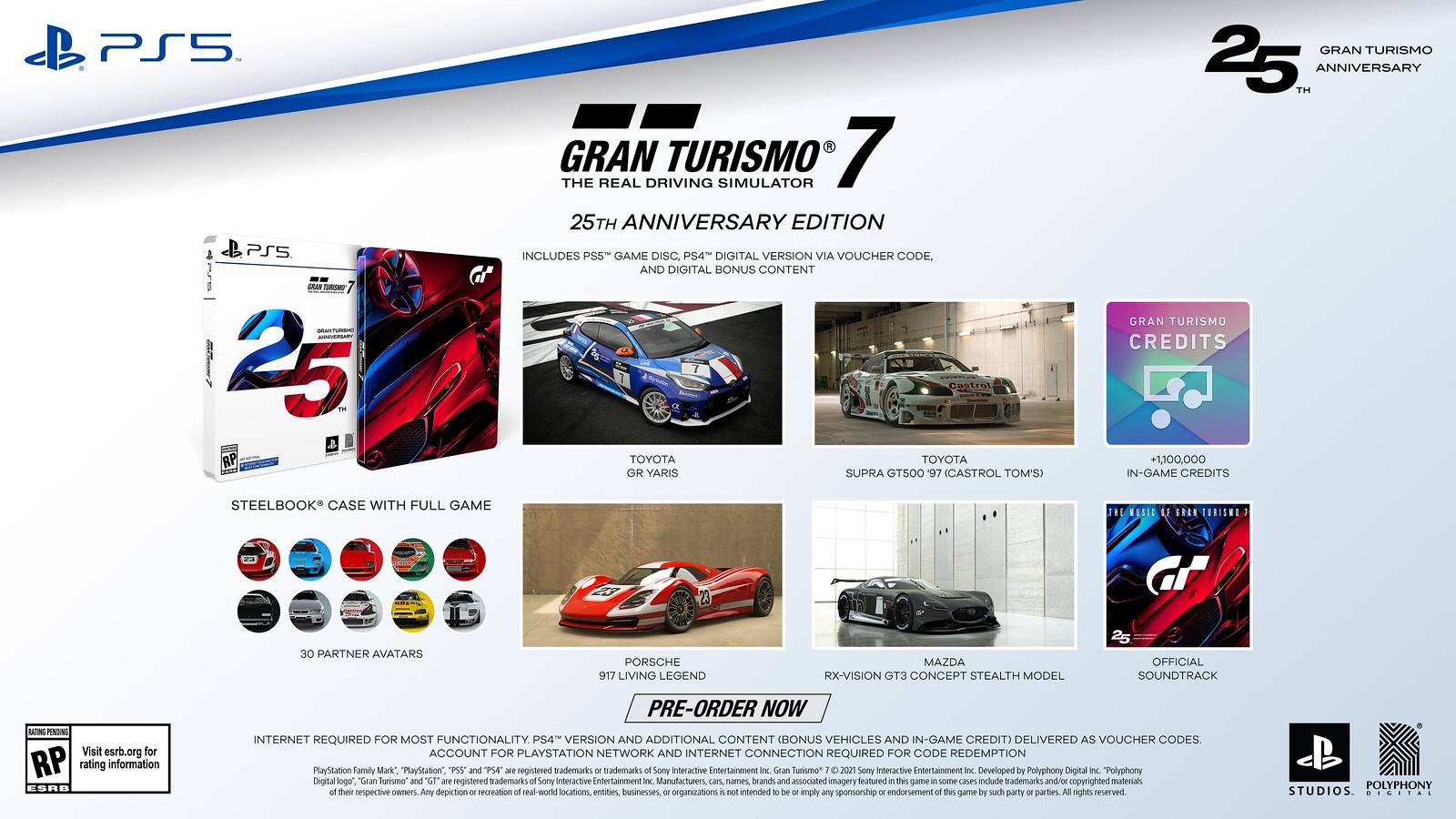 Dynamic weather returns
Gran Turismo 7's dynamic weather and time system will see both moving in "real-time", with the weather having an effect on driving conditions and the time simulation allowing you to race from morning to noon.
The feature was missing from GT7's predecessor, Gran Turismo Sport, but returns along with an improved damage model.
Crossplay confirmed
Gran Turismo 7 will allow for crossplay between PS5 and PS4, the series creator has confirmed.
In an interview with Eurogamer, Gran Turismo creator Kazunori Yamauchi confirmed that the next entry in the veteran racing series will allow PS4 and PS5 players to race against one another.
PSVR 2?
Sony has announced that it will release the second iteration of its PSVR headset, which we're calling PSVR 2. This announcement raises questions of whether or not Gran Turismo 7 will support the new technology. Following the success of Gran Turismo Sport on PSVR, it seems quite possible. That said, nothing has been confirmed by Sony just yet. But there are positive signs. In June 2021, Sony said that we should expect "experiences synonymous with PlayStation" on PSVR 2, which suggests titles that lean into Sony's back catalog of exclusive franchises, such as Gran Turismo.
Going slightly further back in time to 2019, in a roundtable interview with GT Planet, Gran Turismo series creator Kazunori Yamauchi revealed that, when it comes to harnessing the power of next-gen consoles, Polyphony Digital is interested in VR.
"The first thing that's going to be affected by more power is VR," Yamauchi told GT Planet. "I don't think that there's anything else that requires that much processing power. I really like VR; I'm one to believe in the possibilities of it, and it's very suited for a driving game."
"VR is something that really depends on the evolution of GPU power, and the hardware for it, like display devices even. It's something where you can never have enough computing power; there's always going to be that hardware limit, and that limit is never going to be high enough for us! Obviously, that's going to gradually improve over time and we'll make sure to follow that."
The fact that PSVR 2 will bring the technology forward does make it look promising that Gran Turismo 7 could have some kind of VR support.
"No concessions" on detail
Polyphony CEO, Kazunori Yamauchi, has emphasized the studio's attention to detail while speaking at the FIA Gran Turismo Championships in December 2020 (via VGC).
"We always pursue the best at Polyphony Digital," Yamauchi said. "We don't want to make concessions on anything. We want to deliver the best to everyone. And this is no longer just my thinking, but it's the mindset of all 200 or so staff at our company.
"They say in Japan that 'divinity comes to reside in the details and it's so true. How much attention you pay to the fine details, how to perfect it, hone it to perfection, and applying an incredible amount of attention to this, is our production style."
This bodes well for Gran Turismo 7, though it also goes some way to explaining why the game's release date shifted from 2021 to 2022.
Gran Turismo 7: what we want to see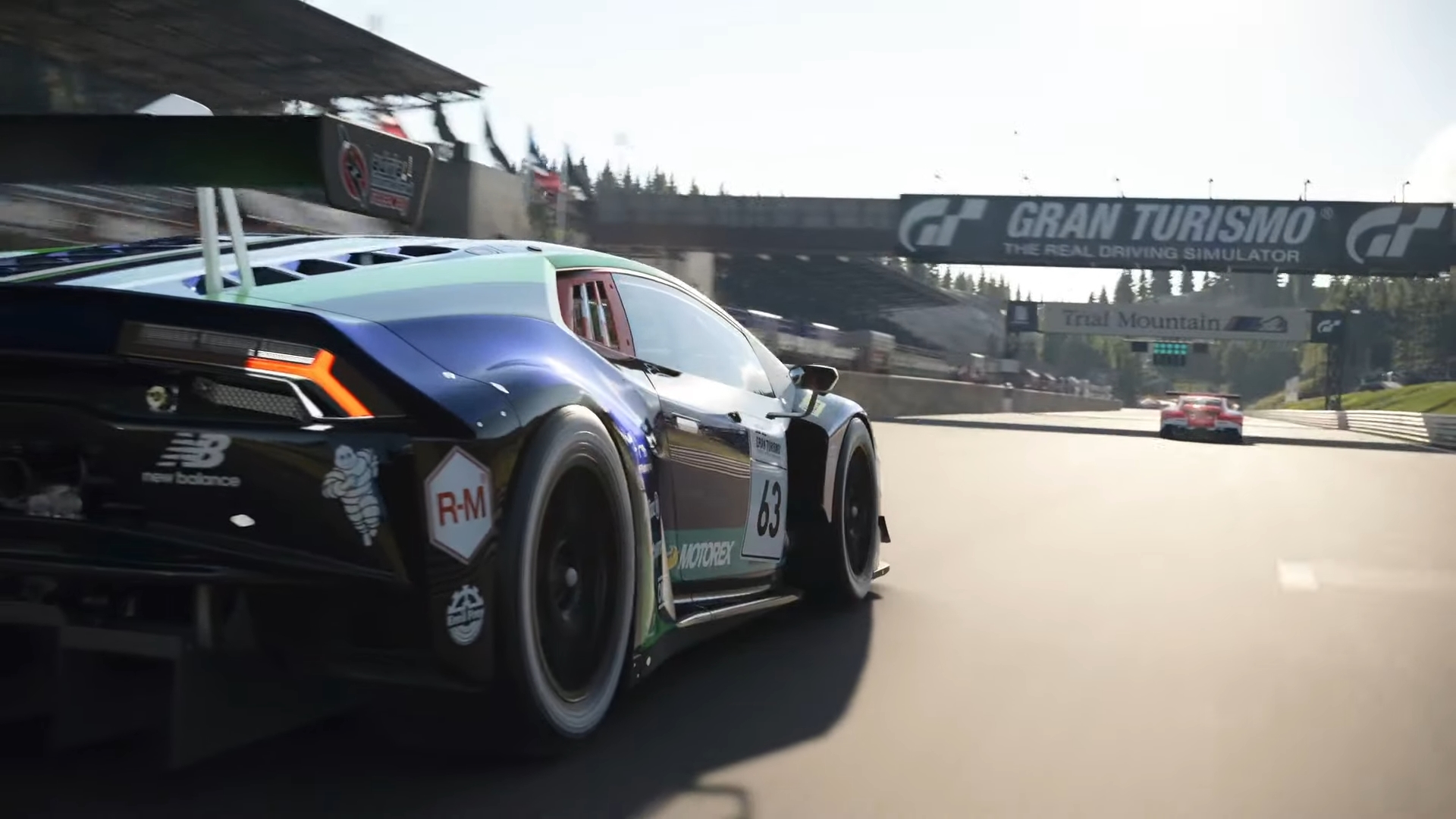 Meaningful damage modeling
This hope precedes every Gran Turismo entry and Gran Turismo 7 is no exception. The franchise seems almost allergic to damage-modeling, preferring that its beautifully rendered cars maintain a factory clean sheen – but we want to see it. If we careen off-track and smash into a wall at many miles per hour, we'd expect our vehicle to be pretty banged up and not just sporting a few minor scratches.
This level of realism has been captured in many other modern racing sims, and with the PS5 boasting some seriously powerful next-gen hardware, it's time that Gran Turismo put it to good use.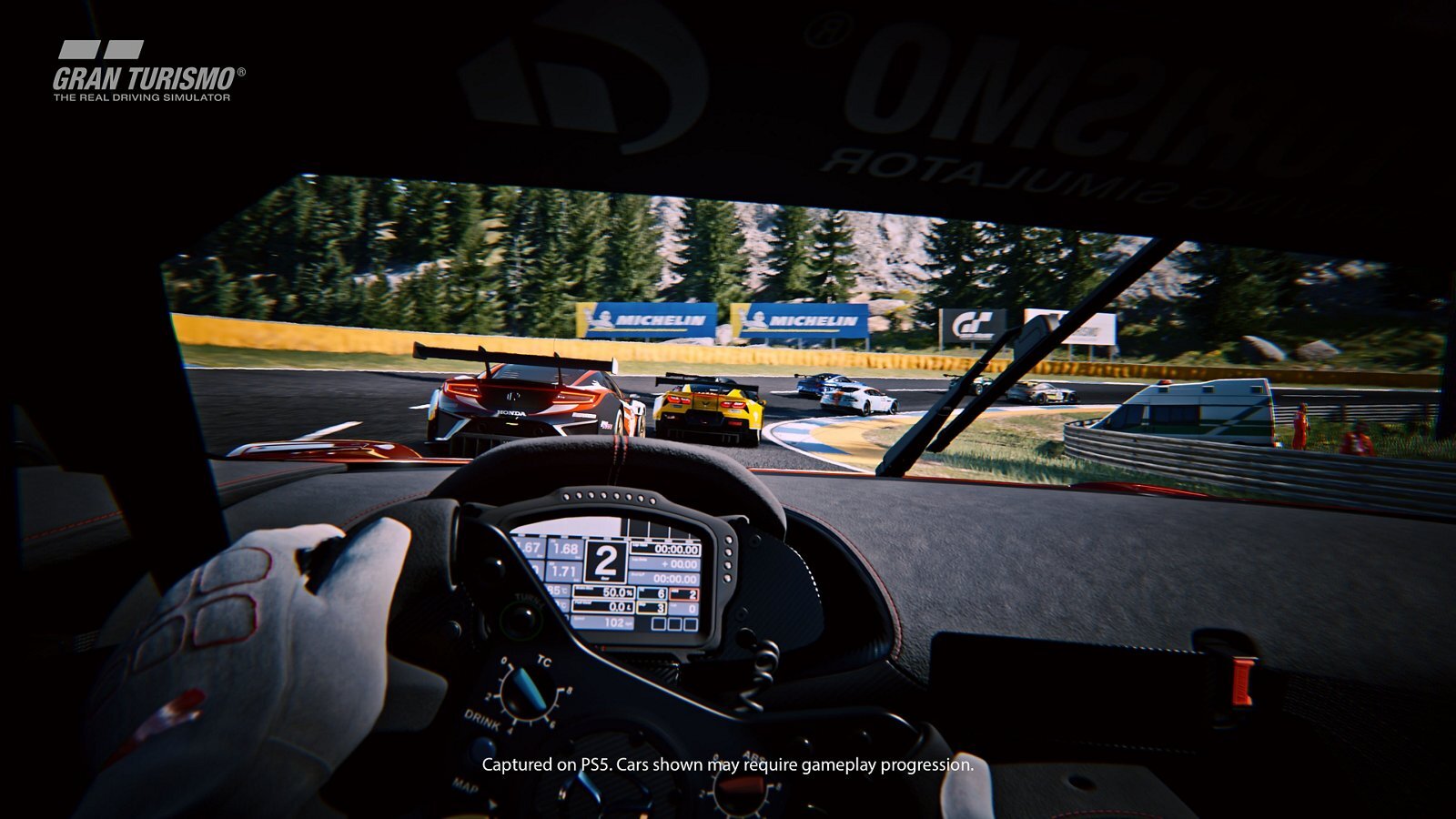 Better AI
Another long-standing issue with Gran Turismo games is the AI. A race's challenge has either been far too easy or too heavily choreographed depending on the difficultly level, so it's time for Gran Turismo 7 to finally bring some realism to its computer-controller competitors.
We want to see AI drivers react to our actions and learn to match our skills behind the wheel. Earning better vehicles should provide a meaningful reward in improved race performance, but not at the expense of leaving the competition behind in the dust. We hope that Gran Turismo 7's drivers will give us a run for our money, then.
Better offline content
Gran Turismo Sport, the last installment in the series, was often criticized for its lack of quality offline content. Whether it was because of server maintenance or your own connection, the game would only let you play Arcade Mode, which blocked any meaningful progression which could have been made when offline. Hopefully Gran Turismo 7 improves its offline capabilities.