It began life as a simple Firefox browser extension, but Mozilla VPN is now a full standalone product which secures all your internet traffic on Windows, Mac, Android, iOS and Linux.
The network is smaller than some rivals at 400+ servers across 40+ locations and 30+ countries, but it's probably enough for most users.
Mozilla VPN is powered by Mullvad's excellent network. Some companies keep quiet about the fact that they're reselling someone else's network, but Mozilla is very open. Click the 'see our full list of servers' link on the Mozilla VPN website, for instance, and it takes you to the server list on Mullvad's site.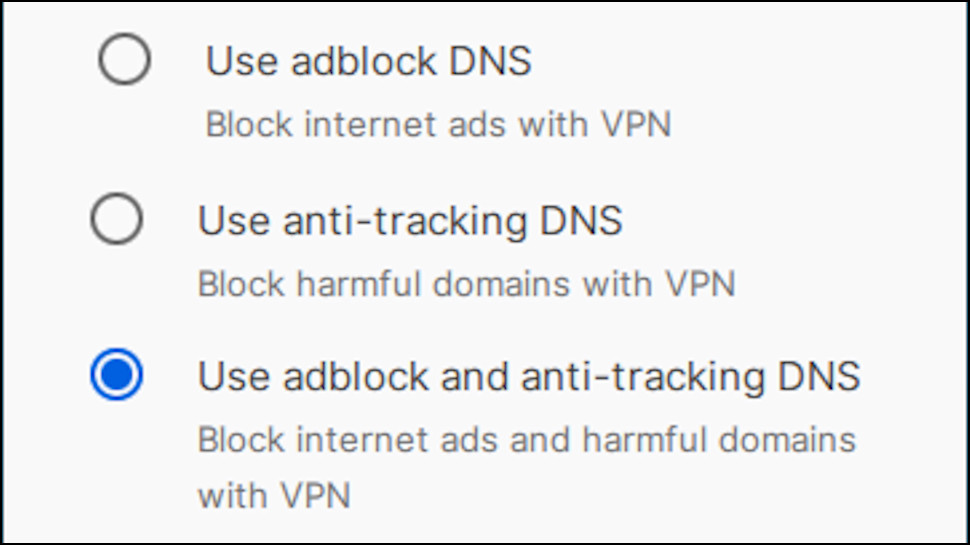 Features
Mozilla VPN's feature list has grown considerably since launch, and the service now beats many specialist VPNs in some areas.
The network is P2P-friendly, for instance. Support for the speedy WireGuard protocol optimizes performance, and there's a kill switch to protect you if the VPN drops.
Multi-Hop VPN enables connecting to the VPN from one location (Phoenix, say) and exiting from another (maybe London), making it even more difficult for others to track your activities.
Split tunneling support (called App Permissions here) allows you to decide which apps are protected by the VPN, and which use your regular internet connection.
Other highlights include IPv6 support, and the ability to choose an ad or tracker-blocking DNS servers, or to use your preferred DNS.
There are still weaknesses. Mozilla VPN only supports WireGuard, for instance. There's no support for setting up the service on routers. And you still can't set up the apps to automatically connect when you access public Wi-Fi, either.
There's no live chat support, but Mozilla does have a decent number of support articles. You can also send questions to the support team from the website if you're in serious trouble.
We spotted one potential annoyance. Although Mozilla VPN says it works with up to 5 devices, that means specific, registered devices. If you use the service on two mobiles, two laptops and a tablet, for instance, you can't use it on a new device until you've removed support from one of the others.
A handful of companies do something similar (KeepSolid VPN Unlimited is one), but most providers limit you by simultaneous connections only. You can still only connect a set number of devices at one time, but the VPN doesn't care which ones they are, and there's none of the hassle of registering or removing a specific device.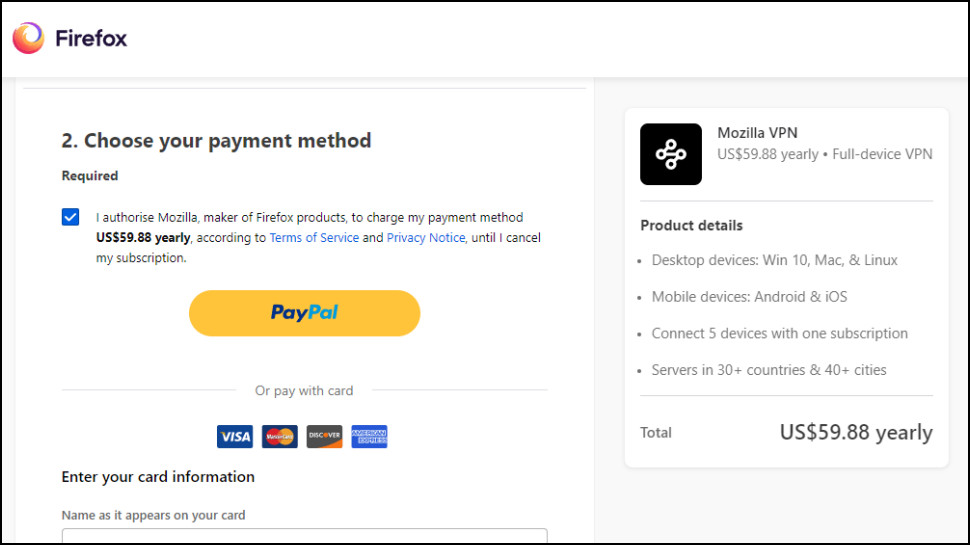 Mozilla VPN pricing
Mozilla VPN is priced at a mid-range $9.99 for its monthly billed account, dropping to $7.99 over six months, or $4.99 on the annual plan.
Although that's not expensive, it's a leap from Mozilla VPN's launch price of $4.99 billed monthly. Keep in mind, too, that you're paying for access to Mullvad's servers. Go direct to Mullvad and you'll pay a flat rate of €5 a month (around $5.75), whatever the length of your subscription.
Mozilla VPN's payment options have improved a little since launch time, with the service now accepting PayPal as well as cards. (Still no Bitcoin, though.)
If you sign up and the service doesn't work for you, no problem, you're protected by a 30-day money-back guarantee. There are no sneaky catches or exclusions, as far as we can tell (and we spent quite some time looking): if you're unhappy, just tell the company within the first 30 days, and you'll get a refund.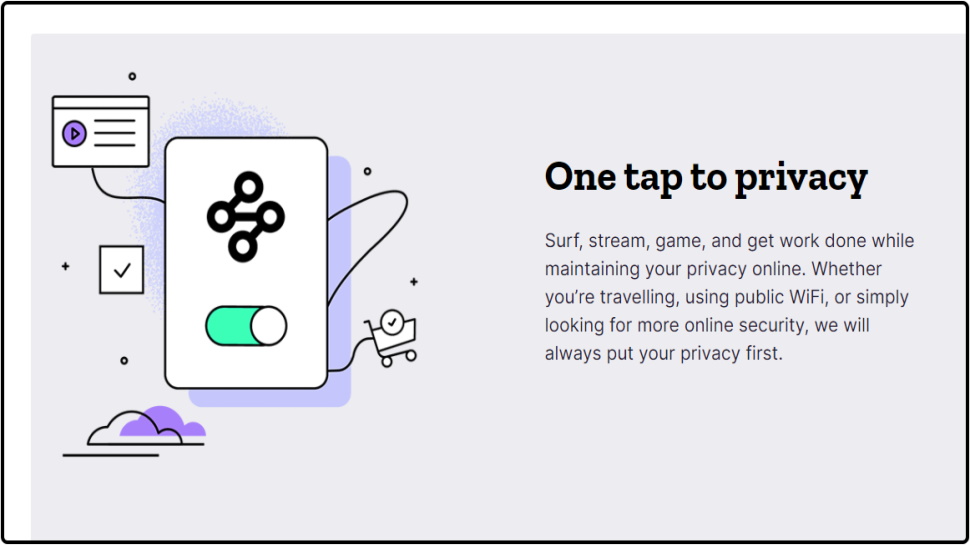 Privacy and logging
Mozilla sells its VPN partly as being from 'a name you can trust', and that's a major plus. Even if you think Mozilla's reputation comes largely from not being Google or Microsoft, it's still way ahead of most VPNs in the trustworthiness stakes, and its partner, Mullvad, is one of the most privacy-focused providers around.
The Mozilla VPN website makes its general approach very clear – 'Your privacy comes first', 'We don't store your online activity logs on our servers' – and the company provides more information in a brief Privacy Notice.
The firm collects your IP address when you sign up and use the service, along with technical information about its setup (installed app version, operating system, hardware configuration) and 'interaction data': when you log in, when the app requests the server information, and so on. Mozilla says the IP is only held 'temporarily', although it doesn't explain how long 'temporary' might be.
If you're unhappy with this, you can disable some of it. Our Windows app installer asked us whether we wanted to send usage data to Mozilla, making it clear what was going on, and giving us a chance to say 'no, thanks'. (If you don't notice the installer option, you can also turn this off from Settings.)
Mozilla points users to the Mullvad Privacy Policy for more detail, and that explains there's no logging of traffic, DNS requests, IP addresses, session times or bandwidth used.
Although this doesn't have the level of technical detail we see with some providers, Mozilla intends the document to be read alongside its overall privacy policy and its general Privacy Principles ('Collect what we need, de-identify where we can and delete when no longer necessary', for instance, and 'Use and share information in a way that is transparent and benefits the user.')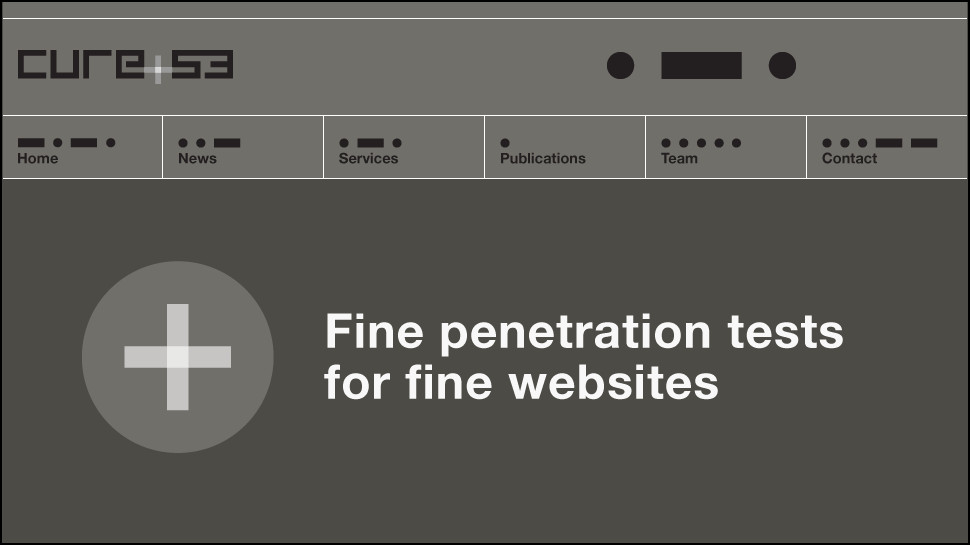 Audit
Mozilla says all the right things about privacy, but users shouldn't be left to take any provider's words on trust. We like to see some independent evidence that a VPN is living up to its promises.
In August 2021, Mozilla provided just that by publishing the results of a second Cure53 audit into its service.
This didn't look at the servers, presumably because they're run by Mullvad, so can't definitively show there's no logging. But Cure53 did get to examine all the apps, including looking at the source code, giving it plenty of opportunity to identify any privacy and security issues.
Cure53 found a number of vulnerabilities, and made some recommendations to improve app design. But the key issues have now been fixed, and Cure53's report concluded that the apps have 'grown significantly in security' since its last review, resulting in a single 'medium' scale vulnerability being uncovered.
Zero vulnerabilities would have been better, of course, but that rarely happens. Cure53 carry out exceptionally detailed reviews which catch even the smallest of issues, and the organization will always uncover some concerns.
Overall, we think the audit is positive news in a number of ways. The scope was significant, covering all Mozilla's apps; the company shared its source code; the audit results were reasonable, and it published the report in full. We give Mozilla a lot of credit for putting itself under that level of scrutiny, something which most VPNs still haven't done.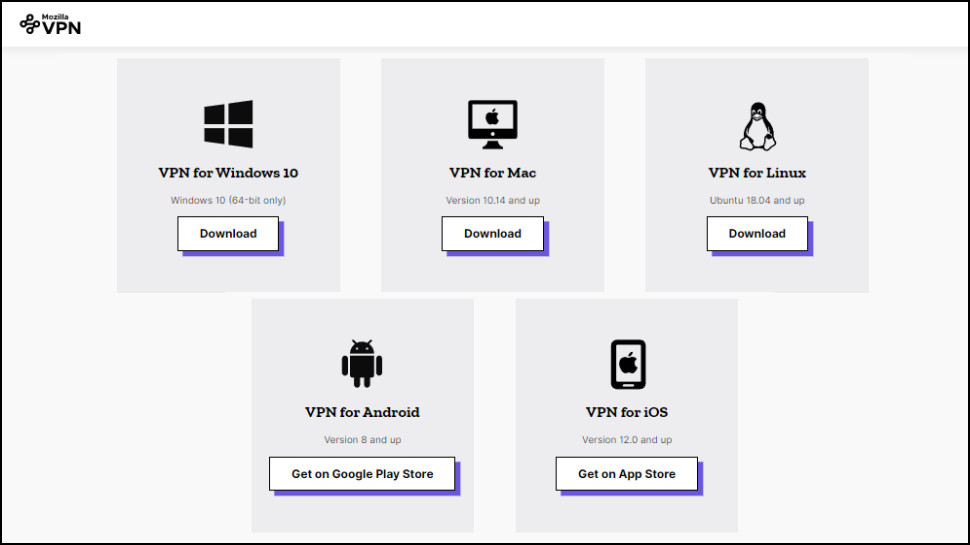 Apps
Getting started with Mozilla VPN requires creating a Firefox account, but that doesn't involve anything more than providing your email address and age. (Yes, age – we're not sure why, either.)
Account set up, we handed over our cash and the website directed us to the Downloads page. We grabbed a copy of the Windows client, and downloaded and installed it within seconds.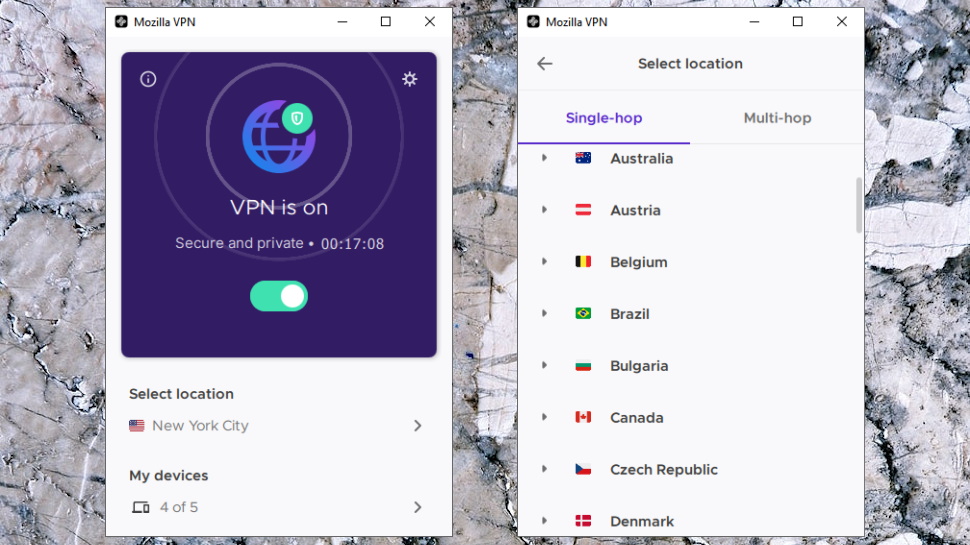 Mozilla VPN's Windows client has a simple, straightforward and very standard interface. A small console displays your default location, and you can click this to select another. A big On/Off switch connects and disconnects you as required, and icons plus a status display make it clear when you're protected, and when you're not.
The client doesn't have an 'Automatic' setting where it chooses the fastest server for you, and there's no Search box, filtering or Favorites system to quickly find your most-used locations. Getting connected can take a little more scrolling and clicking than we'd like.
There's some compensation in Mozilla's use of the ultra-speedy WireGuard protocol, though, which typically got us connected in 2-4 seconds. Even a fast OpenVPN connection usually takes 5-6 seconds to establish, and some make you wait 20 seconds or even more.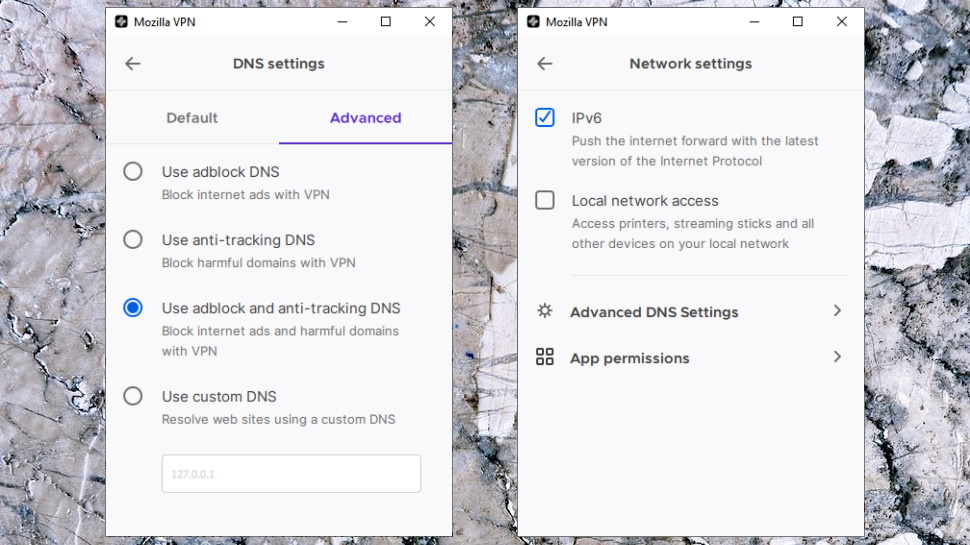 Settings
Mozilla VPN's Windows settings begin with a simple split tunneling system. This enables setting up some apps to use your normal internet connection rather than the VPN, which can be handy to improve performance or fix problems (banking apps which won't run if you seem to be in another country, say).
A DNS Settings screen allows you to choose DNS servers which block ads, 'harmful domains' or both, and you can also enter a custom DNS server of your own. (You can only enter one DNS IP, though, so it might cause problems if that server fails or is underperforming.)
A Notifications page includes an option to display an alert if you connect to an unsecured Wi-Fi network. That's useful, although more powerful apps can automatically connect to the VPN as required, too.
A handful of more technical features include the ability to enable or disable IPv6, and access devices on your local network (or not). Overall, though, the client keeps its settings to a minimum.
As we mentioned above, there's no option to change protocol: it's WireGuard or nothing. But otherwise, there's a fair amount of configurability here, and Mozilla VPN certainly outperforms many competitors.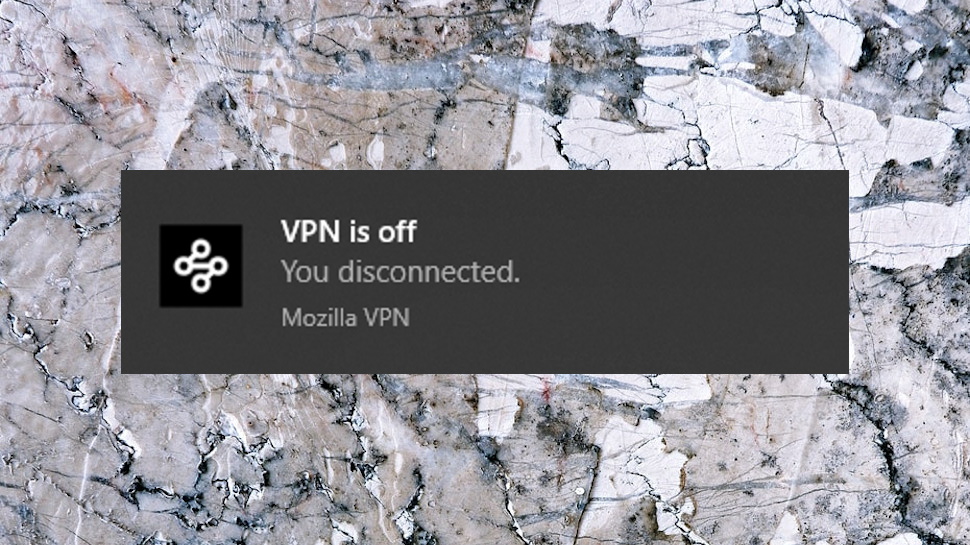 Kill switch
While Mozilla's Windows client has a kill switch, there's no option to turn it on or off, or otherwise tweak how it works. That's good for security, as there's no way you can accidentally disable it. But it could be bad news if the kill switch causes some problems on your device, as there's no way configure it.
We ran a few tests, and found the kill switch did a mostly good job of blocking our internet if the connection drops.
Still, there are some extreme situations, including the failure of one of Mozilla's Windows services, which can result in the VPN dropping, protection being lost, the kill switch not kicking in, and all without the app raising a notification to warn the user.
That's not something you're likely to encounter often, and we're confident the kill switch will protect you in the vast majority of real-world situations. But it's not perfect, and Mozilla still has work to do to close its security holes.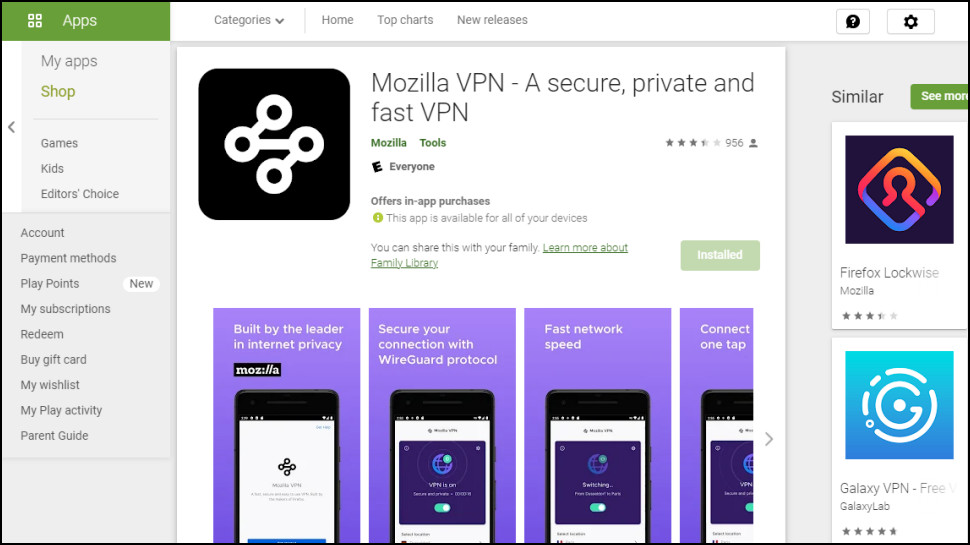 Android app
Mozilla VPN's Android app is a near clone of the Windows build.
The bad news is you get the same basic location picker, with no Favorites or Recent list to speed up your reconnections.
It's missing the Notifications section, too, so you don't get an alert if your device connects to a new network. (Annoying, as we'd guess you're more likely to need that on a mobile than a Windows PC or laptop.)
It doesn't come with a kill switch, either. You can set up Android's kill switch manually, but the app doesn't help you do that.
The app does include all the other Windows settings and options, though: split tunneling, ad and 'harmful domain' blocking DNS, IPv6 support and more. We would rather have location Favorites and an 'auto-connect on accessing insecure Wi-Fi' feature, but if you'll use its configurability, the app is still worth a try.
iOS app
Apple users won't be surprised to hear that Mozilla VPN's iOS app has the most basic feature set.
There's no split tunneling, for instance. No custom DNS setting. No ability to enable access to devices on your current network.
You do at least get options to raise notifications when you switch servers or the connection state changes, though. And the app includes IPv6 support, too. But it all looks a little underpowered.
It's the same story with the location list. This is as stripped-back as we saw with the rest of Mozilla's family of apps: there are no server load details or ping time, Favorites system or Recent list.
This makes it a little less usable than many iOS VPN apps, and that only got worse when we ran into a technical problem, as follows…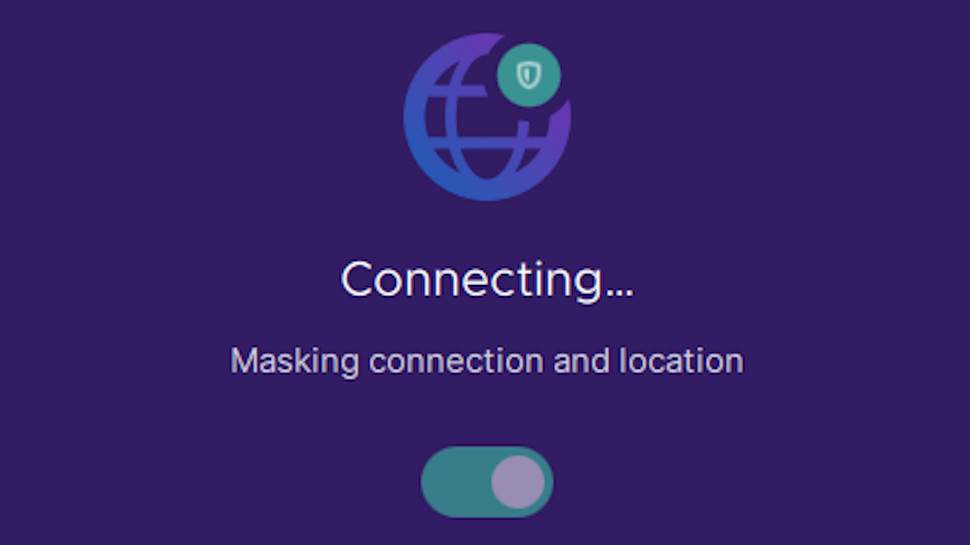 Can't connect
During iOS testing, we tried accessing the Spain server, but the app hung on 'Connecting...' for around a minute.
Eventually a 'failed to connect, try again?' notification appeared. This didn't have a 'no' option, so we closed it, expecting the app to give up. But it then hung on the same 'Connecting...' message for 10 minutes, with no further alerts, and no Cancel button to allow us to try another server.
What now? We signed out from the app, thinking it would stop the connection attempt. And this seemed to work: 'Signed out and disconnected', the app told us. But when we tried to sign back in, Mozilla VPN's login page wouldn't load, and neither would anything else. It looked like the app hadn't properly restored our network settings when we disconnected.
Fixing this isn't difficult. Our guess is even the most non-technical of users would decide to delete the app, and sure enough, once we did that our device was back to normal. And after we reinstalled the app, our connection issues were solved.
We're not too concerned about our Spanish problem, then; every VPN has connectivity issues occasionally. But if a VPN app can't connect, we expect a timeout to handle that automatically, and a clear Cancel option so users can call a halt to the process themselves. What we don't expect is users to be left to figure out what to do themselves.
Mozilla VPN's app store ratings indicate possible problems, too. Most top VPNs score somewhere between 8 to 9 (totalling Android and iOS review averages), but Mozilla lags way behind with 6.9 (3.5 for Android, 3.4 for iOS). Of the VPNs we evaluate, only Speedify does worse (5.9 as we write). We don't place much value on ratings as people give low marks for all kinds of reasons ('it's not free!'), but these are so low that it's at least worth noting.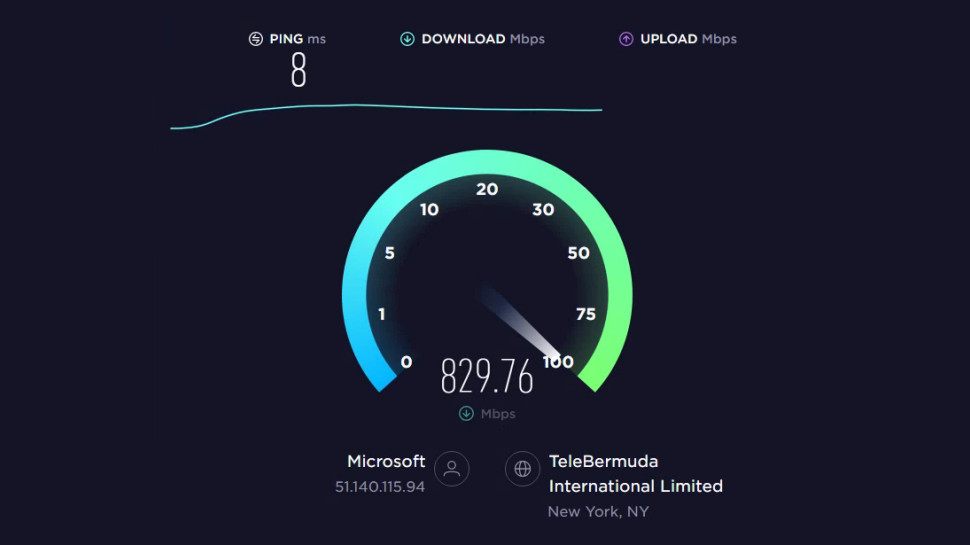 Performance
Mozilla sells its VPN on security and privacy much more than website unblocking, and our tests perhaps showed why; the service didn't get us access to BBC iPlayer, US Netflix, Amazon Prime or Disney Plus.
UK download speeds helped make up for that, though, with Mozilla's WireGuard connections reaching an excellent 750-850Mbps. That's right up there with the best of the competition – even NordVPN's NordLynx was only very fractionally ahead at 760-880Mbps.
We ran our tests from a UK data center with leading-edge connectivity, so you're probably not going to get close to that in most situations. But it's still good to know Mozilla has that kind of performance on tap, when and if you can use it.
The positive feel continued right up to the end of the review, too, as our final privacy tests found Mozilla VPN blocked all DNS and WebRTC leaks.
Final verdict
Easy to use and very, very fast, Mozilla VPN might appeal if you're looking for speed and a trusted name. But it can't match top providers like ExpressVPN and NordVPN in features, apps, locations, range of plans, unblocking and more besides, so demanding users might be happier elsewhere.