It is Black Friday season once again. That means it's time for us to bring you all the deal highlights from the world of tech. Vodafone has a stack of Black Friday bargains live at the moment, and we're going to take a look at just a few of them to whet your appetite.
Vodafone is currently offering discounts on a lot more than just phones, so we'll touch on its SIM-only bargains and the ways to save on Vodafone home broadband this Black Friday.
However, we're talking about Vodafone here, so we can't leave out a good old handset deal. You can currently save big on one of our favourite phones of the year at Vodafone.
It's the Samsung Galaxy S21 5G, an Android that fits an amazing triple rear camera array with 30x Space Zoom, a world-class processor and a 6.2-inch screen into a phone that weighs just 171g. You'd normally pay up to £36 a month to get the phone before adding your Airtime Plan, but from Black Friday to Cyber Monday, you can pick one up for just £19 per month plus £29 upfront (Price based on 36-month contract including trade in). So, all in all, that's a saving of up to £600 on your airtime when you also trade in your old device.
This phone is the smallest member of the S21 family, making it the easiest to handle, and is the best showcase for the gorgeous two-tone design Samsung devised for its 2021 flagship Androids.
To view the full range of Black Friday handset offers visit the Vodafone site.
A SIM-ple sale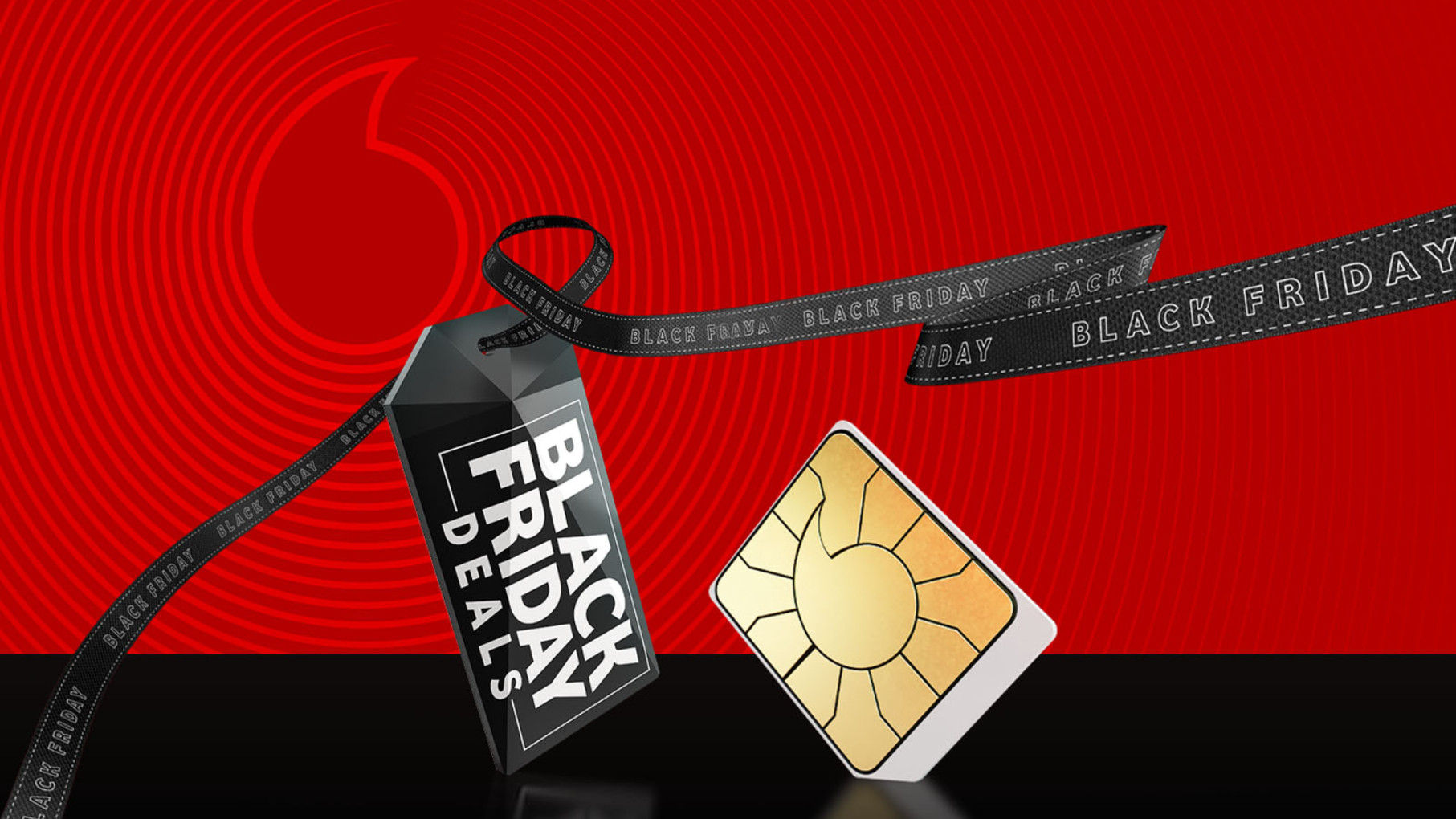 Already happy with your phone? Why not give it a Black Friday upgrade with a new SIM only plan instead?
Vodafone is currently offering its Unlimited Max data plan for just £20 a month, a saving of £10 off the standard price, and is running this offer right up until Cyber Monday.
Unlimited Max is the perfect fit for all you movie streamers, online gamers, serial downloaders and Wi-Fi hotspot-ers.
All of Vodafone's Unlimited plans provide unlimited data while you're in the UK, but only Unlimited Max lets you Vodafone's powerful 5G network at full speed. Roaming in 83 destinations across the world is included too, with a generous monthly fair use threshold of 25GB. That should see most of you comfortably through a holiday or work trip with gigabytes to spare.
Signing up for a Vodafone Unlimited Max plan means no more hunting for free Wi-Fi or worrying about whether you can "afford" to watch that YouTube video on the way home from work. Check out the full range of Unlimited plans at the Vodafone website.
As part of Vodafone Unlimited Max you can also choose between a subscription to YouTube Premium, Amazon Prime or Spotify. Vodafone Unlimited Max is a good deal throughout the year, but during these Black Friday sales it's something else.
To view the full range of Black Friday SIMO offers visit the Vodafone site.
Home-bound bargains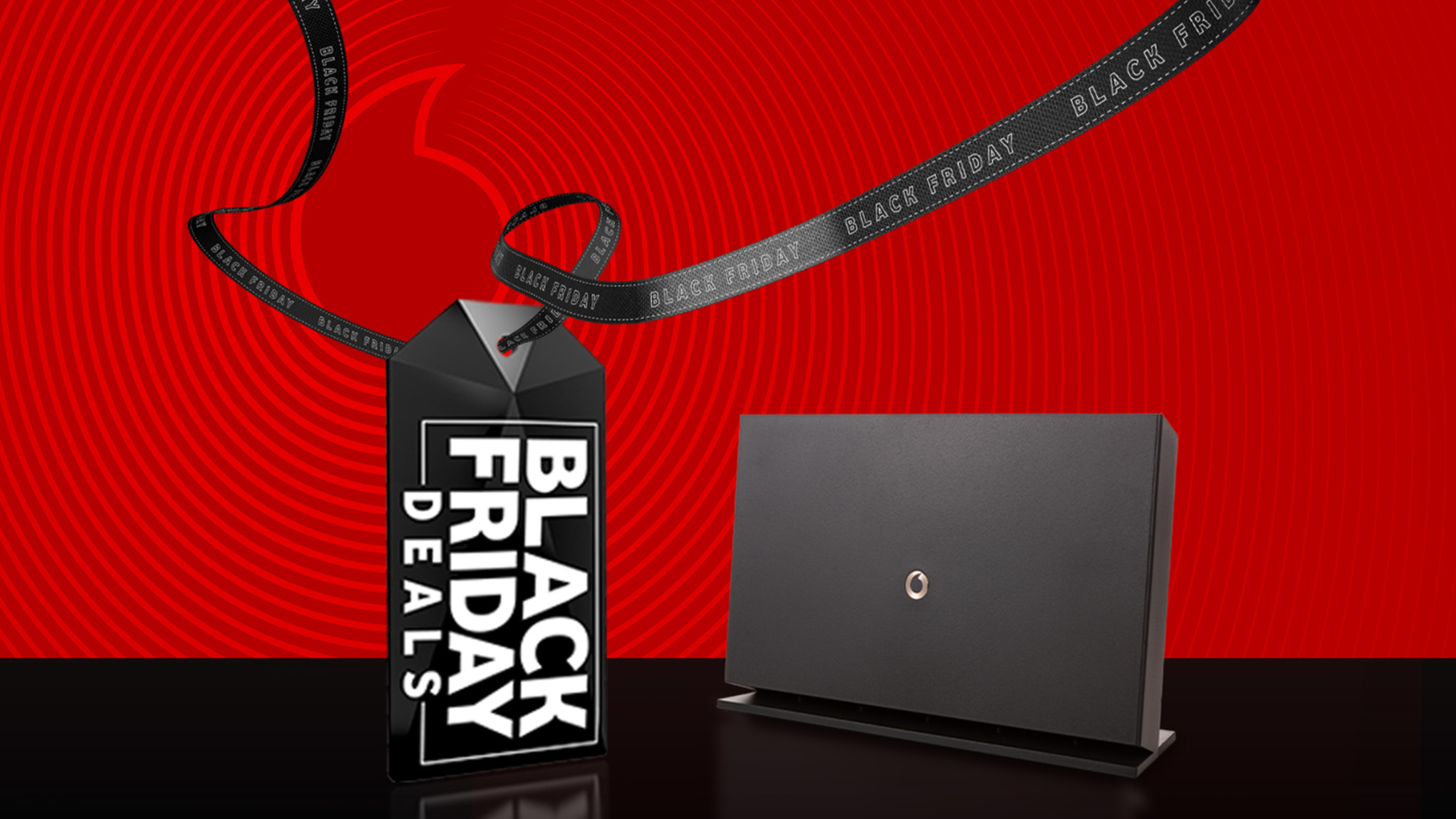 Vodafone's Black Friday deals also have something for your home. There are significant savings on several Vodafone's home broadband packages.
During Black Friday, Vodafone's Superfast 2 home broadband with speeds of up to 63Mbps has been cut down to just £20.
A Superfast 2 plan includes Vodafone's Intelligent WiFi Hub, designed to ensure a consistently reliable Wi-Fi connection in every room of your home. However, while these Black Friday discounts are about, we suggest you consider making the leap to one of Vodafone's Pro plans.
Vodafone Pro Superfast 2 adds a 4G Broadband Back-up system. It automatically switches to a mobile network connection if, for whatever reason, your standard home broadband service is interrupted. You also get access to Vodafone's WiFi Xperts, a team of engineers who can help if you're having Wi-Fi troubles.
These are just a taster of the Black Friday deals available at Vodafone this year: a new phone, a treat for your current phone and a big home broadband upgrade for your home. Check out further details on these deals and others over at the Vodafone website.
-To view the full range of Black Friday home broadband offers visit theVodafone site.