Sixteen years ago, Lenovo took over the ThinkPad when they bought IBM's personal computer business, and they've done some nice things with that brand since then.
The current inventory is far from what IBM was making, being significantly lighter, more powerful and with substantially better battery life.
They've retained a few signature features that go back to the very first 700 series ThinkPad's made in 1992, and they're traditionally Intel-powered.
With each new generation of hardware, Lenovo has the option to ape its previous designs, loved by many corporate customers, or do something different.
Is the Lenovo ThinkPad X1 Titanium Yoga Gen 1 more of the same, or a bit of a gamble?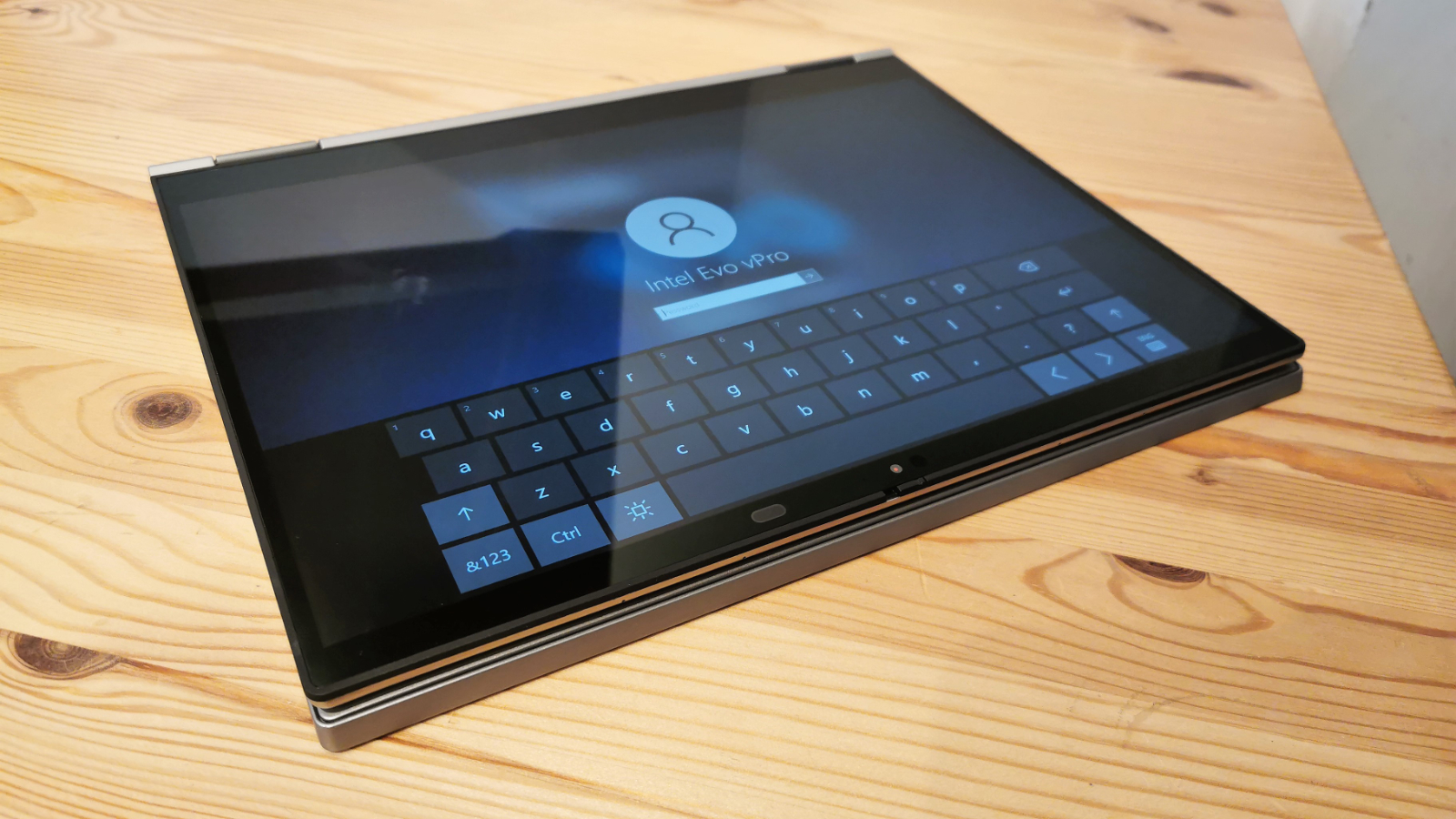 Price and availability
Lenovo has two standard SKUs of this machine, one at £1,669.99 and the other £1,859.99 inclusive of VAT. The cheaper model has a Core i5-1130G7 processor, and the more expensive option, reviewed here, uses a Core i5 1140G7 CPU.
The hardware customisation options are limited to storage, with a maximum of 1TB PCIe SSD available.
American customers get two slightly different SKUs priced at $1,781.40 and $1,860.60, respectively. These have less RAM (8GB, not 16GB) than their European brothers, and they come with the Lenovo Precision Pen. The pen costs an additional £39.99 in Europe.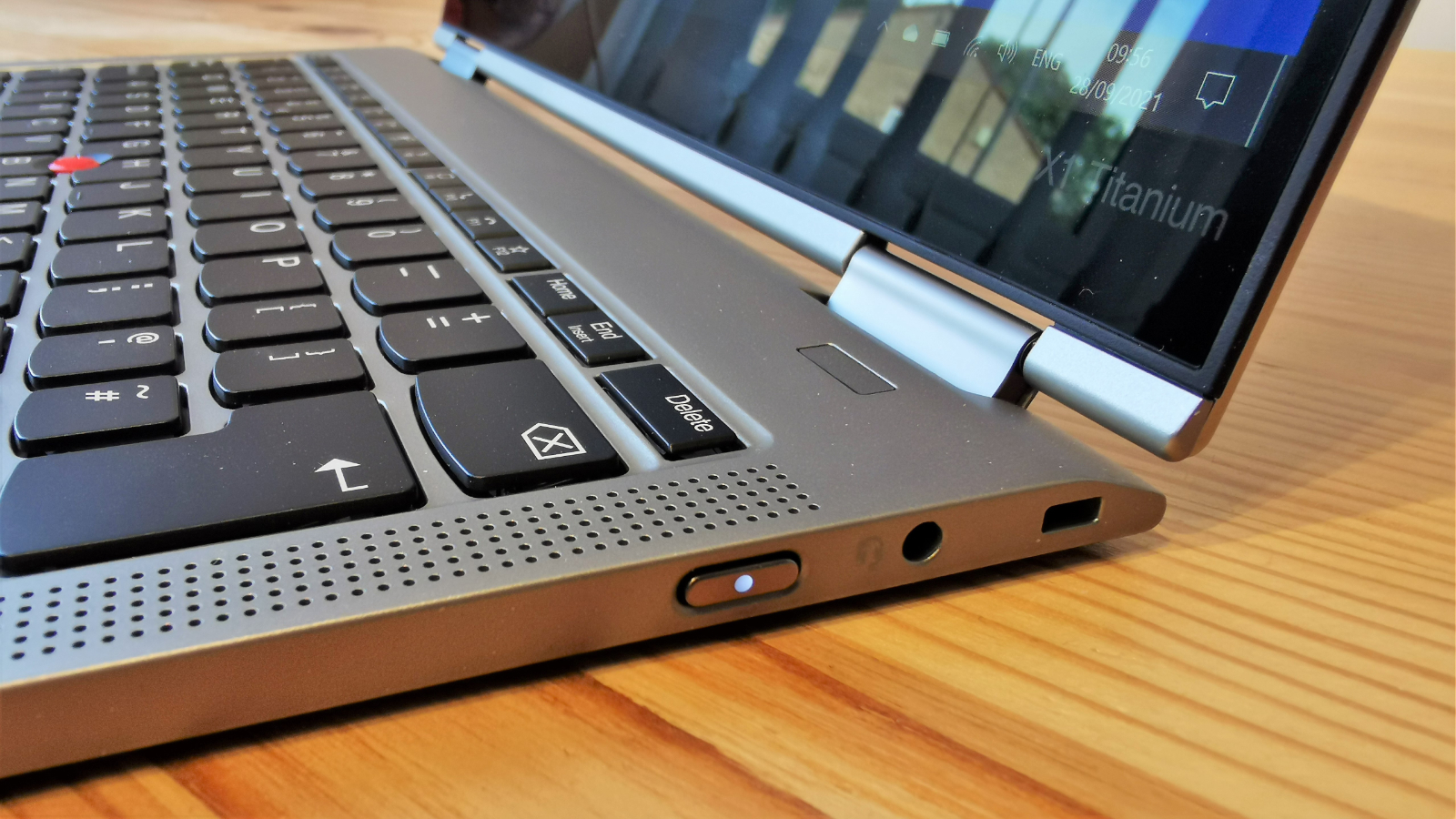 Design
Apple can be blamed for many things, but the popularity of thin high-performance laptops is one they should get some credit for.
The X1 Titanium Yoga Gen 1 is very evidently inspired by the MacBook, and its elegant exterior has many subtle nods to popular Cupertino designs.
That said, the outside of this system feels plastic, even if some of the panels are aluminium.
How thin these external skins are is a choice that Lenovo designers made to reduce weight but to the detriment of durability.
This being a Yoga design, the screen can translate through nearly 360 degrees, allowing the system to work as both a tablet and in 'tent' mode if needed.
One impact of that option is that cooling vents on the underside would be obstructed in tablet mode, leaving designers with only the spine of the lower chassis option to place those exhaust vents.
And, with the spine now fully utilised with vents, only the sides remain available for ports.
Somewhere in the design of this machine, that limitation was brushed aside, as the X1 Titanium Yoga was given very few ports.
On the right is the power button, a security lock slot and a 3.5mm headphone jack, and on the left are two USB-C ports, one of them designated for charging.
Anyone with any form of USB-A peripherals like external storage, or a mouse, will need a USB-C hub or docking station.
The exact reason for the lack of a USB-A port is most likely that at just 7.5mm thick, and as a USB Type-A receptacle is 4.5mm, the edge around that would be too thin out of these materials to survive much use.
Considering the high cost of this product, a simple USB-C to USB-A adapter should have been included.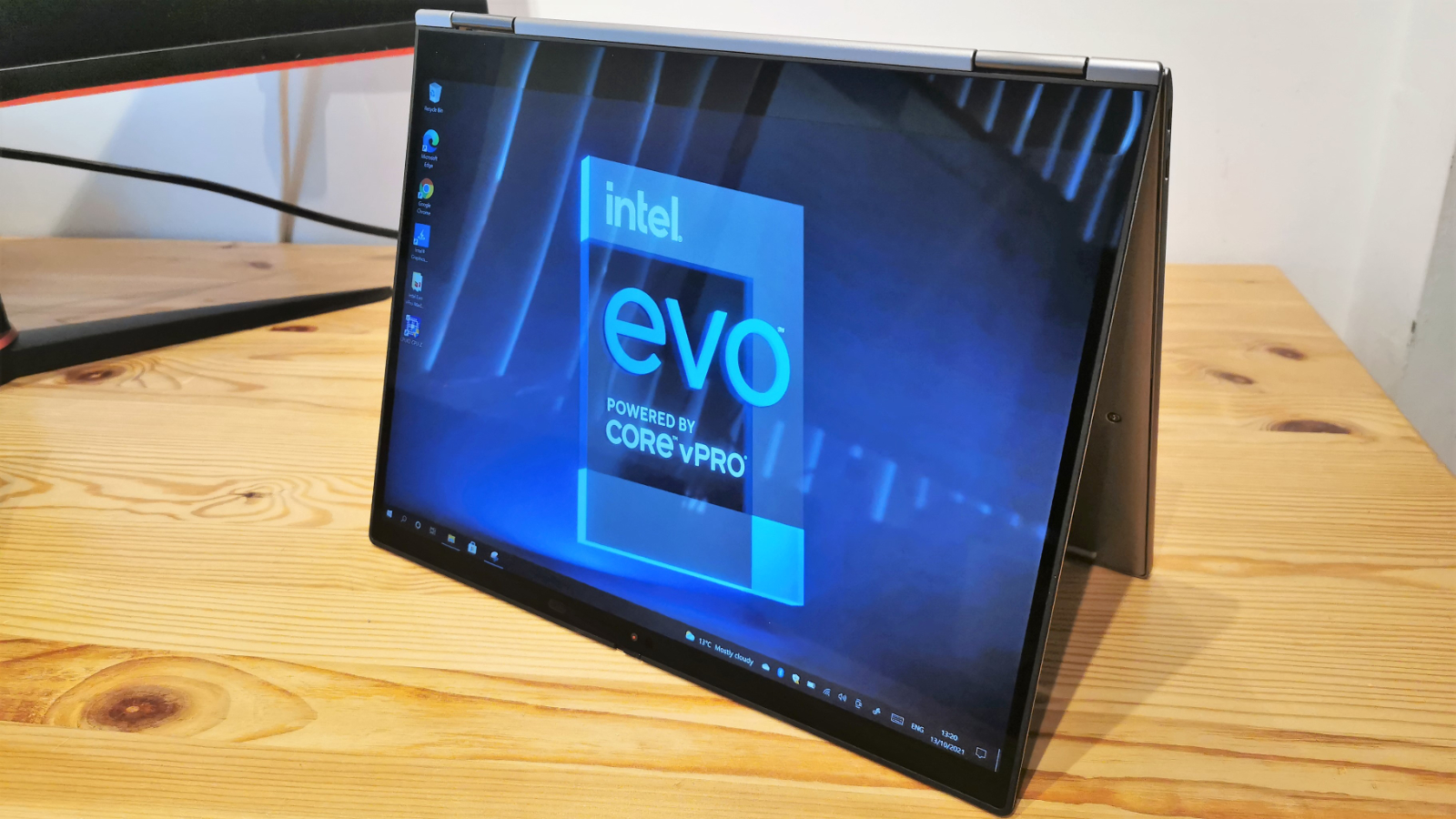 Opening the lid reveals a 13.5-inch screen with a 3:2 ratio and relatively narrow borders on the sides. Having little border space can be an issue with touch controls, but it appears to be calibrated by default to make this less of a problem.
The keyboard has large, well-spaced keys and the signature red 'nipple' control for those that don't find using one gives them finger joint pain. There isn't room for a numeric pad, unsurprisingly, but the function keys are less than half the size of standard keytops, for no apparent good reason.
Another head-scratching choice is that the fingerprint sensor is placed above the keyboard in a place most users would expect the power button, and not below it.
For anyone with keyboard experience, input is easily on this device unless you use the function keys excessively.
Less wonderful is the trackpad, which has the mouse emulating buttons at the top. Its sensitivity is fine, but dragging a file or icon requires both hands to achieve reliably.
Hardware
Spec sheet
Here is the Lenovo ThinkPad X1 Titanium Yoga Gen 1 configuration sent to TechRadar for review:
CPU: Intel Core i5-1140G7
Graphics: Intel Iris Xe Graphics
RAM: 16GB DDR4 RAM
Screen: 13.5" 2K (2256x1504) IPS 450 nits
Storage: Toshiba BG4 KBG40ZNT512G M.2 480GB PCIe NVMe SSD
Ports: 2 x Thunderbolt 4 USB-C (compatible with USB 3.2 Type-A Gen 2), 1 x universal audio jack
Connectivity: Intel AX201 11AX Wi-Fi 6 (2x2) and Bluetooth 5 vPro
Camera: 1x IR & 720p HD Camera with Microphone
Security: Fingerprint Reader, Windows Hello via IR camera, dTPM 2.0 Chip, Human presence detection
Weight: 1.15 kg/2.54 lbs
Size: 297.5 x 232.7 x 11.5 mm (W x D x H)
Battery: 4-cell 44.5Whr
Our review X1 Titanium Yoga came with an Intel Core i5-1140G7 processor, an example of the latest generation Tiger Lake 10nm chips launched in Q1 of 2021.
This chip is a four-core and eight-thread CPU, with a baseline clock of 1.8GHz and Turbo mode up to 4.2GHz. A critical aspect of this design isn't the amount of cache or special extensions but its fabrication using a new 10nm SuperFin process. The previous Intel 10nm process didn't deliver the expected advantages over the 14nm chips that Intel has been using for the past six years, and SuperFin addresses those issues we are told.
Smaller tracks and a higher density of transistors is only part of this story. According to Intel, it has enhanced its fabrication process through other innovations that go beyond scaling and provide additional performance and efficiency.
The extra space on the die created by the reduced scale also allows more room for a better GPU, the Iris Xe Graphics core, and more cache.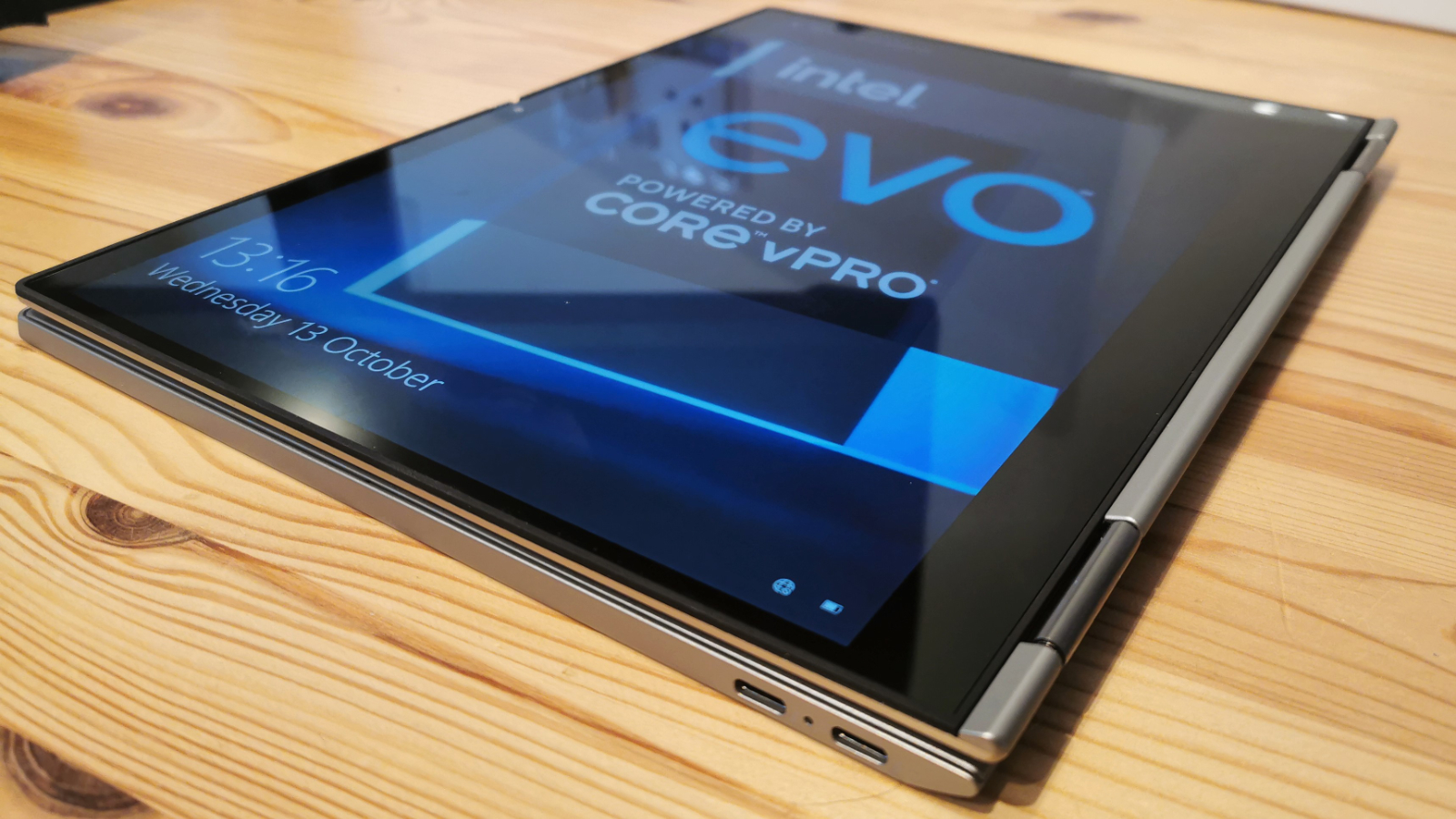 As AMD has proven with its new Ryzen mobile chips, being able to achieve more with less power also has additional benefits for battery life.
Lenovo gave this system a four-cell 44.5Whr battery with a claimed 10.9-hour battery life based on testing with MobileMark 2018, enabling it to operate for a full working day.
Probably the hardware feature that most users will initially appreciate is the screen, featuring a 13.5" 2256 x 1504 display with Dolby Vision and a brightness of 450 nits.
A slightly odd resolution, but the colour representation and contrast on this IPS technology panel are excellent, and it's bright enough to easily read in bright daylight.
In use
For the size and weight of the X1 Titanium Yoga, it is a surprisingly powerful machine, and the user experience is mostly a very good one.
Due to the vagaries of Windows 10, it is better as a laptop than a tablet, but the large touch screen is workable with full screen designed apps. To use the desktop interface with fingers requires screen scaling to be increased above 100%.
The keyboard provides a reliable means to get content into the machine, though neither the red pointer controller nor the trackpad is superior to a mouse for managing the pointer.
Because of the lack of a USB-A port, a Bluetooth mouse is the ideal partner for this machine.
That's an additional expense, and a full-blooded deployment will require many other accessories, including a Thunderbolt 4 hub or docking station. Adding a hub or a Thunderbolt to DVI/HDMI adapter will allow the use of external monitors, resolving the lack of any video ports on the machine itself.
With some machines, a docking station is a nice-to-have facility, but here it's a necessity to negate the lack of ports.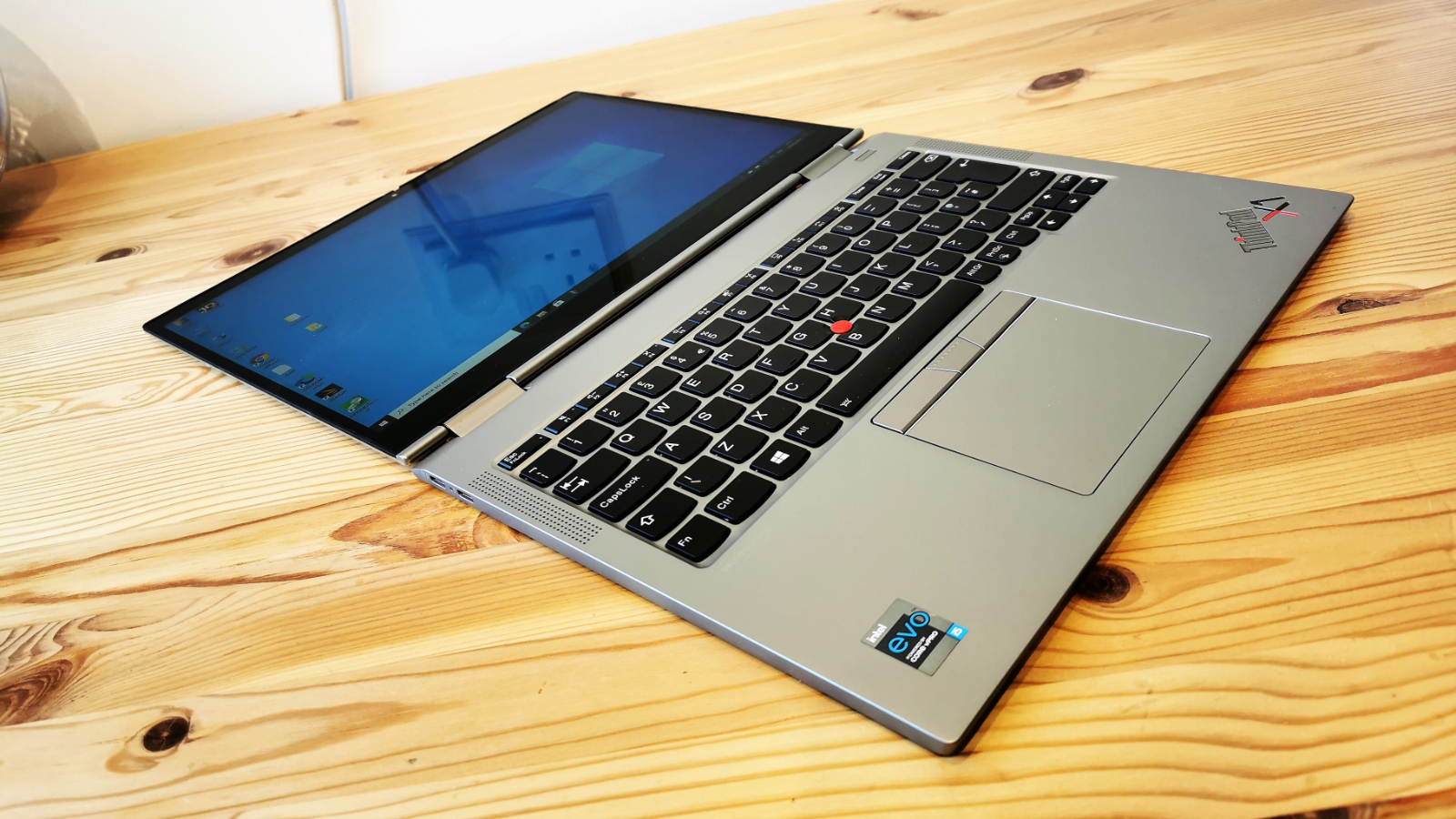 From a hardware perspective, unless you need more than 1TB of internal storage, it's mostly good news, but the OS installation isn't ideal.
Lenovo has a reputation for pre-loading its machines with all manner of bloatware, and this machine was no exception. We're unsure why Lenovo do this since any reputable IT department will strip all this off before it gets anywhere near its intended user.
We don't like having to remove lots of annoying software junk from a system to test it reliably, and we'd prefer that Lenovo learns to refrain from this specific type of customer abuse.
Performance
Benchmarks
Here's how the Lenovo Lenovo ThinkPad X1 Titanium Yoga Gen 1 scored in our suite of benchmark tests:
3DMark Wild Life: 10,043; Fire Strike: 3,649; Time Spy: 1315;
Cinebench R23 CPU: 1269 (single-core); 3,447 (multi-core)
GeekBench 5: 1,345 (single-core); 4,152 (multi-core), 13,012 (OpenCL)
CrystalDiskMark: Sequential Read: 2,382MB/s; Sequential Write: 1,512MB/s
PCMark 10 (Home Test): 3,870 points
PCMark 10 Battery Life: 7 hours and 51 minutes
Windows Experience Index: 8.1
As you might expect with the latest 11th Gen Intel hardware inside, this system is fast and agile.
While not a tablet design like this system, what was most interesting was to compare this machine to the recently covered HP ProBook 635 Aero G7 notebook PC, based on the AMD Ryzen 5 Mobile 4500U.
Across the board, the X1 Yoga is around 40% faster at almost everything, especially in single-core focused tasks and anything graphical.
The new Intel Iris Xe Graphics are a huge leap better than the dismal UHD 600 Graphics that Intel previous integrated on its mobile platforms. A score of 10,043 in the 3DMark Wild Life test indicates that some gaming or interactive 3D would be possible on this system.
However, Intel doesn't have all the wins, and the Intel Core i5-1140G7 fails to beat the AMD Ryzen 5 Mobile 4500U when the tests become multi-core, having only four cores where the Ryzen has six to deploy.
That results in a lower PCMark score of 3,870 over 4,606 on the HP, even factoring that the storage on this machine is faster.
It could easily be argued that most users are involved in single thread activities, and therefore the Intel Core i5-1140G7 would be faster the majority of the time. But for power users, the multi-core capabilities of the AMD processors can't be so easily dismissed.
And, the AMD platform lasted almost double the time on the PCMark battery test, indicating that in terms of power efficiency, Intel still has work to do.
The battery performance on the 9th and 10th gen Intel chips was often far from optimal, and at least the 7 hours and 51 minutes achieved by this system are sufficient for a working day, with breaks, even if that lags way behind what AMD can offer.
The battery life of this system isn't poor. It is decent but hardly special when compared with AMD Ryzen systems.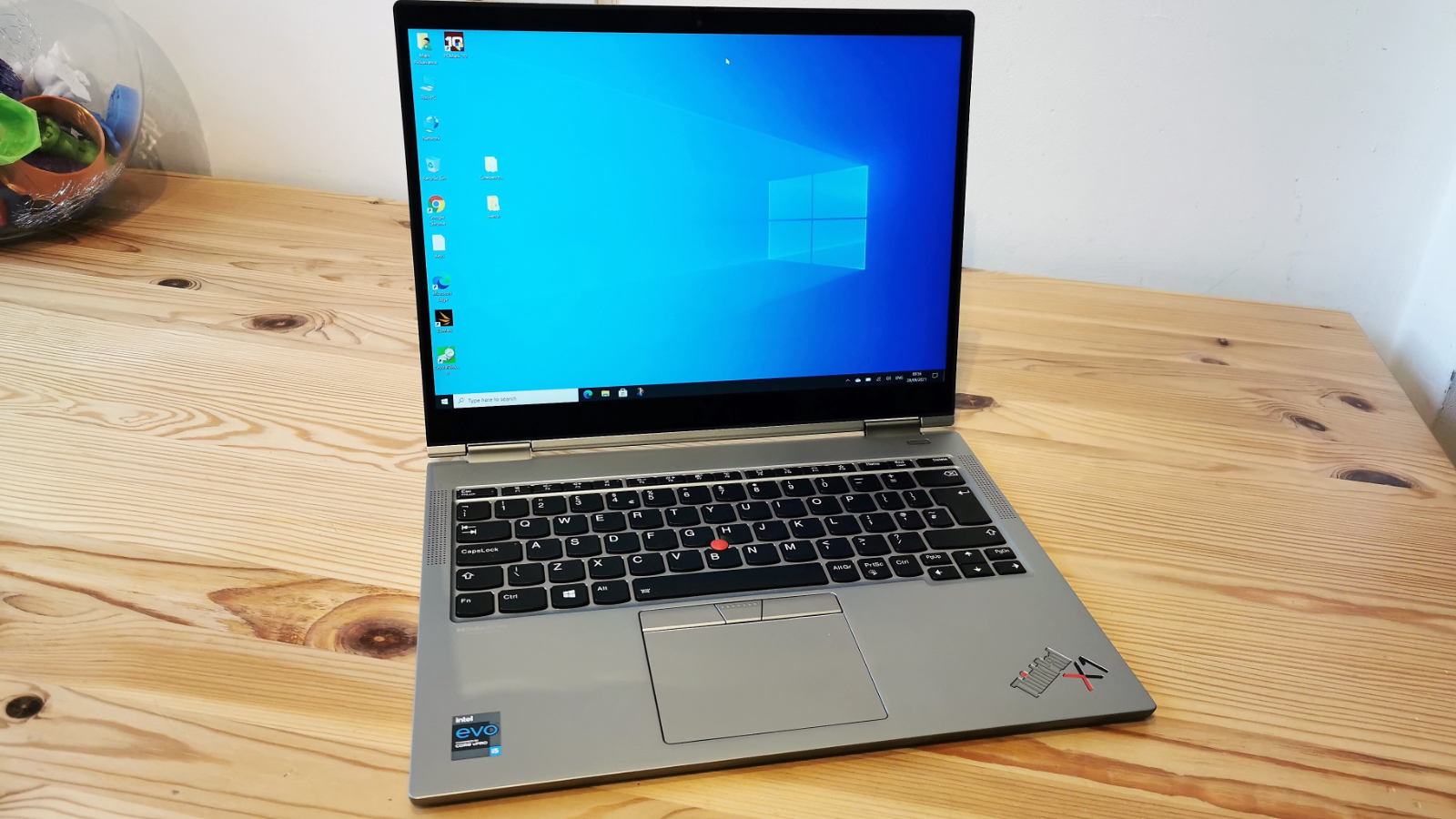 The final performance-related subject is the NVMe drive that Lenovo pre-installed, a Toshiba branded (Kioxia) BG4 KBG40ZNT512G, an M.2 2230 S2 OEM drive. It achieved a sequential read of 2,382MB/s and a sequential write of 1,512MB/s in CrystalDiskMark 8.0.4.
That throughput isn't poor, but NVMe can be faster. But before anyone rushes off to order a Samsung 980 Pro or some other retail drive, it's worth noting that this NVMe is in the M.2 2230 form factor, not 2280.
To get the full picture, we opened the X1 Yoga, a remarkably simple process that involves just six screws, and found insufficient room inside for a 2260 or 2280 sized NVMe module. The limitation appears intentional by Lenovo, and maybe due to the power consumption of NVMe drives designed for desktop use, it might be the right choice to restrict their use in this way.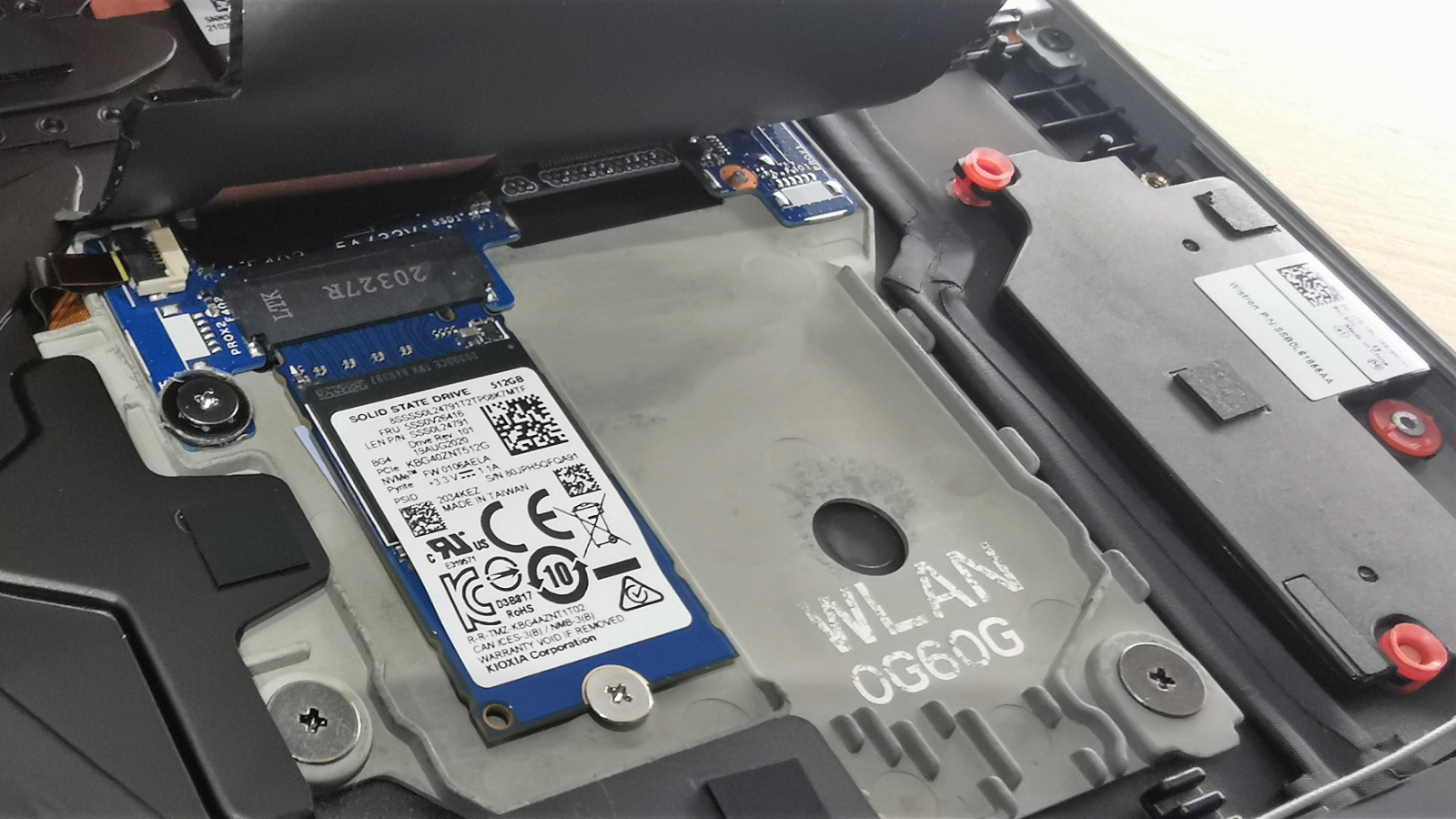 Upgrades
Even if the back is easy to get off, there is little to enhance once inside.
The biggest capacity drive in M.2 2230 form factor currently is 1TB, and with only one slot available, an upgrade would involve imaging the system to an external drive before restoring that to the replacement.
The memory also isn't slotted, or expandable from the maximum of 16GB that is factory mounted, leaving only the battery as the other reason you might want to delve inside.
The battery could be replaced if Lenovo makes replacements available, and doing that might extend its useable life down the road.
Final verdict
The Lenovo ThinkPad X1 Titanium Yoga Gen 1 is a solid 2-in-1 design aimed at the power user that wants mobility and performance.
Usually, having such a good CPU and GPU combination comes at a cost in battery life, but that aspect isn't compromised significantly here.
And, while it was included due to the lack of available port space, using Thunderbolt 4 enables it to connect to the best docking station technology back in the office.
However, the lack of a thicker metal skin might have shaved a few grams off the overall weight, but it also makes this machine seem somewhat fragile and likely to suffer in the hands of those that didn't buy it themselves.
And, the Yoga functionality of this design also contributes to the list of parts that might fail.
Windows isn't the greatest tablet OS or even second-best, and therefore the Yoga abilities of this design might not be fully utilised by its users. Tent mode might see more use than the tablet interface of Windows 10 in practice.
We should also point out a number of hidden costs. If connecting to USB-A peripherals is required, a portable Thunderbolt/USB hub is required, increasing the accessory clutter on a system that is meant to be ultra-portable.
Overall, the Lenovo ThinkPad X1 Titanium Yoga Gen 1 delivers one of the better Intel-based ultra-portable 2-in-1 designs we've seen in recent years. The high price reflects a system of this quality, and with some of the extras being absolute necessities, the total cost of ownership could be substantial when fully accessorised.