Exclusive details: We're reporting on the GameStop PS5 restock today, October 22, and we know a lot more information about this rare in-store restock event.
Follow our PS5 restock tracker Matt Swider – follow and turn on notifications for live in-stock alerts – because there's so much information, in fact, we've chosen to do a GameStop PS5 restock live blog. We have a lot of PS5 news to cover.
What time will it restock today? Which GameStop store locations? How many PS5 consoles are in stock? What are the games in the bundle? And what are the crowd sizes like? Is it worth lining up?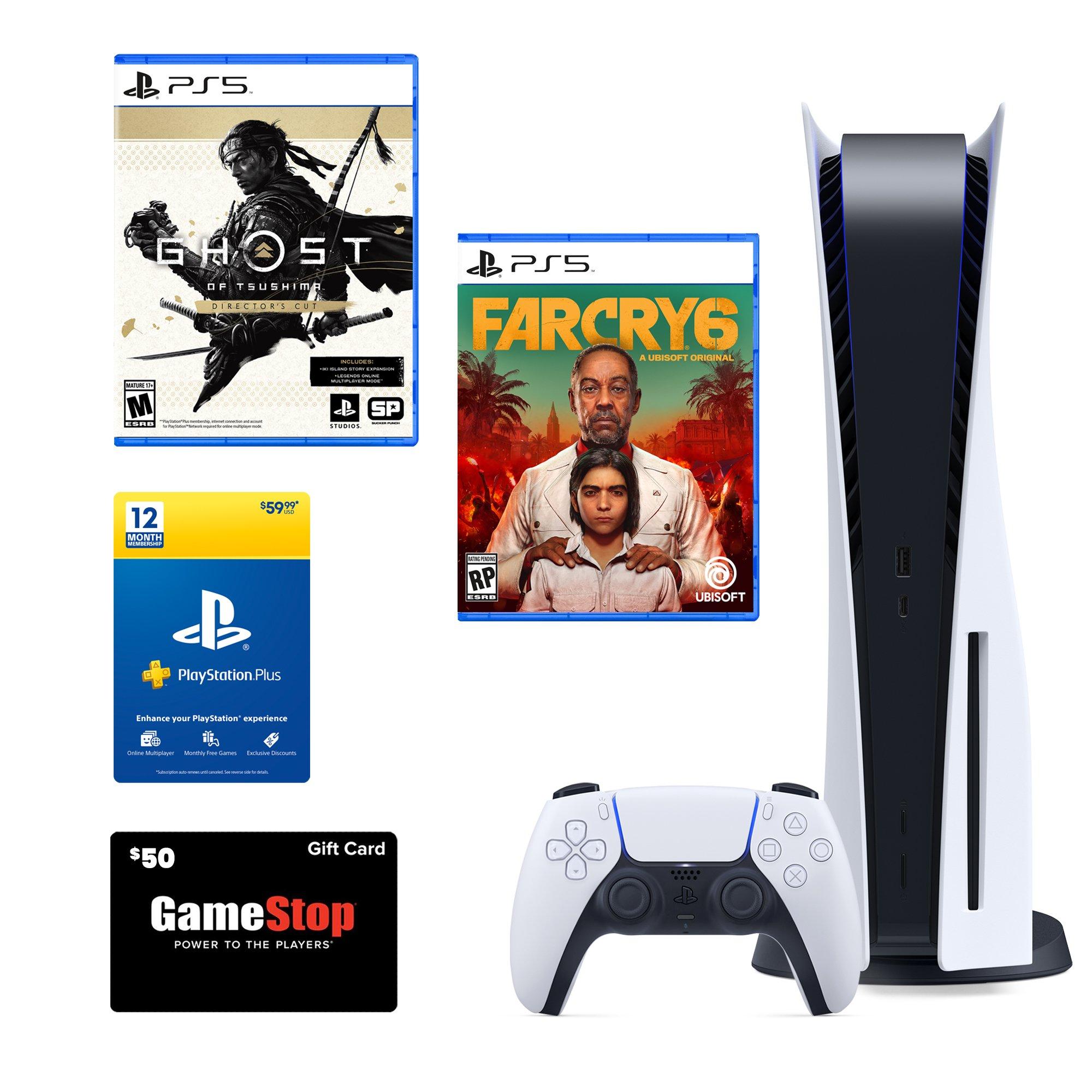 PS5 restock alerts!
When?
Follow S5 restock tracker Matt Swider and turn on notifications to get alerts when PS5 is in stock at all US stores: Target, Best Buy, Walmart and, of course, GameStop.
Have questions? Drop Matt Swider a line on Twitter

Our GameStop PS5 restock live blog starts with good news: you have an excellent chance to get the Sony console today – if you live in one of these seven cities in the US.
Boston
Los Angeles
Phoenix
San Antonio
Houston
Miami-Ft Lauderdale
Chicago
Let's start the GameStop PS5 restock live blog (latest entries are at the top)
GameStop PS5 restocks in-store events remain rare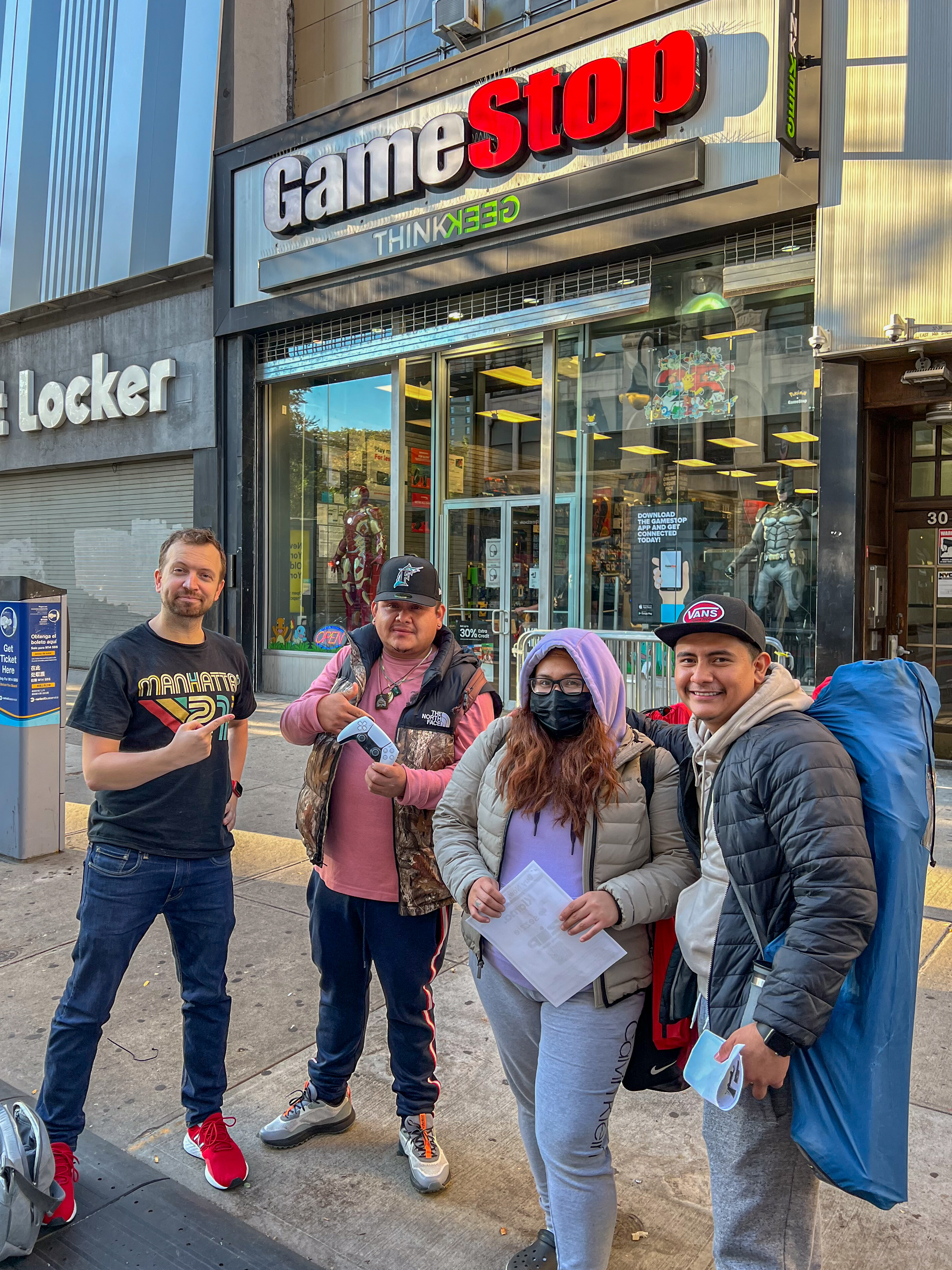 The last time there was an in-store PS5 restock event in the US, it was at GameStop nearly one month ago (Friday, September 29). These in-person events are rare; most times we see PS5 for sale online.
There have been three PS5 restock in-store events so far in 2021 – besides the two at GameStop in the last 23 days ago, Best Buy also had a restock on September 23. Our inside sources says Walmart is holding back PS5 console inventory for Black Friday 2021.
We're back reporting live from the second GameStop restock event – and third overall in the US.
How early do you have to line up at GameStop?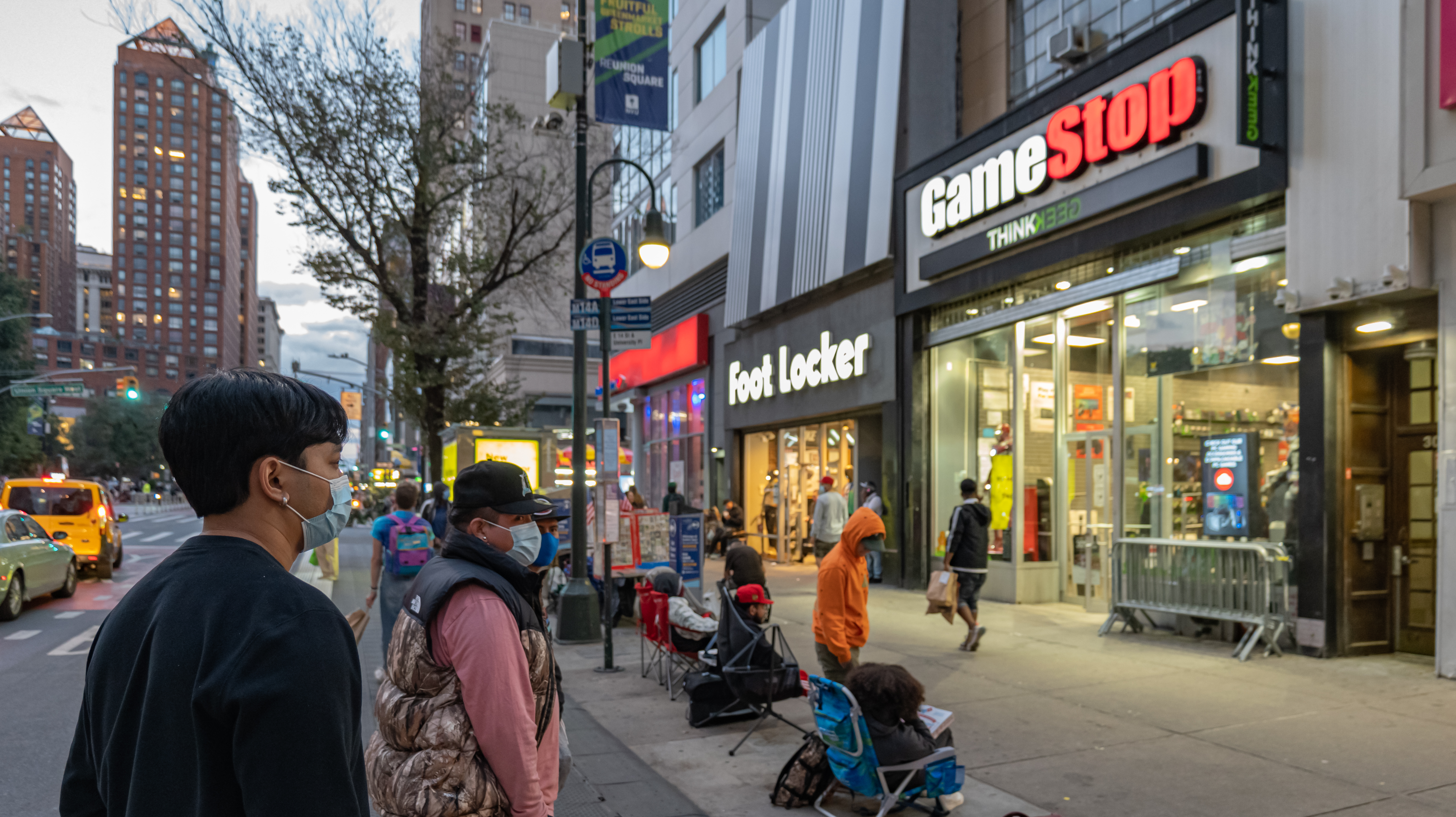 It varies greatly and sometimes GameStop stores in major city centers see fewer people waiting overnight. In suburbs, there are more people, though, rules sometimes prevent camping for consoles (and other wares) at malls. In those cases, it's a scramble when security allows you to line up at sunrise.
We interviewed a mom and son who waited in GameStop's line in New York City for nearly three days to be first in line to get the console during the September 29 PS5 console drop. They also took a bus from Baltimore to be there.
On the tail end of that same 43-person line – that's how much inventory there was at most locations – was a man who showed up just 30 minutes before GameStop opened at 8am EDT (he had just gotten off an overnight shift at work and was out of breath) was the last to get a PS5 console that day.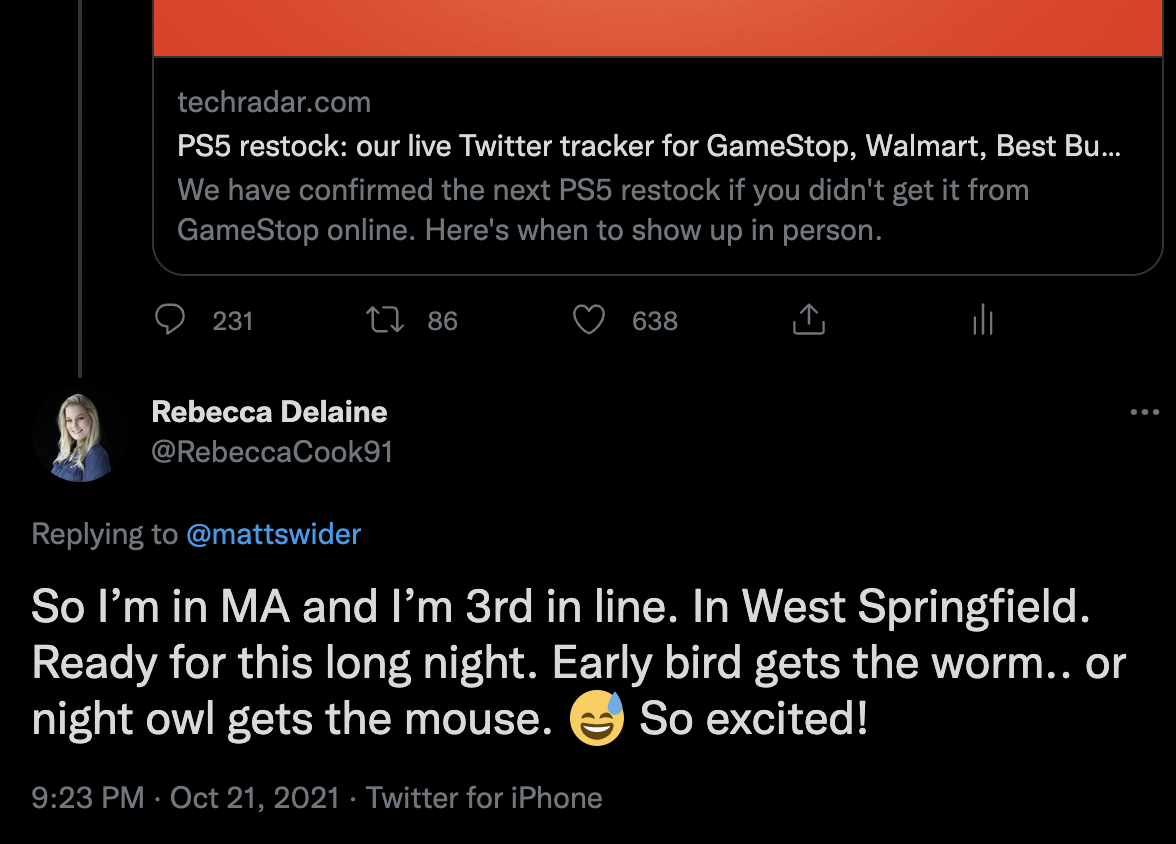 It's risky to wait that long, as we have reports people are already lining up at some GameStop locations. We're going to go back at 6am, which we feel is a good time for lines in sleepy cities. For other GameStop locations, this may be too late.
Seven cities have the GameStop PS5 restock today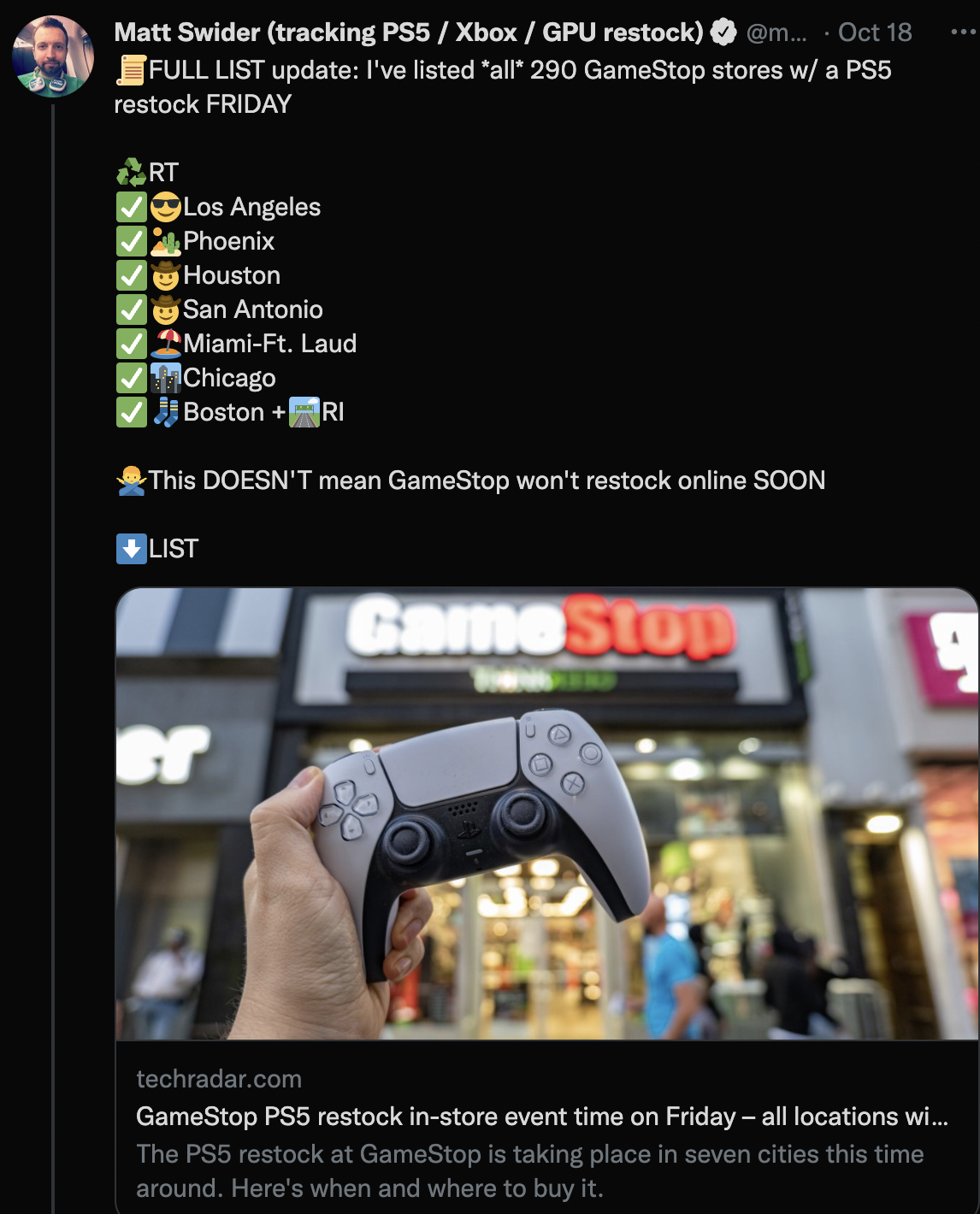 And we're off to Boston, one of seven cities (and their surrounding areas to have the PS5 in stock today, Friday, October 22. There are 290 GameStop stores due to have the Sony console in the morning (whenever they normally open is the time).
In fact, our GameStop PS5 restock store locations page has all 290 addresses listed, something GameStop's own database didn't even get right.
How will the crowds be in Boston? What about Chicago from Matt Swider's Twitter followers checking in? This is where our GameStop PS5 restock live blog is really going to get interesting.
Why Boston? It has stores that open up at 8am EDT, meaning we'll be the first to report on the PS5 restock inventory on Friday morning.
The GameStop PS5 restock crowds aren't showing up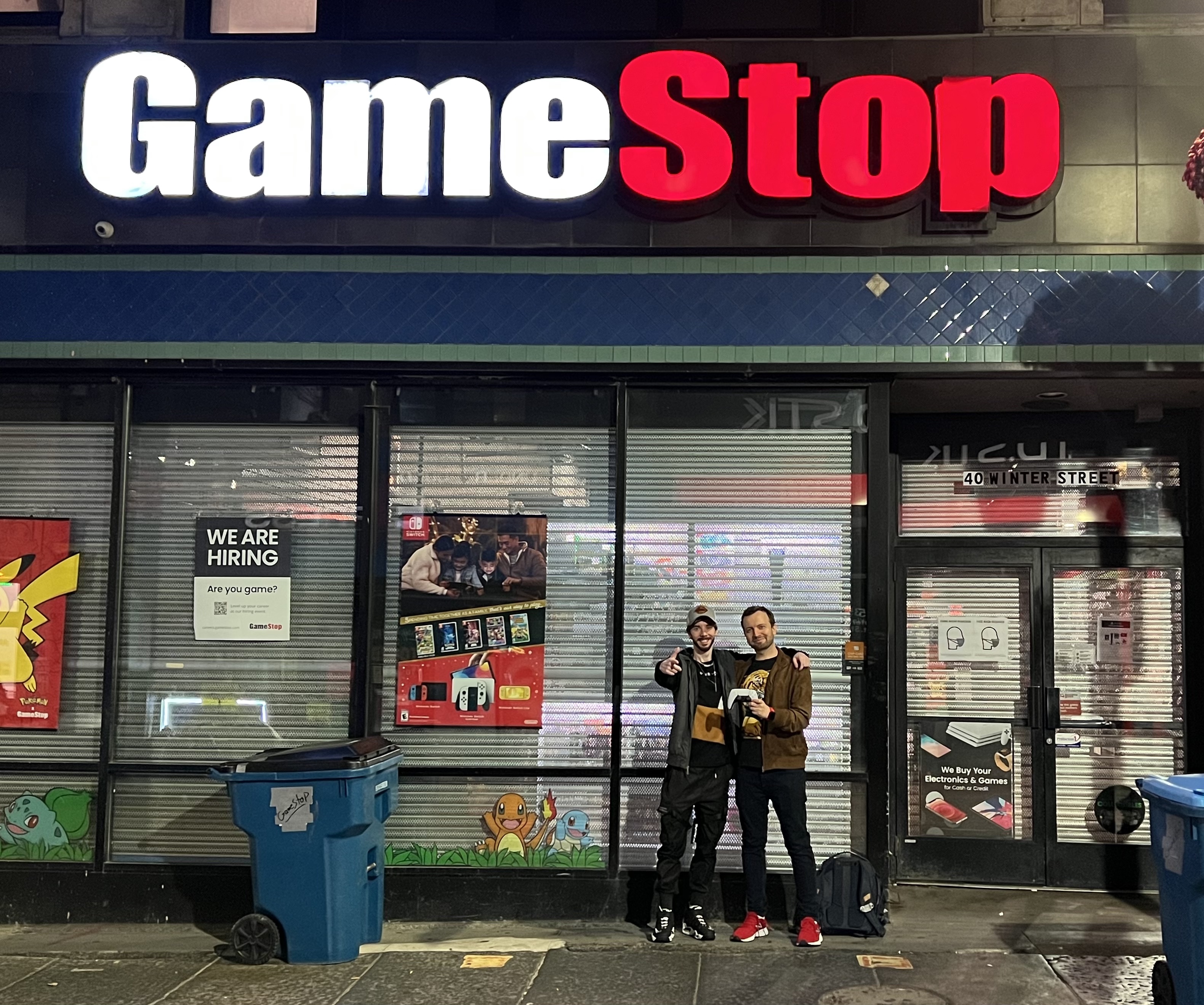 We've seen zero people in line overnight at some GameStop stores, including the store in downtown Boston. This photo was taken at 11:30pm EDT and there was no one in line except for Matt Swider and restock tracker/YouTuber Jake Randall.
One of the reasons for the lack of crowds? GameStop forces people to buy bundles, so the resellers stay home. That's good news for actual gamers, but expect to pay something like $740 today (we know this because GameStop had an online restock on Tuesday with the same bundle contents).
What's the GameStop PS5 restock bundle? How many are in stock?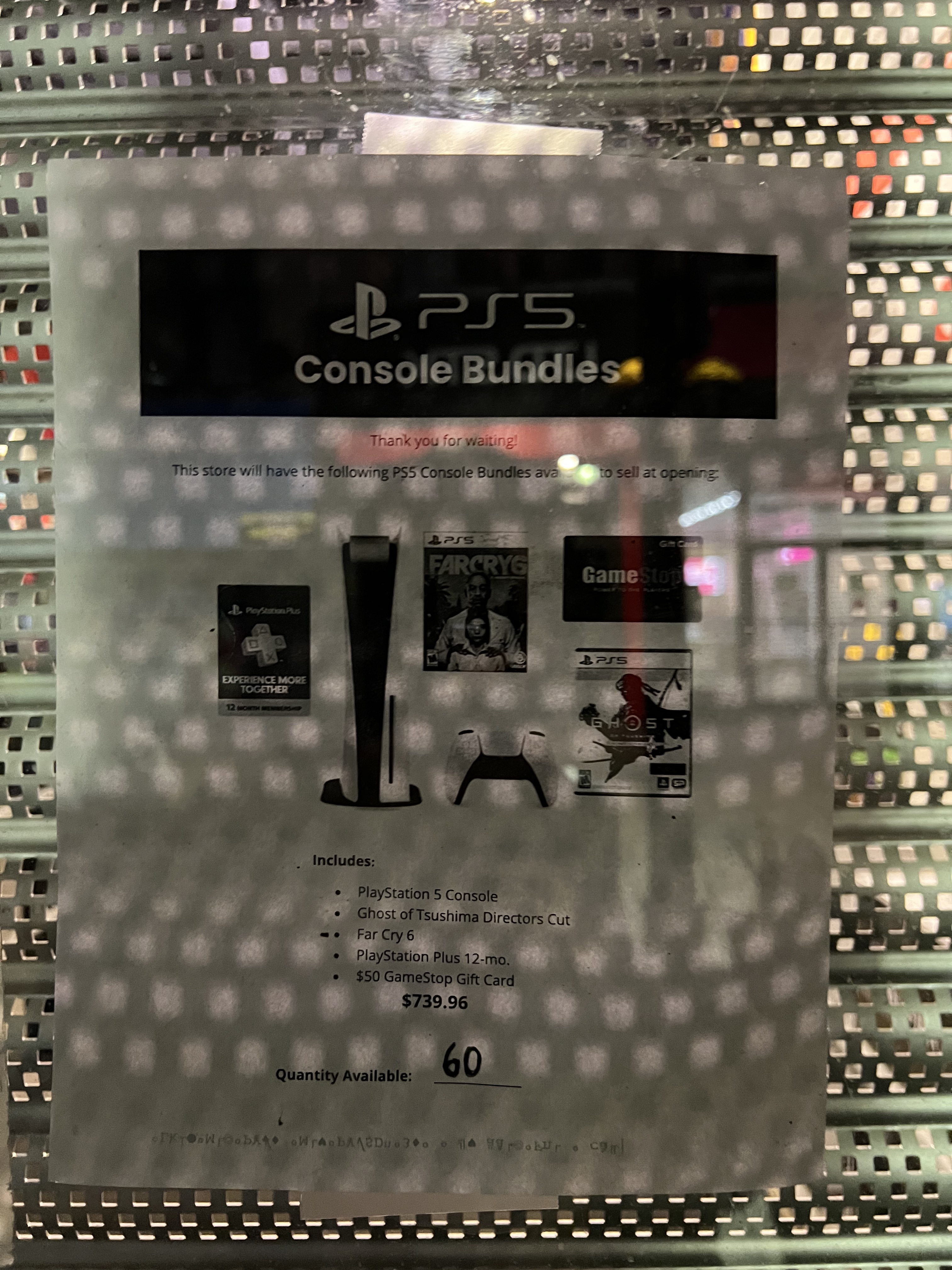 More good news to start out PS5 restock live blog. There are plenty of consoles at the locations we've checked: 60 PS5 Disc consoles in total.
And the bundle is actually a good one: the PS5 Disc console, Ghost of Tsushima, Far Cry 6, a $50 GameStop gift card and a 12-month membership to PlayStation Plus. We've confirmed that it'll cost $740.
But that on-the-ground reporting is what counts: 60 consoles and no one in line at midnight. You're in good shape if you're reading this in time and can still head to your local GameStop.