We have a tip for Huawei phone and tablet users: make sure you have the latest version of the My Huawei app, previously known as Support.
Can't find either on your home screen or still have Support instead of My Huawei? It's time for a trip to the Huawei AppGallery app store.
Search for "My Huawei" and you'll be able to see if you have the latest version of the app*. You might find there's an update available.
Huawei has given My Huawei a full facelift recently, and nowadays there's a whole lot more going on in the app.
Deals, deals, deals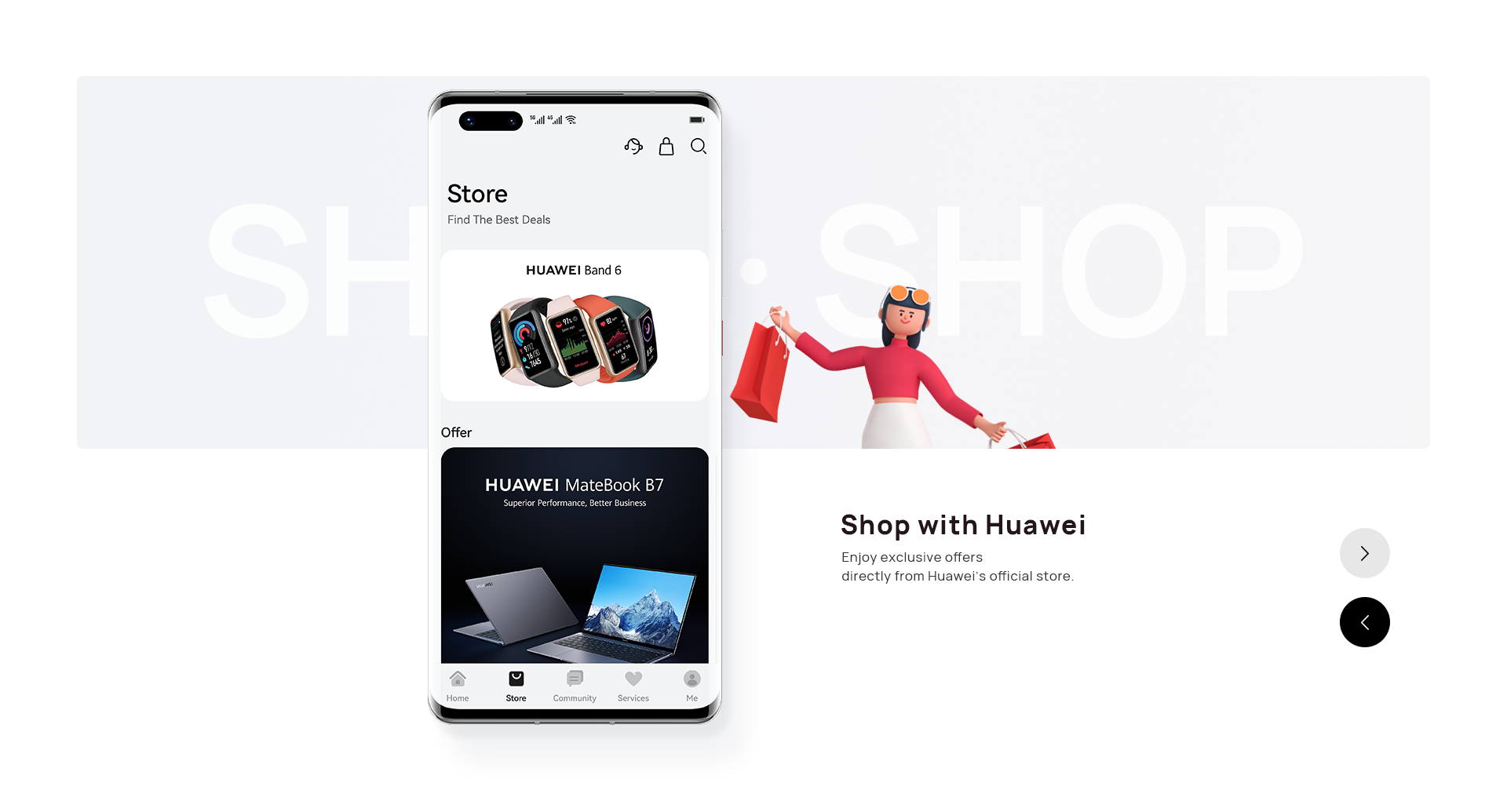 The Huawei fan will want to keep an eye on the Huawei Store, which is one of the core navigation tabs in My Huawei. Sure, you can use it to keep up with the latest Huawei phones, wearables, laptops, tablets and headphones. But if you're like us, you'll be more interested in Huawei's deals.
Huawei holds regular sales on its store, and the most recent was part of its annual Carnival1 promotion. That has ended now, but it's worth keeping an eye out in My Huawei.
Earlier this year, for example, we picked up one of Huawei's WiFi AX3 routers with Wi-Fi 6 support for an absolute steal of a price.
Huawei's community
You can also get a heads-up about the latest Huawei gear and deals in the Community tab, which is where many Huawei fans hang out. Some might let you know about cashback promos, others will just post pics taken with their phone's camera.
You'll find information about any competitions Huawei is currently running in the Community tab too. As we write this you can get involved with Huawei's annual NEXT-IMAGE competition if you're in a creative mood.
Submit your photographic works in one of the ten categories, from "Story Teller" to "Telephoto", and you could win up to $10,000 or a Huawei Watch 3, the company's next-generation smartwatch.
We're just trying to give you the flavour of the My Huawei app. There's always something to see when you drop in.
Calling tech support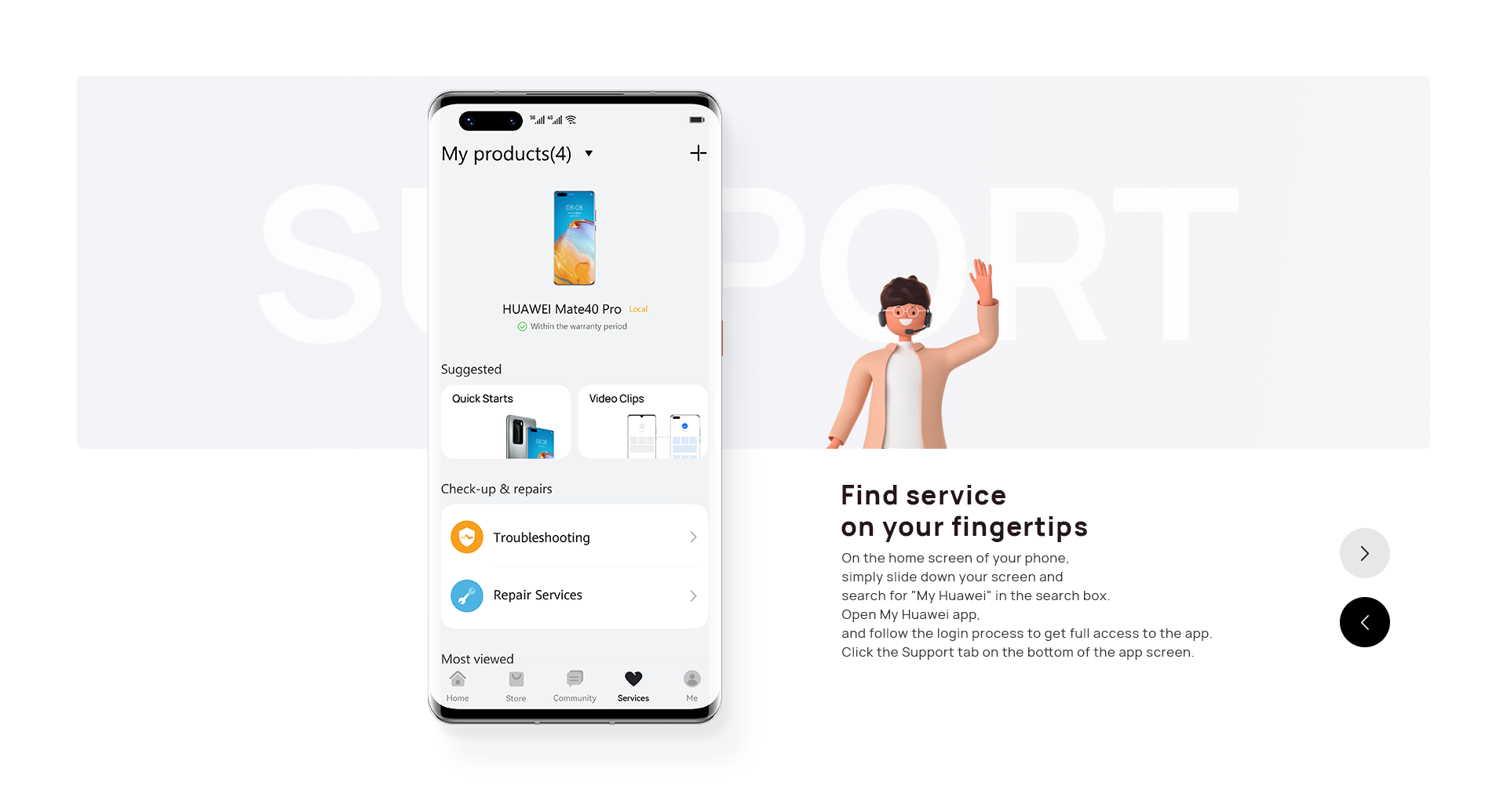 It is also the place to be if you have an issue with your device, or its software, and want some help. In My Huawei's Support section you'll find a treasure trove of information about your phone or tablet.
First-up, there's the digital manual, which is arranged into quick-navigation sections to let you find what you need in two taps of the touchscreen. You can look at the quick guide to HMS too, the software backbone of all Huawei's mobile devices.
My Huawei also gets you quick-fire access to real tech support. You can live chat to Huawei staff, and the app has quick links to Huawei's support hotline and email service. No need to dig about online to find the number of address you need.
If there's something wrong with your phone or tablet, you can use My Huawei to request a postal repair and track its progress. You can even look up available spare parts for Huawei laptops, phones and tablets, the kind of information that is usually not easy to find.
It's no wonder Huawei stopped calling this app Support. There's a whole lot more to it these days. My Huawei lets you find hot deals, enter competitions, get involved with the Huawei community and discover a few tips and tricks you might not have heard about before.
To download the app, click here, or head to the Huawei AppGallery and search for "My Huawei".
*Currently the Shop feature is only available in select countries.