Data collection devices are uniquely focused equipment designed to function in harsh environments while providing a reliable service. They're at the heart of any logistical operation, enabling management to identify stock movements and volumes without the need for time-consuming manual exercises.
The DT Research DT362GL is a data capture computer built by a company with a reputation for making built-for-purpose devices that can enhance the data capture workflow and the efficiency of those performing it.
Built around Windows IoT Enterprise edition, its objective is to capture data in a secure and timely fashion while providing the flexibility of that platform.
Is a low-powered Intel processor and Windows the right combination for an agile data capture device?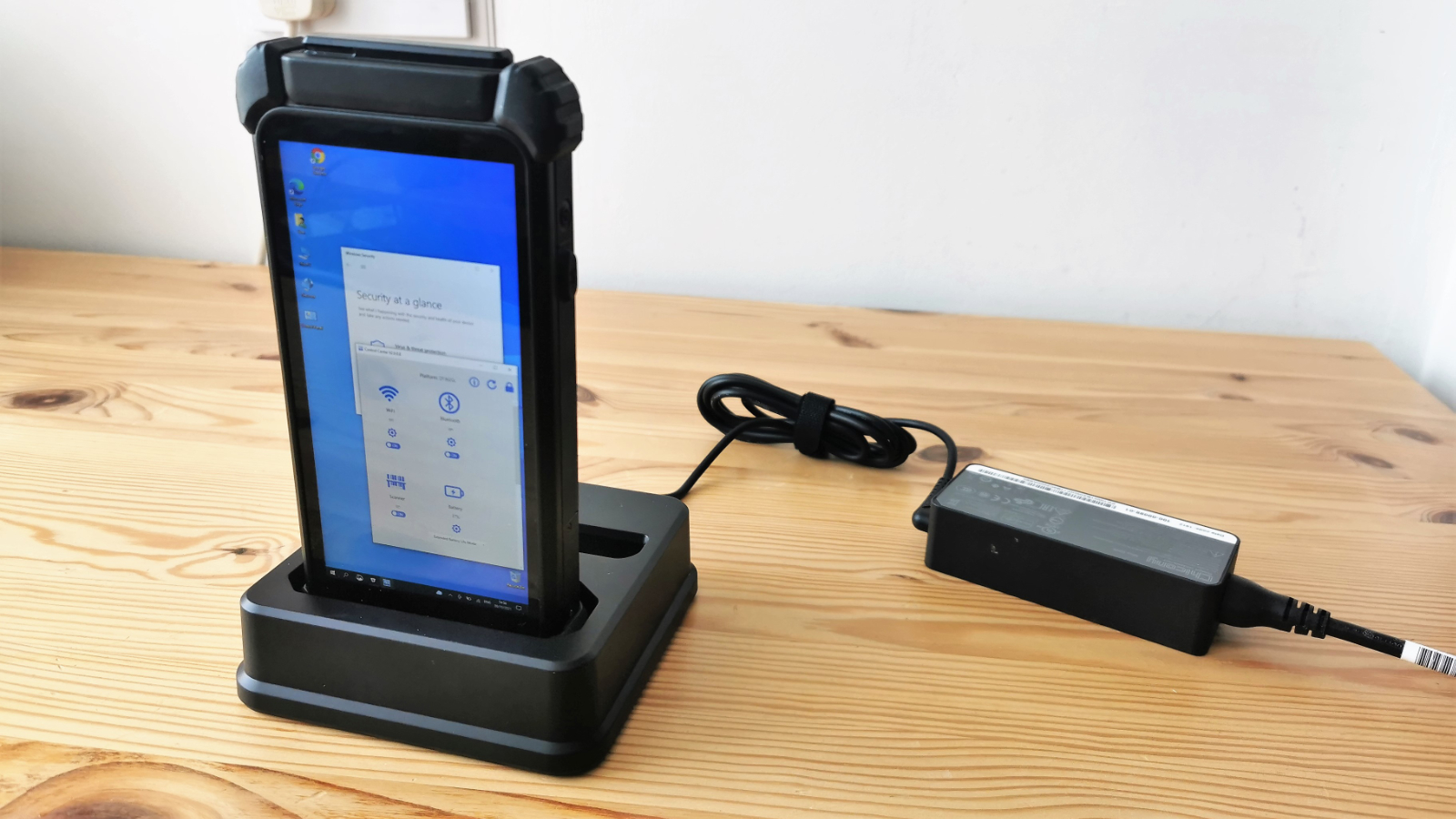 Price
With these types of devices, they're not generally sold at a flat price, but one that is defined by the options that are taken and the service contract that comes with it. The review machine is priced at £967.96 ($1480), but that's without some of the accessories, like extra batteries, that most customers will require.
Those budgeting for this device should consider what accessories they will need from the outset and the likely lifespan of batteries recharged every working day.
Design
These days anything robust must look the part, and the DT362GL's chunky damage resistant corners sell that it can handle being dropped, probably from orbit.
Many people picking it up for the first time would assume that this is a phone, but it's a complete PC shoehorned into a polycarbonate and rubberised shell with a hand strap to help maintain a grip on it across the back.
Beneath the easily removed hand strap is a battery module that can be hot-swapped for replacements. And the included charging station has two slots, one for the DT362GL and another for a second battery to be ready for use.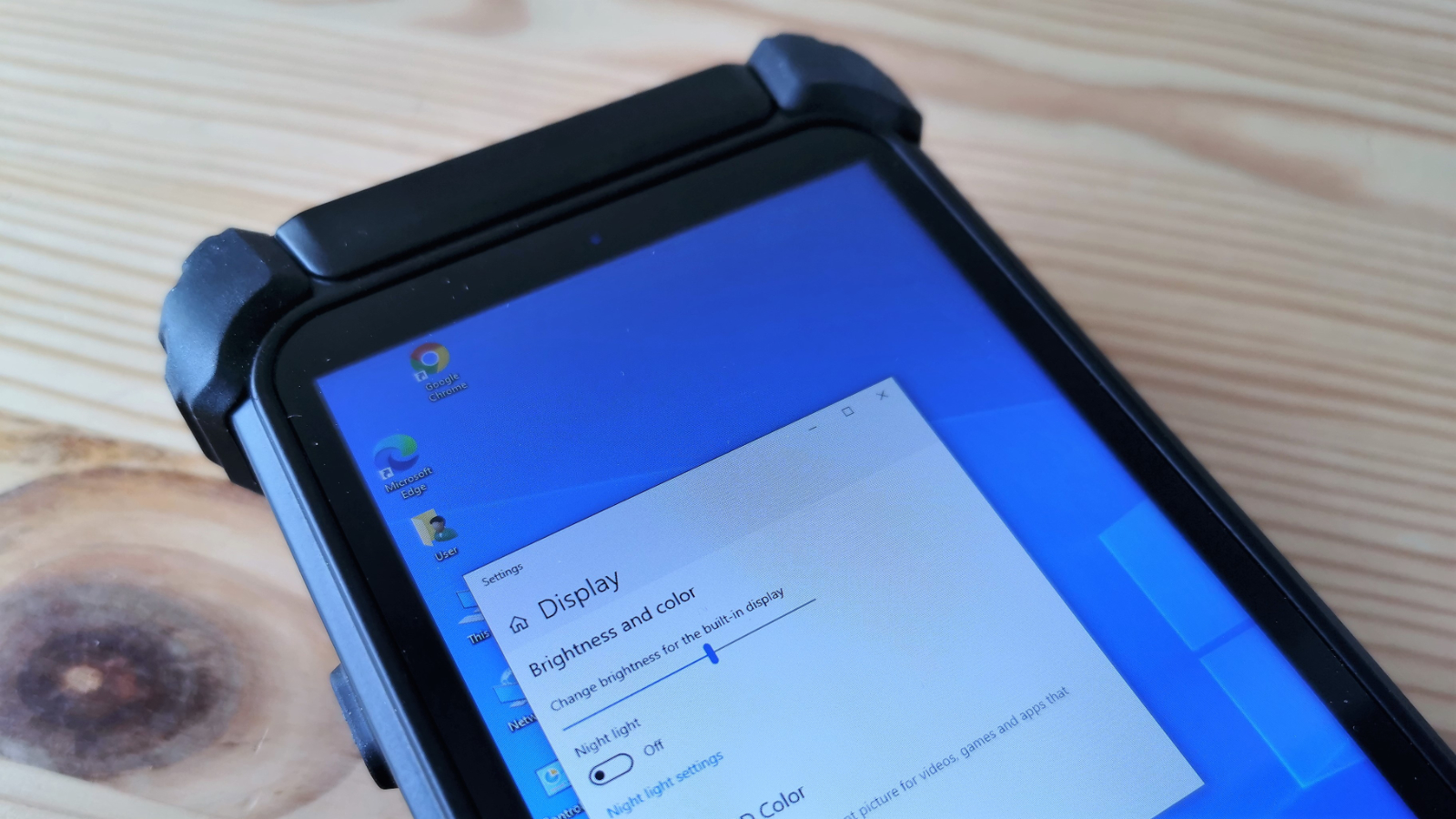 On the sides are the power button and two programmable buttons that can be used to operate some of the optional hardware, like a scanner or take a picture.
The review machine had both those options, with the scanner being on the top edge and the 8MP camera being on the rear. Other options fit behind removable panels on either side.
The only standard external port is a single USB-C on the bottom edge, and alongside that is a proprietary port for connecting an optional scanning trigger.
A minimalist approach to external ports allows it to be IP65-rated for water and dust resistance. And, the robust construction is MIL-STD-810G rated for shock and vibration protection. Those definitions don't include water immersion or pressurised jets, but they're more than sufficient for what this hardware might encounter on a loading dock or in a warehouse. As an option, DT Research can make this hardware C1D2 compliant (Groups A, B, C and D), should the environment house containers with ignitable concentrations of gases or vapours.
Specifications
Spec Sheet
Here is the DT Research DT362GL configuration sent to TechRadar for review:
CPU: Intel Pentium Silver N5000, 1.10GHz (up to 2.70GHz)
Graphics: Intel UHD Graphics 605
RAM: 8GB DDR4 2133-MHz SDRAM
Storage: 256GB Flash
Display: 6" LED-backlight (350 nits) screen 720 x 1440 with capacitive touch
Ports: 1 x USB Type-C
Connectivity: Wi-Fi 802.11ac, 2.4GHz/ 5GHz dual-band; Bluetooth 4.2 LE
Battery: Hot swappable battery, 3300mAh
Options: NFC or UHF RFID reader, Back camera, Barcode scanner, U-blox M8 GNSS module, C1D2 Groups A, B, C and D
Weight: 1.1 lbs/ 485 g
Size: 307.6mm x Depth: 204.5mm x 17.9mm (W x D x H)
The central processor of the DT362GL is an Intel Gemini Lake series CPU, the quad-core Pentium Silver N5000. The base clock of this chip is 1.1GHz, but it can boost a single core to 2.7GHz if required.
This chipset includes an integrated GPU, the lacklustre Intel UHD Graphics 605, that runs at 450Hz and has 18 execution units and 96 shaders.
This platform was primarily designed for systems that run continually or are battery-powered, and therefore performance is a secondary requirement in its specification.
Our review machine had two 4GB LPDDR4 modules installed to provide 8GB of RAM, clocked at 1060.6 MHz. In theory, this platform can take up to 16GB of RAM, but the memory isn't user-upgradable, so memory capacity is exclusively a factory choice.
The stand-out part of this device is undoubtedly the screen. It's bright, well saturated and with a pointing device, the touch sensitivity is decent. But, being only 6-inch, this screen isn't larger than many phones, and therefore might be difficult to read for those without perfect eyesight.
To summarise, this is a small PC in a very robust phablet-sized package with limited performance and only one external port for charging and external devices.
But it's not the whole hardware story here since DT Research makes a host of hardware accessories and options for this device that can add all manner of functionality.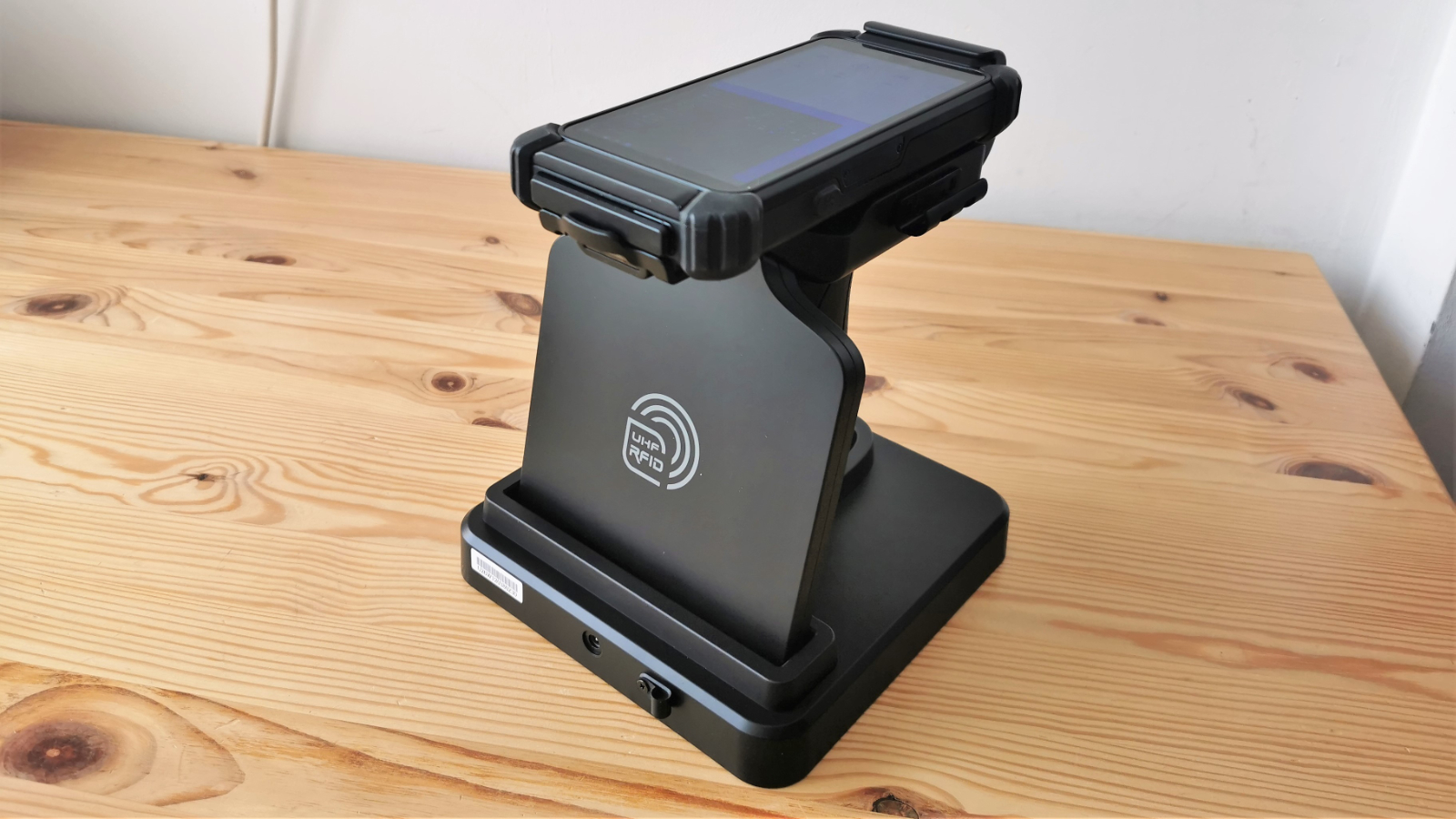 Internally, an 8MP camera, NFC reader, UHF RFID reader, Barcode scanner and U-blox M8 GNSS module can be mounted. With these options, the DT362GL can be tailored to the specific data capture profile of the customer and the labelling technology that they're used.
Alongside the pre-installed options, there are many bolt-on hardware devices that can make data-capture workflow more efficient. These include trigger grips for barcode and RFID scanning, charging stations for both the unit and multiple batteries.
The RFID trigger grips not only make the unit easier to hold, but also extends the distance at which tags can be read up to 30ft.
DT Research sent along with our review DT362GL a selection of these accessories, and are made to the same abuse-resistant standards as the machine and should provide a comparable working life in service.
Performance
Benchmarks
Here's how the DT362GL scored in our suite of benchmark tests:
3DMark Wild Life: 871; Fire Strike: 324;
Cinebench R23 CPU: 435 (single-core); 1,067 (multi-core)
CrystalDiskMark: Sequential Read: 316.40MB/s; Sequential Write: 252.43MB/s;
PCMark 10: 1,767 points
PCMark 10 Battery Test: 6h 44m
PassMark: 1049.7 (12th Percentile)
CPU-Z: 197.7 (single thread); 833.2 (multi-thread)
Windows Experience Index: 5.1
A system running a Pentium Silver N5000 might sound impressive, but the reality is that this is a low power system.
First introduced in 2017, the N5000 is a Gemini Lake quad-core CPU that was designed for entry-level computing, like running basic office tasks, surfing and video streaming.
This CPU is effectively the first CPU rung for desktop systems but has the bonus that it consumes only 6W of power, making it suitable for battery-powered devices like the DT362GL.
However, its power efficiency is countered to a degree by the operating system that this runs, since Windows 10, in whatever guise, isn't power frugal compared to Linux and Linux derivatives, like Android.
Testing on this device proved an extended process due to the limited performance on offer and several tests failing to run successfully. These problems were mostly due to the non-standard video resolution of this device.
The successful tests revealed that this is a slow PC by any standard, and it isn't ideal if its data capture role involves local processing or database operations.
It did manage a couple of test surprises, one being good, the other less so.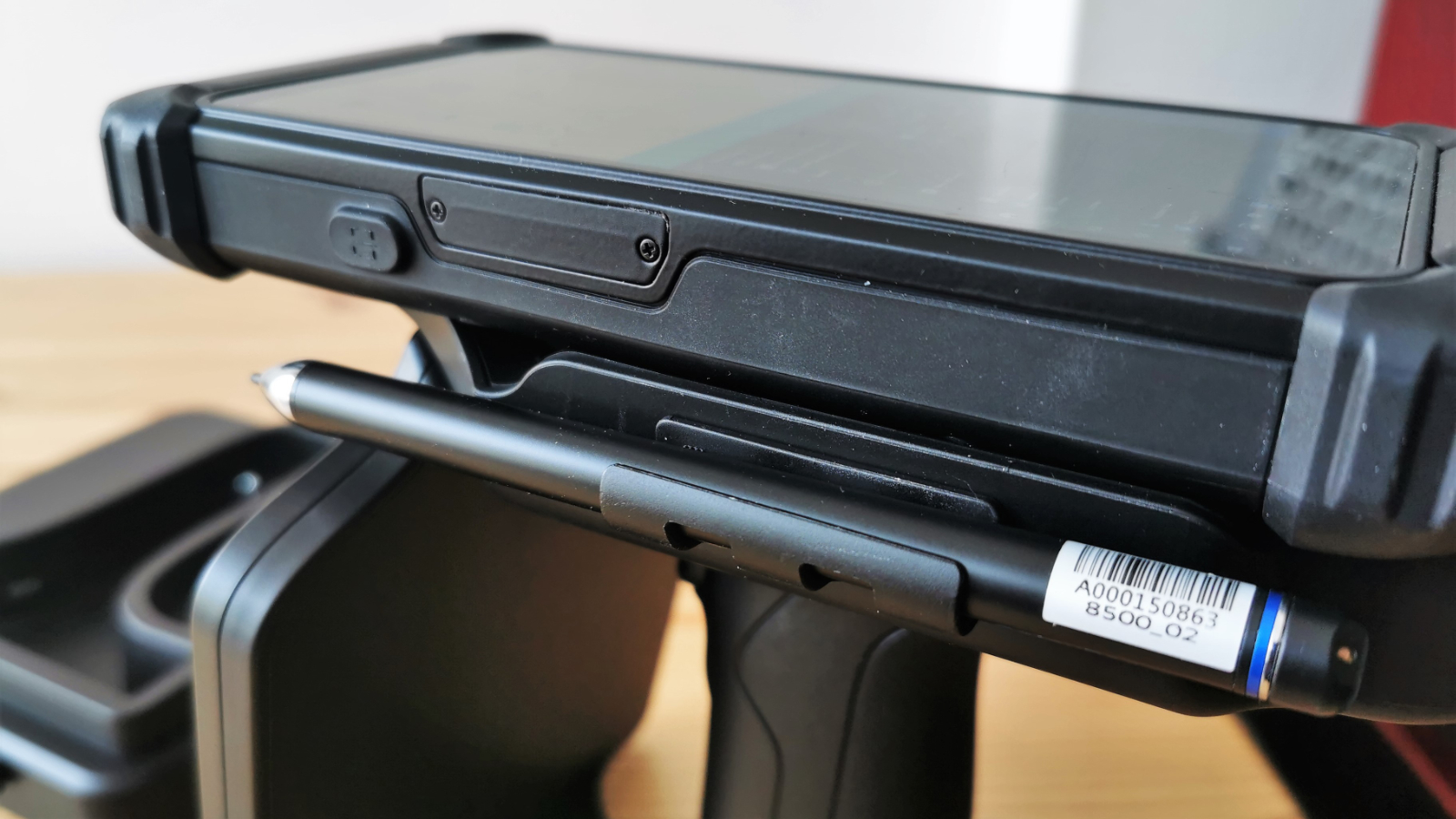 For a mobile system, the SATA SSD in this system is better than we'd anticipated and managed 316.4MB/s sequential reads and 252.43MB/s writes. That's not impressive by desktop SSD performance levels, but many mobile devices ship with flash storage much slower than that.
The disappointment here was the battery life that didn't extend for a whole working day, at just 6 hours and 44 minutes. Admittedly that was continuous use, suggesting it would probably make it through an 8-hour shift with battery to spare, but some mobile devices can operate for twice that amount without a charge.
This design does mitigate that limitation by having swappable batteries, but it doesn't say anything good about the power efficiency of Intel's 14nm parts or power management under Windows 10.
DT research makes similar ARM-based machines that use Android, and we'd be surprised if they didn't operate for longer using the same 3300mAh of battery capacity this machine has.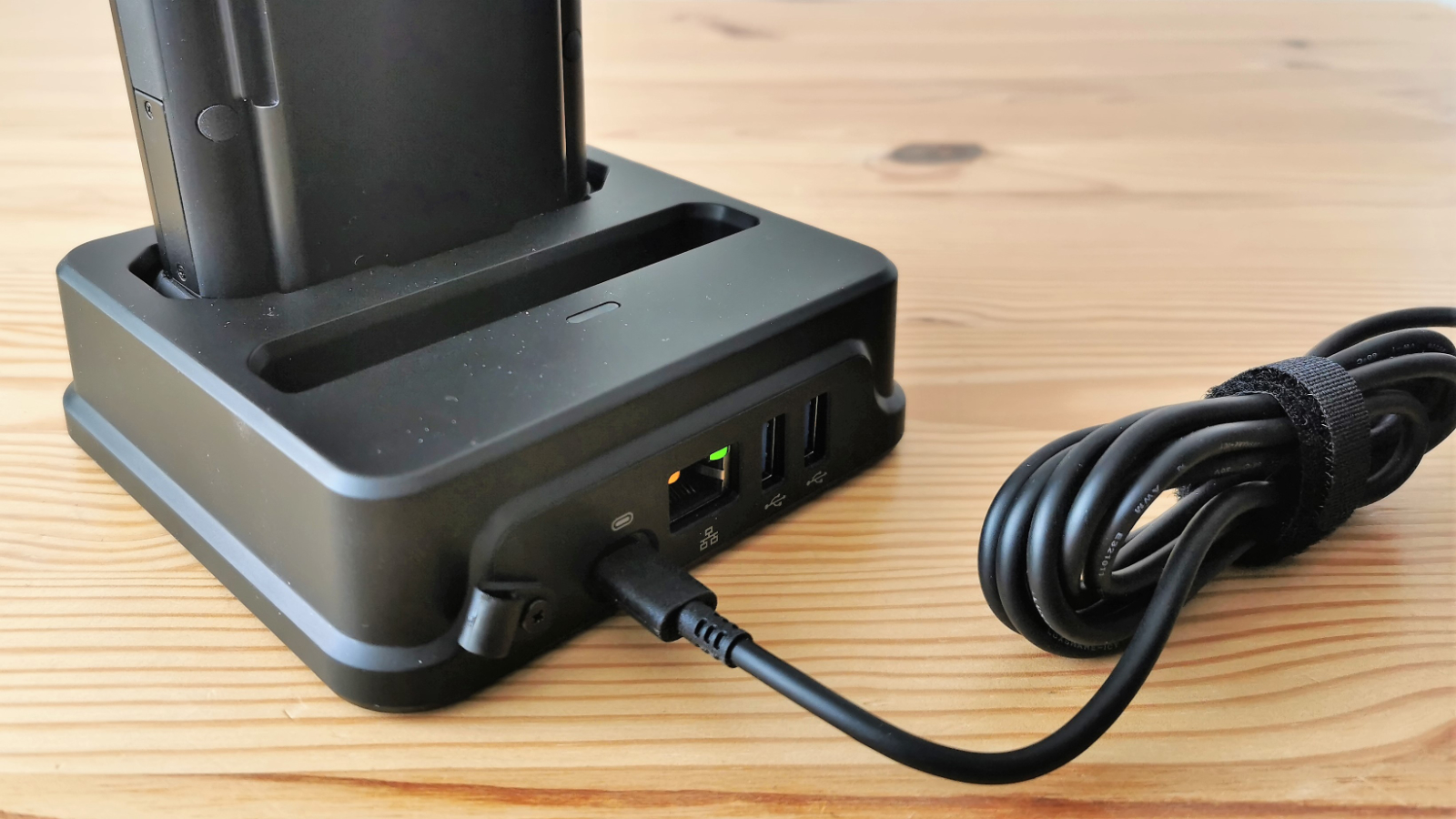 Final verdict
There is an obvious question about this hardware that's difficult to definitely answer, why is it running the Microsoft Windows operating system?
It's far from a prerequisite for the role that traditionally this type of hardware serves, and it adds significant complications in terms of system maintenance and management.
Mitigating this choice to a degree is Windows IoT Enterprise edition, a flavour that allows the remote management of the device and the secure capture of data.
However, it's entirely possible to use secure versions of Android, connecting them to local or global Cloud services for data distribution.
The DT362GL fills a specific niche, providing the portability of a small and highly durable tablet with access to the Windows ecosystem for both desktop and full-screen applications. What isn't explored is that the Windows desktop could be driven via a mouse and keyboard connected through a USB-C docking station, making it also function as a low-power desktop solution.
But evidently, that's not the flexibility DT Research intended with this device, as they don't offer this type of dock or any means to attach a bigger screen easily.
The critical feature here is the inherent security that Windows IoT Enterprise edition offers, allowing the same development and management tools as other platforms running Windows Enterprise. Protected by enterprise-grade security, this device and its data can be securely managed in a manner that some facilities demand.
Our problem with using Windows is that despite the marketing hype to the contrary, Microsoft never turned Windows 10 into the tablet OS of choice, and it lacks the straightforward useability, applications and power efficiency of Android or iOS devices.
For those companies that have invested in the Windows Enterprise ecosystem, the DT362GL should fit well with those plans.
But for those that aren't committed to Windows Enterprise, we'd strongly recommend looking at DT Research's Android-based products.