Can't wait to get your hands on Apple's newest flagships? As always, buying a new iPhone 13 won't be cheap, but there's one tried and true method to help you fund your upgrade: sell your current handset on eBay.
According to the latest research conducted by Australia's biggest shopping site, we're sitting on AU$6.4 billion worth of unused mobile phones that could fetch a pretty penny if sold – money that could go towards buying a brand-new handset.
No matter what brand your existing phone is, eBay has the tools you need to figure out what it's worth, and to help get a fair price when selling it. There's now a handy calculator on eBay that will help you set a reasonable price based on the model and condition of your current phone. A whole plethora of brands is listed, so whether you're looking to sell an Apple iPhone 12, Google Pixel 3, or something from Sony, LG, Oppo or even a Xiaomi, eBay will help you figure out how to price it well and make a successful sale, including how to ship it without even leaving your home.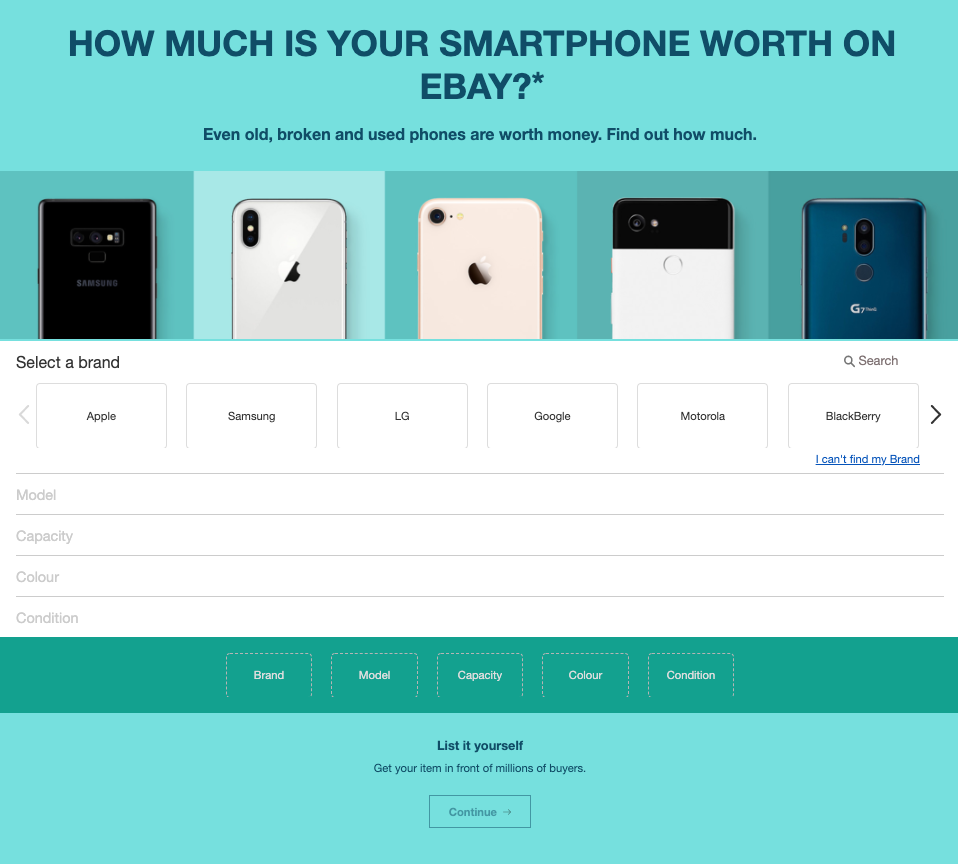 Of course, the better the condition of a device the more you can ask, and having the original packaging and accessories can also improve a handset's worth.
There are a few key things you'll want to do before you sell your phone too, so read on for our top tips and tricks on how to pass on your phone to a new owner safely… and what you can do to ensure it fetches a good price which you can put towards an iPhone 13.
How to sell your old phone on eBay
eBay Australia is the perfect platform for sellers – and selling your handset directly means you've got a good chance of getting the highest possible price for your existing phone. Phones are quite popular items on eBay – according to the online marketplace, a phone is sold on eBay Australia every two minutes, with pre-owned handsets accounting for 30% of all mobile sales.
That makes it highly likely that there will be several similar listings to yours, but there are a few things you can do to make sure you stand out from the crowd to get the best results.
1. Remove all personal information
Before you list your old handset for sale, you'll need to factory reset your devices to wipe all your personal information, settings and messages. If you haven't yet set up your new phone, be sure to do a full backup of your current handset so you can transfer it to your new one. If you're looking for easy ways to transfer your data to a new handset, Mobile Muster has some handy video tutorials you can follow.
2. Do your research
Make sure you dig up all the relevant information about the phone you're selling. This includes the model name, handset colour, storage capacity, camera, wireless charging capabilities, compatible accessories, if it has an IP water/dust protection rating and so on. The more information you can provide, the easier it will be for a potential buyer to decide whether it's the right one for their needs.
3. Draft your sale pitch
This will be the description of your listing. Start with a catchy title like, "Apple iPhone 11 (256GB) Space Grey – in excellent condition with original box and charger". And be sure to add at least 4-5 high-quality images of the product alongside the description of the model. The great thing about eBay is listing a product is easy, with a simple step-by-step template available on both a browser and the eBay smartphone app. There's even a photo editor built into the seller platform to make your listing look swanky.
4. List at the best price
This is where eBay's handy value calculator comes in – it will give you a 'trending price' for your old phone, which is a great place to start. For example, eBay's calculator claims a 64GB iPhone X in 'good' condition, in original packaging and with the Lightning cable included could fetch AU$270. As a second step, we'd also suggest doing a quick bit of real-time research to check how much similar models are selling for on eBay – look for listings that roughly match yours in terms of condition and any extras (such as case, box and so on) to help guide you on setting a price.
5. Easy payment options
If you can, it's also a great idea to make it easier for potential buyers by staying flexible when it comes to payment options – enabling PayPal or Afterpay, for example.
6. Offer free shipping
If you're able, another good enticement is to offer free shipping, which can encourage more people to click through from search results and check out your listing. eBay has also made it very easy and affordable for your packages to be picked up and delivered anywhere within Australia – you don't even need to print out a label. It's all contactless, particularly if you choose Sendle as your shipping option.
Let's be honest – if you're looking to buy a new iPhone 13, you'll need to fork out over AU$1,000 for it – even the cheapest option (the iPhone 13 mini) comes in at AU$1,199. So, why not take the opportunity to sell the device you currently have, giving it a new life and recouping some of the costs.
Ready to begin? Head to eBay's phone valuation tool to find out what yours is worth!