[Spigen]
Getting a new phone might be the tech highlight of your year, particularly if it's an iPhone 13. Our top tip for phone buyers is to get that thing protected, asap. However, you want to avoid chunky, unattractive cases that smudge all the gloss off your new pocket companion.
Spigen's new range of iPhone 13-series cases maintain the sleek lines and look of your phone while providing top-tier protection and letting you live the wireless life with baked-in support for MagSafe wireless charging.
And if you do decide to upgrade again in a year or two's time, your iPhone 13 will still be in top-top condition.
Ordered an iPhone 13 already? Spigen's cases are available from day one, for all four new models: iPhone 13, iPhone 13 mini, iPhone 13 Pro and iPhone 13 Pro Max. Here are a few of our favourites from the Spigen range.
Number one is the Spigen Ultra Hybrid Mag. This case has a hard transparent backplate, letting you see the colours and contours of your iPhone as if it wasn't wearing a case at all.
You still get the protection Spigen is well-known for, though, as there are rubbery TPU bumpers in the corners. And air pockets that soak up the force of impacts rather than letting it transmit right into the metal and glass parts of your iPhone. Just saying that is enough to make you wince.
Spigen's most popular case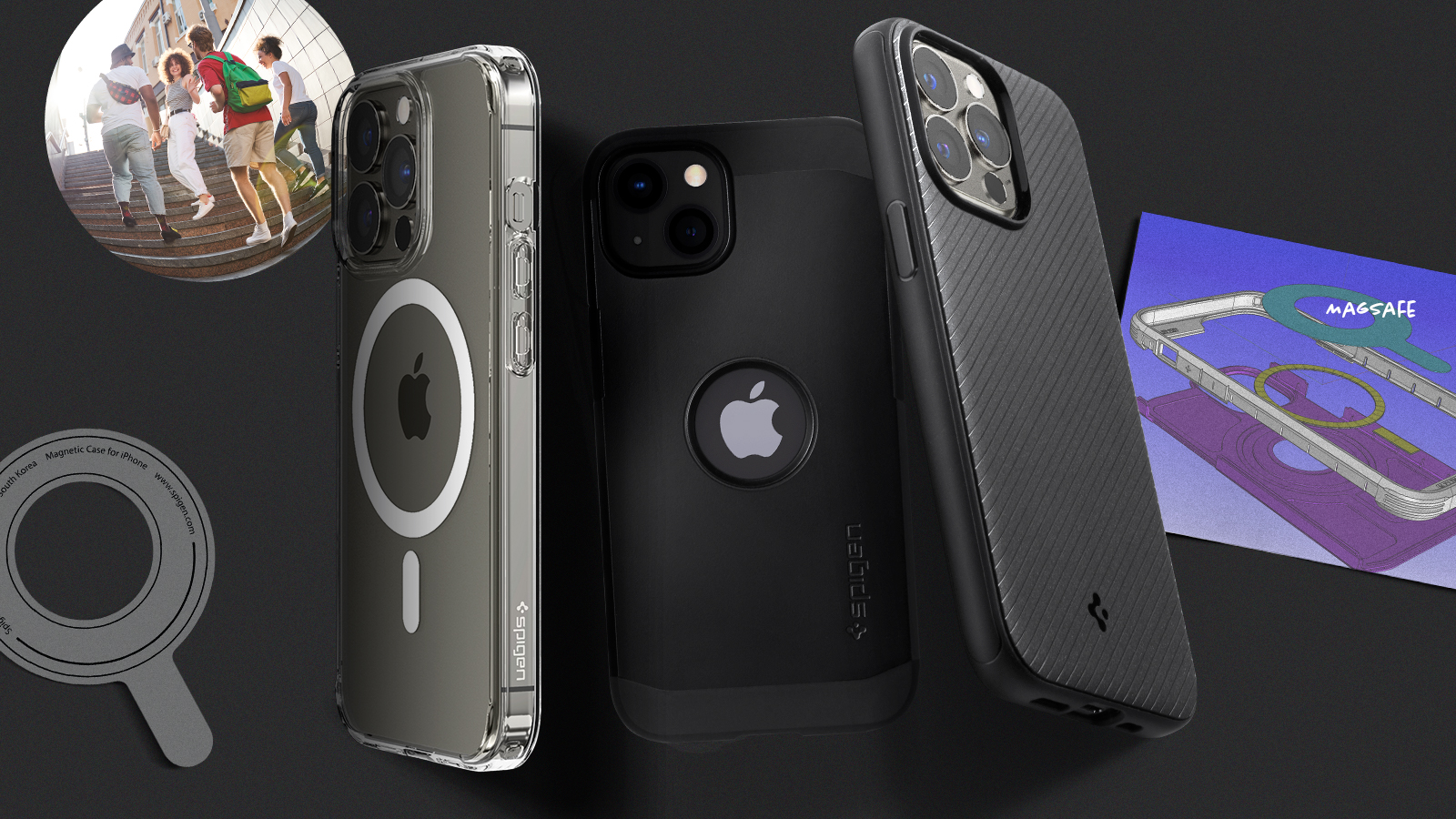 If you're not so bothered about seeing the metal back of your iPhone, check out the Spigen Tough Armor Mag. This is Spigen's most popular case family.
It has the air pockets of the Ultra Hybrid Mag, and adds impact foam under the phone's back. You get extra protection from all angles, letting you feel like you're treating your phone right even if you end up dropping it on the floor several times a week.
The Ultra Hybrid Mag has military-spec drop-proofing and only adds a couple of millimetres to the thickness of your iPhone 13. This is what we're after: tough protection that doesn't leave you with a phone that looks and feels chunky.
Spigen's Mag Armor case sits between these two options. It offers great everyday protection, and has an embossed pattern on the back for extra grip. It also has a raised screen border to avoid display glass scratches.
The magic of "Mag"
You may have noticed all three of these cases have "Mag" in their names. That's a nod to the magnetic ring that sits inside. It makes sure a wireless MagSafe charger pad locks into position just as well as it would with a "naked" iPhone. You have lived your best wireless life with a Spigen case.
It's another nod at what these Spigen cases are all about. You get protection without any sense you're dulling down the phone inside. All the buttons feel great, and they only add fractionally to the iPhone 13's weight and thickness.
We always think it's silly to leave a top-end phone unprotected, and compromise-free cases like Spigen's prove the point.
Bringing the power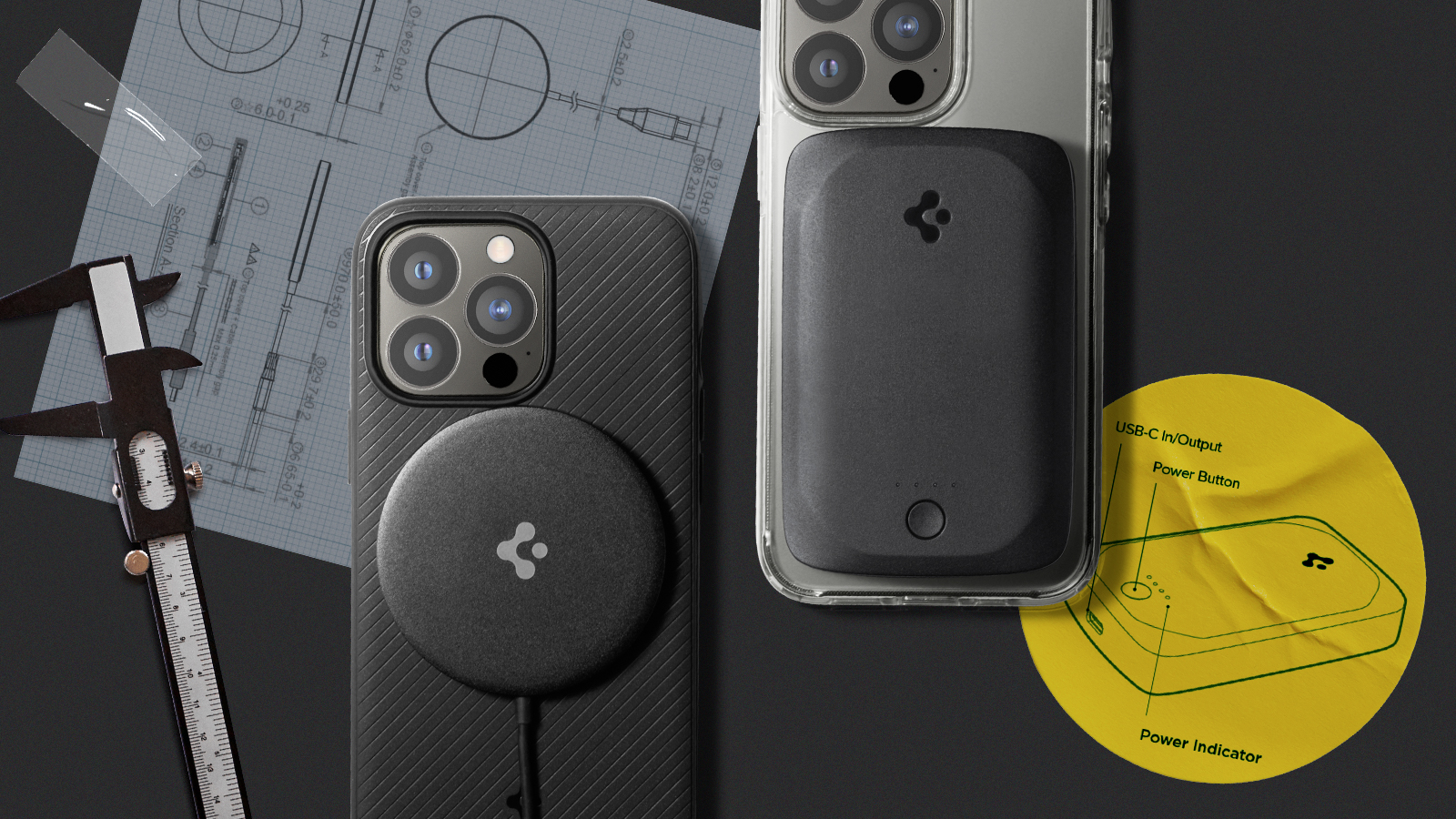 Spigen also sells a bunch of neat accessories that could enhance your day-to-day iPhone 13 experience. The first is the Spigen ArcHybrid Mag.
This is an external battery, but not the kind you're probably used to. It's a wireless charger with a 5000mAh battery inside and a strong magnet that lets it grip onto the phone's back, like a rucksack that doesn't need any straps.
It delivers 7.5W of power, charging your phone 50% faster than a standard Qi wireless charging pad. You top the Spigen ArcHybrid Mag up with a USB-C cable. Do so while it's attached to your phone and both it and the iPhone battery get recharged at the same time.
Get a Spigen ArcHybrid Mag and you're all but guaranteed to spend less time hunting around for cables, or realising you don't have one to hand at the moment you need it. We won't say no to that.
Spigen also produces its own cabled MagSafe wireless charging pad, called the ArcField Charger. Just like Apple's own it has a magnet ring for easy docking and weighs just 47g.
Protection for the whole family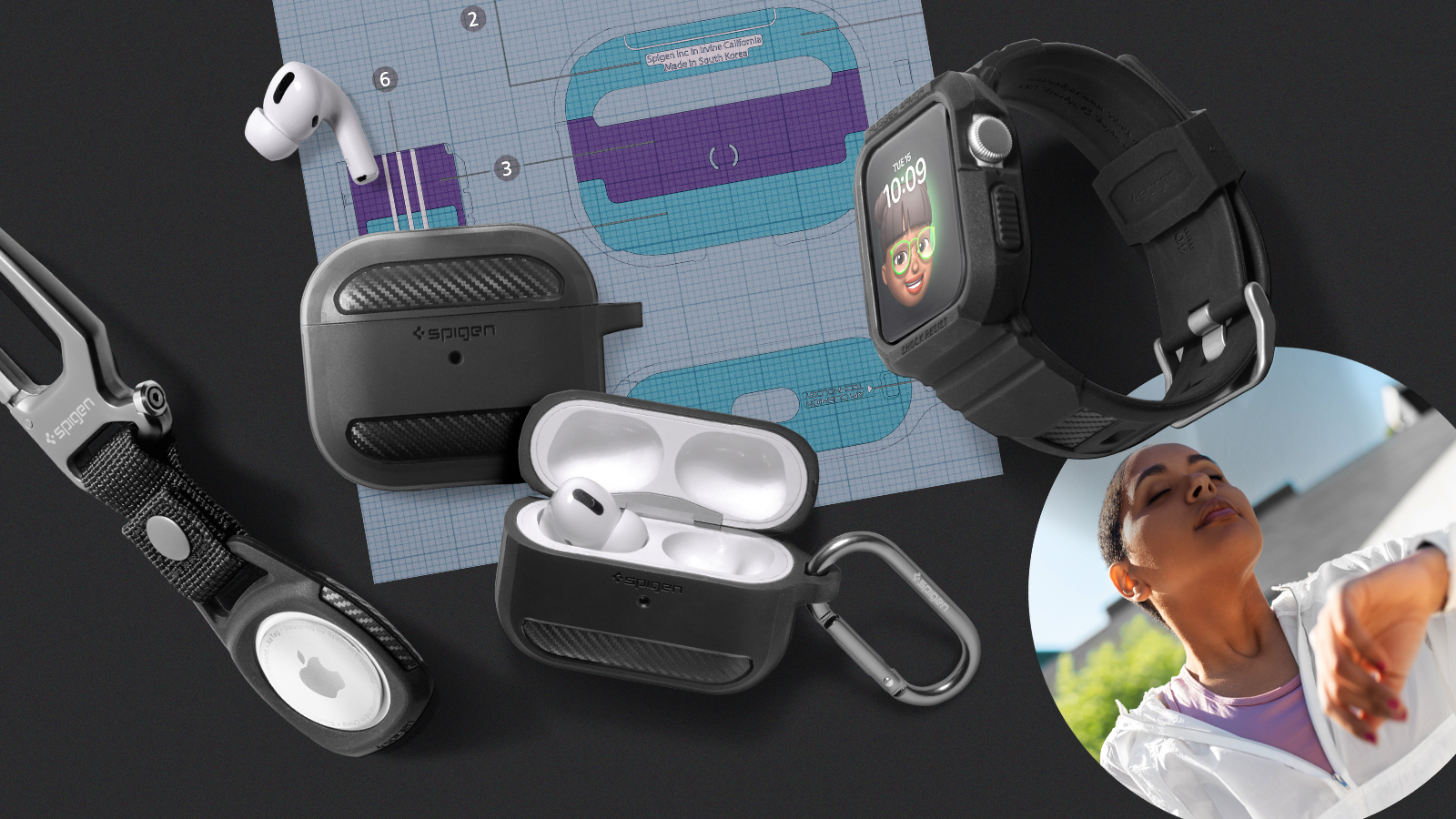 There's more too. Spigen doesn't just make accessories for the iPhone 13, but the whole Apple family.
The Rugged Armor AirPod Pro is a cute-but-tough case for your AirPods Pro true wireless earphones. It includes a carabiner, letting you clip the battery case onto jeans or bags, and has an ultra-soft MicroFiber lining to ensure no marks are left on your beloved AirPods own case.
There's a Rugged Armor case for your AirTags too. It has a tough polycarbonate outer that will soak up any rough treatment. You can use it with the included heavy duty carabiner if you like, but there's a neat little fabric clasp too, perfect for attaching the AirTag to your keys.
Spigen also offers ultra-tough protection for your Apple Watch Series 7. The Spigen Rugged Band takes the Apple Watch strap concept to the next level, with shock-absorbing armour for the whole watch.
There's a raised border to keep the screen scratch-free, smart cut-outs for the crown and a traditional watch-style clasp strap for all-day comfort.
Decided which new Apple gadgets you want? Your next step is to choose a Spigen case or accessory, or two, to match. Check out the full range at Amazon.