Forspoken is the name of the new action RPG from Square Enix formerly known as 'Project Athia' coming exclusively to PS5 and PC sometime in the next few years.
With the PS5 Showcase 2021 happening later today (September 9) at 1 PM PT / 4 PM ET / 9 PM BST / 6 AM ACT we suspect new Forspoken details could be revealed. Just a few days ago the game's lead actress Ella Balinska posted "Forspoken content pending…" on Instagram, leading many to believe an announcement was imminent.
Forspoken will allow players to take on the role of Frey Holland (played by Balinska), a fairly ordinary young woman who must harness her magical powers to survive what Square Enix calls a "thrilling, otherworldly adventure".
Square Enix first unveiled Forspoken at Sony's PS5 games reveal in 2020 and the title remains a PS5 console exclusive – at least for now. It's hard to say whether Forspoken will eventually end up on the Xbox Series X too. But, at the time of writing, Forspoken appears to be a genuine PS5 exclusive, and won't be available on PS4 or Xbox hardware.
Apart from a few exciting trailers, we don't know a great deal about Forspoken yet. But hopefully we'll learn more later today at the PS5 Showcase, otherwise, we might be out of luck until 2022. If you're interested to learn more about Forspoken and what we might expect from the latest game from Square Enix, read on to find out everything we know so far.
Forspoken: what you need to know
What is Forspoken? A new action RPG from Square Enix
When is Forspoken coming out? TBC 2022
What platforms will Forspoken release on? PS5 and PC
Forspoken release date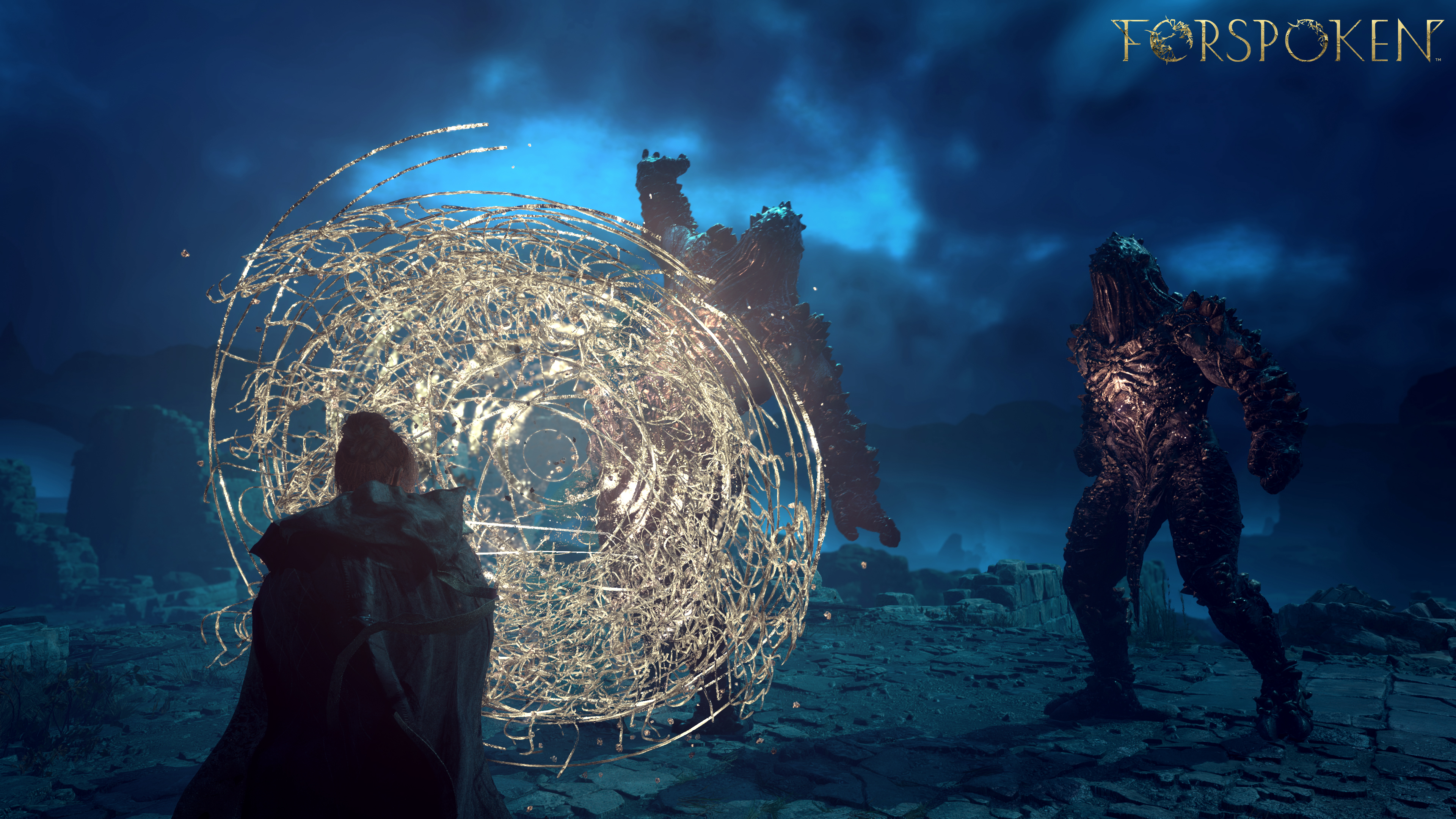 We don't know a great deal about Forspoken, but we do know we won't be getting our hands on Forspoken this year. Forspoken will release in 2022 for PlayStation 5 and PC, making it a PS5 console exclusive.
Square Enix hasn't given a more precise window for the action RPG's release date beyond just 2022, and – given the pandemic continues to impact game development – it's possible we could see Forspoken might be pushed back to 2023.
Forspoken trailers
The most recent trailer for Forspoken revealed the game's official title and its targeted release window of 2022. This trailer gave us a sneak peek of the Forspoken's fast-paced, frenetic traversal and the gorgeous world it takes place in, along with some of Frey's magical abilities. Check it out below:
Forspoken (or as it was called then 'Project Athia') was announced during Sony's Future of Gaming 2020 showcase with a teaser trailer lasting just over one minute long.
The trailer gave us a very brief glimpse at Frey using some of her magical abilities, the world of Athia itself and some of the creatures we expect to encounter. Check it out below:
Although not what you'd expect from a typical Forspoken trailer, an AMD FSR trailer all about Forspoken was released in June 2021.
The primary aim of the trailer was to show how the new game will put AMD's graphics tech to use, but it also features some gameplay snippets from scenes we've already seen in previous trailers. One shows Frey making her way through a forest with her magical abilities, as well as fighting with a bear-like monster.
Forspoken gameplay
Details on Forspoken's gameplay are thin, but there have been some details we've been able to glean from the trailers we've seen so far (and from what Square Enix has confirmed).
We know that Frey will have magical abilities and, from the trailers, it looks like these will include the ability to spawn a magical shield, blast enemies, and summon tentacle-like things to entangle enemies. But what we saw most was how Frey is able to traverse the world with incredible speed and fluidity. In the trailers we see Frey gliding through Athia, scaling cliffs, and leaping across ravines.
Forspoken news and rumors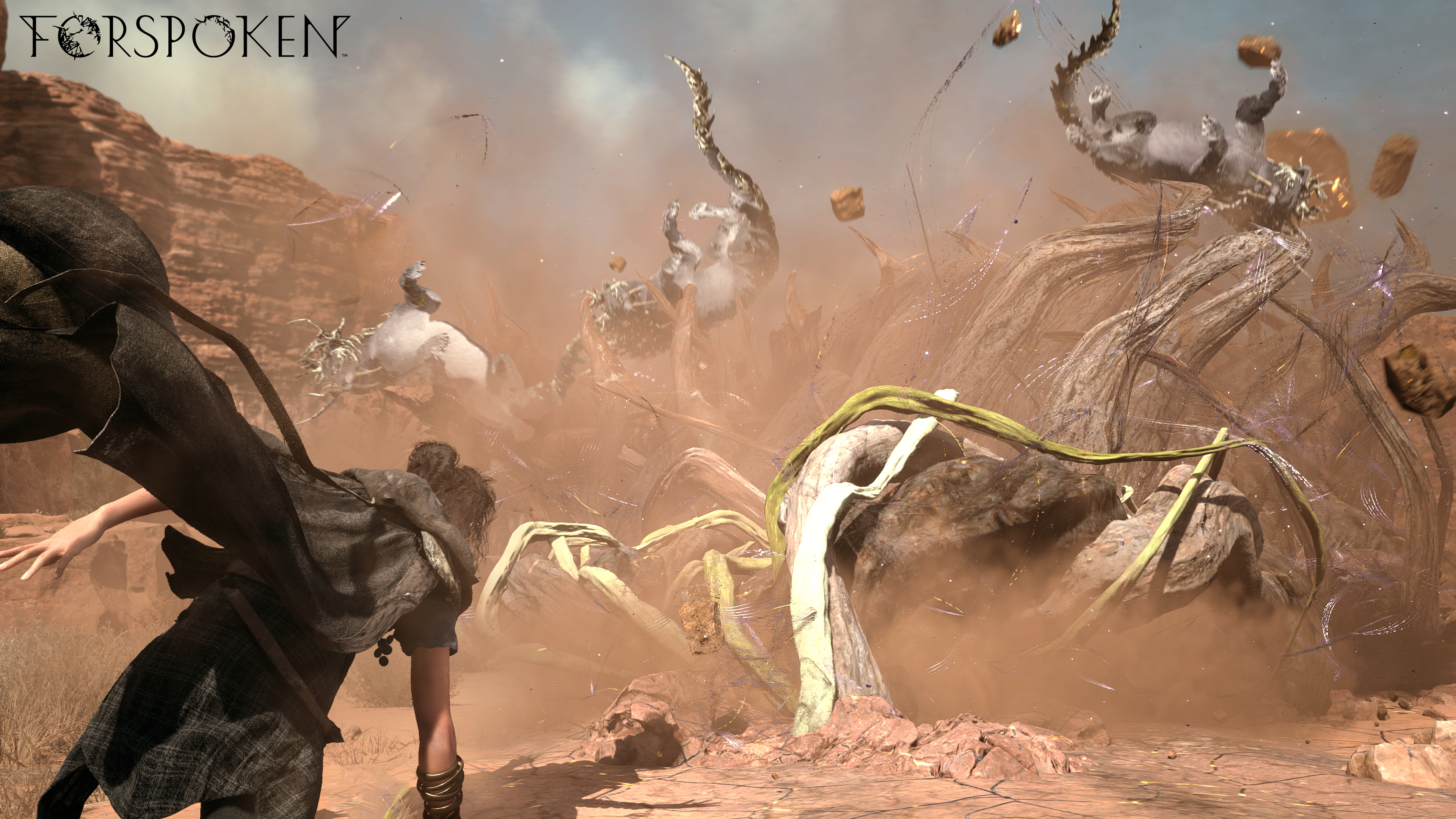 E3 2021 absence
Although Square Enix hosted its own livestream during E3 2021, Forspoken was not one of the games it discussed. We've marked it down as one of many big games that were notably absent from the show. However, although we didn't see Forspoken during E3 2021, that doesn't mean we won't see it for the rest of the year.
Designed for PS5
According to Square Enix, Forspoken has been "designed specifically for the PlayStation 5, taking advantage of the new console's power and features to create a game that feels like a true next-gen experience."
That means we're expecting Forspoken will feature DualSense controller support, meaning the game should feel even more immersive thanks to haptic feedback and adaptive triggers – however, these exact features haven't been confirmed yet.
It's likely that Forspoken will also feature 4K and higher frame rates (potentially up to 120fps). But, again, these exact details haven't been confirmed.