Forza Horizon 5 is officially on its way and you only have to wait a few more months to play it.
For its latest outing, the racing sim is heading to an "authentic" recreation of Mexico and will boast the series' largest open-world environments to date. Expect to traverse jungles, deserts, urban sprawls and ancient ruins as you tear through the rubber of the world's fastest – and prettiest – cars.
As the game's November release date draws closer, we're learning more about it through trailers, interviews and behind-the-scenes featurettes, all giving us insights into new features like audio ray tracing and an incredibly dynamic weather system. From what we've seen so far, Forza Horizon 5 looks set to be the best-looking release in the series and an exciting showcase for the power of the Xbox Series X. Not only that, as an Xbox title, it'll be on Game Pass on day one.
Below, we round up everything we know about Forza Horizon 5 so far, including its release date, price, compatibility and new features.
[Update: Forza Horizon 5's full map has been revealed. Read on to find out more.]
Cut to the chase
What is it? The fifth entry in Forza's open-world Horizon series
When is it out? November 9, 2021 (early access November 5, 2021)
Compatibility? Xbox Series X, Xbox Series S and PC
Release date, price and compatibility
Forza Horizon 5 is scheduled for release on November 9, 2021 for Xbox Series X, Xbox Series S and PC, making it the first game in the franchise heading exclusively to next-gen consoles. Premium Edition owners will get early access from November 5, 2021.
The Standard Edition will cost $59.99 / £54.99 (around AU$75) at launch, with the Deluxe Edition – which includes the Car Pass – slightly pricier at $79.99 / £69.99 (around AU$100). The Premium Edition will cost $99.99 / £84.99 (around AU$130), with the Premium Add-Ons bundle – sold separately as an upgrade package for those aforementioned versions – priced at $49.99 / £39.99 (around AU$65).
Forza Horizon 5 will also be available day one on Xbox Game Pass, which costs $9.99 / £7.99 / AU$10.95 per month.
Setting and new features
Forza Horizon 5 is once again being developed by Playground Games – the studio at the helm of all four previous entries in the series – and swaps the British setting of its predecessor for a fictionalized version of Mexico.
Playground says this new locale will mark the largest and most diverse open world ever playable in a Forza Horizon game, with a total of 11 biomes ranging from jungles to deserts. These environments will also boast the dynamic weather mechanics first introduced in Forza Horizon 4, which could see you suddenly swept up in a thunderstorm as you drift across scorching sand dunes. The difference compared to Forza Horizon 4, however, is that each biome will transition through the game's seasons differently, with each biome boastings its own distinct dynamic weather.
As for new features beyond its setting, Forza Horizon 5 is mixing up the tried and tested racing formula. For the first time, the franchise is introducing a "deep and rewarding campaign" under the umbrella term Horizon Story, where players will meet new characters and determine the outcome of their missions. Don't expect an Uncharted-level narrative, but it's exciting to see the game's developer push the boat (or car?) out with its latest entry in the series.
Speaking to Eurogamer, Forza Horizon 5's principal game designer, Mike Brown, spoke of the decision to introduce campaign-like missions into the game: "They offer us an opportunity to showcase a lot of the really exciting things that the game has to offer in a curated, story-driven experience," he said.
"A lot of those things can and will happen in free-roam just naturally, while you're exploring, but this gives a more curated way to do it. At the end of each Expedition, you open up a new Horizon festival site, and with that opens up a load of new races."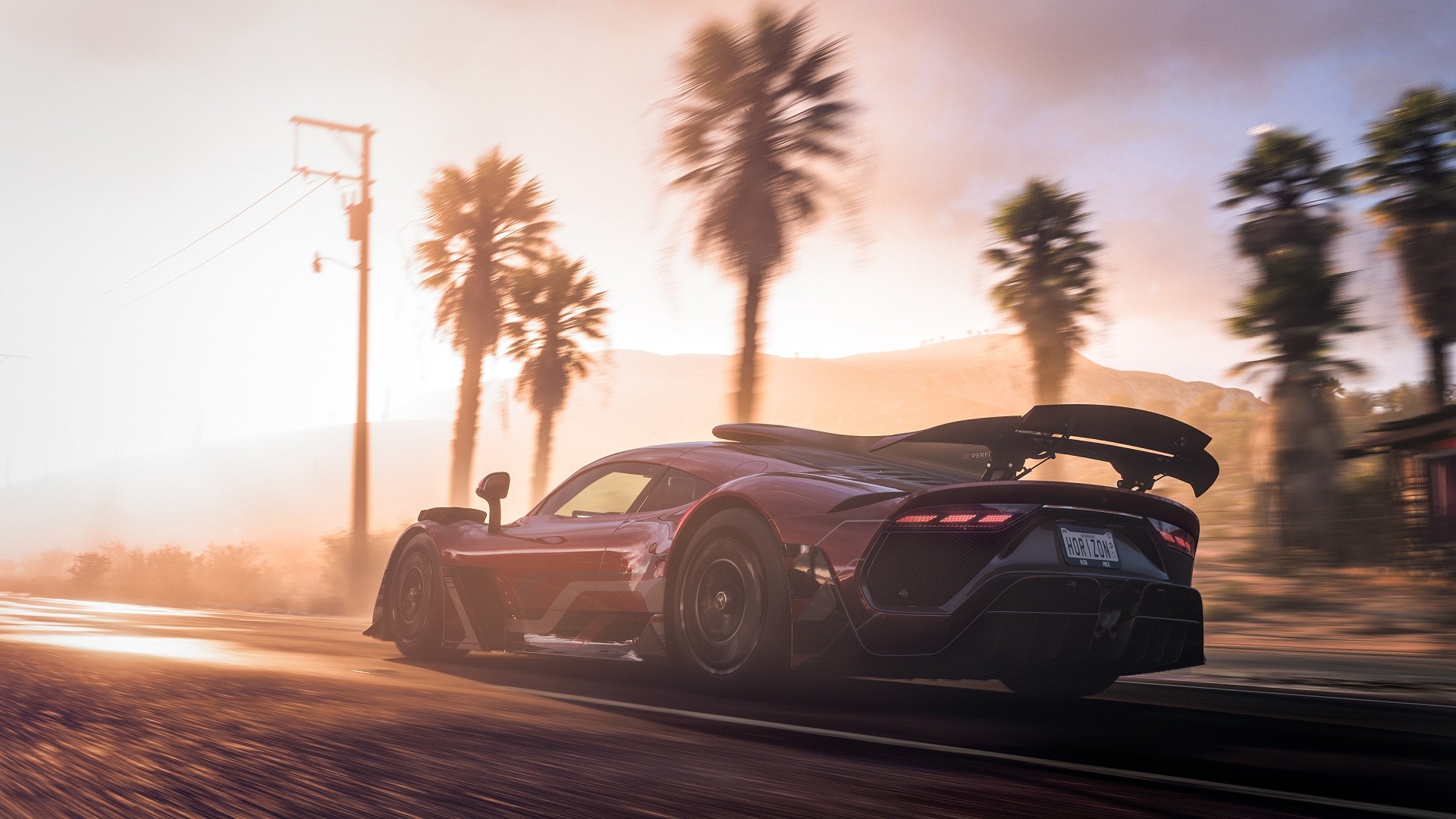 There's also the addition of Forza LINC, a new AI assistant that will track your status, the people you meet online and help you play together, as well as Horizon Arcade, where players will journey cooperatively across the map to engage in various challenges and mini games.
EventLab is new, too, and will allow players to create their very own races, modes and experiences. We don't yet know the scale of this building tool, but at E3 we caught a glimpse of bowling pin runs, gigantic jumps and huge fans that propel vehicles into the air.
As for improvements to social play and PvP racing, Horizon Tour and Horizon Open will make it easier to jump in and out of different modes with other players across the world – to "capture the experience of a car-meet," says the developer. There's improvements to Forza Horizon 4's battle royale mode, too – called Eliminator – where players race against others online, trying to avoid expulsion by keeping ahead of the pack.
Customization has also been overhauled for both vehicles and character models, with "thousands" more visual and performance upgrades available to players at launch. Right now, we don't know the exact lineup of vehicles that will be playable in-game, though we did spot beach buggies, off-road racers and, of course, supercars in the reveal trailer.
Biomes
As we've said before, Forza Horizon 5's Mexico map will be made up of 11 distinct biomes, each offering a different driving experience - as well as localized seasons and weather conditions. Here are the biomes that you can expect:
The Living Desert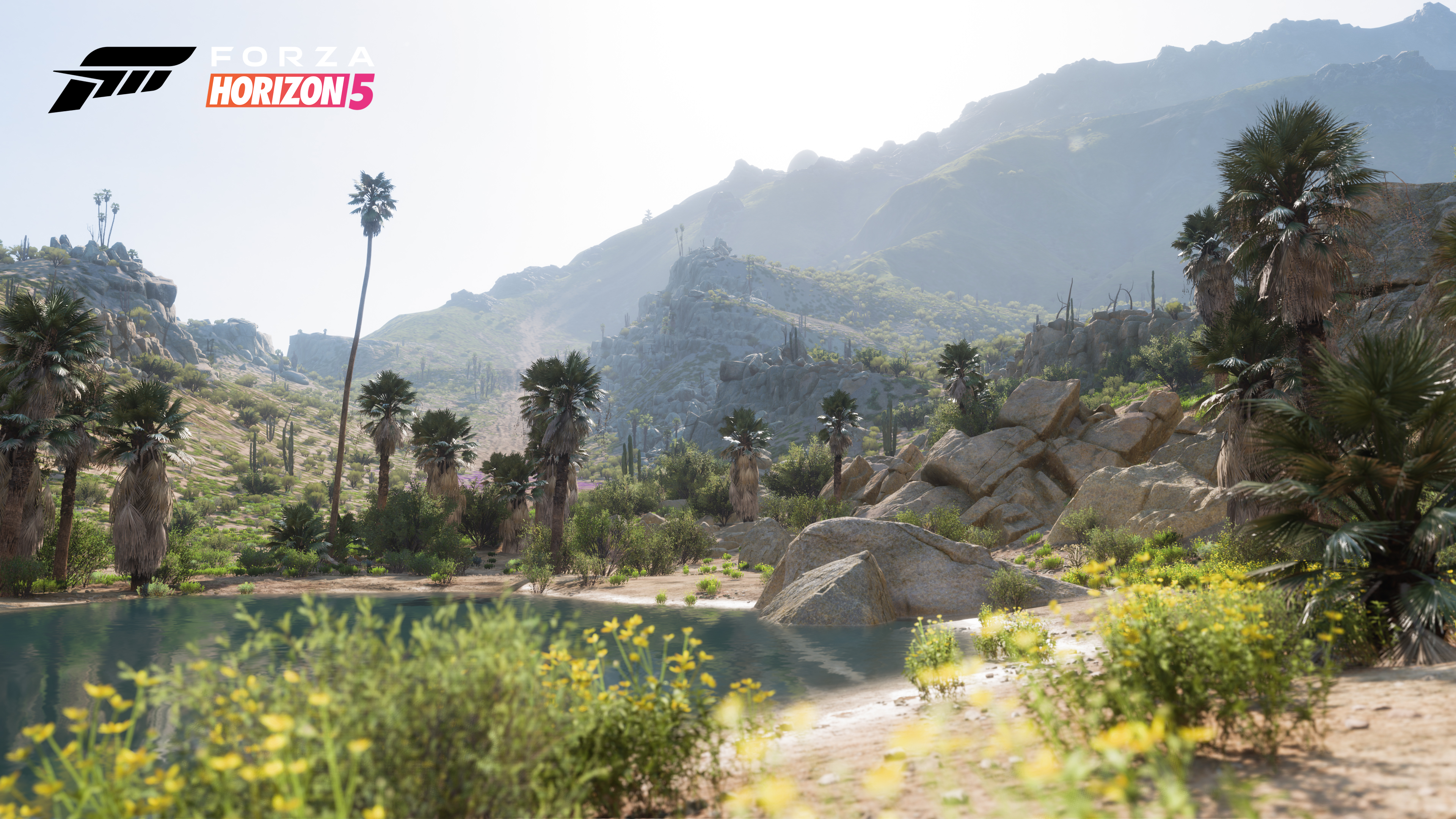 The Living Desert features a giant cactus desert full of towering saguaros, as well rock formations and piles which are unique to the area. In addition, this biome is full of foliage, with wild flowers appearing in certain seasons.
Sand Desert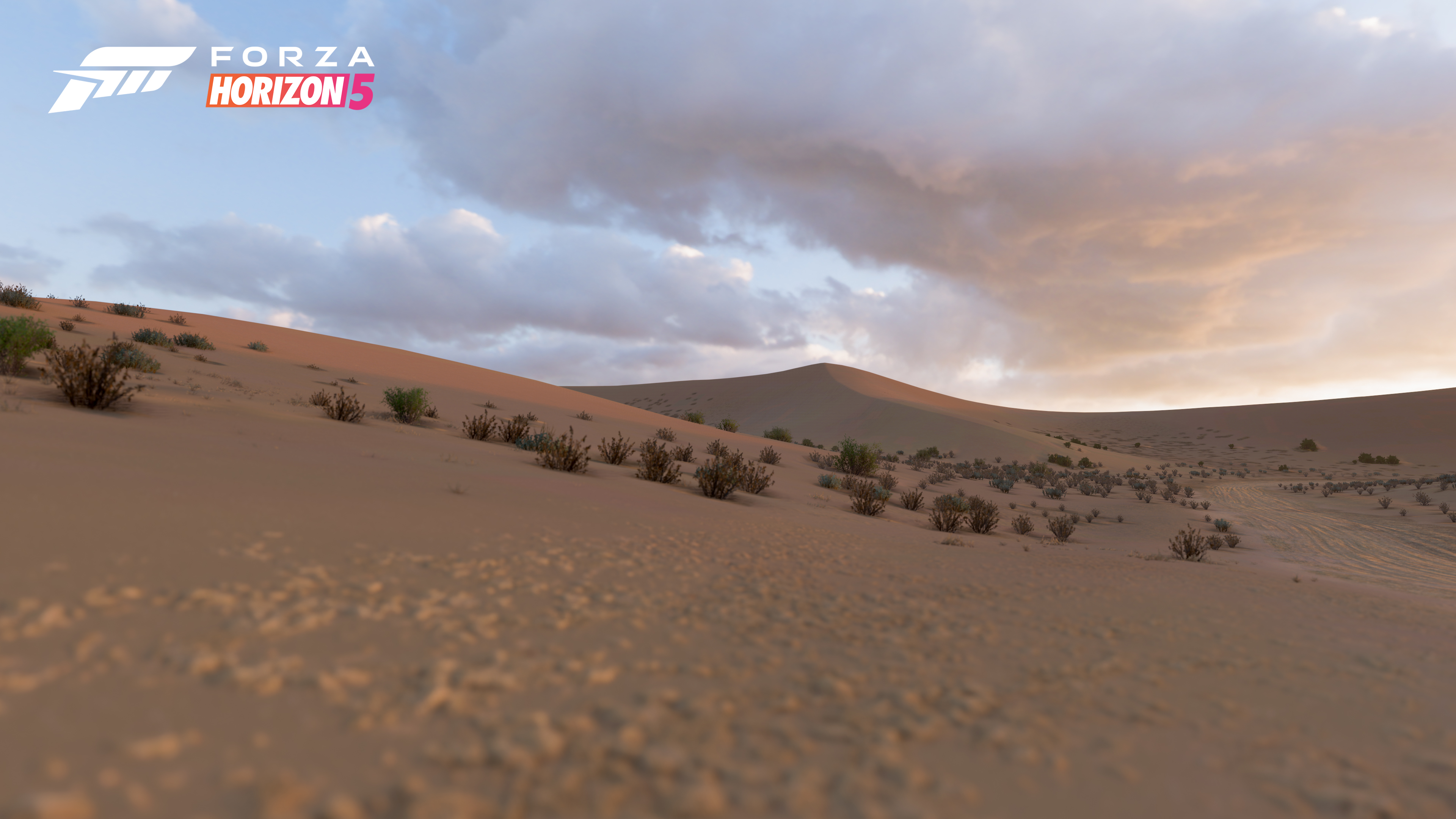 The Sand Desert features sand dunes with silky-smooth velvety sand. This biome apparently has many long, straight roads which will be great for testing how fast your car can really go.
Rocky Coast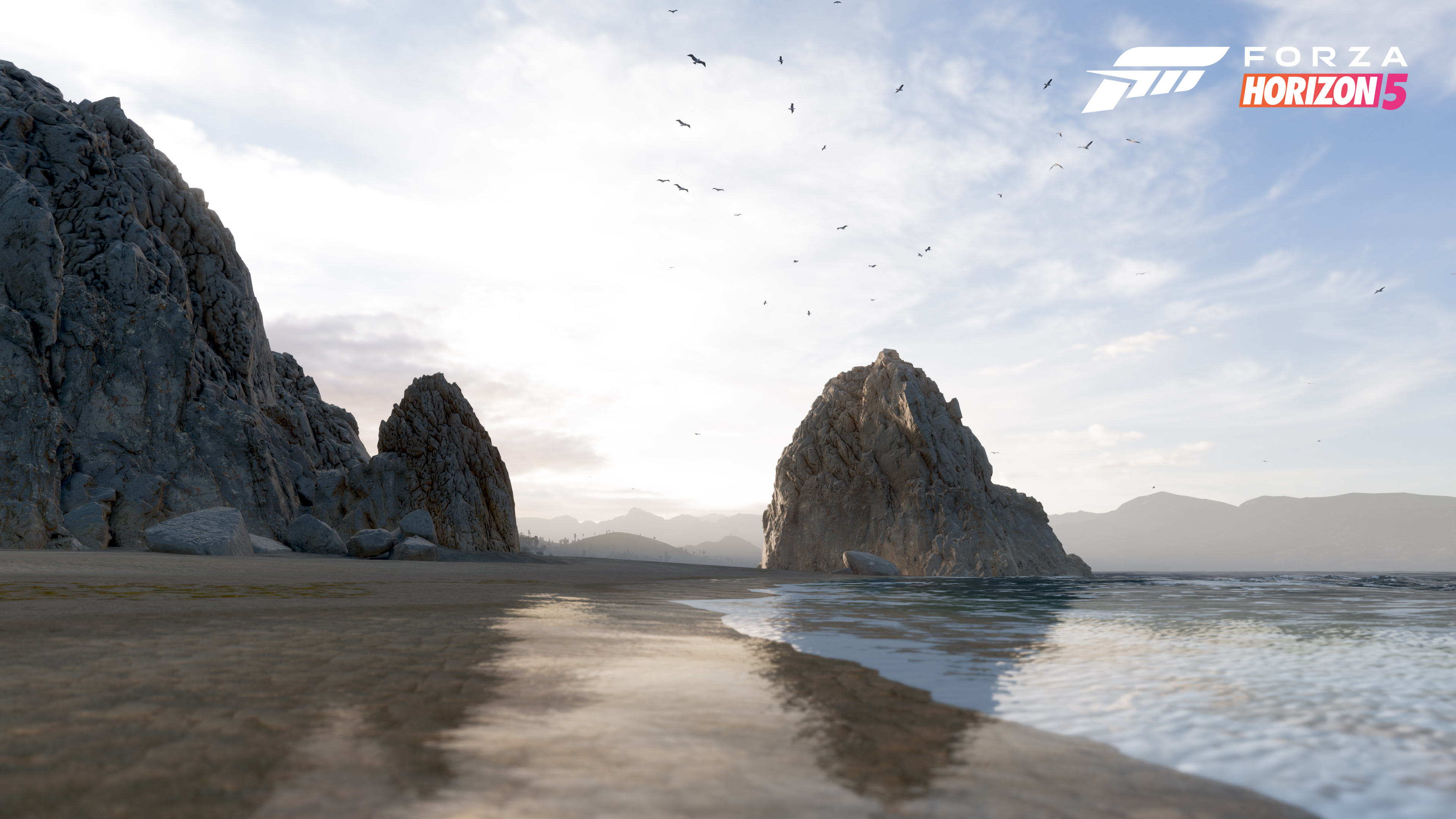 The Rocky Coast offers a great view of the ocean and, as such, a fantastic view of sunsets and sunrises. This biome also features the Arch of Cabo San Lucas, a dinct rock formation, as well as a golf course.
Farmland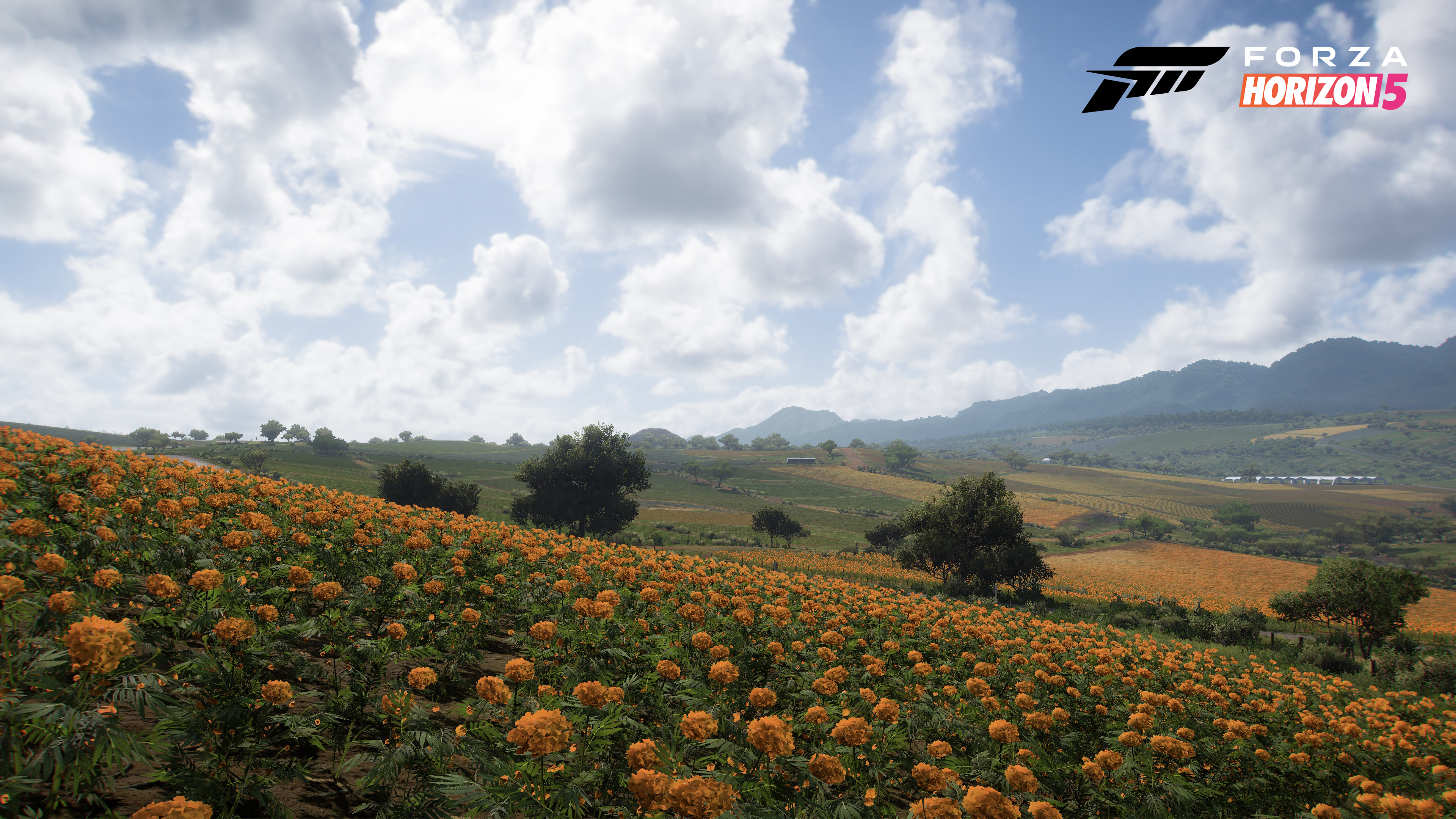 The Farmland looks to showcase a lot of crops that are native to Mexico. This biome is made up of lush vegetation, fruit-bearing trees and wide (but shallow) rivers. You'll even have the option to smash your way through fences if you please.
Arid Hills
The Arid Hills biome is near the Farmland area and features dry grasses on rolling hills - just watch out for the dense trees and prickly pear cacti. But the most interesting aspect of this biome is a lake that dries up in winter, allowing you to access previously unavailable paths.
Volcano
The Volcano serves as the highest peak in a Horizon game to date - and some of the best views. It also undergoes the most dramatic season change of all the biomes, becoming snow-capped in winter.
Canyon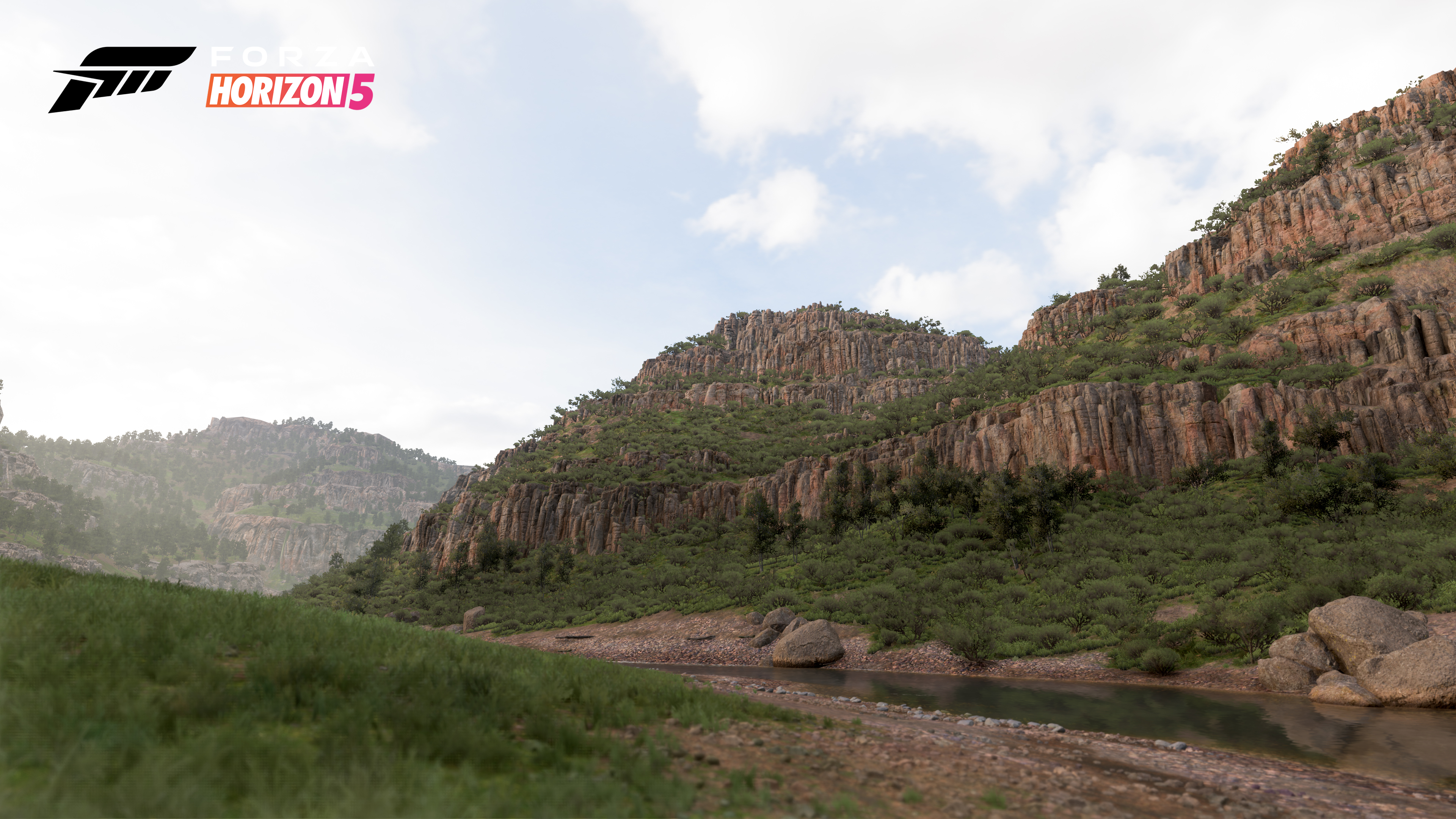 The Canyon biome is all about vertically and scale. This biome is full of rock formations patterned with unique striations. Canyon will also offer the best showcase for Forza Horizon 5's ray tracing audio thanks to car sounds being able to bounce off the walls.
Jungle
The Jungle biome offers the ability to explore, featuring ruins, temples (based on real Mexican temples) and waterfalls to investigate. There's even an abandoned airstrip, that's been reclaimed by nature, to uncover.
Swamp
The Swamp is near the Jungle and has rooty Mangrove trees (which you can smash through) dotted around in shallow waters.
Tropical Coast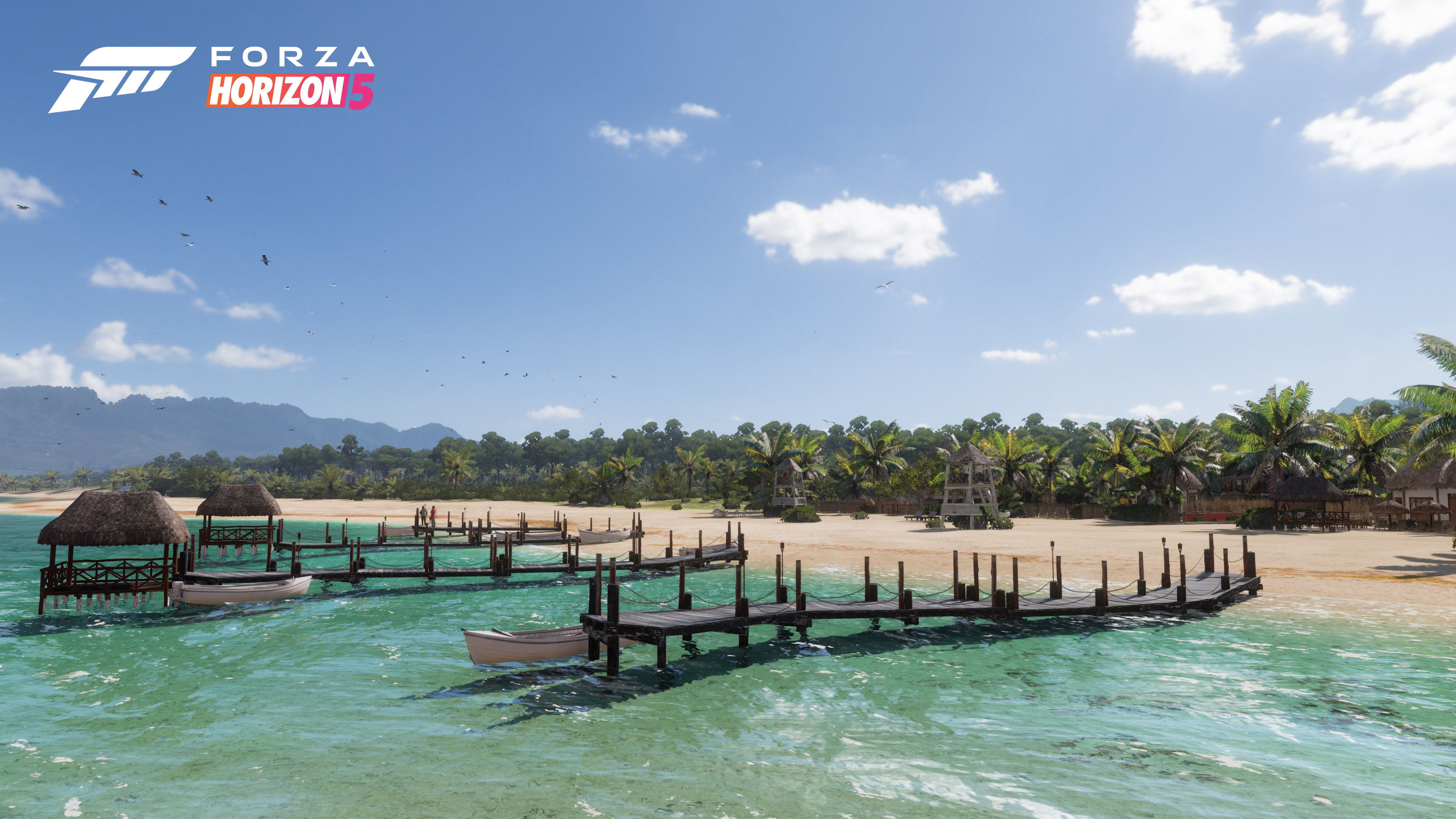 The Tropical Coast biome is essentially like a Mexican holiday resort. This biome features palm trees, white beaches, loungers, huts and seagulls, but gets a bit less dreamy when storm season hits.
Urban City of Guanajuato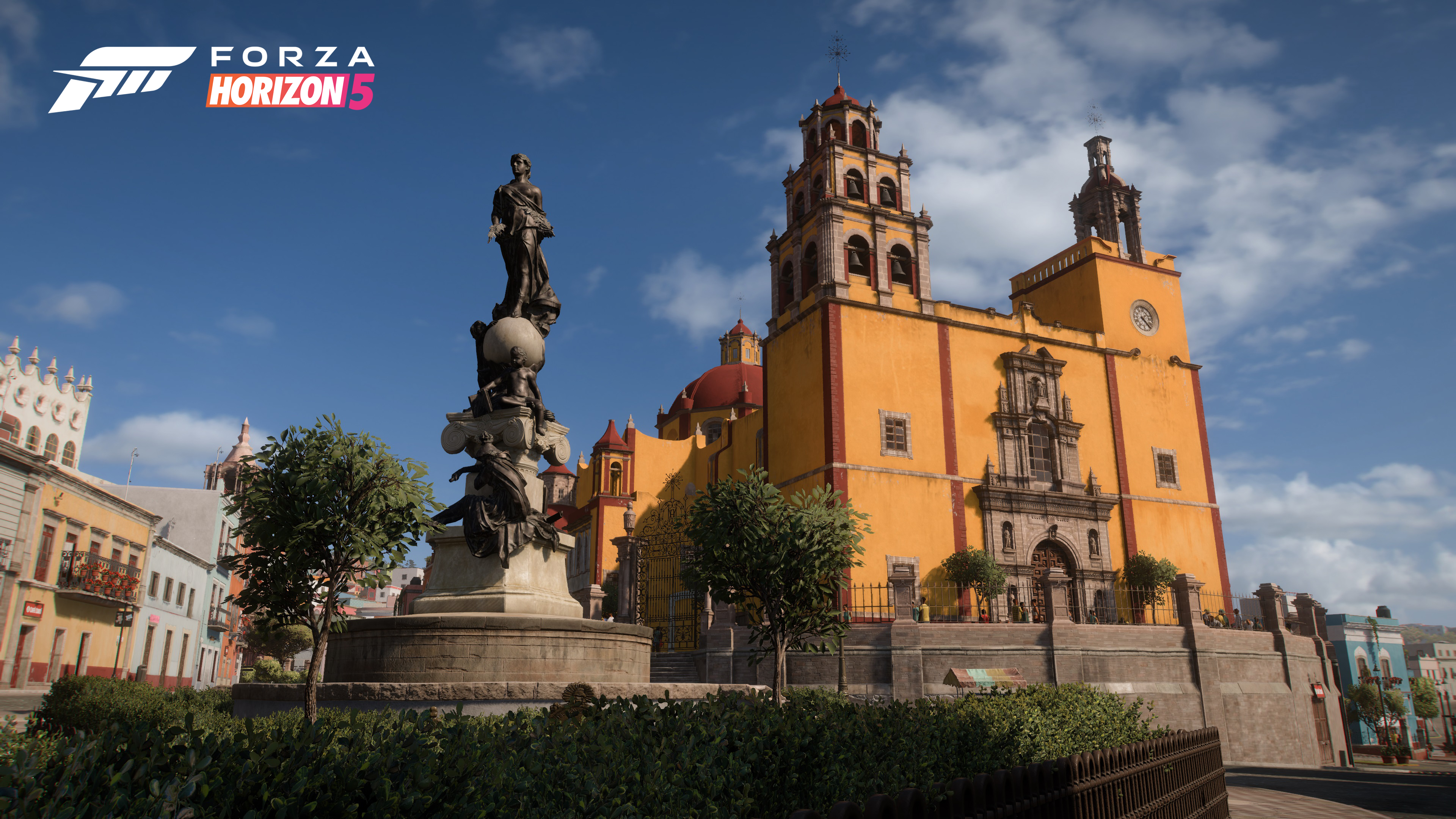 Guanajuato is Forza Horizon 5's urban biome, full of history, color and Spanish colonial architecture. Guanajuato is a multi-layered city too, featuring both rolling hills and tunnels, with tight streets showcasing that new ray tracing audio.
Trailers and gameplay
12 minutes of gameplay trailer
Following the reveal of Forza Horizon 5's full map, YouTuber and Forza Horizon content creator Don Joewon Song has uploaded twelve minutes of gameplay footage in 4K, giving fans a look at what it's like to explore parts of that map. There are still parts of the game that will be fixed before release and these are noted in the footage.
The fourth episode of Forza's YouTube show, Let's ¡Go!, has given us a look at a full Forza Horizon 5 race in action, as well as how the game's 11 biomes seamlessly blend together. Check it out below.
Even wondered how developer Playground Games meticulously records car audio sounds to use in game? Check out this behind the scene video and see for yourself.
Applying upgrades to your car will change how it sounds and Playground Games has given a preview of how that will look (and, most importantly, sound) below:
Want to get a look at some of the impressive sky and weather in Forza Horizon 5? Then you can check out episode 2 of Forza Horizon Let's Go below. It even gives you a look at one of the new weather effects: dust storms.
After an initial cinematic trailer revealed the game's title and setting, we were treated to a more detailed gameplay trailer at Xbox's E3 showcase event – and boy, does it look pretty.
We got our first look at Forza Horizon 5 in this official trailer, with "all in-game 4K footage" showing off just how good we can expect it to look.
Forza Horizon 5 news and updates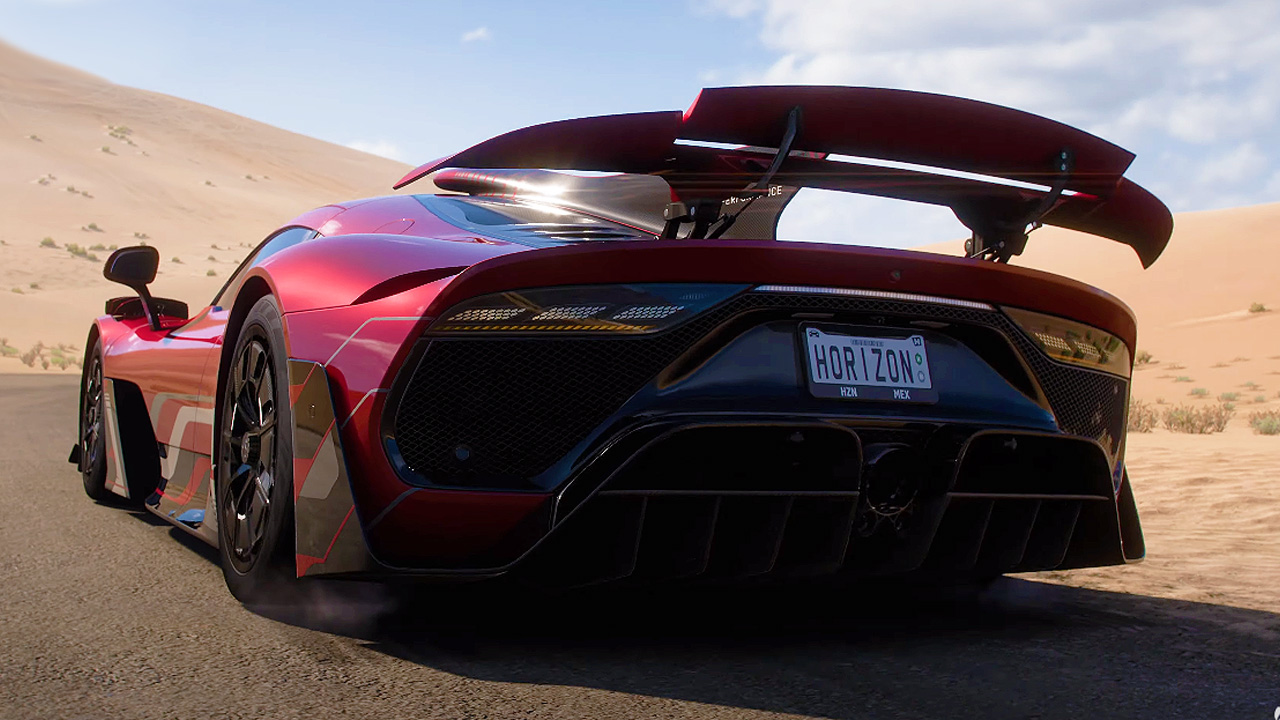 Full map revealed
Playground Games has revealed what appears to be the full Forza Horizon 5 map, posting an image to its Twitter account. It's safe to say the map is big (it's the biggest and most diverse in the series, actually) but the image only shows what it'll look like in the Summer, with other seasons bringing different conditions to the various locations that will be explorable across Mexico. We're pretty excited about the highway that stretches from the bottom left of the map to the top right; it's the longest in the series.
It won't be hampered by Xbox One release
Players shouldn't be concerned that developing for Xbox One has held Playground Games back in any way when it comes to making the most of the next-gen features of Xbox Series X. Mike Brown assured TechRadar that "we've been a multiplatform developer for some time" and are therefore "already used to building a game that can work across a variety of different system specs."
"The Series X [version], it does look fantastic," Brown told us, "The power that it gives us to cram so much detail into every scene, and just to even have those assets that are so densely packed but they're just drawing out so far as well. It allows you to create these scenes that just look real, that don't kind of have that video gaming feel to them. It's been really exciting, honestly, to work on those consoles."
Why Mexico is the perfect setting for 'the biggest Horizon game ever'
Playground Games have big ambitions for Forza Horizon 5, with creative director Mike Brown telling us, "This time, we knew from the start that we wanted to make the biggest Horizon game ever." It was this which helped Playground settle on Mexico as the game's setting, with Brown saying the country's "sheer breadth of diversity and different biome types it has" as well as its culture made it "an incredible option."
An extra year in development helped the team with its goals of creating a big map and they used that time "to make some big investments into tech tools and loads of different areas of the game" because creating the biggest Horizon map requires plenty of technical considerations. We know that the game has a diverse map, covering 11 biomes which Playground has gone to the effort of blending "naturally with each other" so that when players reach the heights of the in-game volcano, they can "pretty much see across the entire map".
A big open map looks good but it also adds some new gameplay possibilities. According to Brown, Mexico's desert biomes give "room to have really long sweeping roads that allow the cars to go up to incredible speeds" ("near enough 300 miles an hour"), allowing players to "stretch their legs" in a way that Forza Horizon 4's UK map didn't.
Biomes bring geo-diversity
Playground Games have already detailed how Forza Horizon 5's 11 biomes (all detailed above) are going to be great in terms of offering different kinds of weather but they'll offer more than that.
Speaking to TechRadar, the game's art director, Don Arceta, told us that the diversity of the biomes will see players "dealing with so many different driving surfaces...different tarmac in each biome is kind of unique."
Around the game's volcano, for example, "the highest peak in a Horizon game to date", the ground is more cracked up. But when players go through the jungle they'll find it's dense, packed, humid and wet with "a ton of rivers and waterfalls and lakes", which gives players extra considerations when it comes to "customizing your car when you're choosing your car for those races."
The most dynamic weather system yet
Forza Horizon 5 will build on the weather system of Forza Horizon 4, making it more dynamic than ever. While in Forza Horizon 4, the weather changes but is universal, in Forza Horizon 5 there will be different weather conditions across different parts of the map.
The game's Mexico map will be broken into 11 biomes, each uniquely affected by the seasons. So, for example, in the Spring Season, you may experience tropical storms if you're in the jungle but will only experience light rain in the desert. This seasonal weather also means that during dry seasons you'll be able to explore areas previously inaccessible in the wet season.
Speaking to IGN, creative director Mike Brown explained how the game will use the diversity of its setting and its "more interesting seasonality compared to the UK" to show off the advances the weather system has made.
"I think the UK, certainly for those people who live in a temperate climate, has really pronounced spring, summer, autumn, winter," said Brown, "Mexico, being a country that has huge elevation changes and obviously quite a large country, has different seasonality in different regions, which we've tried to recreate as accurately as possible."
"It creates great scenarios where you can have snow on top of the volcano and you can go up there and you can even get blizzards up there, while at the exact same time down on the coast it can be blazing hot," said Brown. "It's still four seasons – you'll still see that seasonality change – but it affects the different biomes in different ways. You get dust storms in the dry season, you get tropical storms in storm season, which is autumn. So there's these big, massive weather events that can occur as well based on which season you're in. Both of those are just really dynamic; they have a really great impact on the driving experience."
Two new weather effects
Speaking of that weather system—Forza Horizon 5 will have two new weather effects. According to episode 2 of the Forza Horizon Let's Go series, tropical storms and dust storms will be introduced. You'll even be able to do some storm chasing.
"Storm chasing was a big thing in our plans when we were starting the project," said Art Director Don Arceta. With that in mind, you'll be able to see these new storms from a distance and approach them. They won't be there all the time though—they're seasonal so you'll see tropical storms from June through late November, while dust storms will emerge in the dry season of mid-October to April.
Forza Horizon 5 will sound best on Xbox Series X and Series S
Forza Horizon 5 will sound better on Xbox Series X and Xbox Series S, according to Playground Games. The new consoles unlock a new compression format that allows for much higher fidelity audio, which means that every aspect of the game will sound "cleaner and more refined" on Xbox Series X and Xbox Series S, including car sounds, music and even dialog.

Forza Horizon 5 uses ray-traced audio
It turns out that Forza Horizon 5 will use ray tracing to affect the game's audio, which is used throughout the world. The game will send out ray-traced audio paths that can detect walls, buildings and ceilings as well. This means you'll hear the roar of your car's engine sounds bouncing off of all the buildings around you, and that will change depending on the environment.

Forza Horizon 5's lead audio designer Fraser Strachan said: "As soon as we turned it on, it grounded the world in reality. It made the world really feel alive. If you're listening with spatial audio, something like Dolby Atmos with your headphones on, you'll be able to hear your car bouncing off the roofs as well."
Speaking to TechRadar, Don Arceta said that the game's Canyon biome "is an awesome place that plays up our ray tracing audio. When you're gunning it down there, you'll hear all your car sounds bouncing off the walls and yeah, it's pretty awesome."
This feature will also be multiplayer modes by using occlusion, as the game can detect where every single car is in relation to your car. If a car's behind a building, for example, you'll know not to head directly there as their engine will sound muffled. This means you could choose to cut them off instead, as you'll be more of their location.
Audible upgrades will change the sound of your cars when upgrading
Forza Horizon 5 is the first game in the series that will change how cars sound when applying new upgrades. If you add upgrades like turbos and superchargers, it will noticeably affect how your car sounds, which has been a highly requested community feature for some time.
'Deep and rewarding campaign'
Playground Games have confirmed in a blog post that Forza Horizon 5 will have a "deep and rewarding campaign" in which players will "meet new characters and determine the outcome of their Horizon Story missions", taking on "expeditions across the map, battling the elements in hundreds of the world's greatest cars."
PC requirements
For those looking to play Forza Horizon 5 on PC, the system requirements are live now on Steam, though they're not too demanding, so the game should run fine on most hardware (you'll need 80GB of available space on your hard drive and 8GB of RAM, basically).
Built for Xbox Series X/S
Forza Horizon 5 is releasing across the Xbox platforms, including Xbox One, but it seems that it'll really showcase the power of Microsoft's latest consoles, Xbox Series X/S.
The game's official page promises "unparalleled load-times, visuals and responsiveness" with 4K at 30 fps supported on Xbox Series X. Series S will support 1080p at 30fps, with a 60fps performance mode available for both consoles. Though visual ray tracing will be supported on Xbox Series X, it'll only feature in the game's Forzavista vehicle viewing mode.