With the best HR software, managing employees, payrolls, holiday leave, and most other things associated with the human resources sector can be simplified. Advanced software is a must for many companies, as it can save countless hours of manual data entry and planning.
In our BrightHR review, we take a close look at this advanced HR software solution. It comes in various formats for businesses of all sizes, and it's quite affordable as well.
However, there's no US version. It's currently only available to customers in the UK, Australia, New Zealand, Canada, and Ireland.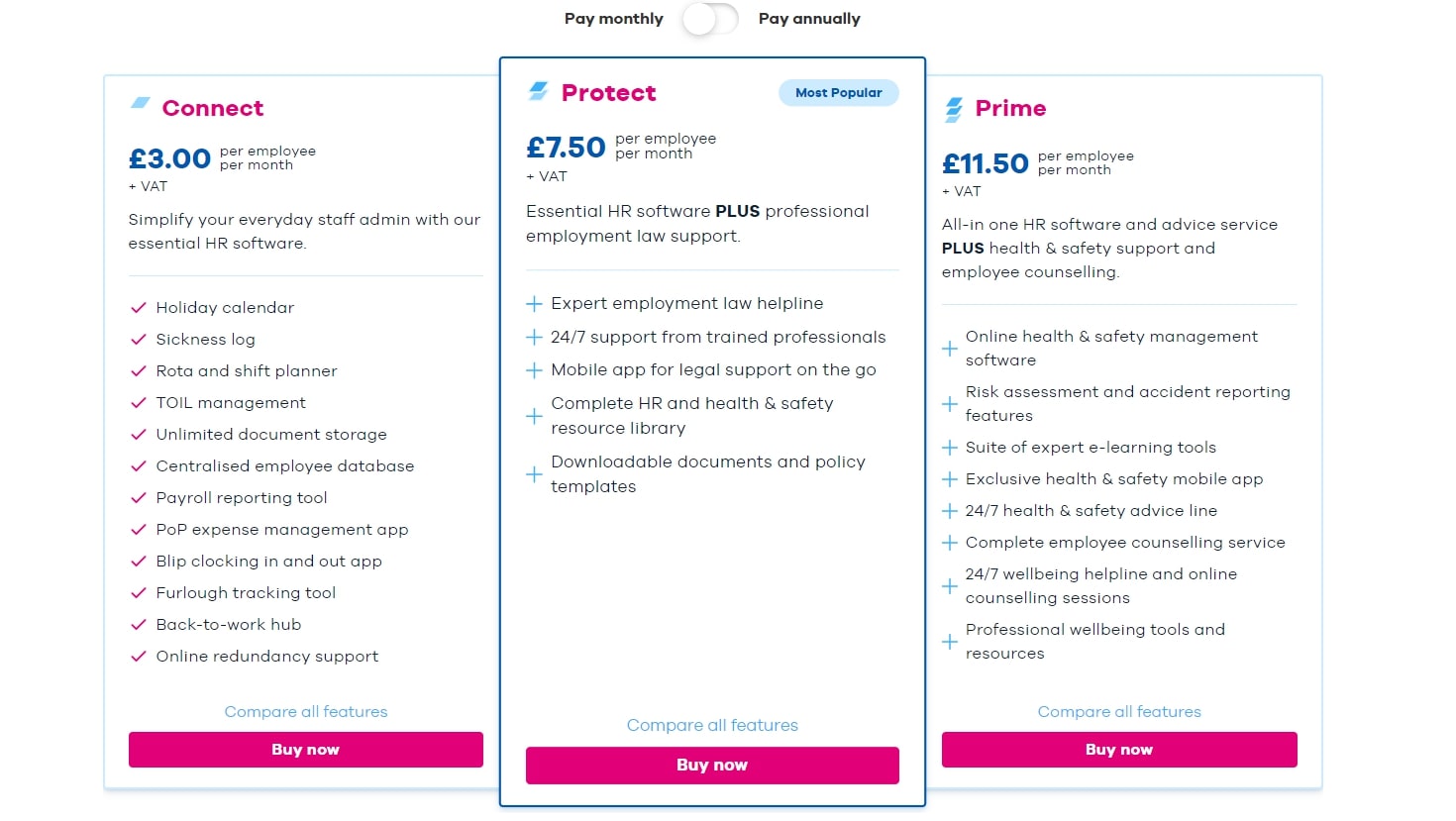 Plans and pricing
There are three BrightHR plans available, with prices ranging from £3.00 (approximately $4.27) to £11.50 (approximately $16.35) per employee per month. All plans come with everything you will need for basic HR management, while the higher-end options add professional support from law and health and safety teams.
Note that annual, two-yearly, and three-yearly subscription options are available, but monthly payments are notably absent.
The cheapest Connect plan comes in at £3.00 (approximately $4.27) per employee per month. It includes access to a great range of HR management tools, including a holiday calendar, sickness log, shift planner, and a payroll reporting tool. You will also have access to a centralized employee database, along with a selection of other built-in features.
Upgrading to the Protect plan (£7.50 or roughly $10.67 per employee per month) adds access to an employment law helpline, document and policy templates, and a HR resource library. Or, go for the Prime plan (£11.50 or $16.36 per employee per month) for advanced health and safety support and access to an employee counseling helpline.
HR Insurance is also available and can be included at an extra cost. You will have to speak with the BrightHR team to find out more about this.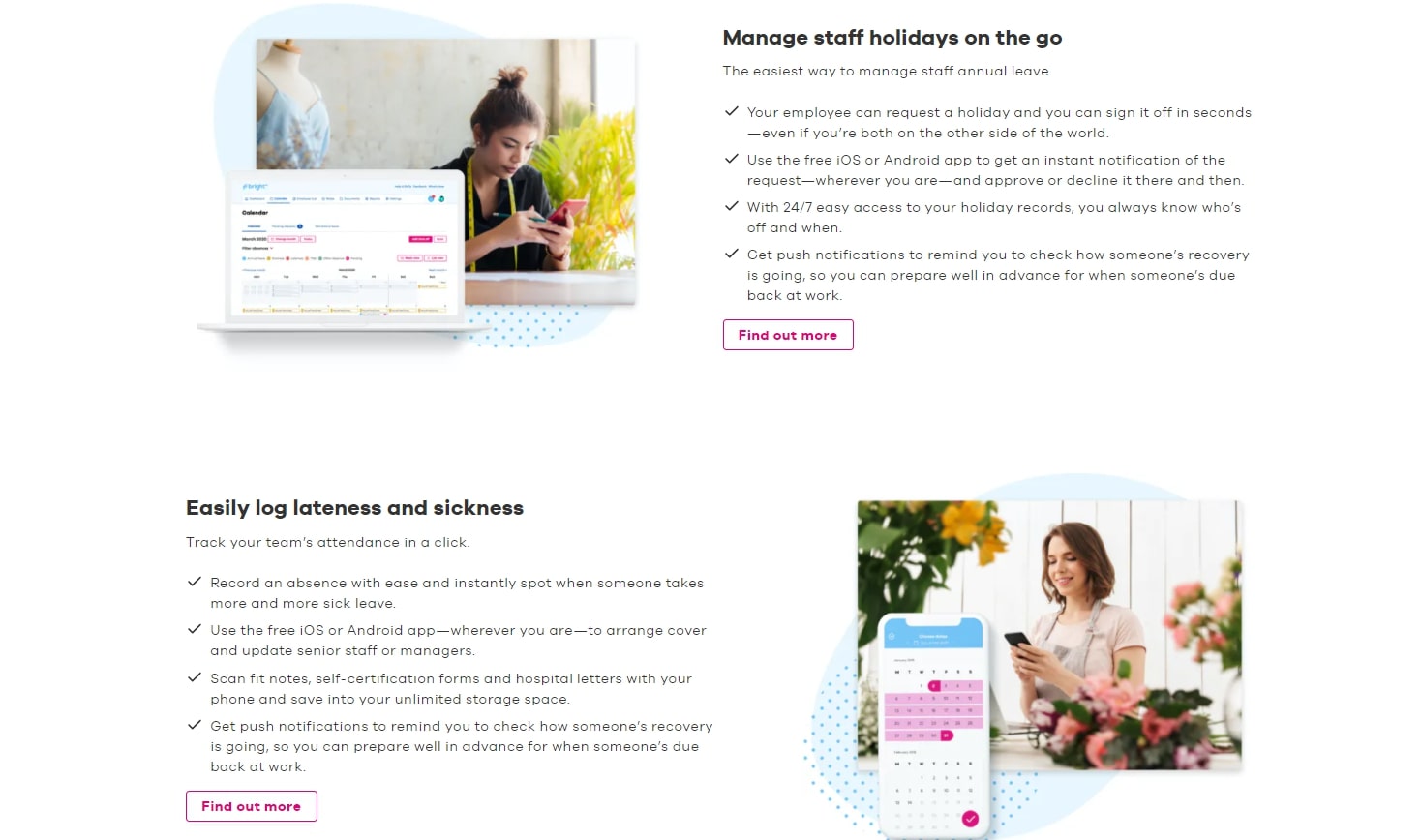 Features
The BrightHR platform is packed full of advanced HR management features. We've touched on a few of the most popular below.
BrightHR offers an excellent selection of staff management tools, including a neat holiday planner. This enables employees to request holidays with the click of a button. You can approve or decline their request from your computer or mobile device while keeping track of all holiday records.
On top of this, you can record absences and sick leave in just a few seconds. Documentation, including medical certificates, can be scanned directly into the system, and you will receive notifications when team members are due to return to work.
The BrightHR system also tracks various metrics to help you with payroll calculations, reducing the time you need to spend on admin processes. This includes overtime tracking, a complete record of paid and unpaid absences, and information about bonuses or other extra payments that you owe employees.
If you need assistance with your staff rosters, BrightHR's rota planner will be extremely useful. Modifications can be made with the click of a button, and the system will automatically notify employees of any changes to their usual schedule or work location.
Another noteworthy feature is BrightHR's unlimited cloud storage. This is designed to help businesses go paperless and features a range of tools to help you store, manage, and share digital files. In addition, files can be accessed from anywhere through the neat mobile app, which is available for both Android and iOS devices.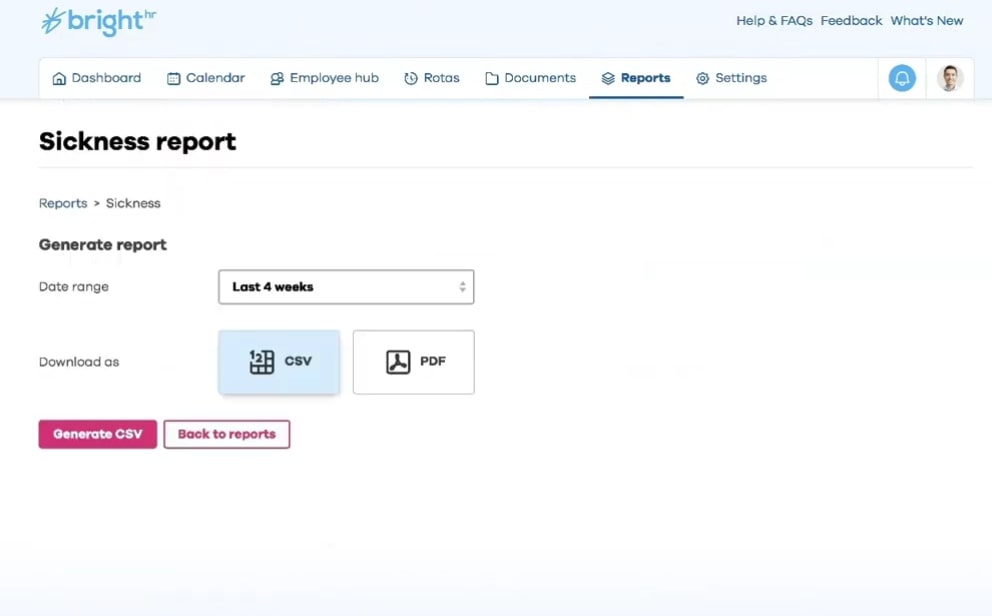 Interface and in use
To sign up for a new BrightHR account, you need to simply select the package you want, navigate to the checkout page, and input the required information. Payment is only available via credit/debit card, but the checkout is secure.
The BrightHR software itself is tidy and easy to navigate, presenting a range of HR management tools in one central hub. The mobile app is also excellent, and there are even separate apps for staff time clocking and expenses management.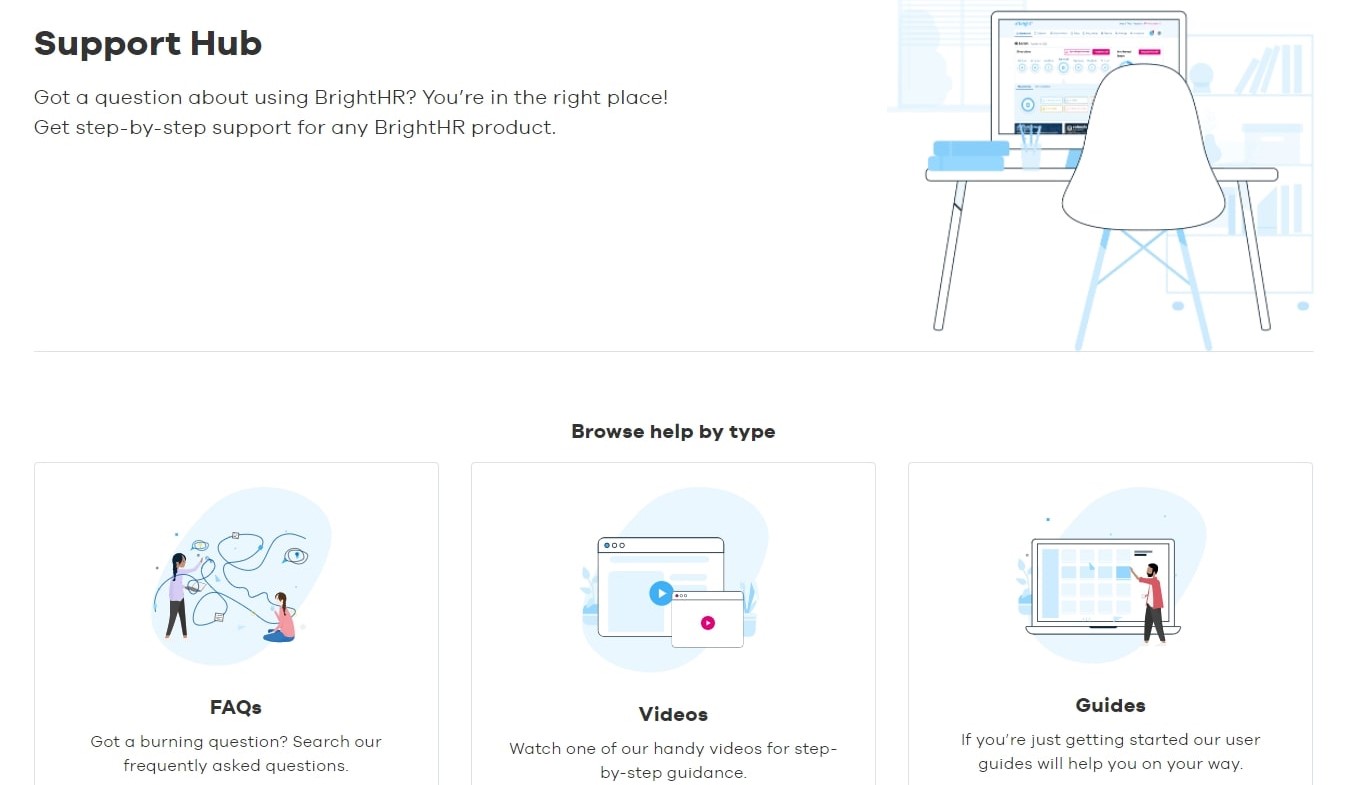 Support
When it comes to customer service and support, BrightHR excels. There's a great range of self-help resources available via the company's Support Hub, including FAQs, video tutorials, and detailed user guides.
On top of this, you can sign up to weekly webinars, which cover various aspects of getting started with the platform. There's a handy blog that's regularly updated, and you can reach out to the customer service team via phone or online contact form if you need extra assistance.
The competition
BrightHR offers excellent service across the board, but there are certainly a few other platforms worth considering.
One of our favorites is Gusto, which covers virtually every aspect of HR management. It includes advanced tools for onboarding, insurance, wages, time-tracking, and more. Ultimately, it's a great option for businesses looking for advanced all-in-one software.
Another popular choice is BambooHR, a platform that focuses on HR process automation. It also boasts leading security practices, making it a good choice for businesses dealing with sensitive information.
Final verdict
All things considered, BrightHR is a great option for those who need an advanced yet competitively priced HR management program. It boasts excellent prices, a great range of advanced tools, and a user-friendly, easy-to-navigate management interface. However, the lack of a US version does narrow its market a little.
The bottom line: if you don't need a US-specific HR management program, BrightHR could be a perfect choice.