It's official: Diablo 2 is getting remastered after 20 years in the form of Diablo 2 Resurrected. And we finally now know the Diablo 2: Resurrected release date, set for September 23, 2021.
One of gaming's most-requested and long-running wishlist toppers, fans of the dungeon crawler have sat around chalk pentagrams for years, hoping to summon the game into existence. And at BlizzConline 2021, those prayers were finally answered.
Blizzard is aiming to keep the feel of the original Diablo 2, but will add updated graphics and Dolby 7.1 surround sound. You'll even be able to switch back and forth between the updated graphics and the original sprite-based textures, just like in Halo: The Master Chief Collection. We enjoyed the time we spent with the game during its technical alpha and we're looking forward to seeing its final form (hopefully) later this year.
Despite being 20 years old, Diablo 2 (and its expansion pack Lord of Destruction) may be the most influential game of the past few years. The smell of Diablo 2's kill-loot-repeat action RPG mechanics sits heavily on the likes of Destiny 2 and Borderlands, while its randomly-generated dungeons and monster hordes have been echoed in "roguelite" style games like The Binding of Isaac and Hades. And that's before considering games that take direct inspiration from Diablo, like the Torchlight and Dungeon Siege franchises.
After the more colorful adventures of 2021's phoenix-like Diablo 3 (which had a famously troubled launch before updates made it another beloved entry in the franchise), we know that Blizzard's looking to tap into the darker energies of Diablo 2 for the forthcoming sequel Diablo 4.
Want to know more? Read on for everything we know about Diablo 2 Resurrected.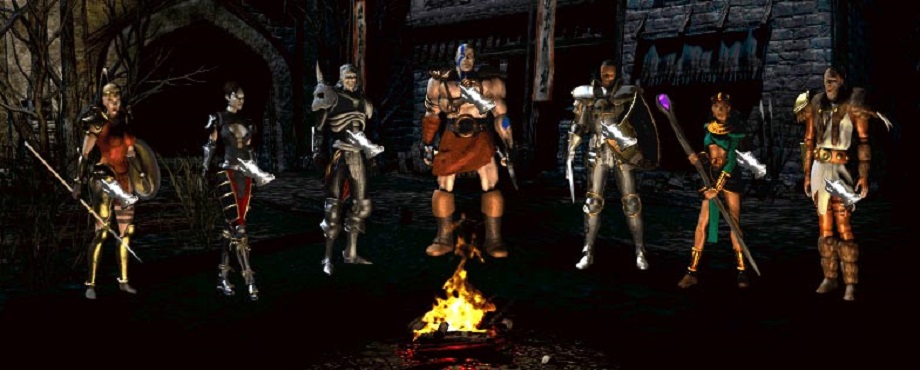 Diablo 2 Resurrected: key facts
What is it? A remaster of arguably the most influential action RPG ever
What can I play it on? PS4, PS5, Xbox One, Xbox Series X/S, Nintendo Switch, PC
When can I play it? September 23, 2021.
Diablo 2 Resurrected release date and price
The Diablo 2 Resurrected release date is confirmed for 23 September, 2021. The Diablo 2 remaster will be available on PC (as you'd expect) but also on Xbox Series X, Xbox One, PS5, PS4 and Nintendo Switch for the very first time.
The PC version of Diablo 2 Resurrected is available to pre-purchase through Activision Blizzard's Battle.net client, and costs $39.99 / £34.99 / approximately AU$52.99.
The Diablo Prime Evil Collection is also available to purchase on the store page for $54.99 / £49.99 / approximately AU$72.99. This includes both Diablo 2 Resurrected and Diablo 3, its Reaper of Souls and Rise of the Necromancer expansions and a handful of extra cosmetic content.
Diablo 2 Resurrected Beta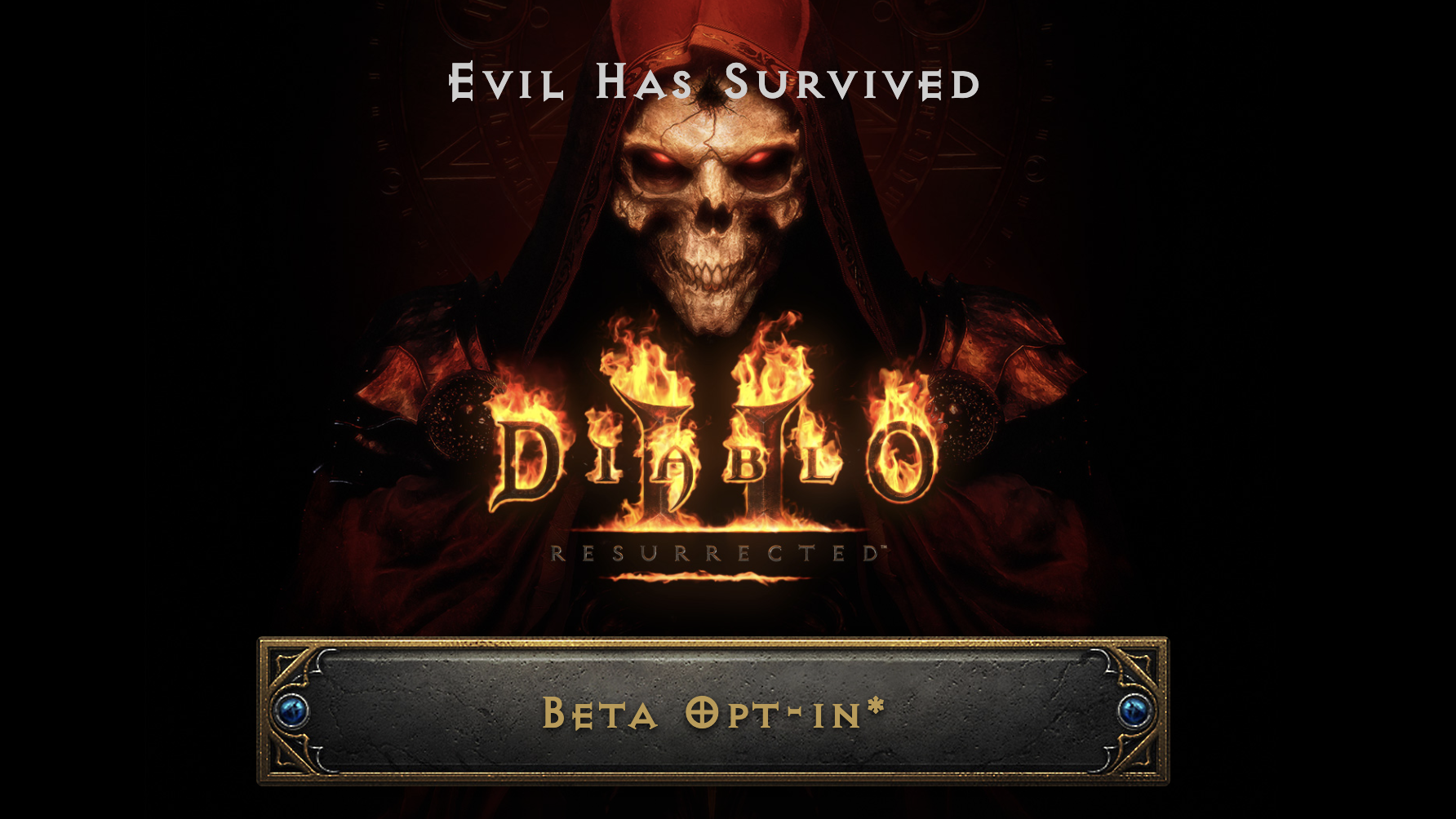 Diablo 2's Technical Alpha finished up in April (and we very much enjoyed it) but now that it's been and gone, the next step for the game appears to be its beta. On the official Diablo 2 Resurrected website it's currently possible for interested players to sign up to opt-in to the beta.
However, at the moment there's no date for when it starts. It's also not entirely clear what the beta will involve, though in a previous interview with PCGamesN, the team did say, "We are hoping to increase that number [of participating players] come the beta, especially because the beta is multiplayer."
What we do know is that the beta will take place sometime in August 2021 for those who have pre-ordered the game. The testing phase will be available to players on PC, Xbox and PlayStation. Unfortunately, Switch owners will have to wait until release on September 23 2021 before they can play Diablo 2 Resurrected.
Diablo 2 Resurrected trailers
E3 2021 gave us a fresh look at Diablo 2: Resurrected:
Having played the technical alpha, it wasn't a particularly revealing trailer, but as it was revealed during the Xbox showcase of the E3 2021 event, it did reveal some more details about that platform's version – expect 4K visuals, 8-player co-op and 60fps frame rates.
Blizzard gave us a closer look at Diablo 2 Resurrected's gameplay during a deep dive at Blizzconline 2021. The video lasts nearly 50 minutes but goes into great detail on what fans can expect from the remaster. Check it out below:
Blizzard announced the Diablo 2 remaster at Blizzconline 2021. The announcement trailer below was revealed during the conference, giving us an idea of what to expect from Diablo 2 Resurrected.
Diablo 2 Resurrected: what we know so far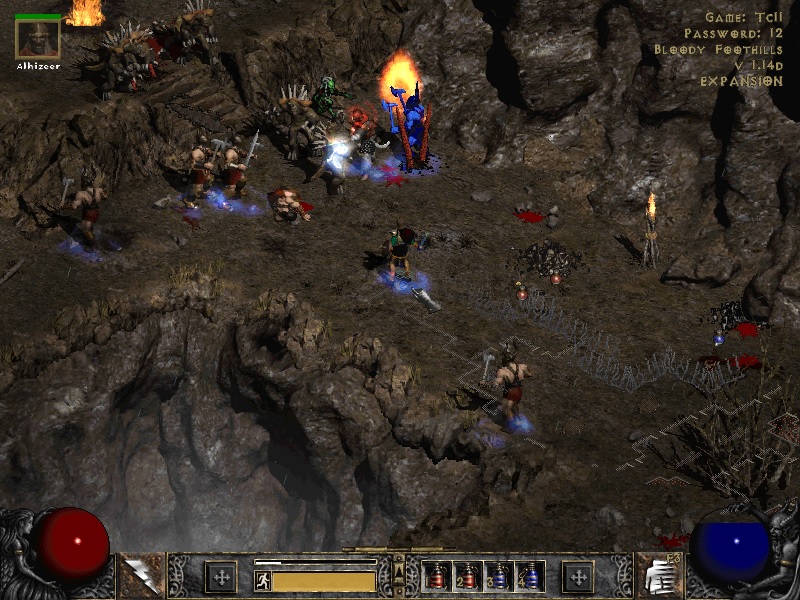 Rumors of a Diablo 2 remaster have been circulating for years – many hoped that it would coincide with the games 20th anniversary in 2020, but that came and went with Blizzard focusing on Diablo 4 and the Diablo: Immortal mobile game instead. However, BlizzCon 2021 finally confirmed the game is coming this year, and that Diablo 2 Resurrected will be available on every platform you could hope for.
To understand why the announcement has taken so long, we first need to discuss another Blizzard remake – Warcraft 3: Reforged. Blizzard's 'Team 1' development team had been working on the real-time strategy remaster, another beloved game. But its release in 2020 was not well received, with missing features and problematic terms and conditions putting off what should have been a thriving map-making and modding community. It currently sits among the worst user-rated games on score aggregator MetaCritic.
Team 1 had been tasked also with reviving Diablo 2, but a Bloomberg report suggests that Blizzard's owners Activision got cold feet following Warcraft 3: Reforged's reception. Instead, it disbanded Team 1 (which had already been pulled off ongoing StarCraft 2 development, and had seen its hero-shooter Heroes of the Storm fade to obscurity). Now, with Team 1 gone, Activision has brought in its former subsidiary Vicarious Visions, merging it with the development operations of Blizzard, and (as we reported last year) apparently tasking it with taking on the Diablo 2 mantle.
While the reduced autonomy of a once-powerhouse studio like Blizzard's seems troubling, the newly-merged Vicarious Visions may be the perfect team for the job. It has long-standing pedigree for remaking and reworking existing games, dating back to the magic it worked bringing the likes of Tony Hawk's Pro Skateboarding and Jet Set Radio to the Game Boy Advance. In recent years its focussed almost exclusively on next-and-current-gen remakes, bringing together the delightful Crash Bandicoot N. Sane Trilogy and the note-perfect Tony Hawk's Pro Skater 1 + 2 remake. While its action RPG experience is limited to a couple of Marvel Ultimate Alliance and X-Men Legends remakes over a decade ago, it could thrive under Blizzard's tutelage, and has recent relevant experience working as a support team for Bungie on Destiny 2.
Diablo 2 Resurrected - what's new?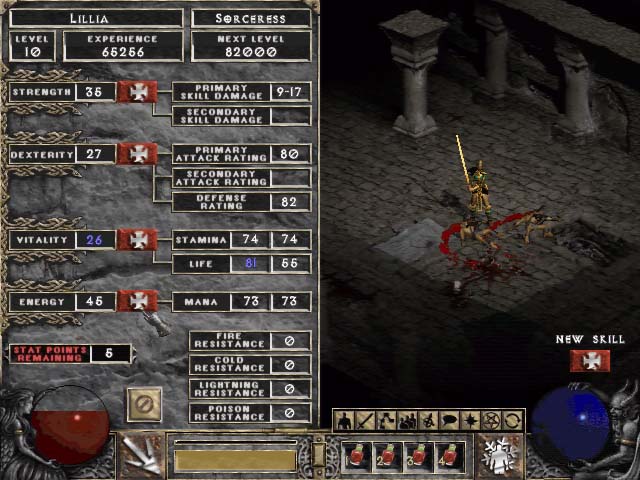 Diablo 2 Resurrected looks to be more than a simple remaster. In fact, Blizzard has been pretty open about new features and quality of life updates we can expect in the new release.
Quality-of-life changes based on player feedback
Blizzard's been hard at work implementing changes on Diablo 2 Resurrected, based on player feedback from the technical alpha test held back in April 2021.
Firstly, certain spell effects have been tweaked to be more readable in-game, with a focus on Lighting, Blizzard and the Paladin's Holy Freeze ability. Other graphical changes, such as making certain weapons, armor and potions more identifiable are also being added.
Additionally, your loot stash is getting a big upgrade in Diablo 2 Resurrected. Your personal storage chest features three tabs of 100 slots each, perfect for if you can't help but hoard your hard-earned loot.
Blizzard is also working on improved load times, a more readable automap and improved mob spawns so you won't enter a room and be immediately engulfed by Diablo's minions.
Easier to play without being easier
Following the technical alpha, Diablo 2 Resurrected developers have been listening to fan feedback on how they can make the game better than its original, without changing what made it so special to fans.
Speaking to IGN, Rob Gallerani, Principal Designer on Diablo II: Resurrected, said that "For the most part people really liked" the quality of life changes that the team has made, adding "In fact they want to see more. The game is still a work in progress - this was a tech alpha - so even from the design side we have a lot of thoughts about [additional] quality of life updates and ways we can make them better."
Gallerani pointed out the line between making the game easier and making it easier to play, saying: "The line is simple in that we don't want to make the game easier. We want to remain faithful, so there's a difference between making the game easier and making the game easier to play. With some feedback and requests coming in it's easy for us to not do a thing because that will make the game easier. When people say, 'We don't want to worry about arrows anymore, give us infinite arrows', or more broadly, 'I want a giant inventory'. Stuff like that removes important choices; do I pick this item up or do I leave it behind? Do I go back to town now? Making the inventory bigger means more charms in your bag and that starts to change what the game is."
You can carry over your original Diablo 2 save file
If you've still got your original Diablo 2 save file, which could be over two decades old at this point, you might be pleased to know that it'll transfer over seamlessly to Diablo 2 Resurrected.
Speaking to IGN, Diablo 2 Resurrected producer Matthew Cederquist said: "Yes, keep your old save files. Back when we were working on [the remaster], we wondered if the old save files would work, so we kind of shoved it in, and it worked! So yes, your local single-player save files will carry over."
You can make use of a shared item stash
A massive quality of life upgrade over the original release, Diablo 2 Resurrected will introduce a shared item stash for use between all your characters. This means you won't have to create new characters for the sole purpose of stuffing their pockets full of the loot you're not using.
We've seen similar systems in other loot-em-ups since Diablo 2's initial release, such as in the Borderlands series, and we're happy to see that Diablo 2 Resurrected won't feel dated in this regard thanks to the introduction of a shared item stash.
Accessibility settings
Diablo 2 Resurrected will feature a suite of accessibility options not present in the original game. These include new colorblind and low-light visibility settings, more readable text options, as well as full controller support for PC.
Quality of life settings also fall into the accessibility category, as many of these updates can be toggled on or off depending on your preferences. For example, the new auto-gold function will let players pick up gold by simply walking over it, but the more traditional clicking to pick it up can be swapped in at any time.
Cross-progression between PC and console versions
Considering Blizzard is releasing Diablo 2 Resurrected on PS5, PS4, Xbox Series X/S, Xbox One and Nintendo Switch platforms as well as PC, it only makes sense to be able to carry your save files between them, right? It turns out Blizzard is planning to let players do just that.
Blizzard has confirmed that cross-progression will be available from the PC version to consoles, though it's yet to say which consoles will definitely support this feature. We love the idea of playing Diablo 2 Resurrected on PC, then immediately picking up where we left off on the Switch for when we need to leave the house.
Better Battle.net integration
Battle.net integration will make it easier than ever to invite friends into your Diablo 2 Resurrected play session. Blizzard has stressed the simplicity of clicking on someone in your friends list for an instant invite. It's obviously something we take for granted in modern multiplayer games, but it's a quality of life upgrade for Diablo 2 nonetheless, eschewing the need to manually search through endless lists in a server browser.
Battle.net's heightened security will also make Diablo 2's infamous item duplication glitches and tricks a thing of the past. As far as we know, such exploits will not be possible in Diablo 2 Resurrected, and players who want to game the system will still have to play the original version to maintain that experience.
Cutscenes are being remade from scratch
Instead of just upscaling the original's cutscenes, Diablo 2 Resurrected is opting for the more ambitious approach of completely remaking them from the ground up. Blizzard has stressed that the cutscenes will play out the same, shot-for-shot, albeit with the full power of modern CGI behind them.
Blizzard are among the best in the business when it comes to creating pre-rendered cutscenes, so we're eager to see how Diablo 2's classic cinematics will look with a shiny new coat of paint.
Diablo 2 Resurrected at BlizzConline 2021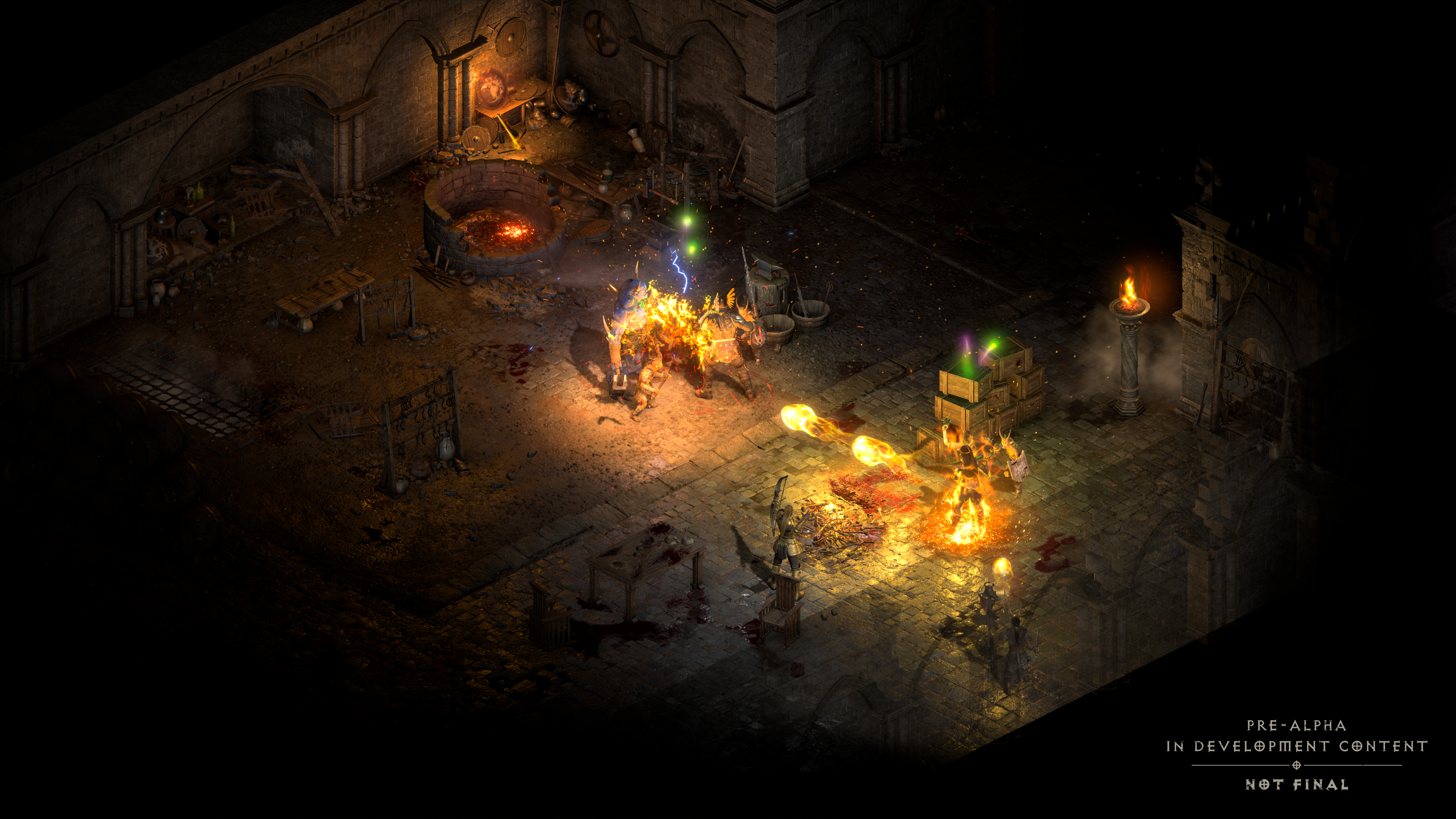 With Diablo 4 still seemingly some years away from release, BlizzConline 2021 thankfully included the surprise reveal of a new-look Diablo 2, one to tide over long-time fans and bring younger gamers up to date with the roots of the franchise ahead of its flashy new entrant.
During this year's online version of the annual show, we saw updates on Diablo 4, Overwatch 2, a World of Warcraft Classic Burning Crusade update and, of course, that Diablo 2: Resurrected game we're so worked up about.
BlizzConline took place over February 19 and 20, and was free for all fans to attend online.
We shouldn't expect to see any updates on Diablo 2 Resurrected at a physical version of BlizzCon 2021 as Blizzard has announced that the show is cancelled.
"The ongoing complexities and uncertainties of the pandemic have impacted our ability to properly move forward on many of these fronts, and ultimately we're now past the point where we'd be able to develop the kind of event we'd want to create for you in November," writes Saralyn Smith, Executive Producer of BlizzCon.
An online event with "smaller in-person gatherings" will apparently be held in early 2022, much like BlizzConline 2021. More details on this are expected at a later date, however, Diablo 2 is still expected to launch in some form this year so it remains unclear when we'll get our next update.
What makes Diablo 2 so special?
So much of what makes Blizzard a special developer is wrapped up in Diablo 2. Its loot system is addictive, its randomised dungeon elements make for near-infinite replayability, its multiplayer a blast and its monster design truly ghoulish. If there's no Diablo 2, there's no BattleNet, Blizzard's multiplayer platform that underpinned World of Warcraft (while WoW itself takes many fundamental ideas from Diablo 2, from the class based-combat to the importance of gear and skill builds).
Diablo 2 was pioneering in its day, and remains great fun even among modern greats and pretenders to its throne. But its sprite-based visuals are dated now, and it lacks some of the quality of life features we come to expect from modern games. A team like Vicarious Visions can bring it bang up to date, and introduce a whole new generation of fans to the series in time for Diablo 4's big arrival.