We didn't see anything about the Google Pixel 6 at the Google IO 2021 keynote, but that's not surprising given its usual launch window later in the year. Still, we've already learned a ton about Android 12, and that's huge for fans looking forward to the Google Pixel 6.
That's because the phone will likely be the first device to have the Android 12 operating system baked in: brand-new Android features will come to that phone first before trickling out to non-Google handsets. Older Pixel phones will almost certainly get the update at the same time, but it's possible – and based on the rumors, even likely – that the aging devices won't get all the new features that the Pixel 6 will get.
As for the Pixel 6 itself, we're starting to hear lots of things about it unofficially, including spec leaks and renders. The picture so far is of a phone with a radical new design - and one that could be joined by a Pixel 6 Pro.
Below we've put together all of the leaks and rumors we've heard so far around the Google Pixel 6. Then, we've come up with a wish list of what changes we want to see in the phone.
Expect to learn more about the Google Pixel 6 as the months go on, and we'll be keeping this article updated, so check back regularly.
Latest news
Apple revealed at WWDC 2021 that Android users will be able to participate in FaceTime calls – so long as an iOS user sends them a link to the video call.
Cut to the chase
What is it? Google's next flagship phone
When is it out? Expect it toward the end of 2021
How much will it cost? Around $699 / £599 / AU$999
Google Pixel 6 release date and price
The only Pixel 6 release date rumor so far says to expect it in October, but that it could slip to November if there's a chipset shortage.
That makes sense, as we'd expect the phone to come out towards the end of 2021, based on Google's flagship trends. October is most likely the best bet, even without this rumor.
With regards to price, that's a bit harder to guess, because while the Pixel 3 and Pixel 4 were more premium offerings, the Pixel 5 is a mid-ranged phone, and we don't know if Google will stick in that price range or return to the top end.
Our guess is the former, though, as the company will likely want to stick with a big change for more than one year to see if it pays off. The Pixel 5 cost $699 / £599 / AU$999 so maybe we could see a similar price again.
Design and display
We've had our first look at the possible design of the Pixel 6, courtesy of unofficial renders based on leaked images.
You can see one of these below, and it's a big change if accurate. The renders show a camera block that runs across the width of the back, jutting out, and a three-tone color scheme.
The bezels are thin, the punch-hole selfie camera is central, and the source claims that in addition to the colors shown below, there will be a champagne gold model and a white one. They also say that there's an in-screen fingerprint scanner, and that the back is made of glass.
There's also apparently a Google Pixel 6 Pro - in fact that's what the render below shows, but other than the number of cameras (two rear ones on the Pixel 6 and three on the Pro) and possibly the color choices, the two look basically identical in this leak.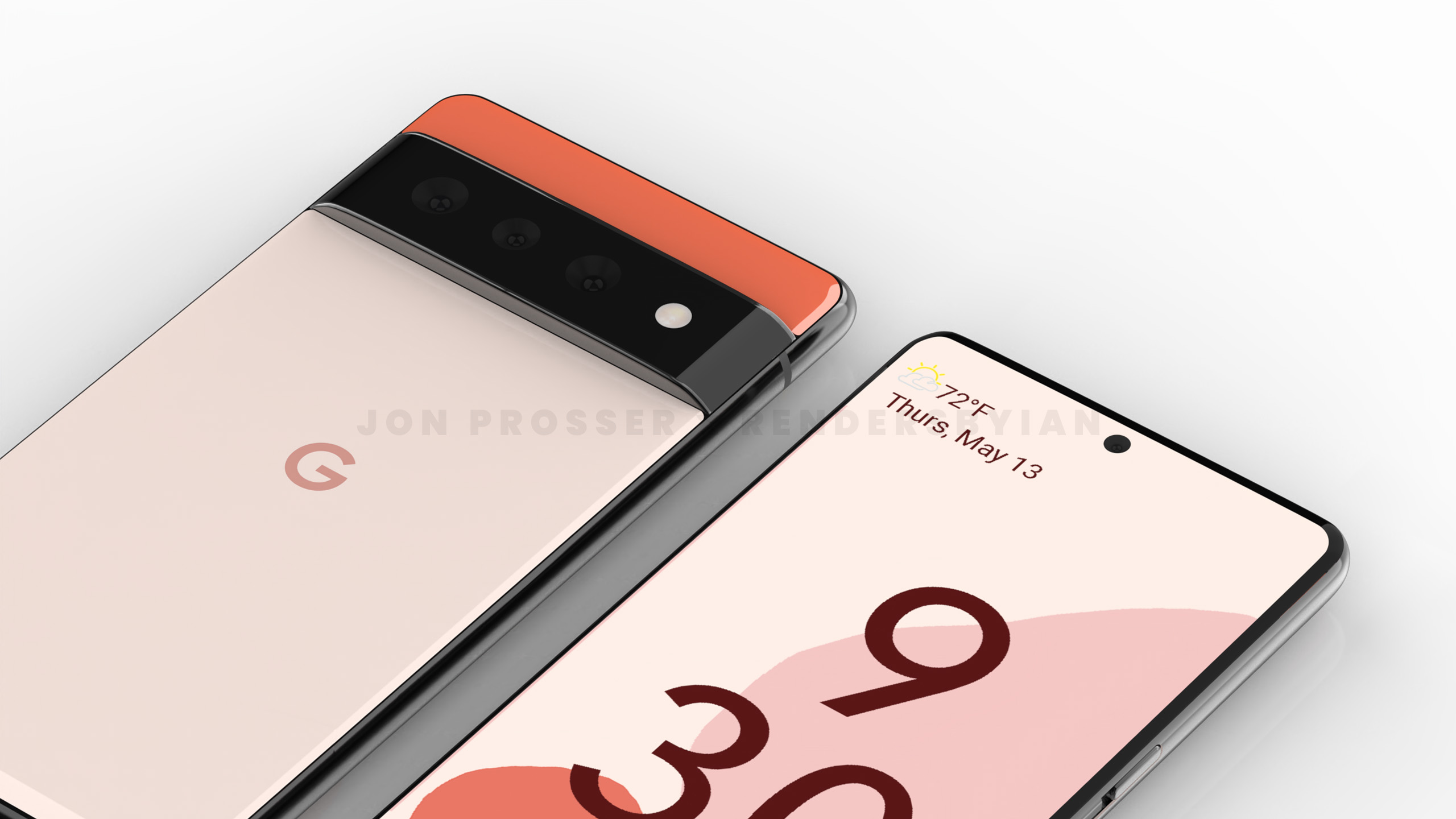 Since that first glimpse at the design, another leaker has shared a second look at the Pixel 6 Pro, in unofficial renders that look near identical to the one above - though the design is perhaps slightly more angular here, and the bottom bezel looks as though it might be slightly bigger.
You can see one of these more recent renders below, and the source also shared some details, claiming that the Google Pixel 6 Pro has a 6.67-inch curved AMOLED display, and dimensions of 163.9 x 75.8 x 8.9mm (with an 11.5mm camera bump).
The source also claims that the Google Pixel 6 Pro has dual stereo speakers, but that's to be expected on a premium phone.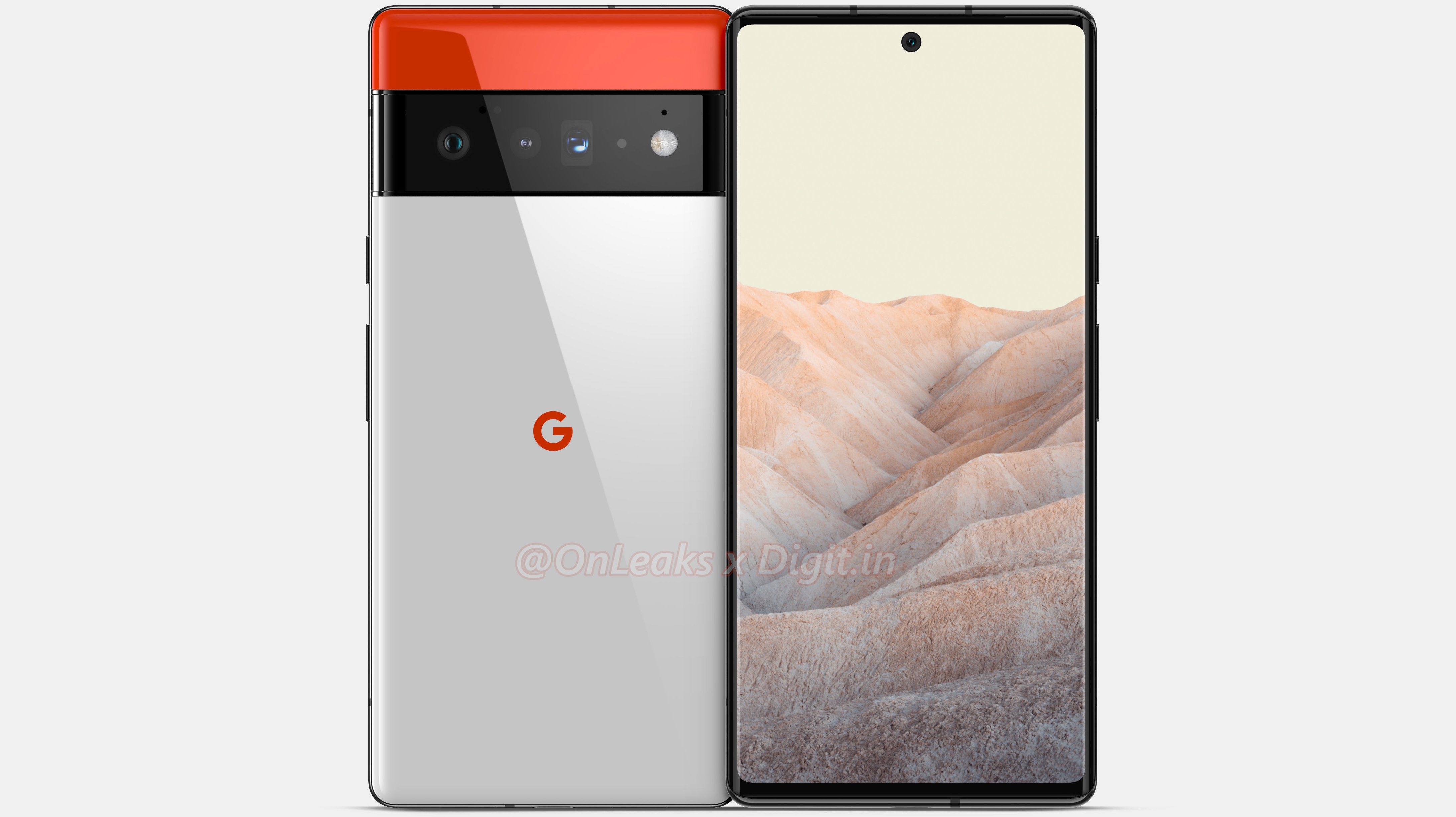 Elsewhere we've heard that color options might not quite match those seen in renders so far, with another leaker saying to expect a peach, sand and pink three-tone option, along with a silver and black one, and a green model.
The same source has also said that the Pixel 6 Pro will have a 120Hz QHD screen, while the Pixel 6 will have a smaller (possibly 6.4-inch) FHD flat screen with a 120Hz refresh rate.
Camera and battery
Based on renders, it seems the Pixel 6 will likely have a dual-lens rear camera, with the Pixel 6 Pro having a triple-lens one. Additionally, one source claims that the Pro model will have both a 'primary wide-angle camera' and a 'periscope telephoto camera'. They don't name the third sensor, but it's likely to be an ultra-wide.
Indeed, elsewhere we've heard to expect a 50MP main camera with a larger sensor than on the Pixel 5, plus an 8MP periscope snapper with 5x optical zoom, and an ultra-wide camera.
Code in the Google camera app meanwhile suggests that the front-facing camera on the Pixel 6 might support 4K video recording, which is higher resolution than most selfie cameras can get.
We've also seen a Google patent, detailing a possible future phone that doesn't have a visible selfie camera.
While the patent doesn't explain how this is achieved, it looks likely that the camera would be underneath the screen, as we've now seen on the ZTE Axon 20 5G. Of course, just because Google is exploring this idea it doesn't mean we'll get an under-display camera on the Pixel 6, but it's possible.
A more recent patent also talks about an under-display selfie camera, but we'd think if anything the Pixel 7, not the Pixel 6, will get this technology, since leaked Pixel 6 renders show a visible selfie camera.
As for the battery, a source claims the Pixel 6 Pro will have a 5,000mAh one, with the Pixel 6 having a smaller one. We've also heard that - unsurprisingly - it will support wireless charging.
Specs and features
Not a feature as such, but there's growing evidence that there could be two Pixel 6 models, as since news and images of the Pixel 6 Pro appeared, a mention of two different codenames and model numbers associated with the Pixel 6 range has been spotted in Android 12 beta code. There's the Oriole with the model number GR1YH, and the Raven, with the model number GF5KQ.
In earlier Android 12 code there were also two hints of possible Google Pixel 6 features. One of these is the existence of a one-handed mode, which further suggests a Pixel 6 XL or Pro could be on the way, as a non-XL phone wouldn't necessitate such a feature.
The other is the possibility of an in-screen fingerprint scanner, something Google hasn't used before in its smartphones. A second Android 12 developer beta has turned up more evidence of an in-screen fingerprint scanner, so this is now looking more likely, especially as the render above also shows one.
In terms of specs, the Pixel 6 may use an in-house chipset going by the codename of Whitechapel. This is rumored to be in the works for the phone and co-developed by Samsung.
Rumors around this chip are gaining momentum, and we've now heard that it could be a 5nm chipset with a focus on AI and machine learning. However, it sounds like it won't match the best Android chipsets for performance, with a source claiming it will basically slot between the top-end Snapdragon 888 and the older Snapdragon 865 in terms of power.
Another source has echoed these claims, saying that it rivals the Snapdragon 870 for power - a chipset that's high-end but not top-end. They added that its GPU performs well under stress.
On the other hand, the Pixel 6 could use the Snapdragon 780G chipset. This has made its debut in the Xiaomi Mi 11 Lite 5G, and it promises big performance improvements and better low light photography than the chipset in the Pixel 5.
It's worth noting that this chipset hasn't specifically been linked to the Pixel 6, but it's a successor to the Snapdragon 765G chipset in the Pixel 5, so it would make sense.
Alternatively the Pixel 6 could come running the Qualcomm Snapdragon 775 processor – this CPU hasn't been announced yet though, and may not exist as it's just a rumor for now.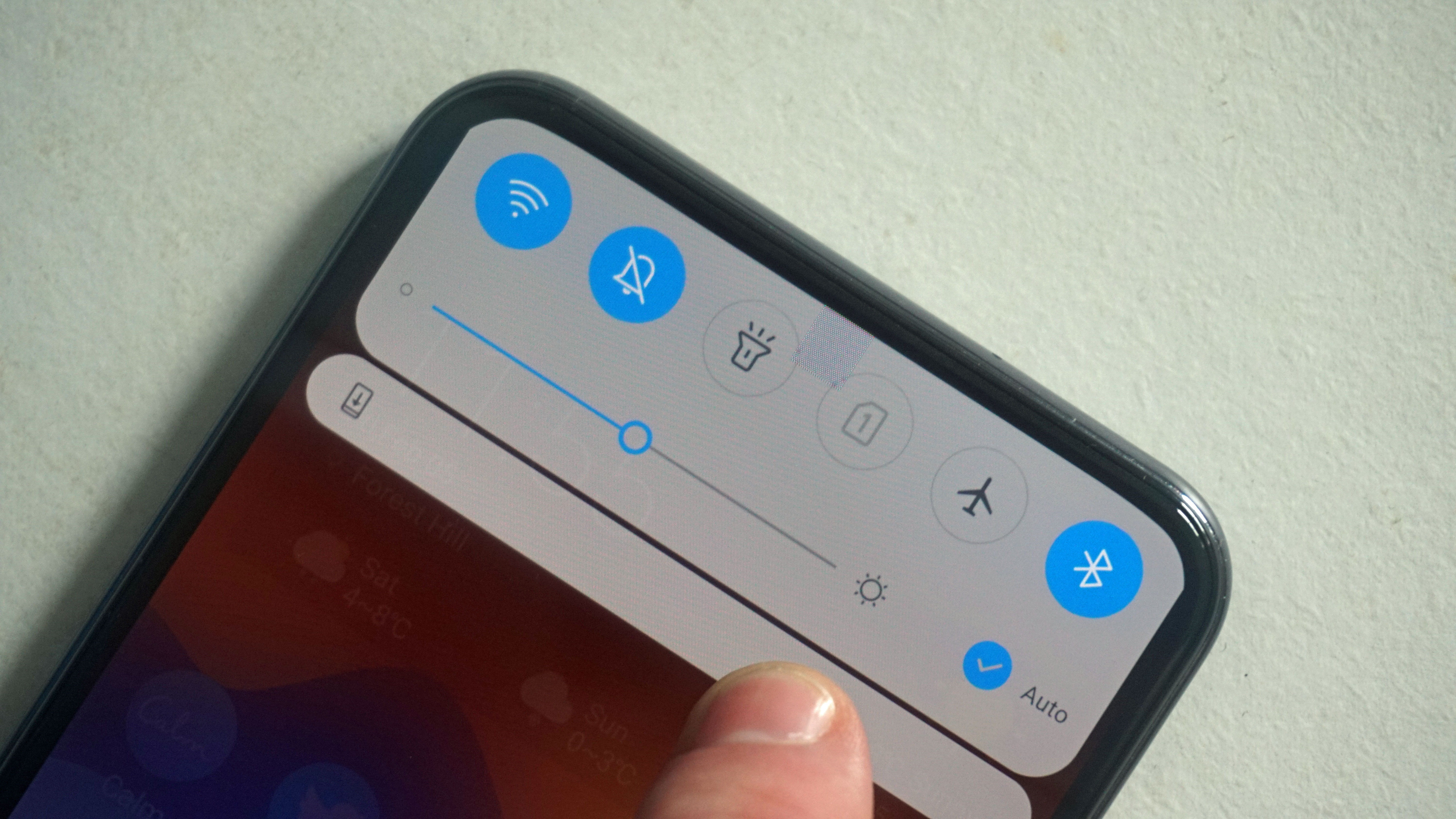 Finally, we've heard the Pixel 6 could have UWB, or ultra-wideband technology. This is a short-range communications function that lets devices talk to each other if they're nearby - it can be useful for location tracking, so maybe the Pixel 6 will have some new feature regarding this?
Google Pixel 6: what we want to see
While we wait for further Google Pixel 6 leaks, we've pulled together some improvements we're hoping to see from the company for its next smartphone.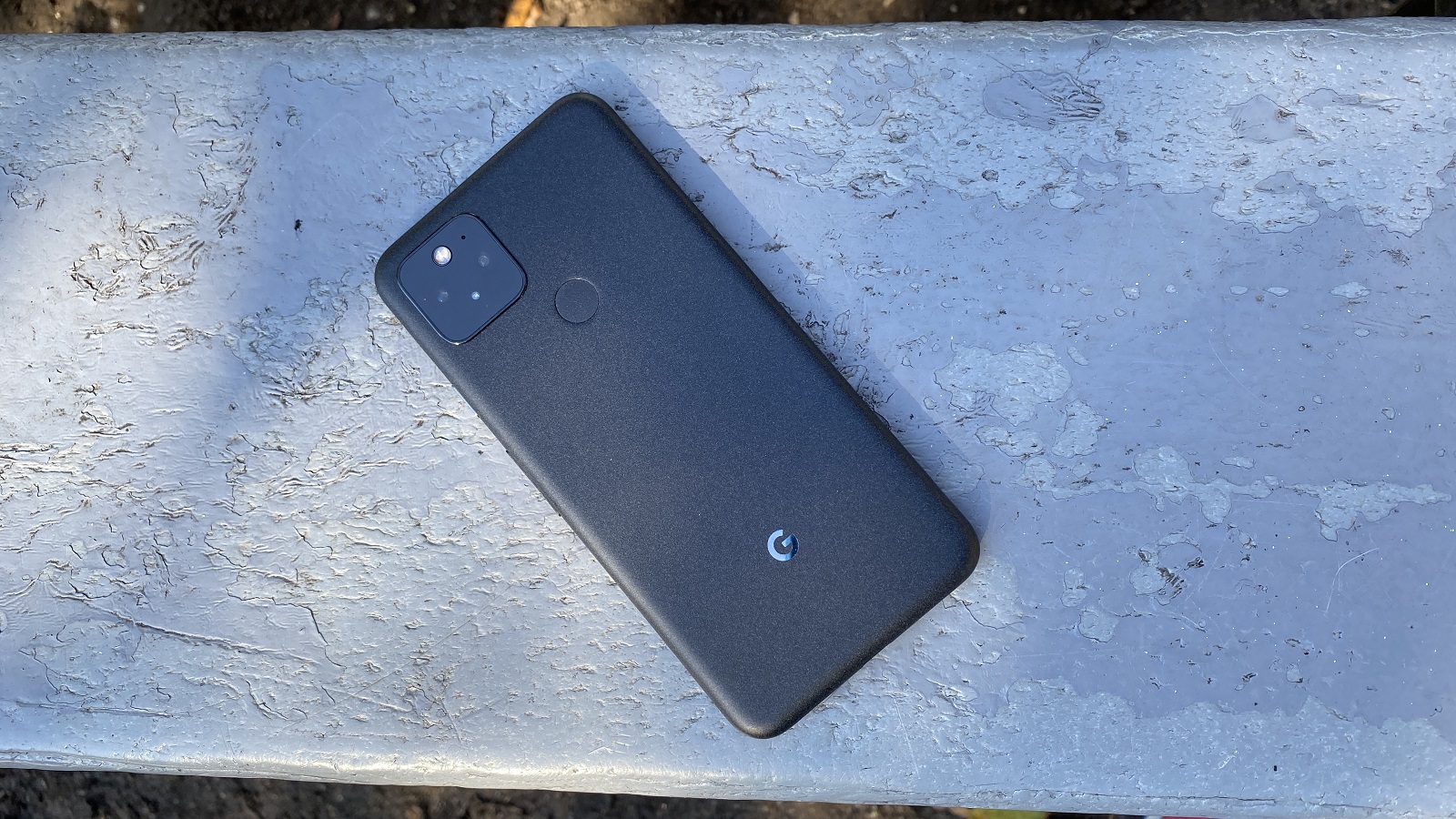 1. A more inspired design
The Google Pixel 5 wasn't the most interesting-looking smartphone in the world - in fact, some would go as far as calling it 'boring' as a standard 'chocolate-bar'-looking handset.
Pixel phones have never been real lookers, but we'd like to see a Pixel 6 that was a little more memorable. Months before the Pixel 5 launch we saw an intriguing render that was as divisive as it was distinct, but it got people talking, which is more than you can say for the Pixel 5.
2. A telephoto camera
Google Pixel phones have made a name for themselves by being great camera phones, but recent devices from the company don't actually have telephoto lenses, meaning all zooming is digital. That's essentially just cropping.
This means zoom pictures tend to have lower resolutions and therefore look grainy, and it stops you zooming in as far using the camera app itself.
We'd like to see Google bring telephoto cameras back to the Pixel line so we can take better zoom shots with the phones.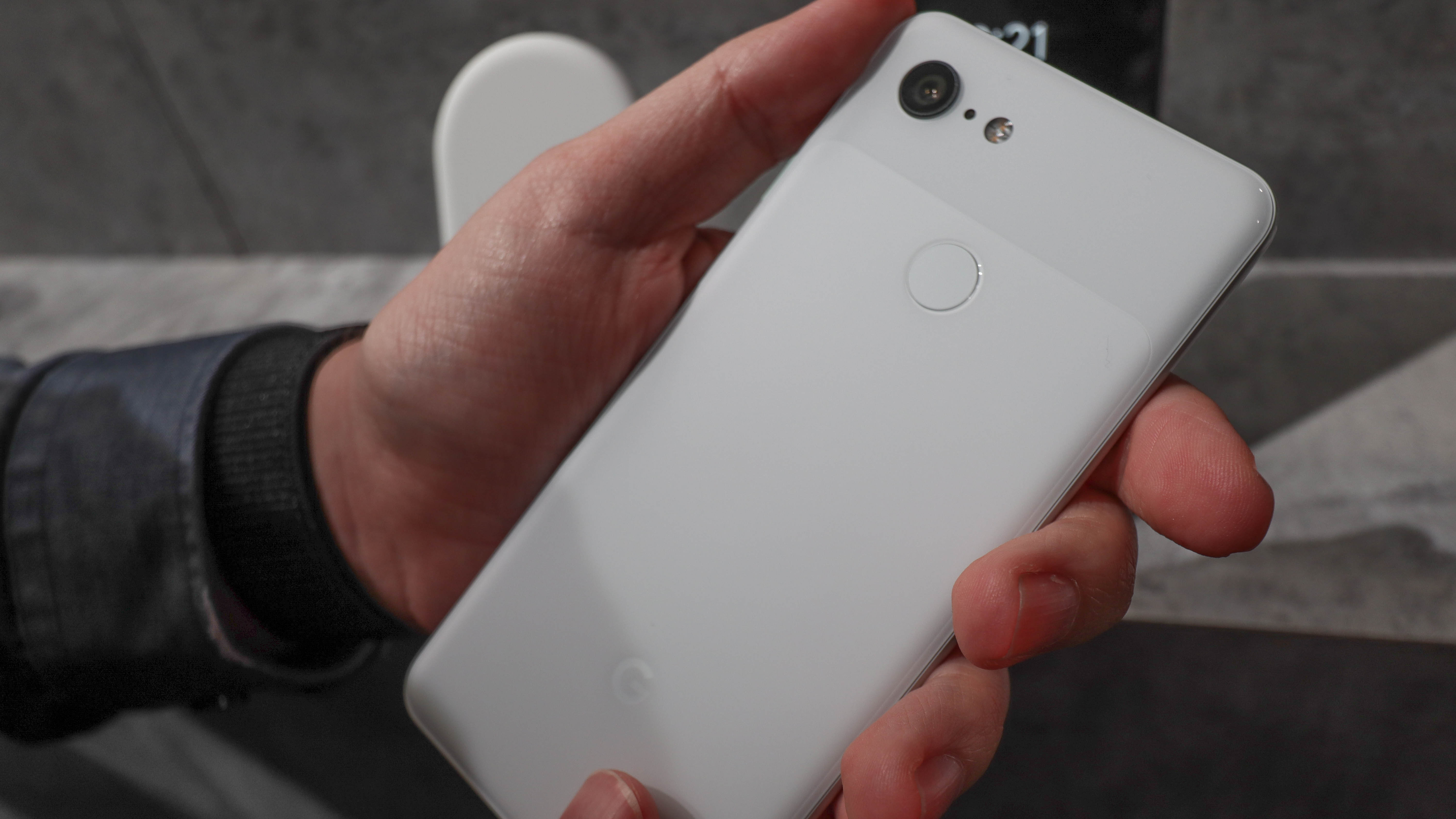 3. Compact form factors
The earliest few generations of Google Pixel smartphone were pretty small, so they were easy to use one-handed, fit in pockets well, and felt comfortable in the hand for people with smaller palms.
That hasn't been the case for the brand's 2020 smartphones as much, but we'd love to see a return to smaller devices. The compact phone (or 'small phone') market is severely lacking, and Google could really corner it if it wanted.
4. More processing power
One of the main differences between older Pixel flagships, and the Pixel 5, was the choice to use a mid-range chipset instead of a top-end one. That's a fair decision in theory - not everyone needs top processing power, and most people can make do with middling power.
However, the Pixel 5 didn't have 'middling power' as it was pretty weak. In our benchmark tests it performed poorly, and it didn't always handle gaming well.
We'd like to see Google improve the performance of its phones, whether that's by using better chipsets, or by using mid-range processors with better optimizations.