Amazon is the number one household name when it comes to ereaders, and the latest version of its Kindle Paperwhite comes packed with loads of features that are usually reserved for top-end devices.
The Paperwhite is the best-selling product in Amazon's Kindle range, and the latest version takes some of the best elements of the top-end and more expensive Kindle Oasis device and packages them into a more affordable ereader.
That includes a waterproof design and the ability to listen to audiobooks on your ereader too. There's a lot to love here, but is this the best Kindle for you right now?
Amazon's products are prime for discounts during Amazon Prime Day which this year falls on June 21 and 22. We could see a fair amount taken off the cost of the Kindle Paperwhite, or perhaps some bundles with the device and other products.
We can't guarantee the Paperwhite will get a discount, but it's likely, because Amazon regularly discounts its own products on its sales days. We'll bring you all the best deals during the event so come back to TechRadar for them then.
Amazon Kindle Paperwhite price and release date
You're able to order the latest version of the Amazon Kindle Paperwhite on the retailer's website now. It was released back in 2018.
The price starts at £119.99 / $129.99 / AU$199 for the 8GB version, and then there's a 32GB Wi-Fi only version that costs £149.99 / $159.99 / AU$249. If you want mobile internet on your Kindle, you'll get a 32GB version for £219.99 / $249.99 / AU$369.
Some countries have the choice of buying each Kindle with or without special offers, and the pricing above is for the ereader that does show you the special offers. You'll be spending around $10 or £10 more to get rid of those adverts. If you're expecting to use your ereader a lot, we'd recommend doing just that.
Design and display
Image 1 of 2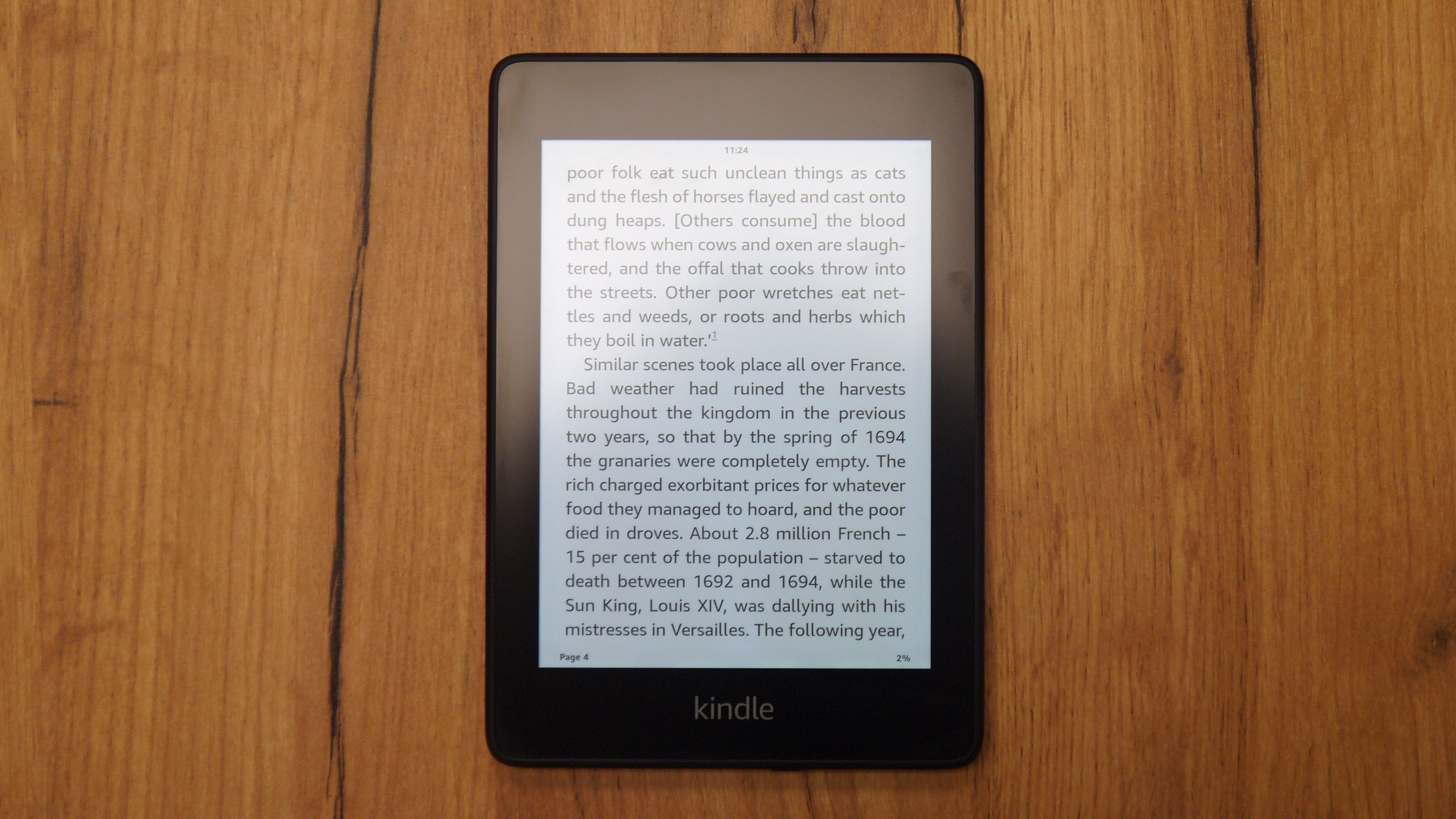 Image 2 of 2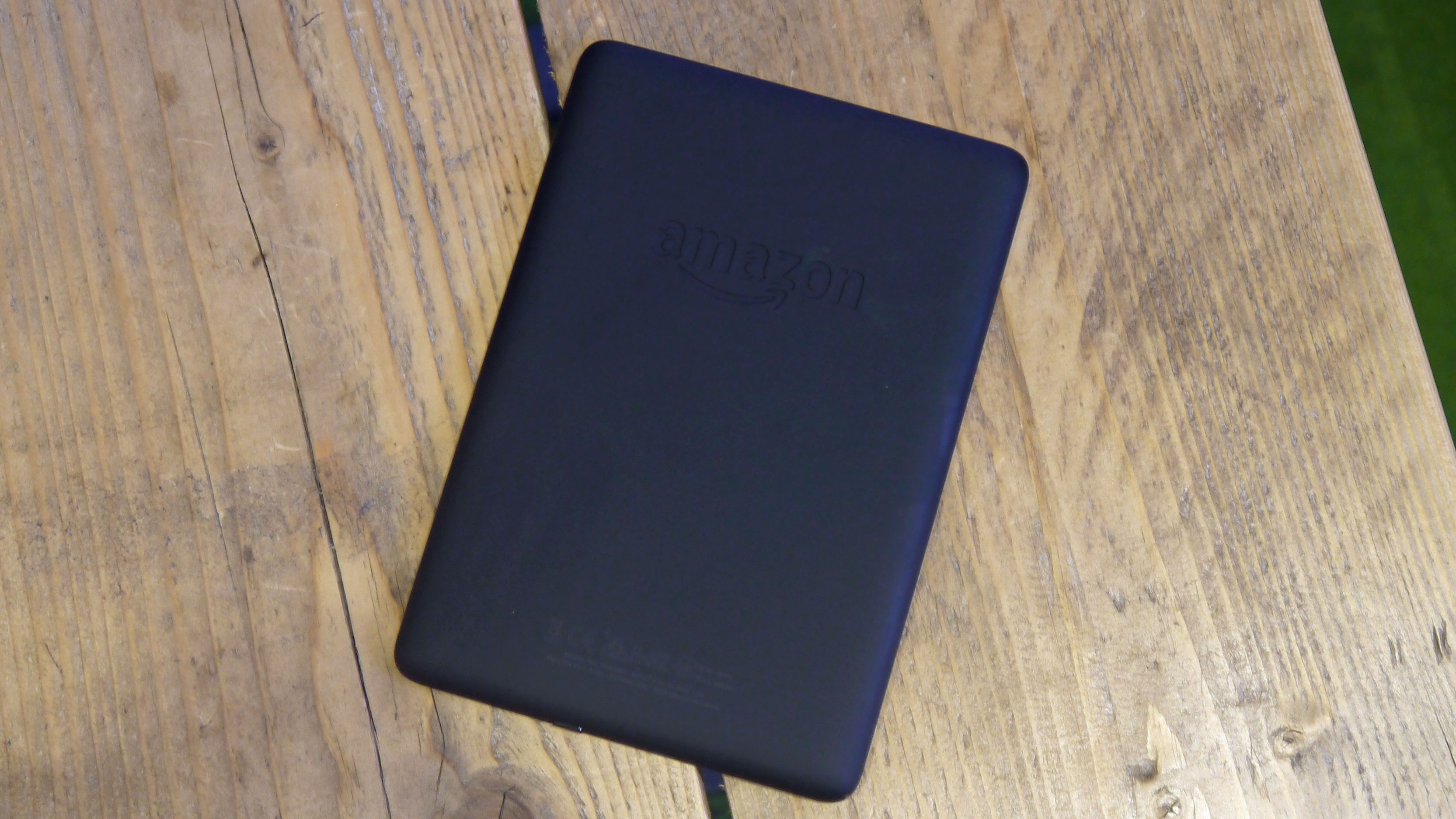 The Kindle Paperwhite is Amazon's mid-range ereader, sitting between the affordable Kindle and the top-end Kindle Oasis in Amazon's range, and the design reflects that.
It doesn't feel as premium as the Oasis - mostly as it has a plastic rear - but we found it easy to grasp, and it doesn't look bad. All of that said, we found it did quickly get quite grubby with fingerprints on the rear.
On the bottom edge you'll find the power button as well as the micro USB slot for charging, but apart from that the edges are clear of buttons, so you can comfortably grip the device without pressing anything by mistake.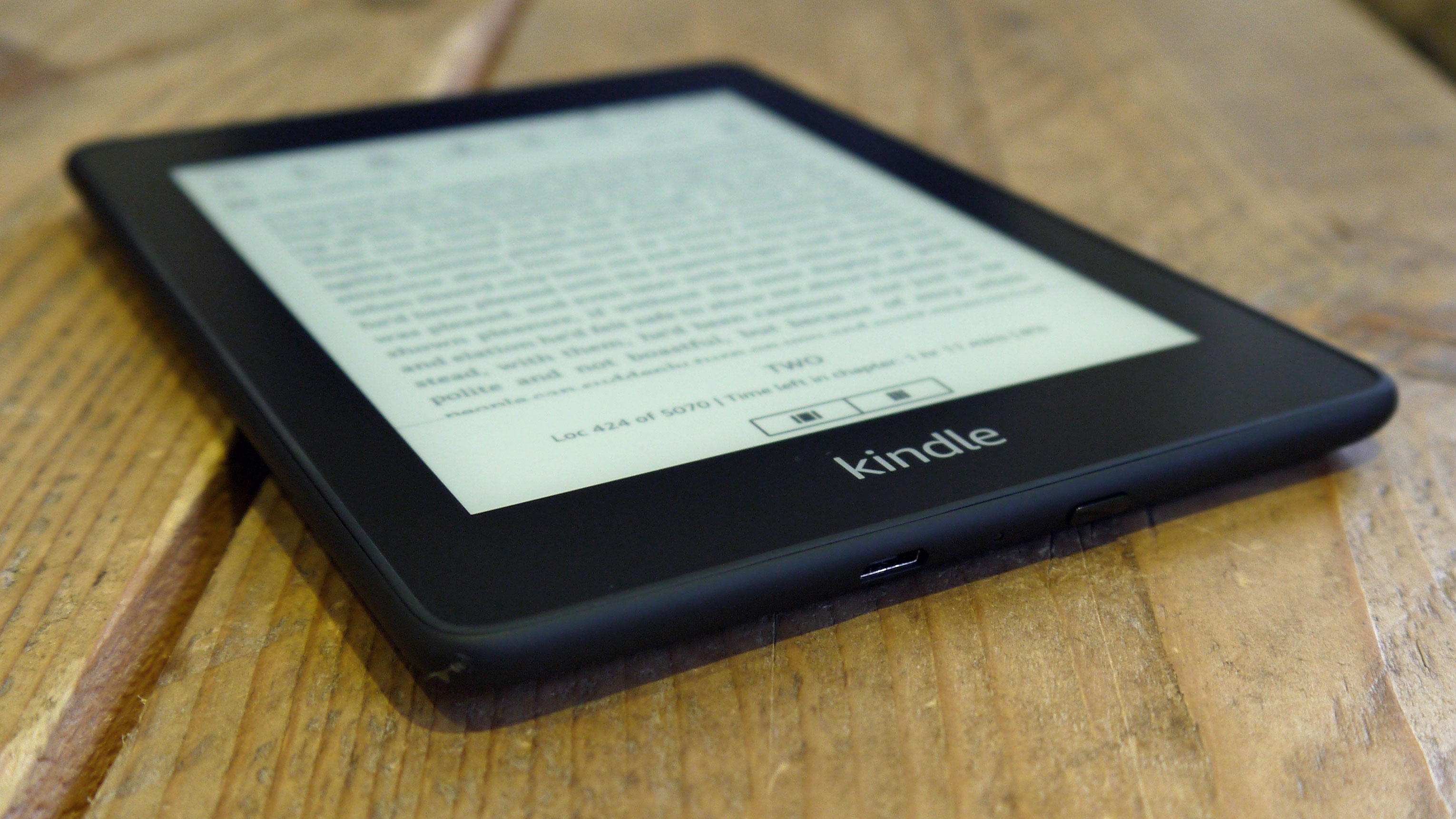 The bezels around the screen are thicker than on some more upmarket ereaders, though.
These sit flush with the display, giving the Paperwhite a more high-end look than its previous iterations and ensuring it now looks similar to the discontinued Kindle Voyage.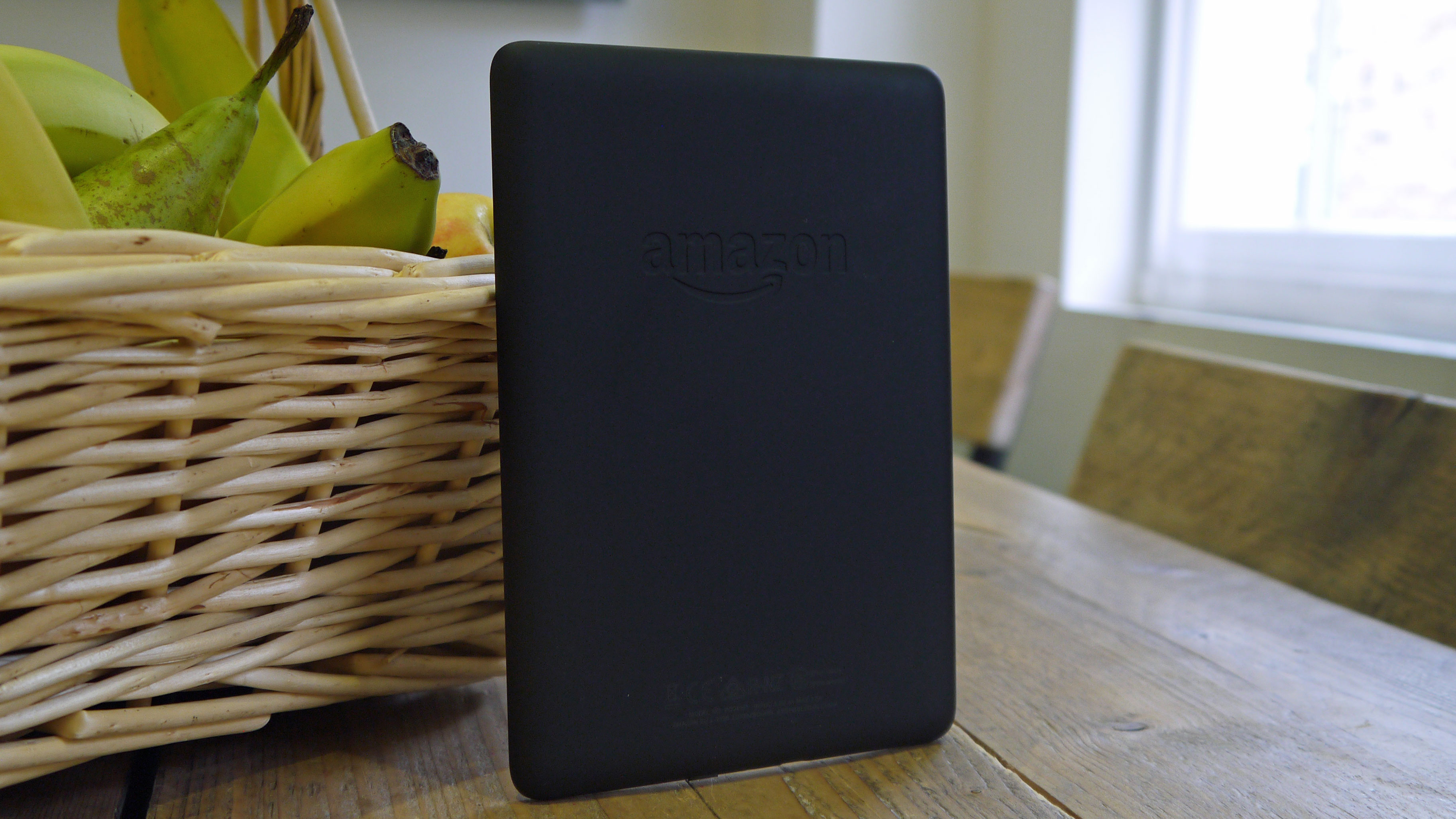 One omission is that there aren't any hardware buttons for changing the page. Instead you'll be using the touchscreen to flip through pages. We've found this to be reactive to the touch, so you won't struggle scrubbing through pages in your latest book.
The display itself is 6 inches with a resolution of 300 pixels per inch, which is the same as the last Paperwhite, and the perfect resolution for reading text.
The brightness has been slightly improved here, although it's not something we noticed particularly.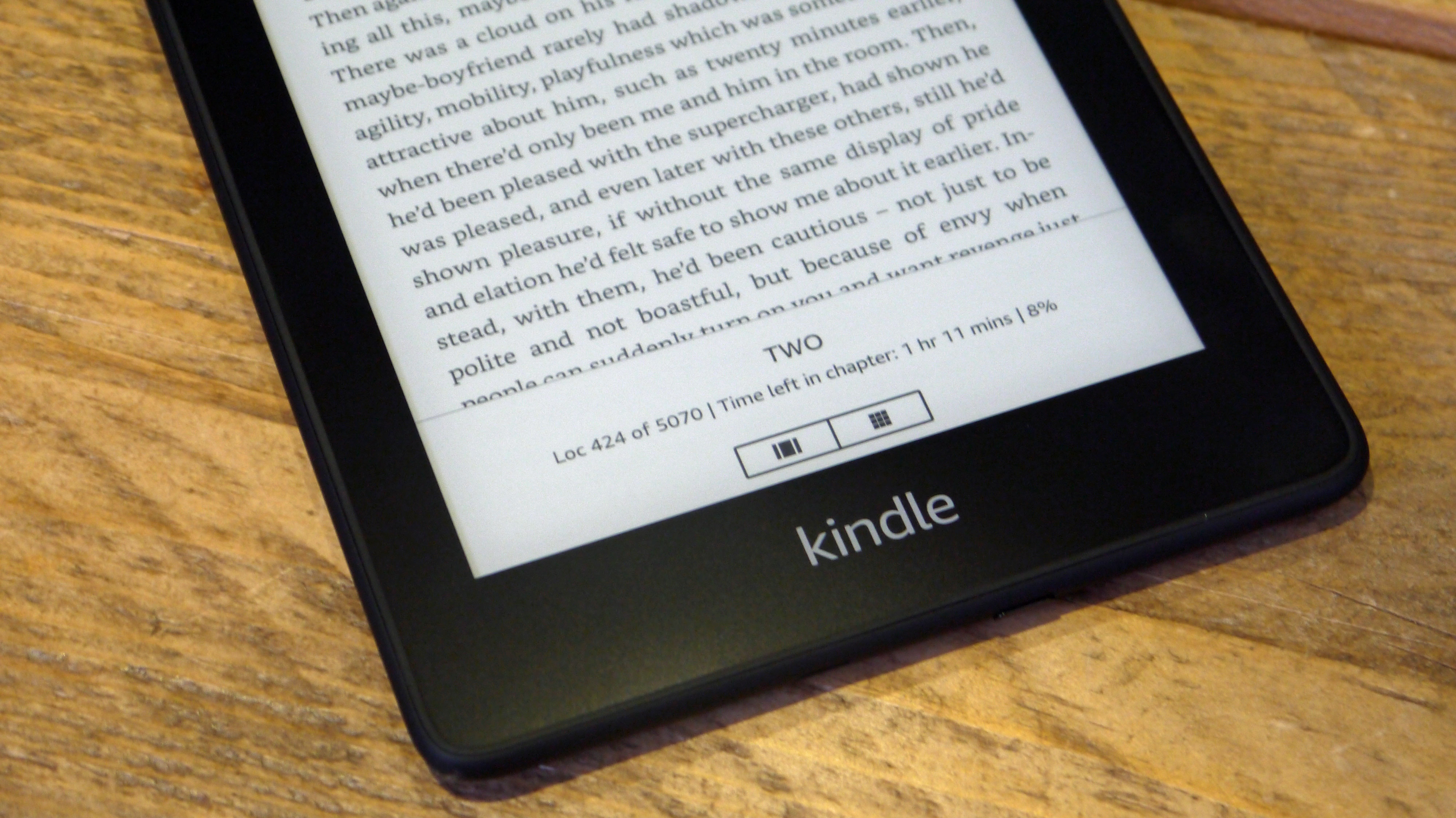 That said, the last Kindle Paperwhite was already bright enough, but you may appreciate this change just a touch more when reading on a sun lounger.
If you want to change the look of your Kindle Paperwhite, you can wrap it in one of five cases. There are woven material options as well as two leather ones, and you can see the whole selection below.
Image 1 of 3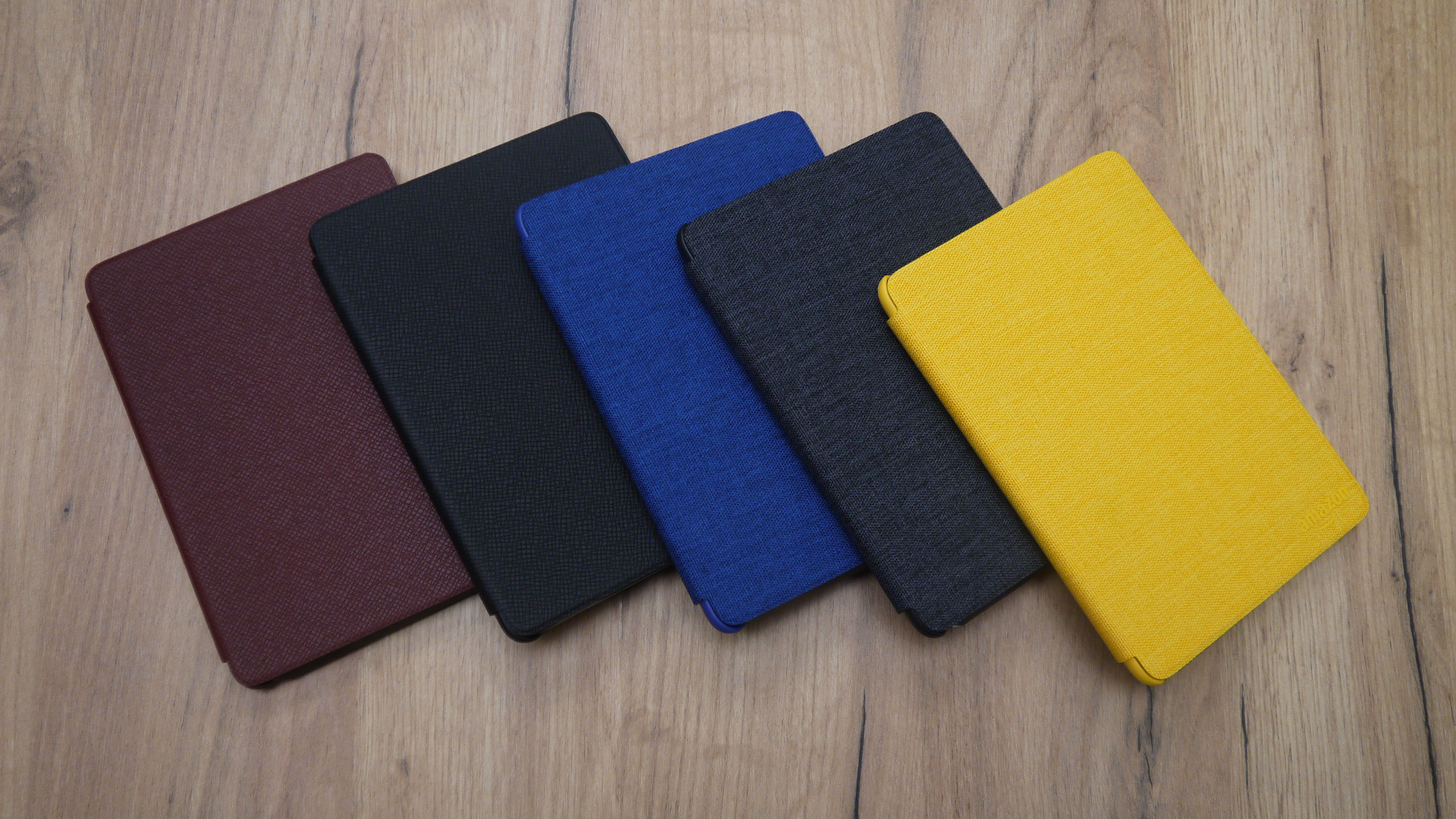 Image 2 of 3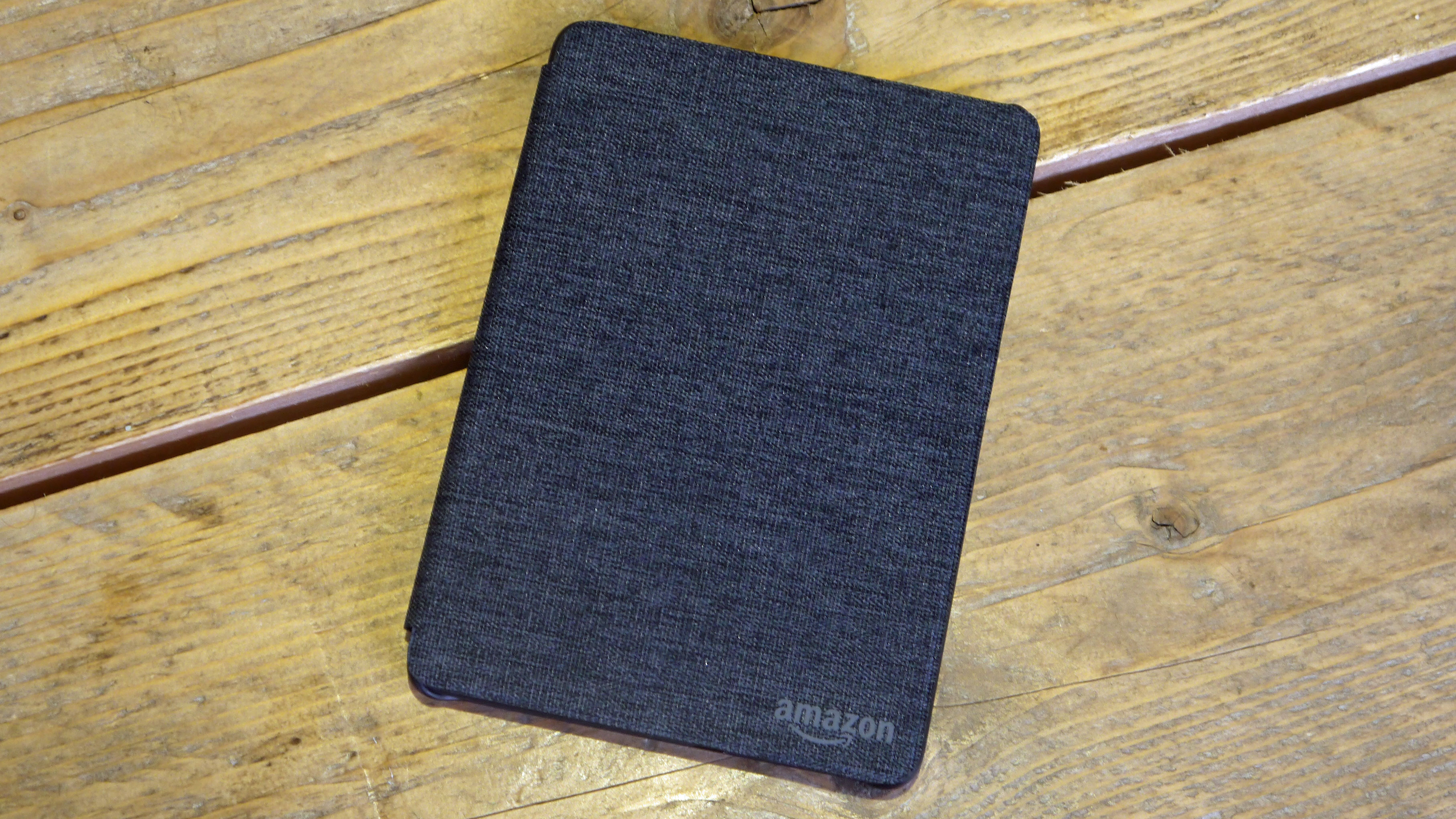 Image 3 of 3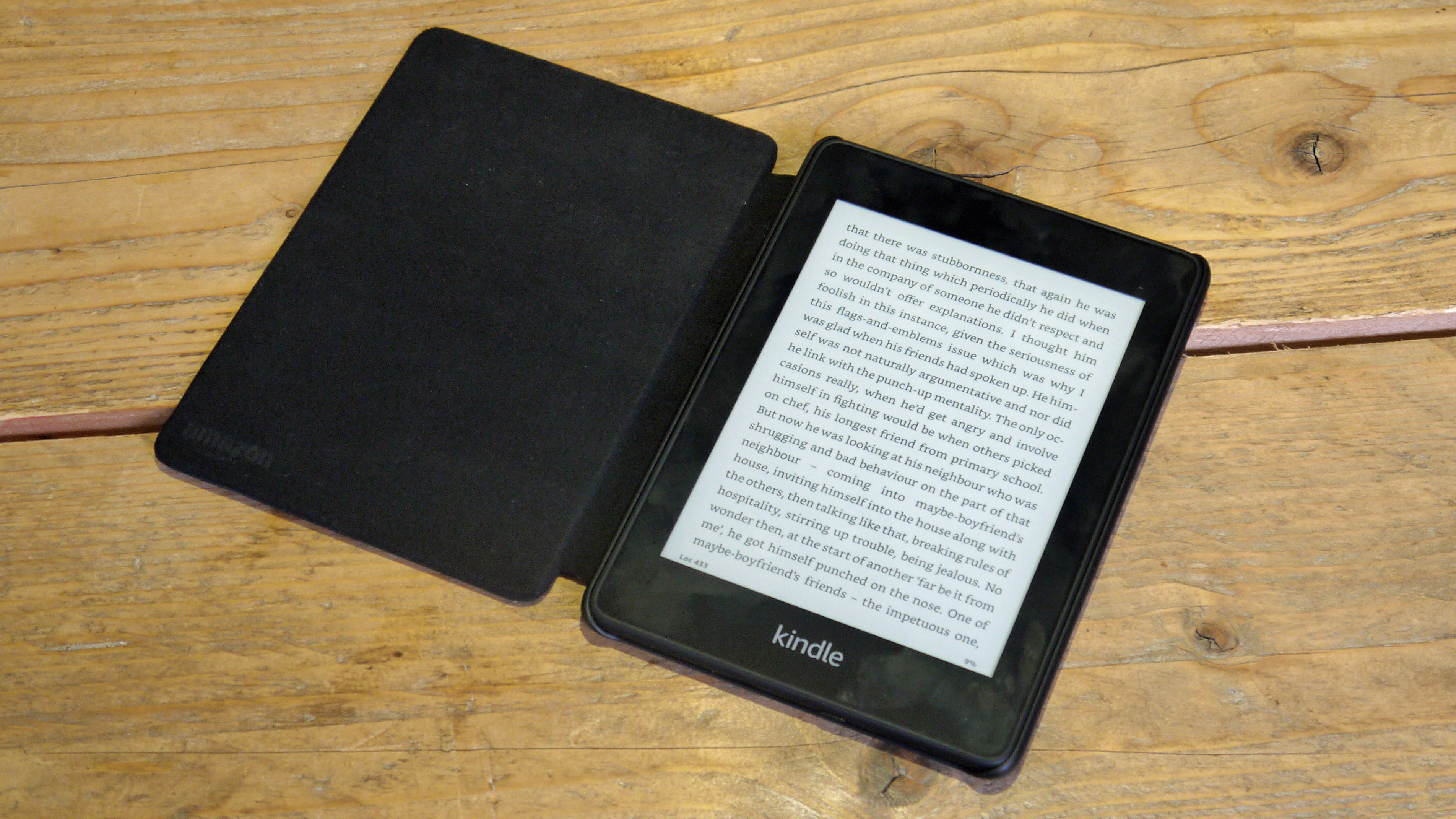 These can be bought from Amazon, with the woven material starting at £24.99 / $29.99 / AU$44.95 and the leather at £34.99 / $39.99 / AU$54.95. You'll also have the choice of the Kindle Paperwhite in black or Twilight Blue.
A big upgrade over the original Paperwhite, and one of a few features inherited from the top-end Oasis, is the fact the Kindle Paperwhite (2018) now comes with a waterproof design.
That means you can happily read in the bath, or while lounging by the pool, without having to worry about it getting splashed or dunked. It can survive up to 60 minutes at depths of up to 2 meters.
Battery life
Amazon claims the battery on its latest Kindle Paperwhite is set to last for weeks, and we found that to be correct.
We've used the Kindle Paperwhite for roughly an hour a day for the last week and it dropped around 30% of its battery over that time. That means it should last for around three weeks depending on how much you use it.
If you're going to be reading more, the battery will drop quicker. But even if you're reading for a few hours a day with the brightness high, you should find it will last at least a week before needing a recharge.
Different levels of brightness will see the battery survive for different amounts of time, but the Kindle Paperwhite doesn't take long to charge up with a micro USB cable plugged in to the bottom of the ereader.
This won't offer the six week battery life you can get from the Kindle Oasis (2017), but it's good enough for you to be able to throw it in your bag and find it just works when you need to pull it out again for a quick read on your commute.
It's also worth noting you'll have to charge it with a microUSB cable, which means you'll need a different cable to your phone charger if it uses USB-C or it's an iPhone.
Reading and features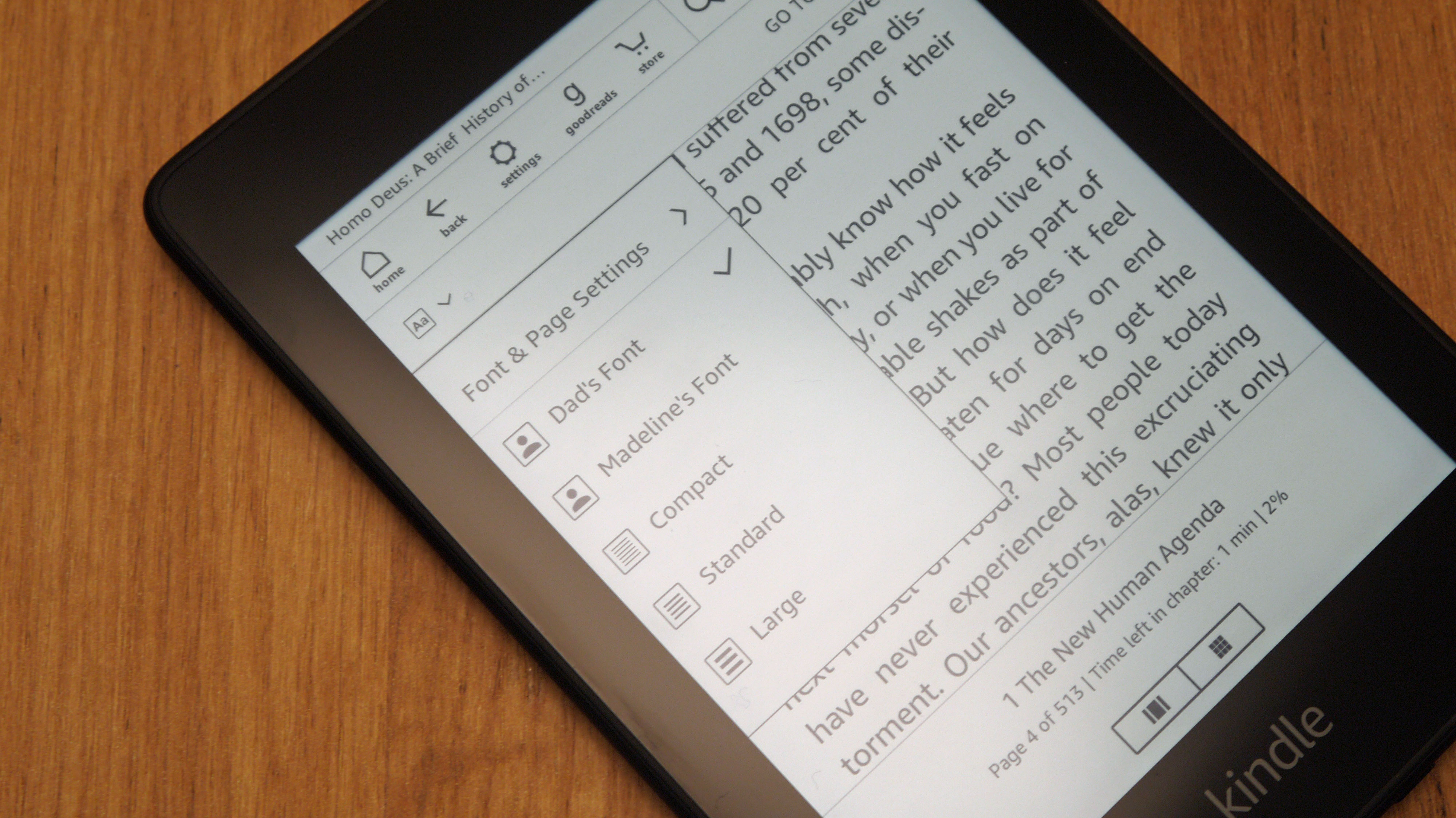 As we've said in the screen section, this is a particularly comfortable reading experience and the Amazon software makes for an easy to use device.
Another feature taken from the Oasis and packed into the Paperwhite is audiobooks integration, enabling you to listen to your Audible titles on the ereader using Bluetooth headphones or a Bluetooth speaker.
You can upload them all to your Kindle Paperwhite, and then connect to your device easily to listen to your books while you're on the move.
You can also seamlessly switch between the ebook and audiobook version of a title in the software if you have both versions. This can get expensive as the audiobook titles can sometimes cost quite a lot, but it's useful if you're trying to make your way through a particularly long book.
To be able to fit audiobooks in, there's now either 8GB or 32GB of storage inside the Kindle Paperwhite depending on what model you go for. 8GB is double the storage of the last Kindle Paperwhite, and while it may not matter if you're just reading ebooks this is important if you want to include audiobooks on your ereader.
If you don't want to have audiobooks, we'd recommend opting for the 8GB version, as it will still offer lots of space for thousands of ebooks, as they're relatively small files.
Software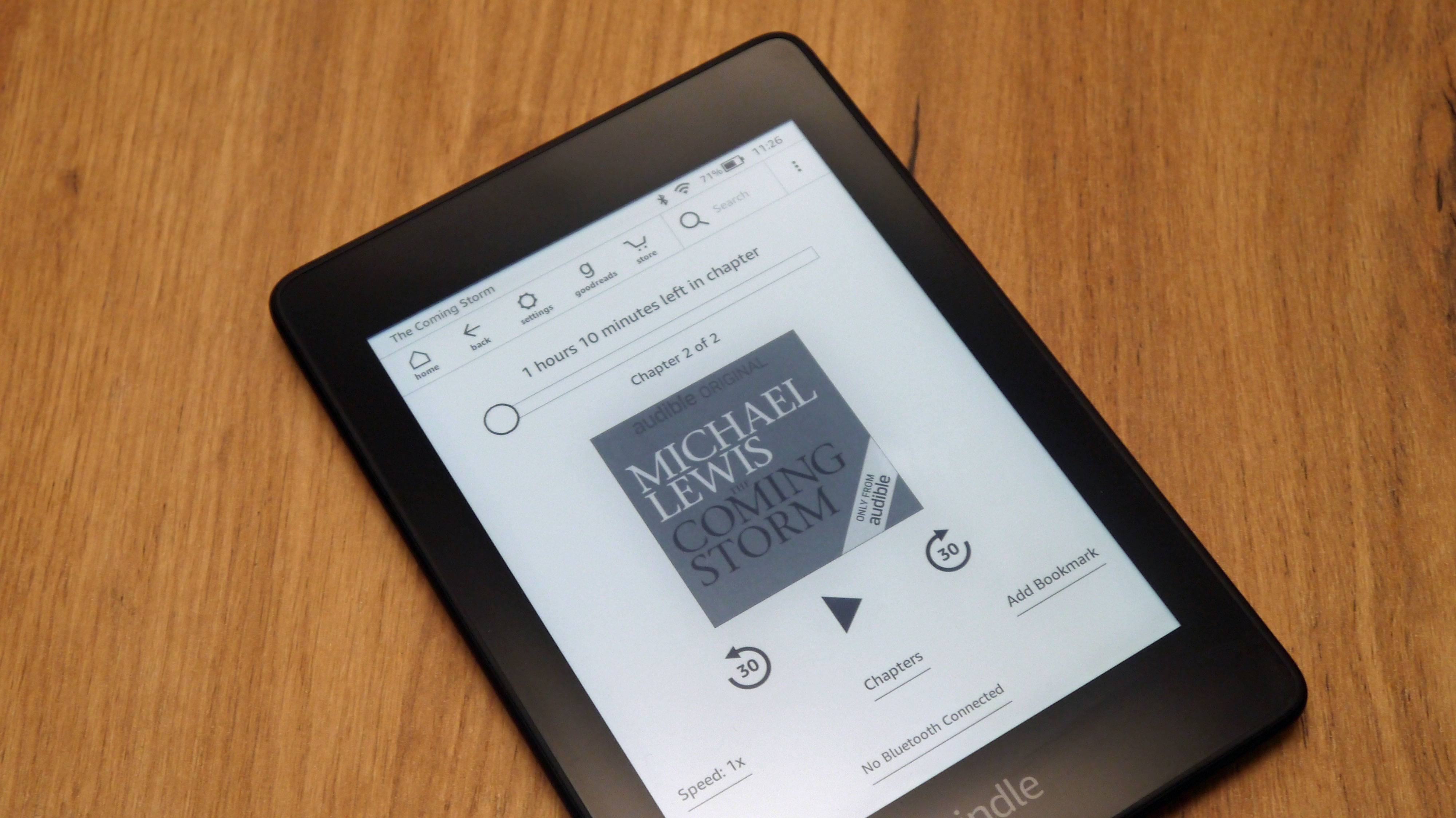 The new Paperwhite comes with the latest Kindle software, so you've got all the existing features as well as access to Amazon's store of literally millions of ebooks and hundreds of thousands of audiobooks.
The software will be familiar if you've used a Kindle before, but there are a few tweaks and some new features, our favorite of which allows you to set font preferences so multiple people can use the same device.
Say someone in your family prefers to read at a larger font, while someone else prefers to have a smaller font and lots on the page. With this new feature you can now set up profiles for individuals.
A particularly good example of a use for this is when reading with children, as it means you can quickly swap between fonts even when you're in the middle of a chapter.
With a simple tap on the top right, you'll see a drop-down of all your profiles so you can easily switch between these.
Otherwise, it's similar software here to what we've seen on previous Kindles. There's a useful Dark Mode to allow you to read white text on a dark page, and you'll find it hidden under the Accessibility section in the Settings.
It makes it particularly easy to read in the dark without eye strain. Brightness is also easy to control with a few taps, and we found it easy to switch up the settings for a variety of other features too.
Verdict
The new Kindle Paperwhite is a big step up compared to the last edition of the ereader we saw the company launch back in 2015.
Technology has moved fast in lots of industries, and while the ereader hasn't fundamentally changed in that time it's good to see most of the improvements come to the Paperwhite.
In fact, there's now only one real reason to buy the more expensive Kindle Oasis (2017). That's the design, and if you want a premium-feel product you'll want to opt for the Oasis instead.
But that is almost double the price of the Paperwhite, so if you're happy with the mid-range look and feel of this ereader it will be much more suited to you.
Who's this for?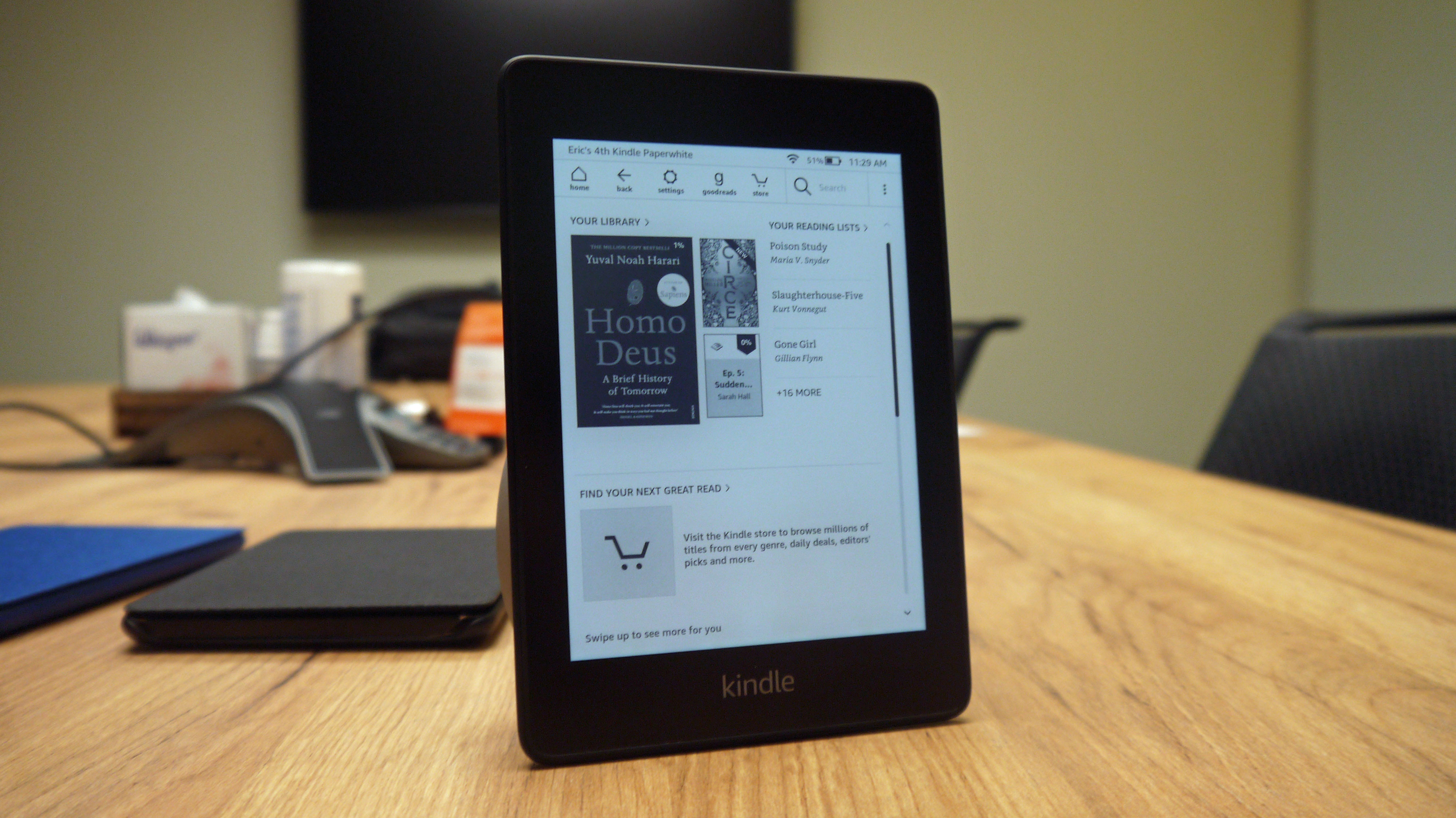 The average book reader who doesn't want to spend lots of money on a new ereader is the exact market for this. If you want an ereader to use on your commute or you just want a comfortable way to read books, the new Kindle Paperwhite is perfect.
There are some important upgrades here, and our favorites are the fact it's waterproof, making it even more durable than before, and the fact you can upload audiobooks.
If you already own the last generation Kindle Paperwhite, it's unlikely you'll want to upgrade to this as the normal reading experience hasn't fundamentally changed. It's just everything else the Paperwhite offers that's now better.
Should you buy it?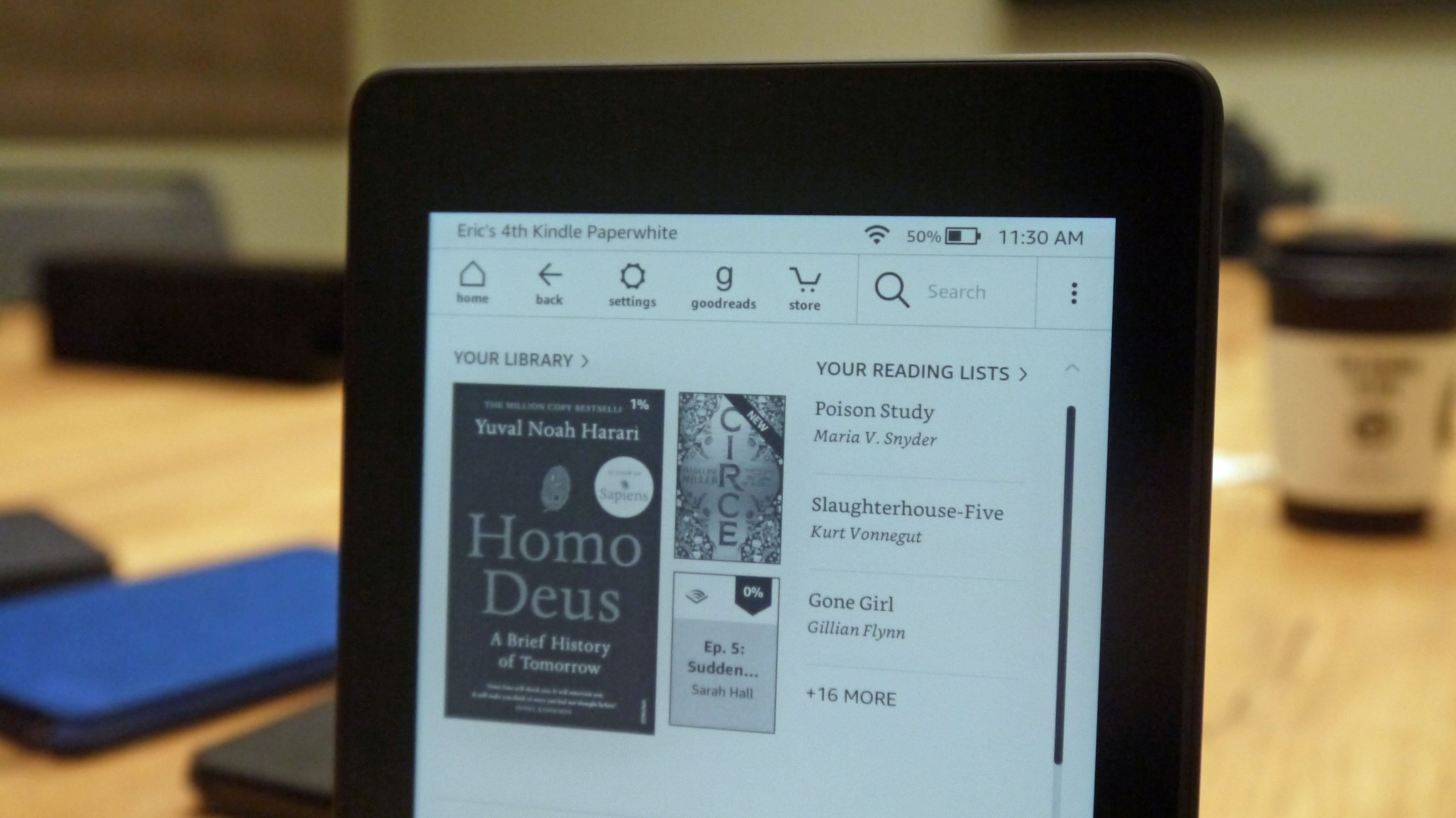 Own an older ereader? You'll likely want to upgrade to the new Kindle Paperwhite for its extra features, great reading experience and the ability to put audiobooks onto your ereader.
Everything about the Kindle Paperwhite is that touch better than the normal cheaper Kindle model and while it's not as premium as the Kindle Oasis it isn't far off.
You'll want to buy the Kindle Paperwhite if you're after a great reading experience and you're not too worried about having a top-end design.