WordPress is the world's most popular website content management system. But, on its own, the platform includes no options for taking payments from customers through a WordPress website. For this, you need an e-commerce extension like WooCommerce.
WooCommerce aims to offer a seamless shopping experience for visitors to a WordPress website. In our Automattic WooCommerce review, we look at the pros and cons of using the software to take payments and whether it should be considered one of the best e-commerce platforms in 2021.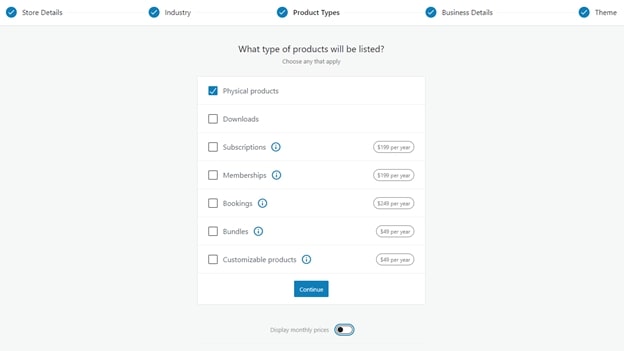 Plans and pricing
Both WooCommerce and WordPress are open source software, meaning they are free to download and use on your website. But you'll need WordPress hosting, and there are some additional fees you will likely need to pay to WooCommerce.
You can use a free WooCommerce theme, upload your own theme, or choose one of the paid themes, which cost between $39 and $129 per year.
Several WooCommerce features require an annual payment. Offering subscriptions or memberships costs $199/year. Taking bookings costs $249/year, offering personalized product bundles and discounts adds $49/year, and selling customizable products also costs $49/year. All these extra expenses can add up quickly.
Features
WooCommerce has a massive list of features, making it intimidating to new users. But you don't need to use every bell and whistle on your e-commerce store. An important part of building a profitable e-commerce site is deciding which features make sense for your particular store and which are superfluous.
With e-commerce platforms, you also need to consider the cost of taking payments from customers, as there's always a fee somewhere.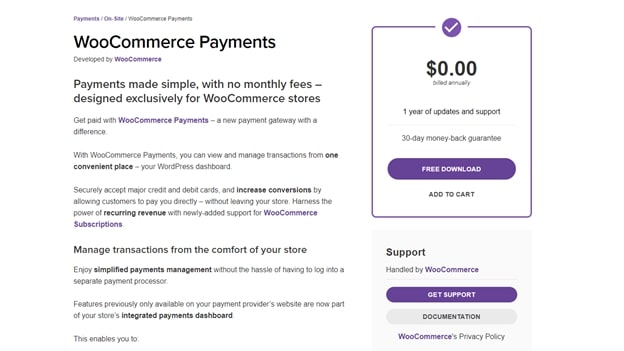 If you're in the U.S., WooCommerce offers its own payment gateway extension for WooCommerce. It's free to install, but costs 2.9% + $0.30 per transaction for US-issued credit cards.
There are also 32 other extensions available for WooCommerce for taking payments. Stripe, Amazon Pay, PayPal, Square, and Authorize.Net are all options, each with their own initial pricing and ongoing fees.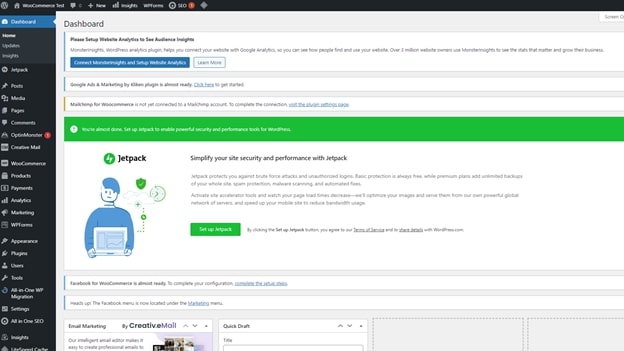 When you install WooCommerce, you have the option of including several add-ons to optimize your store for search engines and social media. These include Facebook for WooCommerce, MailChimp for WooCommerce, Jetpack, and Google Ads.
These are powerful add-ons that can make your store perform better. You can add social media integrations to your store, offer discount coupons, show related products, tweak how your website looks on search engine results, or integrate Google Analytics so you can see how each of your pages is performing. Some of these add-ons are free, while others require a one-off payment or subscription.
All these features together can be overwhelming for new users, and it will take some time to set up your store, but ultimately, it'll be worth it for the improved sales numbers.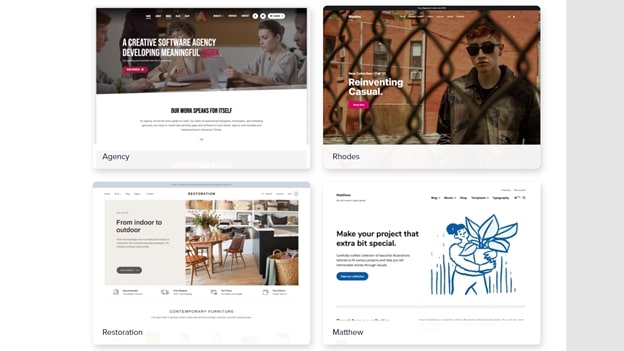 Like WordPress, WooCommerce has an impressive amount of customizability through themes and extensions. You can quickly build an e-commerce store that looks great and includes advanced features without touching a line of code.
With WooCommerce on your WordPress site, you can seamlessly embed products into pages and blog posts using shortcodes. Products can be arranged by categories, tags, and attributes, making them easy for customers to find. And you can add product ratings, customer reviews, and image galleries that help show your products in their best light.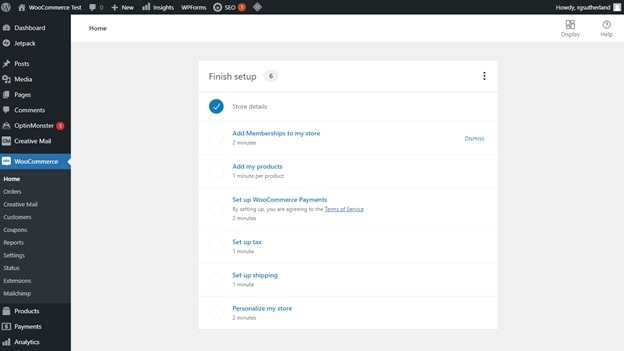 Interface and in use
Despite the long list of features and the massive amount of customizability on offer, getting started with WooCommerce is relatively straightforward, if time-consuming.
You're taken through several onboarding wizards. Depending on the answers you give about your business, what you sell, and what you hope to achieve, different plugins and default settings are set up.
The performance of your WooCommerce store depends heavily on your web hosting provider. Also, the more plugins, themes, and advanced features you add to your store, the slower you should expect it to load. In our testing, on the same server, we found our WooCommerce store loaded in around 750ms, where a Shopify store loaded in 310ms, significantly faster.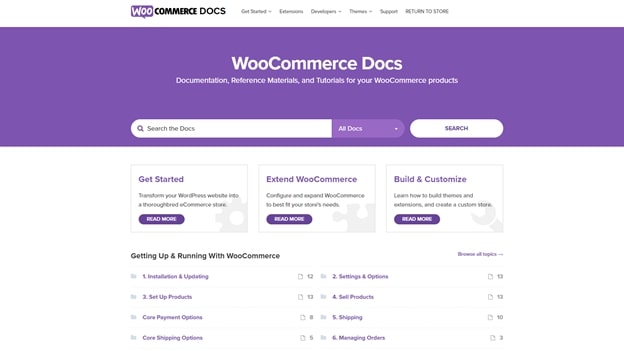 Support
WooCommerce has excellent online documentation. The WooCommerce Docs site offers hundreds of in-depth articles on all features of WooCommerce, all searchable through an intuitive interface. There's also a busy community forum you can ask for help in.
On the other hand, there is limited customer support. You can get live chat or email support only if you've purchased a premium, WooCommerce-owned and -developed extension.
The competition
Shopify has emerged as an excellent alternative to WooCommerce. As Shopify is specifically designed as a standalone e-commerce platform (as opposed to WooCommerce, which is an add-on to a blogging platform), it's easier to get started building an e-commerce site with Shopify. Everything runs on Shopify's servers, too, so you don't need to worry about renting your own web hosting.
Wix is a website builder with e-commerce support. Using a drag-and-drop interface, you can make a great-looking website with Wix and accept secure online payments. Wix e-commerce plans start at just $17/month and include free hosting and a domain name.
Final verdict
WooCommerce is certainly the best e-commerce platform for WordPress websites. It has unparalleled customization through themes and extensions, and you have complete control over how to display your products and take payments from customers.
This versatility comes at the price, though, as it will take new users time to get to grips with WooCommerce, particularly if they have little experience with WordPress itself. But once everything is set up, a WooCommerce online store can be the best in the business.