Android 12 is almost upon us: we've seen three developer previews now, the early builds of the operating system intended for app designers, but they give us glimpses at what could come in the final build. We've also seen a healthy pile of of leaks and rumors too, which we'll wade through here.
Add all of that together, and we've got a pretty good idea of what Android 12 could be like – and we should be hearing much more about it when Google IO 2021 gets underway on May 18. We might also get news of a public beta that everyone can get involved with then.
Android 12 is the 2021 update for Google's Android operating system, building on 2020's Android 11, which some smartphones still don't have. We're expecting Android 12 to fully launch towards the end of 2021 and roll out from then, but the aforementioned public beta will likely come before that (and as we've said the developer beta is already out).
Latest News
The third Android 12 developer preview has launched with new app launch animations, improved haptic feedback, new camera tools and more.
We've listed all the rumored and official Android 12 features below for you to have a browse through, and we'll update this article as more come out – and continue updating it as Android 12 rolls out to phones.
Further down you'll find a wish list of the main things we want from Android 12, some of which might have to wait until Android 13.
Cut to the chase
What is it? The next big Android update
When is it out? Probably September 2021
How much will it cost? It's free!
Android 12 release date
The third developer preview of Android 12 is already out - this is just an early build of the update designed for app designers who'll need to update their apps for the new Android update. It does show us some of the software's new features, though.
Between May 18-20 at Google IO 2021, which has now been confirmed for those dates, we'll probably see the first public beta – this is the earliest version intended for general consumers, and many of the new features might first emerge here too.
As for the final finished version of Android 12, that will likely land in September based on past form, though initially probably only on a small number of handsets, including the likes of the Google Pixel 5 and Google Pixel 4a, along with the new Google Pixel 6 assuming such a phone launches.
It will be up to device manufacturers to bring Android 12 to your phone, and that often takes months to do, so don't be surprised if your specific handset doesn't get Android 12 until 2022.
Android 12 developer beta features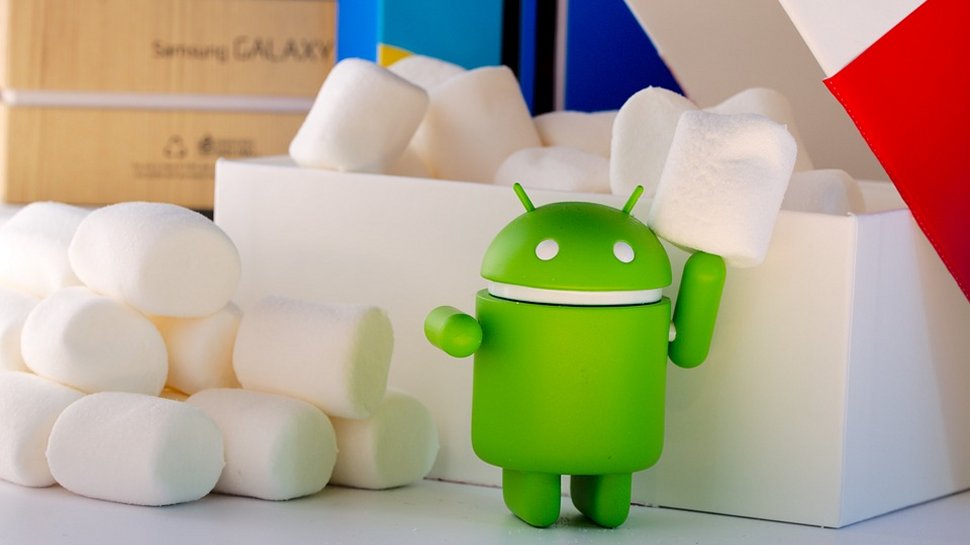 We'll separate out the leaked and rumored features, from the developer beta ones, as the latter are basically confirmed at this point. In particular Google listed some of the features of the Android 12 developer beta itself.
Some of those features include more efficient video and image compression to save your data, easier copy and pasting, improved audio features, better support for tablets, foldable phones and TVs, changes to gesture navigation, a redesigned notification menu and blocks to repeated notifications.
According to reports from users, those changes are just the tip of the iceberg though. According to 9to5Google, a color reduction option will let you reduce on-screen contrast, app icons can be shrunk to add more to the home screen, security changes let you block apps from using your camera and microphone easily, and the lock screen media player will look slightly different too.
What's more, the early code suggests you'll be able to send Wi-Fi passwords to nearby phones, add emoji and writing to screenshots, double-tap the back of the phone to use a shortcut, and take scrolling screenshots – though the latter two features don't seem to be activated yet.
XDA Developers has also done some digging. As well as showing some of the aforementioned features, there seems to be a focus on redesigned settings and menus, as well as improved one-handed modes, and new opaque background mode for the notification panel which matches your system theme. The lock screen seems to be a focus according to XDA, with a cleaner always-on design and smaller media player.
The second Android 12 Developer Preview dropped on March 17, bringing hints of some consumer-facing improvements like smoother transitions to picture-in-picture, better controls for lock screen notifications, UX customization to suit round-edged phones, and more back-end options for devs.
This second beta drop has also been found to contain evidence of an under-display fingerprint scanner coming to the Pixel 6, and a new dark theme that switches from a black to a grey background.
And the third Android 12 developer preview has arrived now too. This one launched on April 21, and includes a new app launch experience where a splash screen with the app icon will be displayed before any app opens. We've also noticed an extra dim mode for really dialling down the brightness on your phone or tablet's screen.
It also includes changes to haptic feedback, which might allow for it to be more varied and immersive in games, plus the ability for third-party apps to take advantage of pixel binning on high megapixel cameras, and various other small tweaks – some of which could improve performance and battery life.
Android 12 feature news and leaks
Perhaps the biggest Android 12 leak so far provided pictures of the update operating system, which included hints at features the update could bring.
It seems there will be privacy notifications telling you when the phone microphone or camera is in use, a bigger focus on widgets on the home page, a redesigned Quick Settings menu that gives you access to fewer settings and more evidence of a feature we'll discuss further on, about option color schemes for the phone.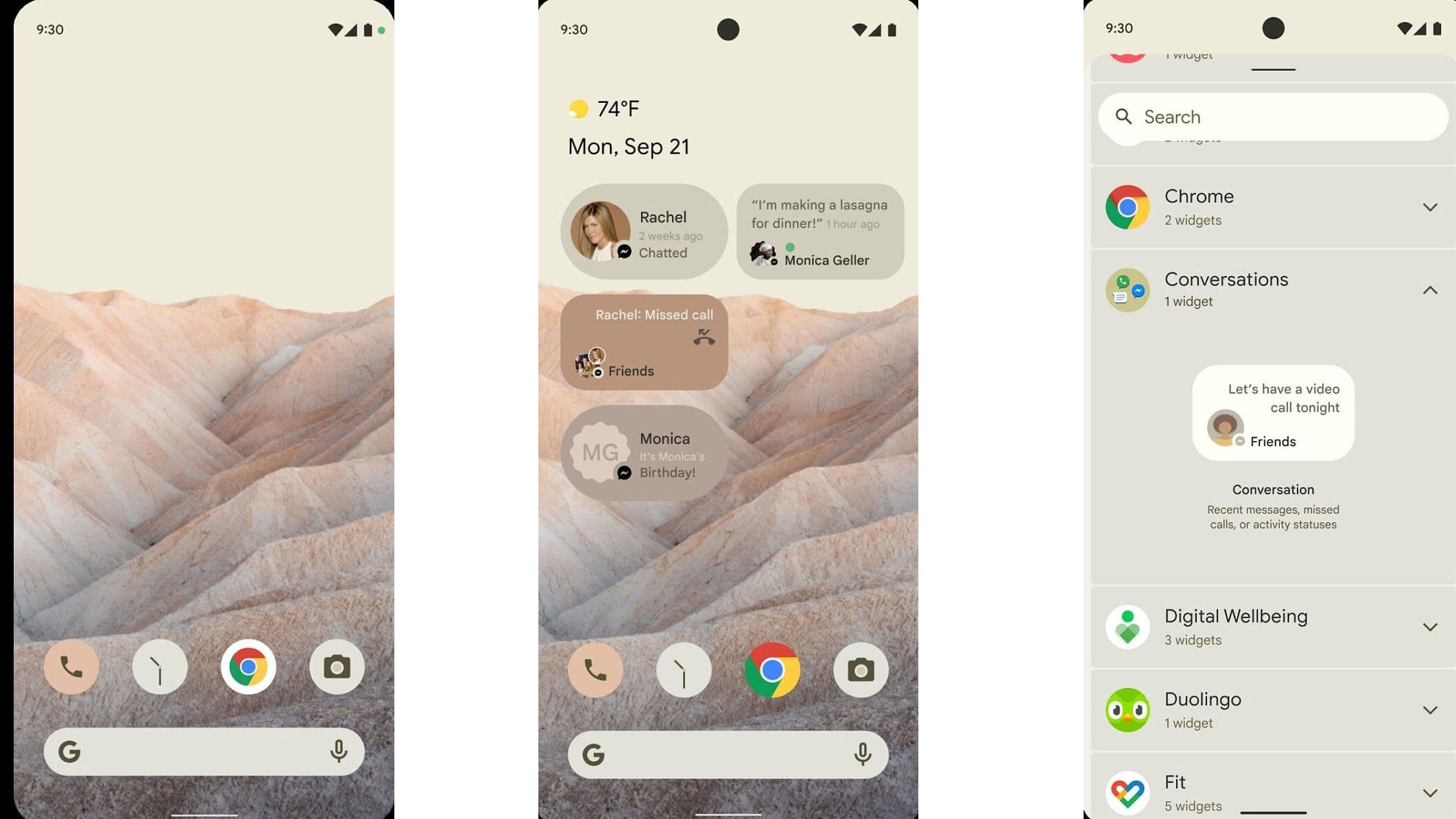 Google has said one thing about the Android 12 update. In a blog post the company said that Android 12 will "make it even easier for people to use other app stores on their devices while being careful not to compromise the safety measures Android has in place."
Google hasn't said how this will work. Already it's possible to access other app stores on Android, but maybe this will involve highlighting some of them, or simply making the option more visible.
Beyond that, Android 12 might make it easier for Google to deliver some updates. XDA Developers spotted that the company plans to make Android Runtime (ART) a Mainline module in Android 12. This would allow the company to deliver more operating system updates through the Google Play Store, rather than sending them out as conventional over-the-air updates.
This may mean more frequent updates and importantly could mean that you won't need to wait for the manufacturer of your phone to push the update to you. Though a lot of updates would still need to be delivered the old fashioned way.
Another XDA Developers find is that Android 12 could have a feature that 'hibernates' apps that are open but not currently in use, which makes them less power-intensive for the phone.
Some custom Android overlays have such features already, but stock Android doesn't, and such a feature could bring it to all Android devices. It's not totally clear how this works just yet, though.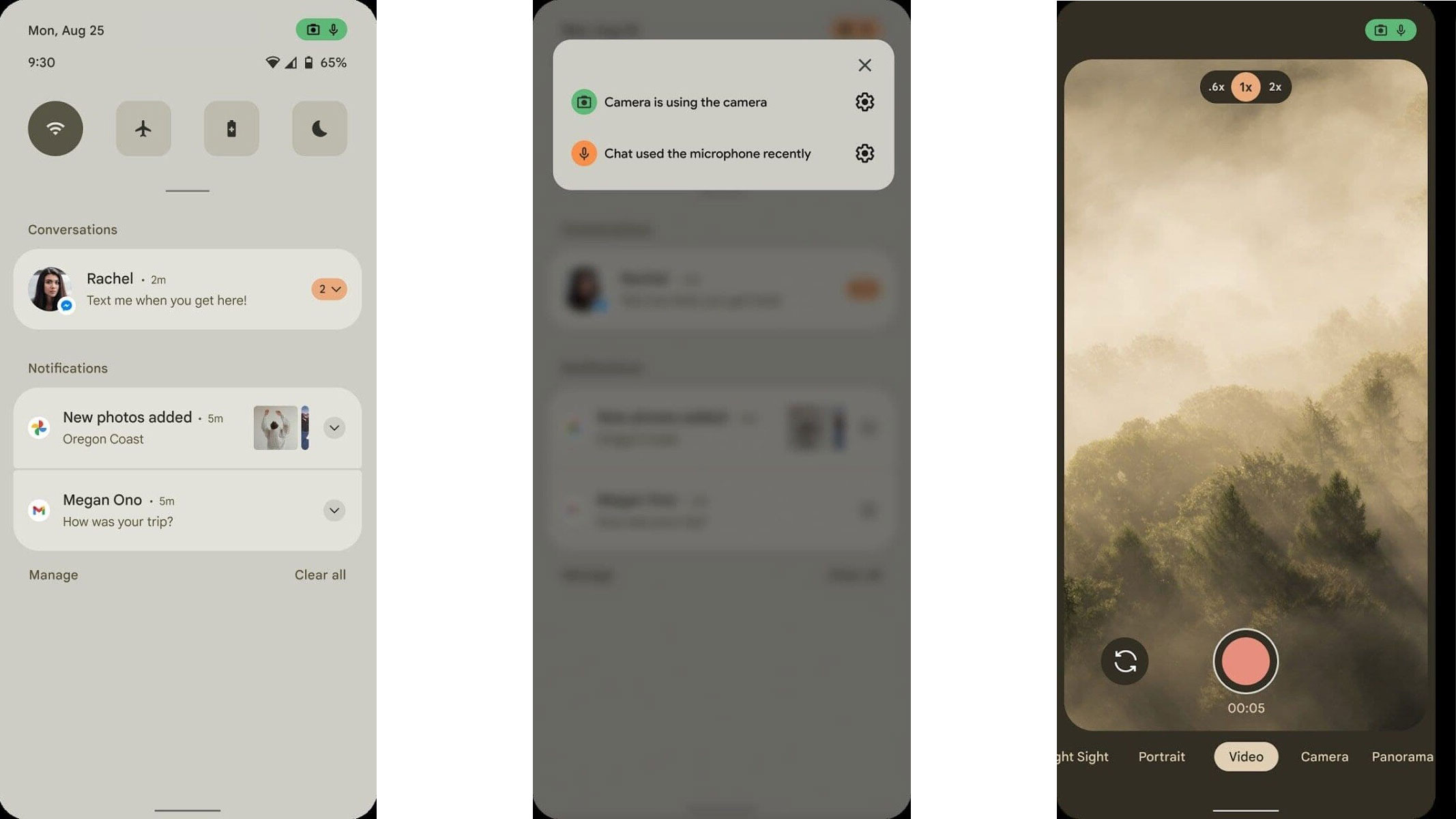 A subsequent leak for App Hibernation suggested it could actually clear the app cache on your phone, making it seem more like a partial deletion than a way to minimize apps you're not using.
We've also heard that Android 12 could restore the double-tap-on-the-back shortcut, useful for taking screenshots, launching Google Assistant and more – at least on the Google Pixel phones anyway. It would be a sort of successor to Active Edge, and it was glimpsed in early developer versions of Android 11 before being pulled.
An interesting Android 12 feature leak concerns App Pairs, or two commonly-used-together apps that you can open together. Possible examples include maps and music apps, or browsers and note-taking apps.
It's not exactly clear what App Pairs does, but since split-screen modes in Android phones can be quite spotty, it's possible this will be an improvement that's designed around certain app pairings, and recent leaks have backed this idea up.
It also seems Android 12 could get a Wi-Fi sharing mode similar to iOS, which would let you easily share Wi-Fi passwords with other people nearby you. This would replace the QR code system currently usable in Android phones, and would work for people who weren't right by you.
Based on hidden code discovered in Android 12, it looks as though a recycle bin for undeleting files and automatic app translation could be on the way.
One final rumor is that Android 12 could have a new coloring system, that affects both native and third-party apps. This would let you choose one main color, and an accent color, and all apps and menus would use these as the style, to let you customize the handset to your taste.
We've also got a big feature list from a leak that lists loads of minor features including easier split-screening on tablets, a security feature that stops apps reading your phone's clipboard, new ways to summon Google Assistant, a redesigned volume slider and more.
What we want to see
Android 11 is in pretty good shape, but there's always room for improvement. The following things top our wish list, if anyone at Google happens to be reading.
1. A whole new look
Android hasn't really had a true visual overhaul in a long time, not since Material Design landed in 2014 in fact.
Now, it's a good look, and you could argue that maybe Google shouldn't change things just for the sake of it. But freshening things up with some new design language could make the next version of Android a whole lot more exciting.
2. Stackable widgets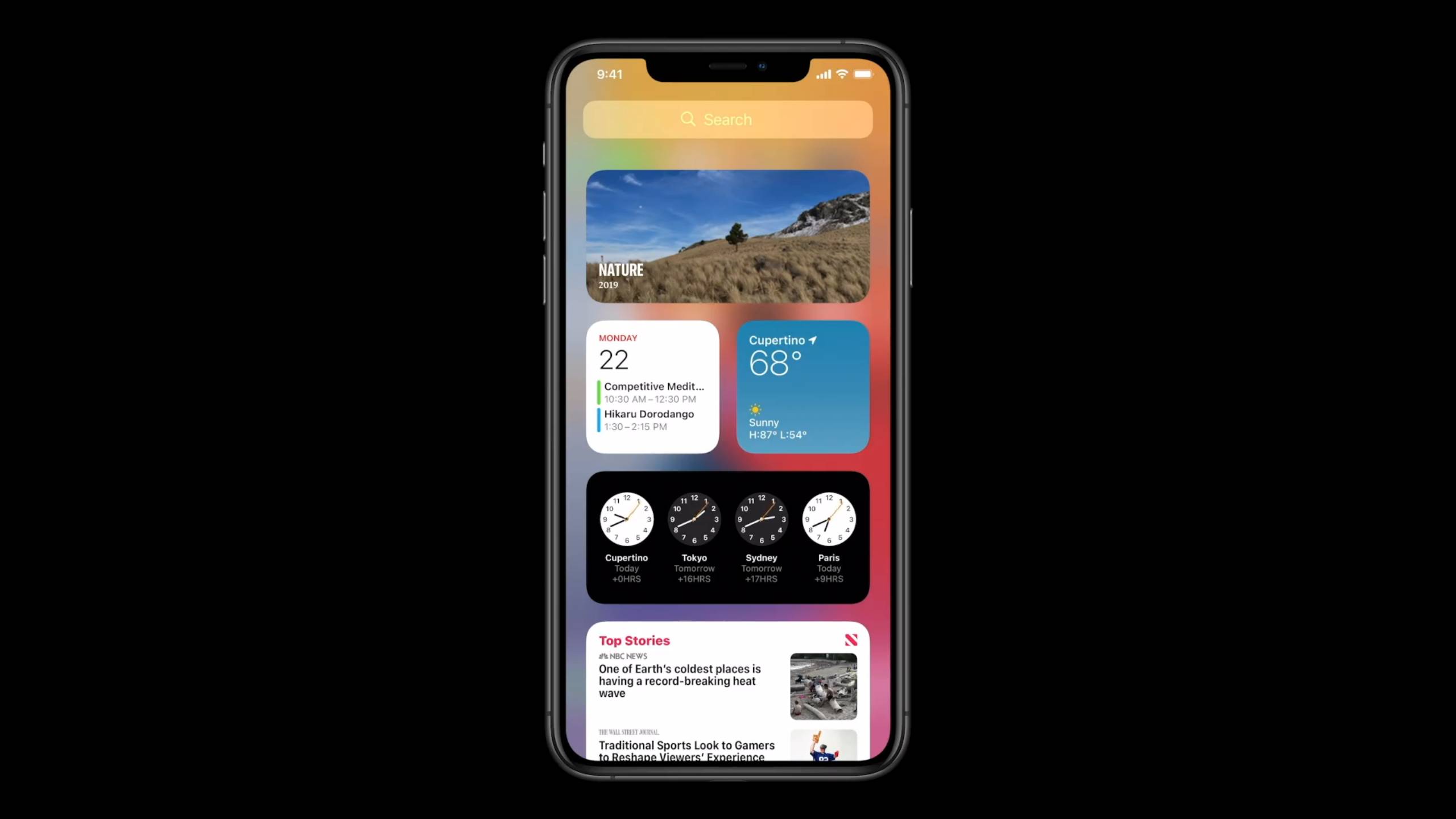 With iOS 14, Apple added a lot of features that have long been found on Android phones, including widgets, but it included one very handy feature for them that we'd love to see Google copy.
We're talking about the Smart Stack feature, which allows you to create a stack of widgets on your home screen that you can either swipe through, or just let the OS choose which to show you based on how you use your phone.
For example, if you always check the weather first thing in the morning, then it might display a forecast at the top of the stack then, before changing it to something else later in the day. This is an elegant way to avoid cluttering your home screens with widgets, while ensuring the ones you most want to see are always visible.
3. Support for more phones
Perhaps the biggest problem with Android is simply that new versions don't always make it to old phones. While no device is going to be supported forever, many only get two years of updates, and some get even less than that.
So with Android 12 we want there to be a real push for devices to be supported for longer, and ideally also for those devices to get updated faster, as we're often waiting months for the new version of Android on certain phones.
Some of this will be down to Google making it quicker and easier for device manufacturers to bring updates to their phones, but the rest will likely be down to manufacturers themselves.
4. An end to yearly updates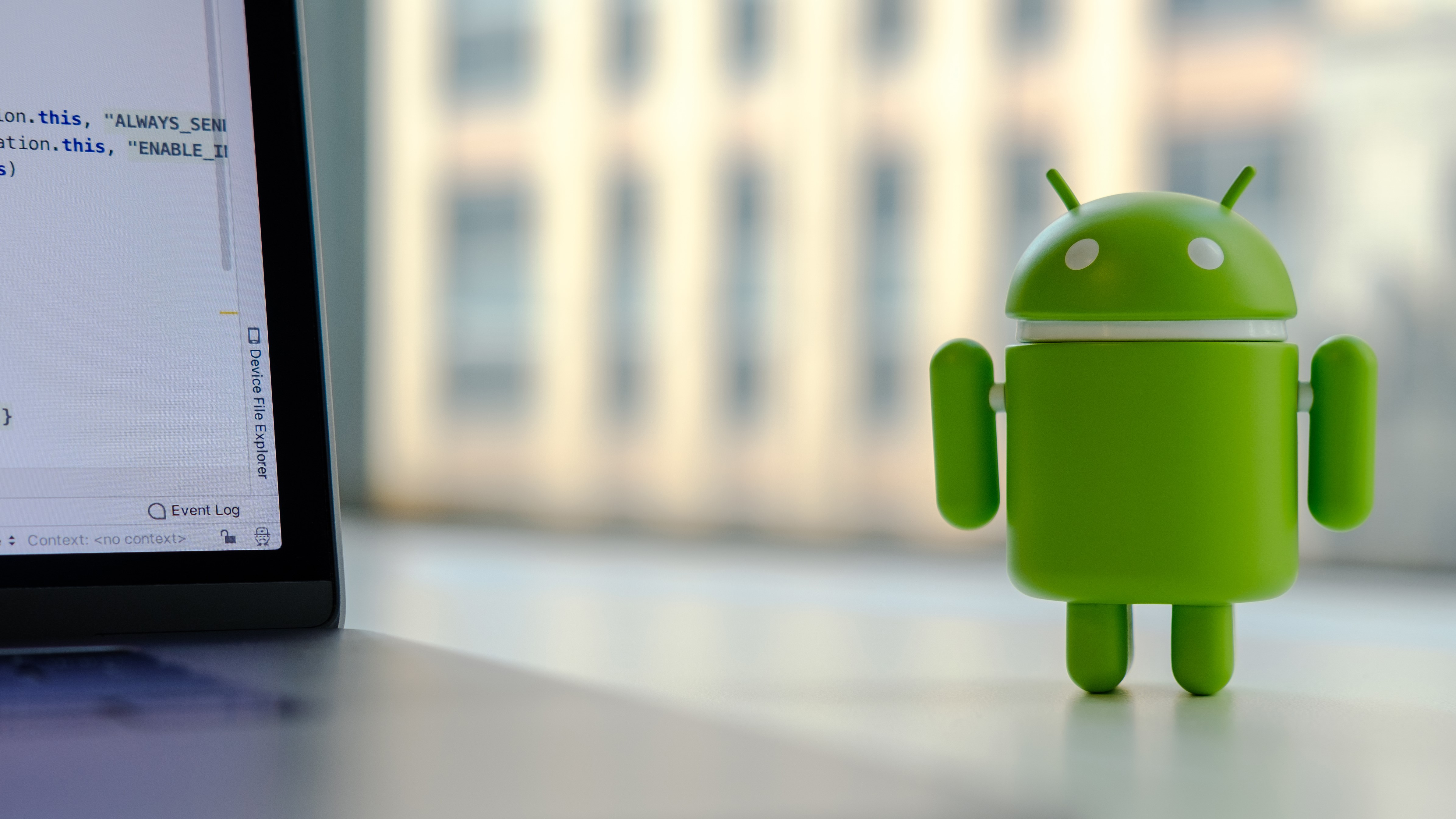 We've previously argued that maybe there's not even a need for yearly Android updates anymore. It's an arbitrary period of time, and sometimes there aren't many updates to bring. So rather than a big – or at least high-profile – update once a year, we'd like to see new features brought to Android all year round, as and when they're ready.
We already get smaller updates throughout the year, generally to fix bugs and improve security, but we don't see any reason why major features couldn't be a part of these too.
5. All features on all phones
Not only do not all phones get the new version of Android, but those that do don't always get all the features.
There are a couple of reasons for this. Firstly, Google often holds back some features to make them exclusive to the Pixel range. An example of this from Android 11 is app suggestions in place of the standard app dock, a feature which (optionally) fills the bottom row of apps on your home screen with the ones it thinks you'll most want access to at any given time.
The other reason some features don't make it to all phones is because Google doesn't require developers to incorporate every feature. An example of this is the 'conversations' section on the notifications dropdown.
It's a handy feature that keeps chat notifications separate from all your other notifications. It's one of the more interesting additions to Android 11 – but manufacturers don't have to offer it on their handsets. Not getting access to features makes Android updates less exciting, so we'd like this to be changed.