The Samsung Galaxy S20 FE phones are two of the top handsets from the last 12 months. Why? Samsung's Galaxy S20 FE and Galaxy S20 FE 5G get you at least 90% of the experience of the most expensive Samsung phones, and save you hundreds of pounds in the process.
You can currently get the Samsung Galaxy S20 FE as part of a £30 a month contract from Mobile Phones Direct, with a uge 45GB of data.
Want 5G? The Samsung Galaxy S20 FE 5G is available with no up-front cost on plans from just £34 a month.
Samsung Galaxy S20 FE deals at Mobile Phones Direct
Samsung Galaxy S20 FE 5G deals at Mobile Phones Direct
A deeper look at the Samsung Galaxy FE family
If you're not convinced by the one-sentence sell on these FE-series Samsung phones, let's look a little closer.
The first big-hitter feature of these two phones is they have the same level of power as the most expensive 2020 flagships, such as the Samsung Galaxy S20 Ultra. You get the very same Exynos 990 in the 4G Samsung Galaxy S20 FE, and the even better Qualcomm Snapdragon 865 in the step-up 5G handset.
Either phone coasts through high-end games like Asphalt 9 and Fortnite, and feels great day-to-day. No lag. No waiting. These phones move faster than your fingers.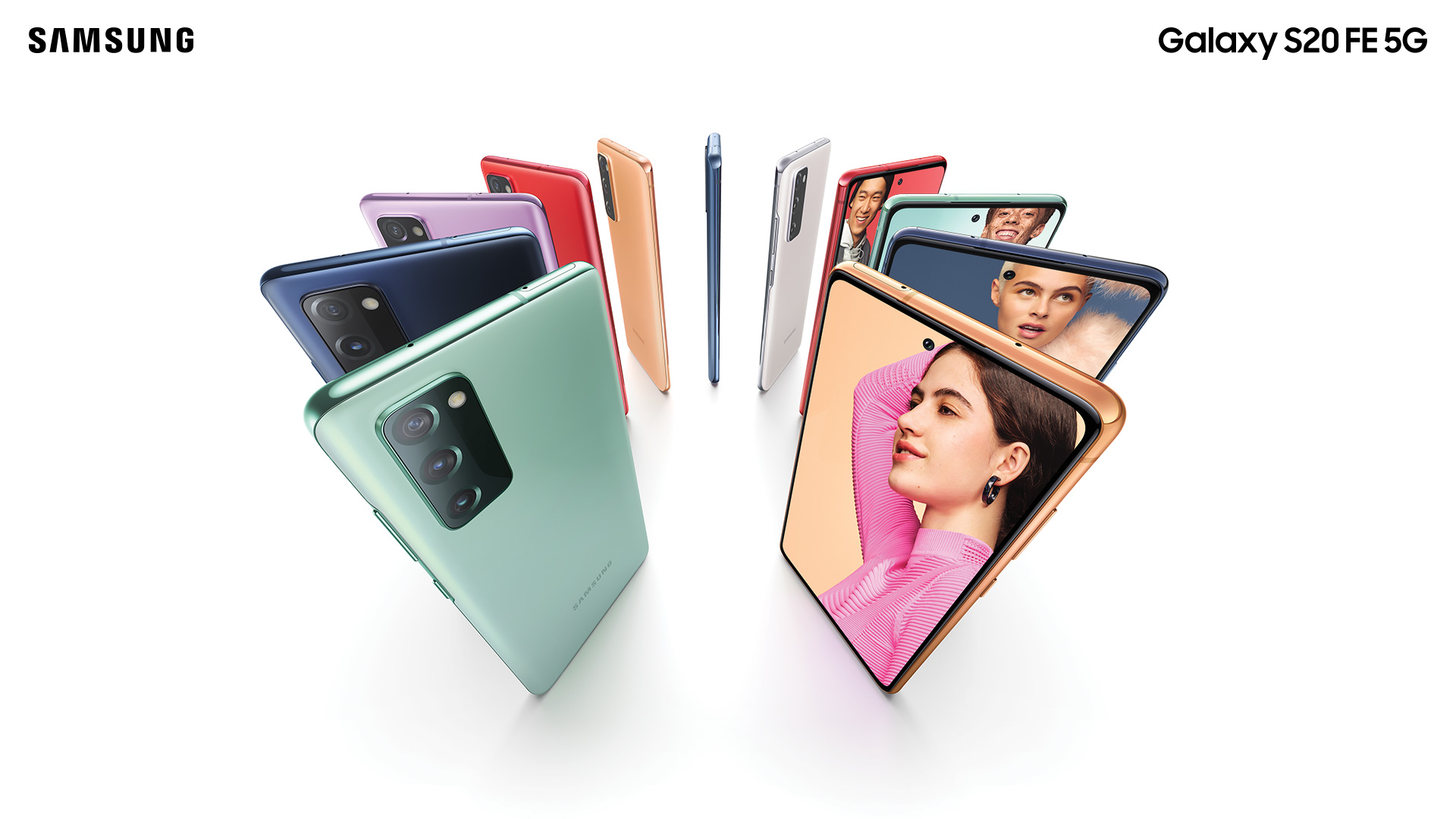 Their 6.5-inch screens are also great canvases for games and video. And like the top Samsung phones they have Super AMOLED displays, for unbeatable contrast and vivid colour.
Don't mistake the FE series as a set of phone for people who just want the Samsung Galaxy name, for less money. They are incredibly capable, with enthusiast-grade features.
The battery is more proof. 4500mAh capacity is enough to get you through a solid day of use that includes some YouTube videos, podcast streaming and a never-ending stream of WhatsApp messages. Judging by our testing you'll get even better stamina out of the Samsung Galaxy S20 FE 5G, thanks to its ultra-efficient Snapdragon 865 processor.
Of course, the reason to upgrade to the Galaxy S20 FE 5G that Samsung wants to put up in neon lights is 5G mobile internet.
This lets you reach average download speeds of 100-200Mbps, much faster than most people's home broadband. And you'll even hit up to 1Gbps peaks in some areas of the country.
Not sure if 5G is in your area yet? All the main UK phone networks offer coverage maps, and even if you're not covered yet it's a good feature to have for the years to come.
A truly versatile camera
That's enough of the hard sell on 5G. Both 4G and 5G versions of the Samsung Galaxy S20 FE are matched in the other crucial area of phone tech: the camera. And they have one of the most versatile arrays you'll find at the price.
On the back you get three cameras, all of which offer a different field of view. Camera number one has a brilliant 12-megapixel sensor, the same used in the full-price Samsung Galaxy S20.
It takes superb photos, and has a Night Mode that makes your shots look vibrant and clear even if there's barely any light to work with.
However, camera number two is the real outlier. This is a 3x optical zoom with optical image stabilisation. It lets you take clear pictures of far-off sights on holiday — something we're all looking forward to — or sharp photos of dogs running happily at the park.
It's rare to see a true 3x optical zoom at this price, and this is one of the best Samsung Galaxy S20 FE features. But Samsung's not done there – you can get even closer to your subject with the 30x Space Zoom on the Galaxy S20 FE range.
This gives you the jaw-dropping ability to really get up close and personal with your subject, even if it's way off in the distance – it's an incredible feature, and will change the way you take photos forever.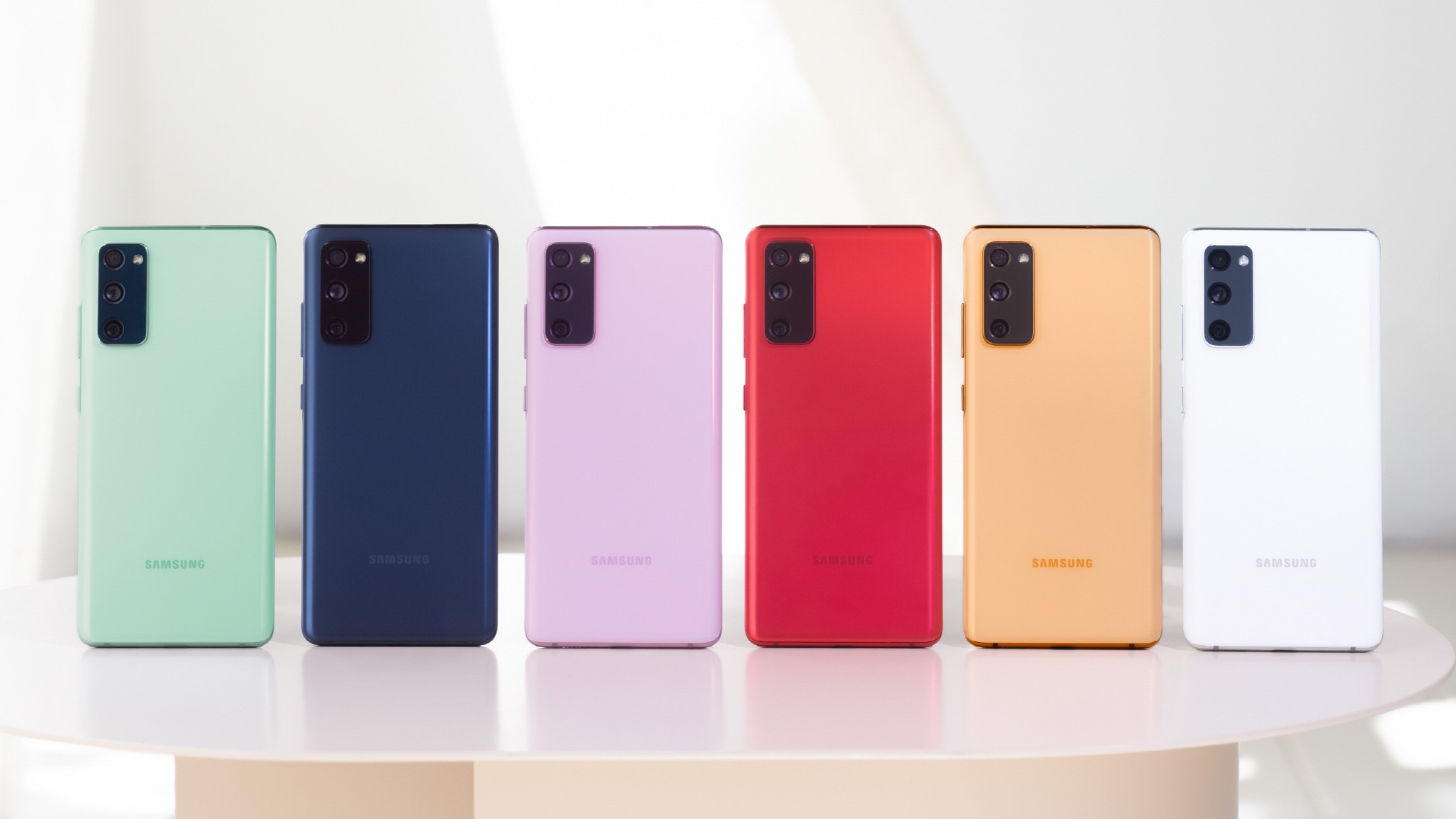 The last rear camera is a 12-megapixel ultra-wide, which is indispensable for shooting large objects up-close, like towering buildings.
A zoom, a fantastic primary camera and a wide: what more could you ask for? The Samsung Galaxy S20 FE also shoot lovely stabilised 4K video at up to 60 frames per second. You can switch between zoom levels as you shoot video too, for crafty on-the-fly editing.
The Samsung Galaxy S20 FE selfie camera deserves a mention too. It has an ultra-high resolution 32-megapixel sensor, and uses pixel binning to ensure you get clean and sharp images in all light conditions. Four sensor pixels team-up to produce one pixel in the final image, for low-noise, high fidelity results.
You couldn't ask for much more, but Samsung goes a little further still. Buy from Mobile Phones Direct and you can get the Samsung Galaxy S20 FE and Samsung Galaxy S20 FE 5G in one of six different colours.
Navy blue and white are there for those after a traditional look, but why not consider the jazzier Mint Green, Red, Orange and Lavender too? Head to Mobile Phones Direct to see all the latest Samsung Galaxy S20 FE and Samsung Galaxy S20 FE 5G deals from O2, Three and Vodafone.
Samsung Galaxy S20 FE deals at Mobile Phones Direct
Samsung Galaxy S20 FE 5G deals at Mobile Phones Direct