When you're shopping for a phone on a budget, there are always going to be some trade-offs, but these days, there aren't as many sacrifices as you might expect. Samsung, Motorola, and LG have much to offer in this area, but the new OnePlus Nord N10 5G not only shows off how much you can get from an affordable package, it delivers more than its competition while keeping the price low.
The Nord N10 5G is entering a market of affordable smartphones which puts it up against the likes of the Motorola One 5G, LG Stylo 6, and Samsung Galaxy A51. These four phones are alike in many ways, but OnePlus continues in its 'Flagship Killer' heritage providing premium devices at more affordable prices.
At $299, the Nord N10 5G is nearly the best bargain of the phones mentioned while frequently offering more than the others. By comparison, the Motorola One 5G costs $445, the Galaxy A51 costs $399, and the Stylo 6 goes for $259, though it lacks 5G support and a few standout features that the Nord N10 5G provides.
With the OnePlus Nord N10 5G, you'll get a large, 6.5-inch display that delivers crisp 1,080 x 2,400 resolution, HDR10+ support, and a 90Hz refresh rate for a smoother experience that is still seen almost exclusively in high-end phones. Only the Motorola One 5G offers a comparable display experience with a slightly larger screen also capable of 90Hz refreshing, but it costs almost 50% more. The Galaxy A51 display features OLED technology but lacks a 90Hz refresh rate. Lastly, the LG Stylo 6 has a bigger display with a sharp resolution and support LG's included stylus, but it has neither the advantage of OLED technology nor a fast refresh rate.
A large, fast display takes a bit of battery power to keep going, and the Nord N10 5G has that covered with a 4,300mAh capacity. That's a step up from the 4,000mAh batteries found in the Galaxy A51 and Stylo 6. The Motorola One 5G has a larger 5,000mAh battery, but not one of the phones gets close to the 30W faster charging the Nord N10 5G supports with the Warp Charge 30T adapter included in the box, which we've seen recharge the phone from empty to 55% in just 30 minutes. Motorola gets closest with only 20W charging on the One 5G.
All that battery power goes to more than just the display. There's also the internal processing components sipping on the juice as well. The Motorola One 5G runs on a Snapdragon 765G chipset while the Galaxy A51 uses Samsung's own Exynos 9611 chipset, and the LG Stylo 6 is powered by a MediaTek Helio P35 chipset. Interestingly enough, the Nord N10 5G features a Snapdragon 690 chipset, which may sound like a lower-end chipset than the 765G on paper, but it cruises. Our benchmarks have seen it outpace the chips in the Motorola One 5G and Samsung Galaxy A51, and it operates smoothly in daily use, from scrolling through social media and streaming your favorite shows to playing graphically-intensive games. We haven't tested the LG Stylo 6, but we've seen poor performance from the Helio P35 chipset in other budget smartphones, like the Moto G8 Power Lite.
This new chipset also lets the Nord N10 5G connect to 5G networks, making it the most affordable 5G-enabled smartphone in the US market with its $299 price tag. The Motorola One 5G supports 5G networking as well, but it costs more than $100 more than the new OnePlus. Meanwhile, the LG Stylo 6 and the standard Galaxy A51 lack 5G functionality (though an even more expensive variant of the A51 does offer 5G).
The OnePlus Nord N10 5G also has a competent camera system. Between a sharp main sensor and an ultra-wide sensor, you can capture a lot in one shot. A macro sensor offers extreme close-ups while a monochrome sensor can help the main sensor for shots at night or in darker environments. The Samsung and Motorola also feature that wide and ultra-wide pairing along with a macro sensor, but they're final camera is a depth sensor. The LG Stylo 6, meanwhile, has just a triple camera arrangement on the rear with a wide, ultra-wide and depth sensor.
It's plain to see that the OnePlus Nord N10 5G is competitive with these other phones on just about every front, and it's $299 price tag gives it a major value advantage that's hard to overlook. So, for a premium device at an affordable price, check out the OnePlus Nord N10 5G on OnePlus' site or through Metro by T-Mobile.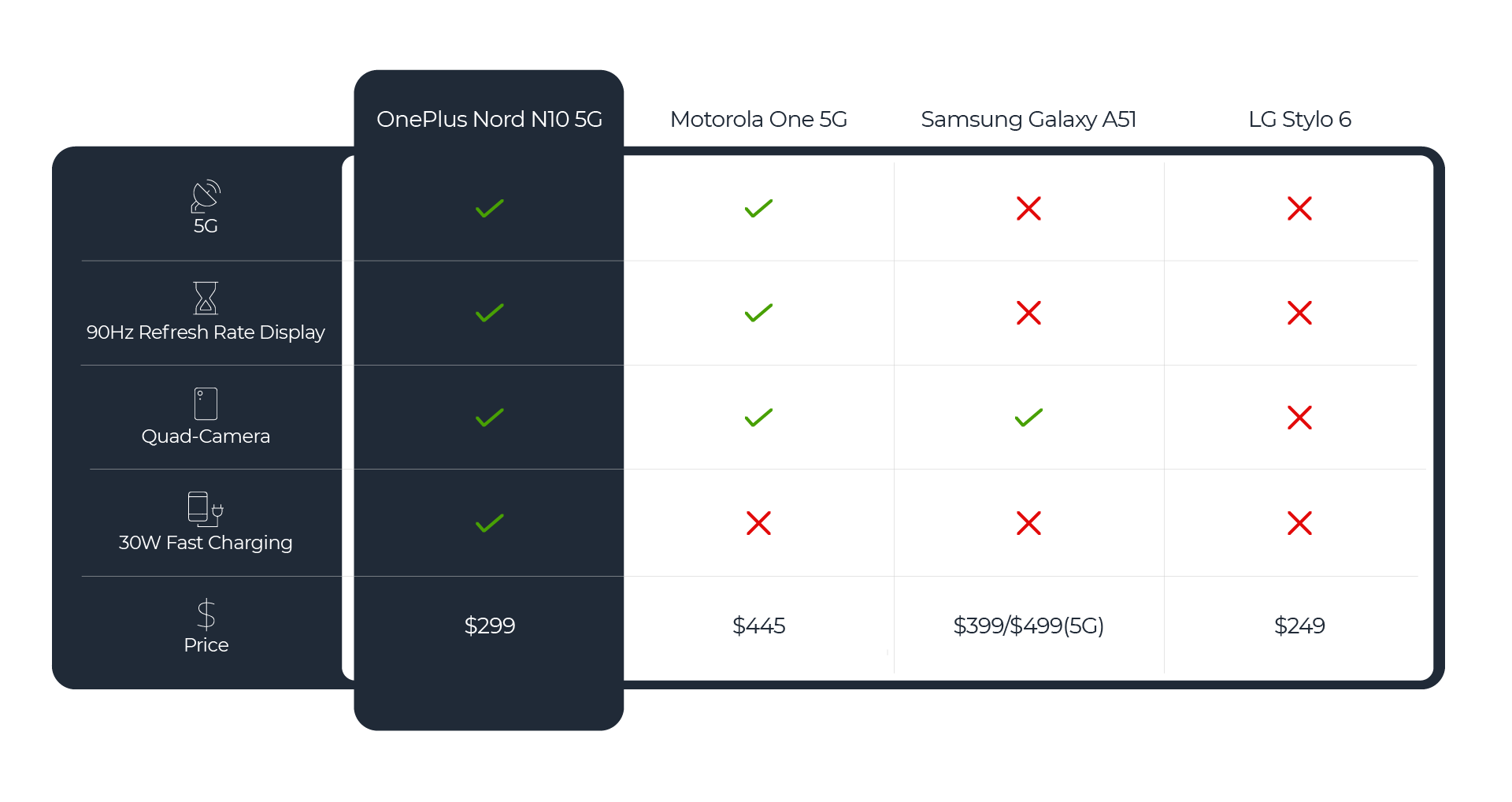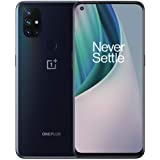 Jump onto 5G and enjoy a big, smooth display with the OnePlus Nord N10 5G for just $299.